This free printable Labor Day word search puzzle is no-prep fun for kids of all ages! It's a great way for older adults to keep their minds active, too. I hope you enjoy this fun puzzle!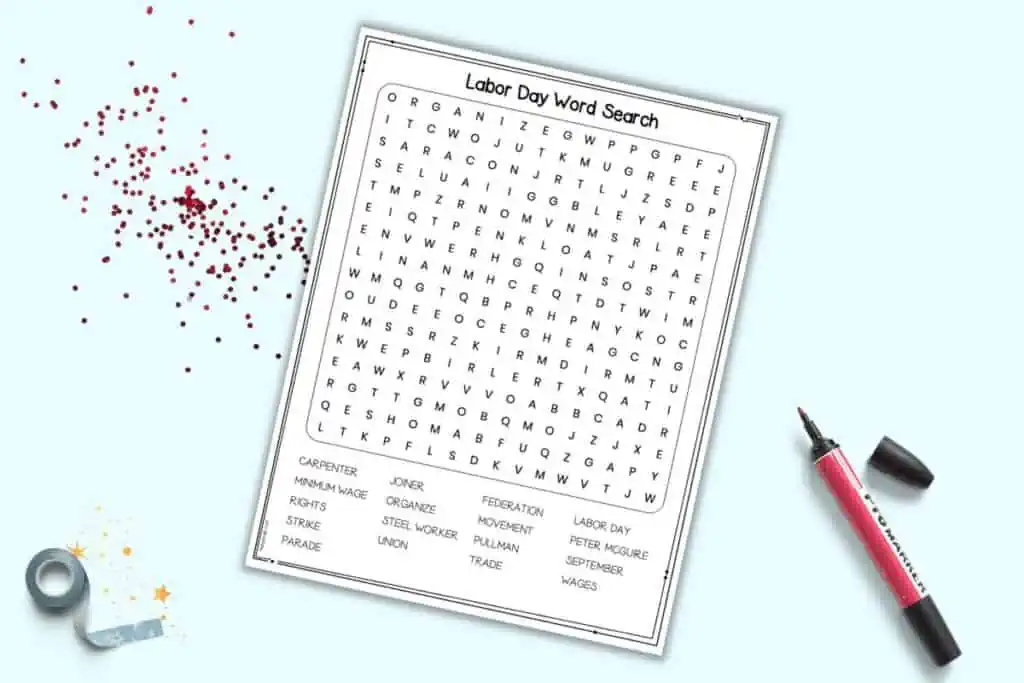 This post may include affiliate links which means I may earn a commission on qualifying purchases at no additional cost to you.
The US does not celebrate International Labor Day on May 1 like many other countries in the world. Labor Day is celebrated on the first Monday in September in the United States. It's a Federal Holiday, but traditionally has been less celebrated in the South than in the North due to the history of Labor Day being tied to the labor movement in the North.
Labor Day is commonly seen as the "unofficial" end of summer. (Summer officially ends with the Fall Equinox, which is usually on September 22). It's a long weekend for many that is frequently celebrated with a cookout, beach trip, or other "final hurrah" for summer. 
The words in this word search pertain to this particular September holiday, not to September as a whole or fall. For more themed word search puzzles, be sure to grab this September word search and this fall word search. The September word search is available in two different difficulty levels.
Ways to use printable word search games
This word search puzzle is great for kids of all ages, and senior citizens, too! Here are some ideas for ways to use these word puzzles in your home or classroom:
As early finishers
In literacy centers
As morning work
In a packet left for substitute teachers
As part of a history lesson
In an ELA lesson
At a senior center or with residents of a medical facility
For family game night
Word search puzzles aren't just fun – they're the perfect way to foster many different skills. They can help improve your child or student's spelling skills, fine motor skills, vocabulary, and attention to detail. They can keep older adult's minds sharp, too.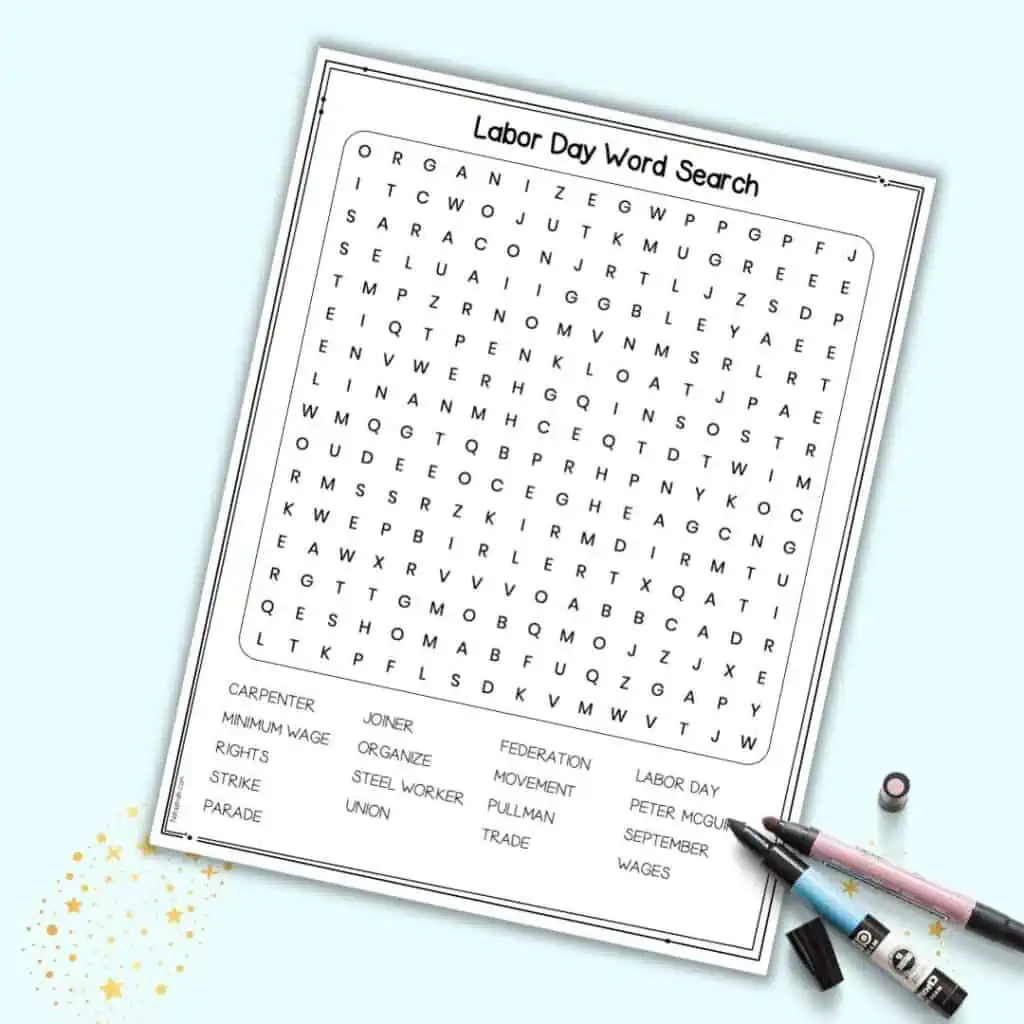 Free Labor Day word searches
This printable Labor Day puzzle has 17 words. Since they are Labor Day related words with an emphasis on the holiday's history, this word search can be great as part of a social studies lesson.
Your child or students may not know each vocabulary word in the word list. That's fine! Use it as an opportunity to teach new vocabulary and a bit about the history of American workers and their plight after the Industrial Revolution. 
The list of words includes:
Labor Day
September
Peter McGuire
Federation
Union
Strike
Organize
Parade
Carpenter
Joiner
Steel Worker
Pullman
Wages
Rights
Movement
Trades
Minimum wage
To make this printable activity reusable, slide watch page into a dry erase pocket or heavy duty page protector. These are great options for use in a classroom center so you can preserve your print/copy budget. 
Sale
Mr. Pen- Dry Erase Pocket Sleeves, 10 x 14 Inch, 6 Pack, Colorful, Plastic...
Package includes 6 dry erase pocket sleeves in 6 bright colors, which are red, green, yellow, orange, pink, and blue.
Mr. Pen dry erase pocket sleeves are made with durable and long-lasting PET plastic with industrial-grade stitching according to the highest quality...
Our dry erase pockets measure 10 x 14 inches, which makes them perfect for storing most sizes of paper or student activity sheets.
Labor Day word search free download area
This word search puzzle includes an answer key. Make sure you only hand out the first page with the puzzle, not the key, when you pass the pages out!
This printable is licensed for personal and classroom use. This includes use with your therapy clients or library activity.
This printable is not licensed for commercial use or redistribution. You may not give or sell the files or print outs to other adults to use with their children/students. Instead, please refer friends and colleagues to this post so they can download their own copy.
For more free word search puzzles, be sure to check out the links below! There are many different themes for seasons, holidays, and other special days. All of the printable puzzles linked below include an answer key. Make sure to check back soon for new puzzles with new themes!