This free printable Valentine's Day word scramble is fun and educational! Grab it today with a colorful heart background or in ink-saving black and white.
Word scrambles are real brain teasers! They're educational and perfect for use at home or in the classroom, plus they're low-prep and easy for you. It's a win-win!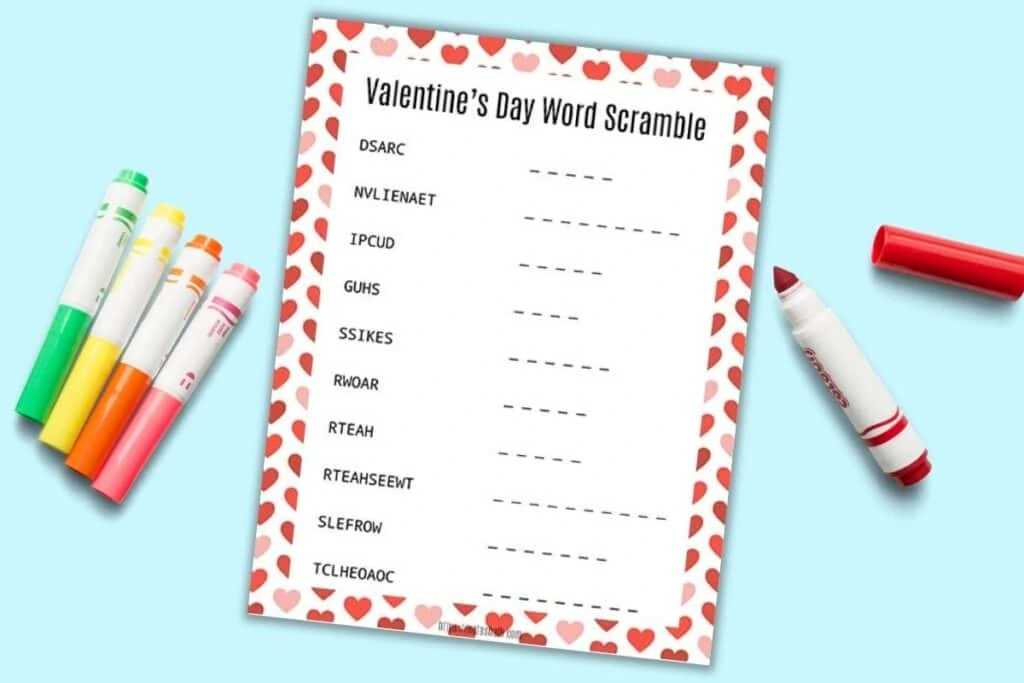 If you need to keep your younger children busy, too, make sure to grab these free printable Valentine's do a dot pages.
Word puzzles aren't just an easy way to keep your kids off YouTube – they're incredibly beneficial. Word puzzles have a variety of benefits for children and adults, including:
Improved working memory
Better problem-solving skills
Increased vocabulary
Word scrambles also help your child master spelling and are great for teaching new languages. This printable would be great for an ESL class, for example.
My grandmother loved word puzzles and logic puzzles. Until she was 90, she could tell you exactly where to find everything in her home. I'm sure her love of mental challenges helped keep her sharp for so long.
I challenge you to work a copy of this word scramble along without your kids without looking at the word list. Even though most of the words are fairly short, it can be a real challenge!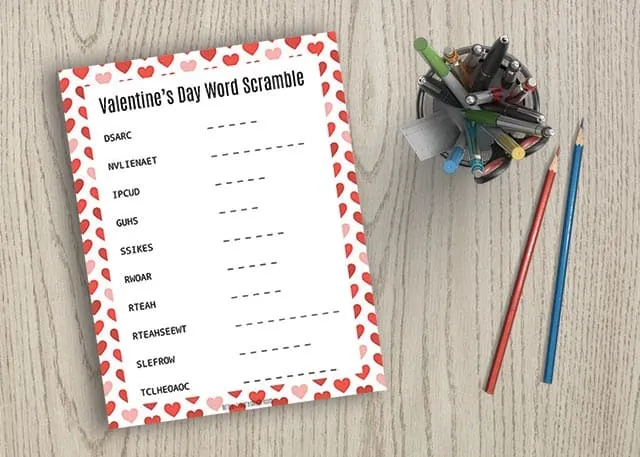 Want more word puzzles? Make sure to check out this free printable Valentine's Day word search.
Tips for using printables
This post may include affiliate links which means I may earn a commission on qualifying purchases at no additional cost to you.
Obviously you can just print and use this word scramble with whatever printer and paper you prefer, but I have a couple of favorite tricks for making the most of each printable.
My at home laminating machine is my secret weapon. I love laminating printables so they can be used again and again. Children learn through repetition and frequently want to do the same activity several times.
If you don't want to laminate the word scramble, you can place it in a dry erase pocket. It's like a super strength page protector that allows your child to use a dry erase marker instead of writing directly on the page. When you laminate or use a dry erase pocket, you can use this word scramble for multiple different students or children or simply save it with seasonal items for use again next year.
Related: free printable Valentine's Day bingo
The word scramble would make a good candy-free Valentine idea. Just add a cute Valentine's Day pencil!
Free printable word scramble for Valentine's Day
This word scramble features 10 words. The word bank is not included on the printable so you can decide whether or not to provide it to your child.
The two puzzles have the same answer key – only the background/decorations are different. If you'd like more, different Valentine's themed activities, please check out this printable activity pack.
This printable is free for personal and classroom use. This means you're welcome to use it with your own kids, personal classroom, scout troop, homeschool co-op, etc. as long as you are organizing the activity. Please do not share the printables or digital file with others – just send them to this post so they can download their own copies.
I've had a few people ask – yes, you can absolutely leave this word scramble for a substitute teacher to use. It makes a great sub activity. It's you're classroom, so that's fine. (Thank you to the considerate folks who've sent me emails to ask.)
Please do not download the images. They are just low resolution previews that will look terrible if printed. Use the download links below each preview image to get the high resolution PDFs from Dropbox. I've highlighted the links with a grey box to help you find them easily.
First we have a colorful Valentine's Day word scramble with a heart background:
Then we have an ink-saving black and white printable word scramble for Valentine's Day. There are also two sets of balloons with hearts to color.
Stop scrolling Pinterest for Valentine's Day printables and crafts - check out these Valentine's posts right here on The Artisan Life!