This free printable spelling test paper is perfect for spelling practice and weekly spelling tests during the fall season.
This set of printable spelling tests includes options with 10 words, 15 words, and 20 words so you can pick whichever works best for your word lists. There are also options with space for a dictation sentence. I hope you enjoy and that these printable templates make your life as a teacher a bit easier!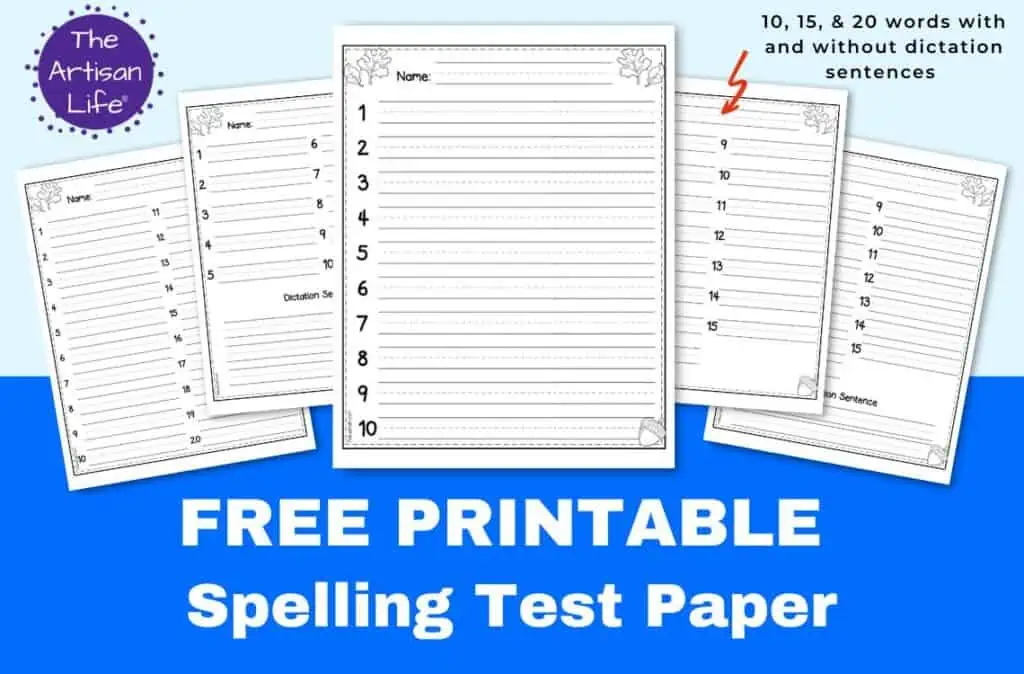 This post may include affiliate links which means I may earn a commission on qualifying purchases at no additional cost to you.
These are free black and white worksheets. There's no need to use all your colored ink budget on your weekly spelling assessment! There is a touch of fall themed clip art on each page to help make spelling tests fun and less intimidating.
These free spelling test printables are perfect for aural spelling tests/oral spelling tests. There's no need for your students to number their own pages – just print the page you need and hand the sheets out to your students! Each page has space to write a name and 5/8″ high writing lines with a midline to help with number formation.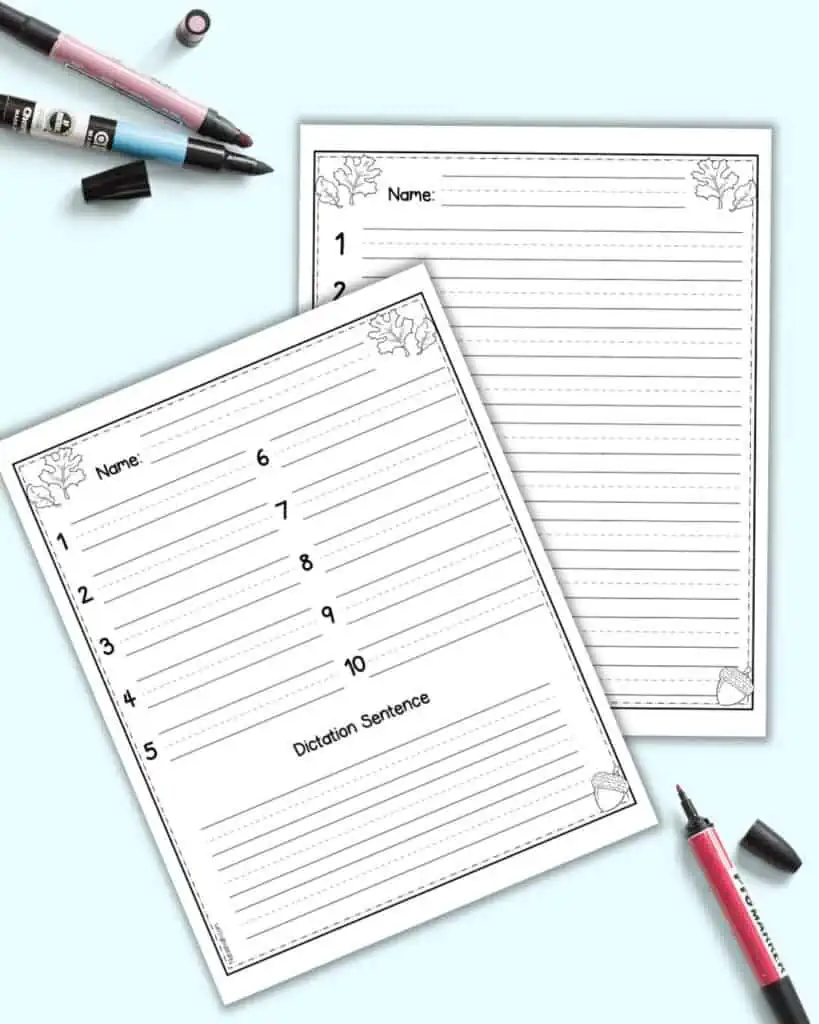 This set of printable spelling test templates has a fall theme to make learning spelling skills fun. There are six different free spelling test printables so you can pick the free printable spelling worksheet that meets your specific needs.
10 word spelling test page (this one is great for first grade)
10 word test with space for a dictation sentence
15 word spelling test (this one is typically good for 2nd grade)
15 words with a dictation sentence
20 word spelling test (good for 3rd grade – 5th grade)
20 word spelling test with space for a dictation sentence
What is a dictation sentence?
It's very common for children to try to learn their list of words for the Friday spelling test, then forget them once the next week rolls around. Using sentences can help.
Sentences help children put words into context and remember them better.
Coming up appropriate, original sentences can be difficult for younger kids. They have to fully comprehend the word, use their creativity, and correctly form a new sentence. Dictating a sentence separates the spelling aspect from the grammatical and creative aspects of writing.
Dictation sentences are a "next level" approach to teaching spelling and should always use words the student already knows.
When teaching spelling to kindergarten and 1st grade students, always start with groups of short, similar words. Well, spell, and tell are examples of three words that group well together.
Next, progress to dissimilar words (for example, spell, girl, and dog are not related).
Then, add dictation sentences using words the student already knows.
Finally, have students write original sentences.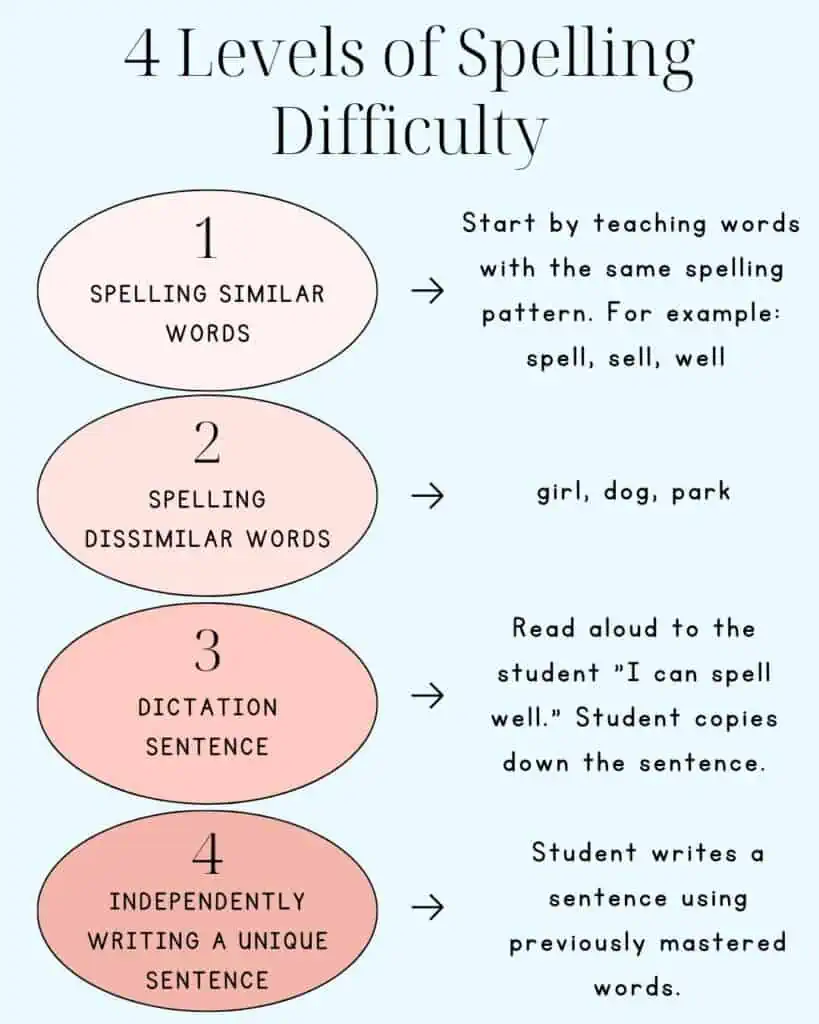 Free printable fall theme spelling paper
These blank spelling test printables are licensed for personal use and single classroom use. You are also welcome to use them with therapy clients and library activities.
You are not licensed to sell or redistribute these printables to other adults for use with their children or students. Please refer friends and colleagues to this post to downloads their own copies.
Make sure to check out the posts below for more free early literacy printables:
Free Printable Literacy Resources
If you want to encourage your child's love of reading, you've come to the right place! Discover the ever-expanding collection of printable emergent readers, alphabet worksheets, sight word worksheets, bookmarks, and more.