This free printable July calendar worksheet for preschool and kindergarten is a fun way to start your day! It features space for your child to fill out their very own calendar while practicing their numbers, weather, and days of the week. I hope you enjoy!
Looking for calendar and planner printables for yourself? Be sure to grab these free July planner printables and this free calendar for 2022.
This post includes affiliate links, which means I may earn a commission on purchases made through links at no additional cost to you.
So what is a calendar worksheet? It's kind of like a simple morning board. It's a worksheet that allows your child to select the day and date. This worksheet calendar also includes a spot to color or circle the weather and a couple of summer themed clipart images to color.
Using this calendar worksheet is super simple, fun, and educational for your child. They can fill in a new copy each day or you can make the page reusable. Every day (or every day that you remember….), your child can find and circle the day of the week, the day's weather, and the date. There is also space for them to write the numeral for the day's date, if they're writing numbers. And, of course, your child can color the clipart and color, trace, or rainbow write "July." Please note – the image below is incorrect and shows only 30 days. The PDF correctly shows 31 days.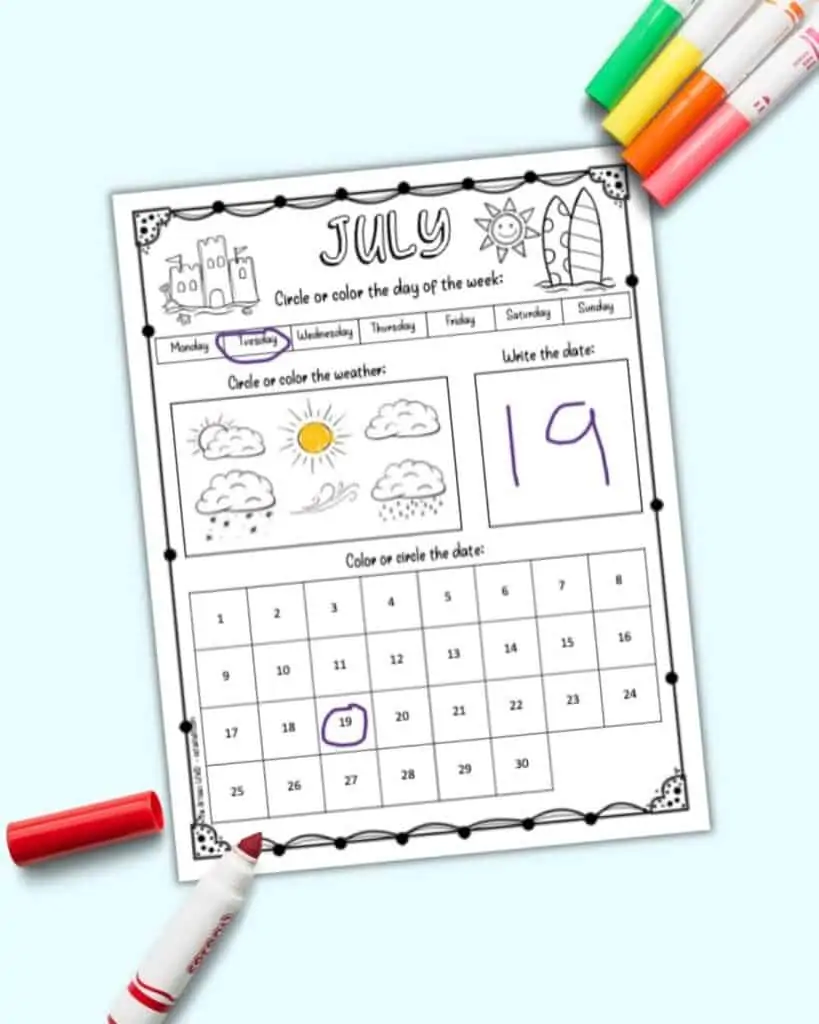 Materials needed for calendar worksheets
You can print a copy of this July calendar worksheet for every day of the month. If so, I definitely recommend going with a cheaper paper instead of the 32# paper I usually use! This is my current favorite inexpensive paper. It's still a bit nicer and brighter, but costs several dollars less.
Free printable July calendar worksheet for kids download area
I hope you and your little learner enjoy this July calendar worksheet! I'll be creating each month as we move through the year, so make sure to check back again soon for additional months. While you wait, here are more literacy and counting resources for your little learner to enjoy!