This free printable October calendar worksheet for kids is a fun way to start your day at home or at school. Your child gets to practice their numbers, days of the week, and weather with this fun and simple to use printable calendar for kids. I hope you enjoy!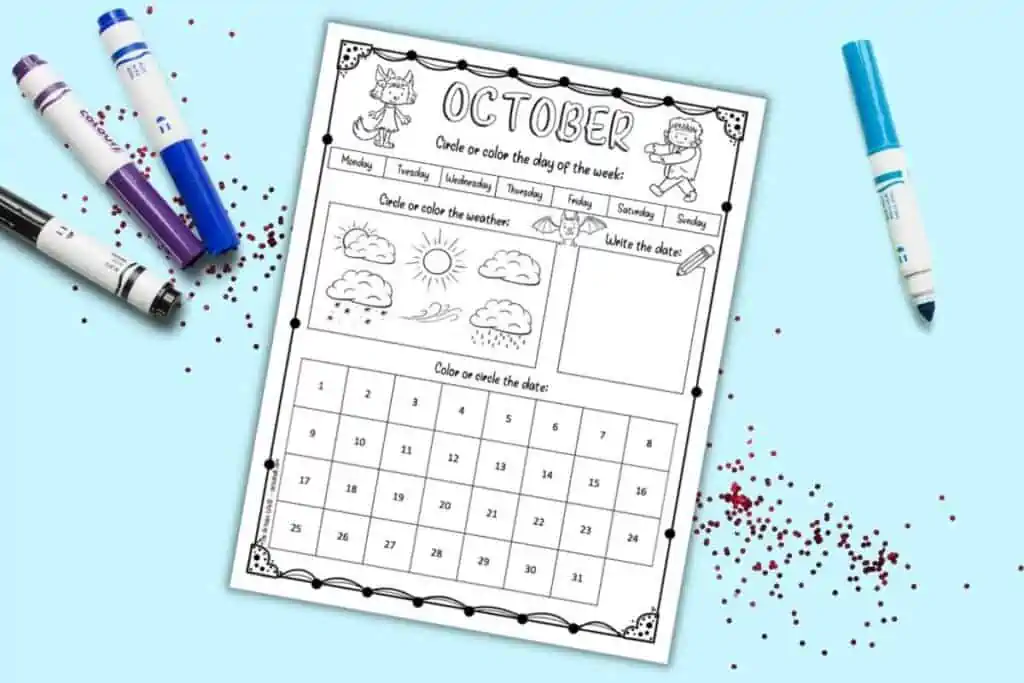 This post may include affiliate links which means I may earn a commission on qualifying purchases at no additional cost to you.
Want to save time and never worry again about how to start your day with little learners? Grab all 12 months of calendar worksheet printable in one handy file for one very low price! (Keep scrolling for the single month free download link.)
What are calendar worksheets?
What is a calendar worksheet? It's a simple worksheet that gives your child the opportunity to select the day of the week and the date. This worksheet calendar also includes a place to color or circle the day's weather and the place to write each days date.
How to use a calendar worksheet
Using this calendar worksheet is easy, fun, and developmentally appropriate for your child. They can fill in a new copy each day or you can make the page reusable. I recommend making the page reusable because it saves you time and resources!
Your child can find and circle the day of the week, the day's weather, and the date. There is also space for them to write the numeral for the day's date, if they're writing numbers. And, of course, your child can color the clipart and color, trace, or rainbow write "October." If your child is still working on writing numbers, be sure to download these free printable number tracing sheets.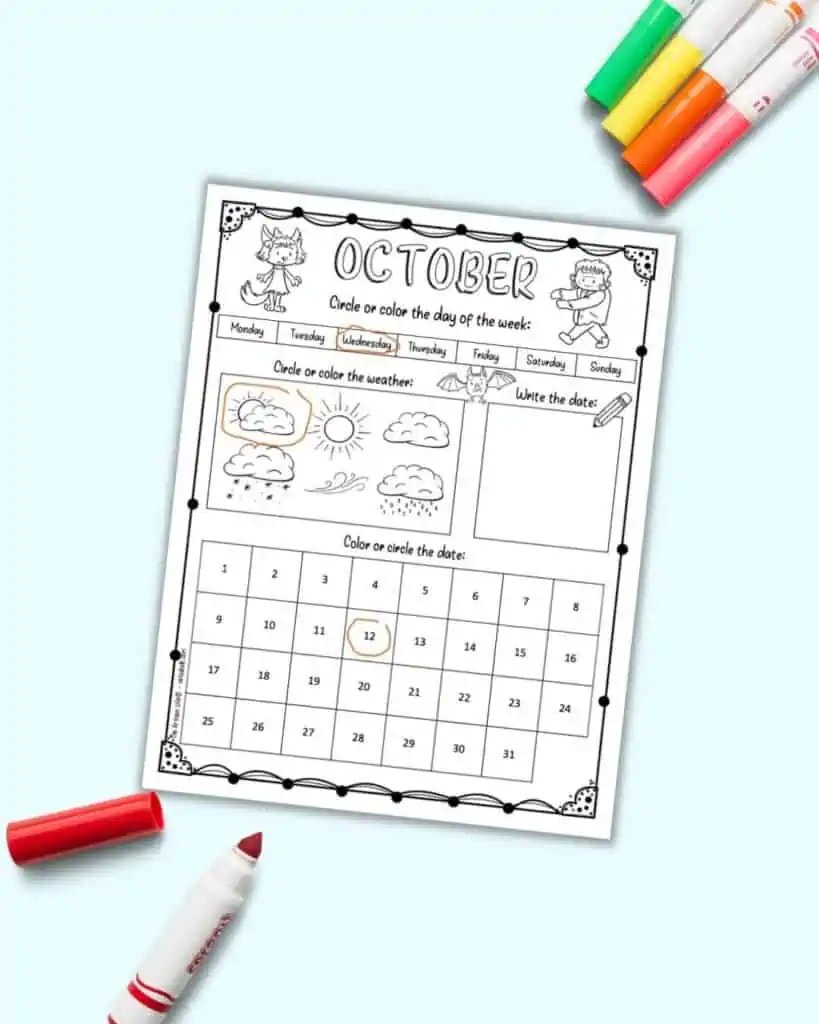 Materials needed for calendar worksheets
You can print a copy of this October calendar worksheet for every day of the month. If you want to do this, I recommend going with a cheaper paper instead of the higher quality paper I usually recommend for printables. There's no sense using all your nice paper on something so simple that you'll just use once! This is my current favorite inexpensive paper.
Sale
Hammermill Printer Paper, Premium Inkjet & Laser Paper 24 Lb, 8.5 x 11 - 1...
PREMIUM PRINTER PAPER – Hammermill Premium Inkjet & Laser 24lb Printer Paper is a versatile sheet that's perfect for double-sided inkjet or laser...
COLORLOK TECHNOLOGY – This computer paper features ColorLok Technology for colors that are 30% brighter, blacks that are 60% bolder and ink that...
PERFECT FOR PRINTING – This multi-purpose copier paper is designed to run smoothly through all office equipment for professional results when...
To make the worksheets reusable, slide each printed page into a secure page protector or dry erase pocket. I like heavy duty, "secure" page protectors because they're easy to organize in a 3-ring binder and they have a flap to keep the pages from accidentally sliding out. The thicker plastic also holds up well to coloring, writing, and erasing. "Regular" page protectors wrinkle easily after being used a couple of times.
Sale
Avery 76000 Secure Top Sheet Protectors, Super Heavy Gauge, Letter, Diamond...
Keep contents secure in the protective sleeve with convenient top flap; perfect for holding nonstandard size papers and important items
Get a crisp, clear view of the contents of your documents with diamond clear page protectors featuring a polished finish for high clarity
Ensure your documents stay protected with long-lasting super heavyweight sheet protectors for all of your frequently referenced items
After you place the page in a page protector or dry erase pocket, your child can use their favorite dry or wet erase marker, or an appropriate pencil like the Stabilo Woody pencils highlighted in this post with free dinosaur coloring pages.
You'll need to be careful with kids, but you an also make pages reusable by sliding them into a picture frame, as demonstrated in this post with a free printable daily intentions page and instructions on a DIY dry erase board.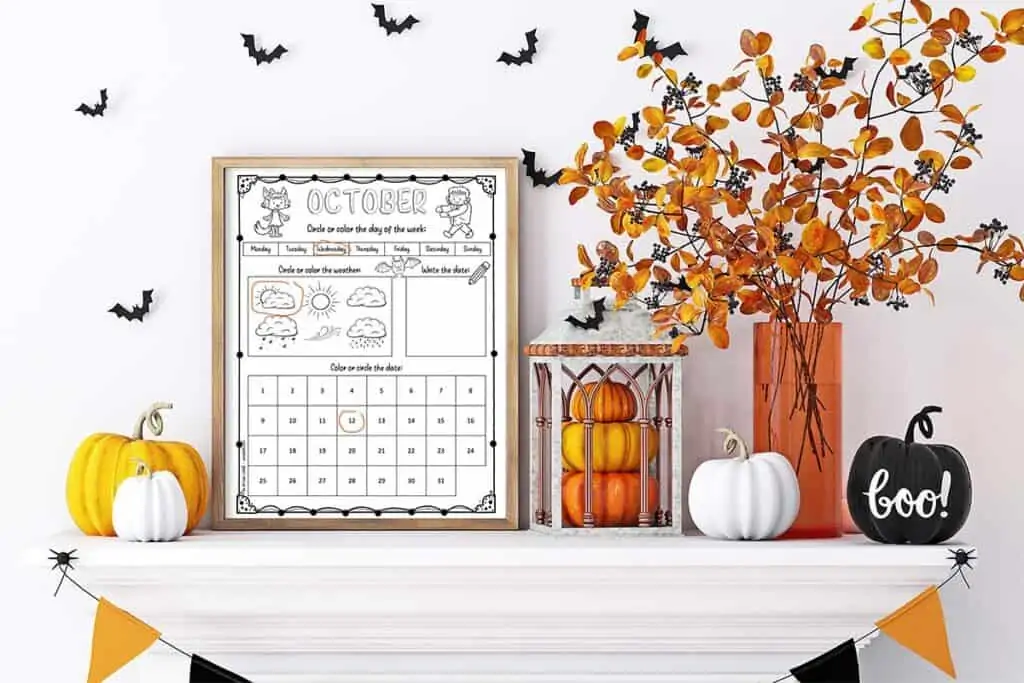 Free printable October calendar worksheet for kids download area
This October calendar worksheet for preschoolers and kindergarteners is available for personal and single classroom use. You are not licensed to redistribute the files to other parents/teachers for use with their children/students. Instead, please refer them to this page so they can download their own copy.
If you agree to this license, you may click below:

I hope you and your little learner enjoy this October calendar worksheet! I'll be creating each month as we move through the year, so make sure to check back again soon for additional months. While you wait, here are more literacy and counting resources for your little learner to enjoy!
Free Printable Literacy Resources
If you want to encourage your child's love of reading, you've come to the right place! Discover the ever-expanding collection of printable emergent readers, alphabet worksheets, sight word worksheets, bookmarks, and more.