These free printable short vowel CVC word tracing worksheets will help your child develop their fine motor skills and writing confidence. Each worksheet includes a picture, a word to color or rainbow write, and the word in a dotted tracing font. I hope your little learner enjoys these CVC worksheets as much as mine does!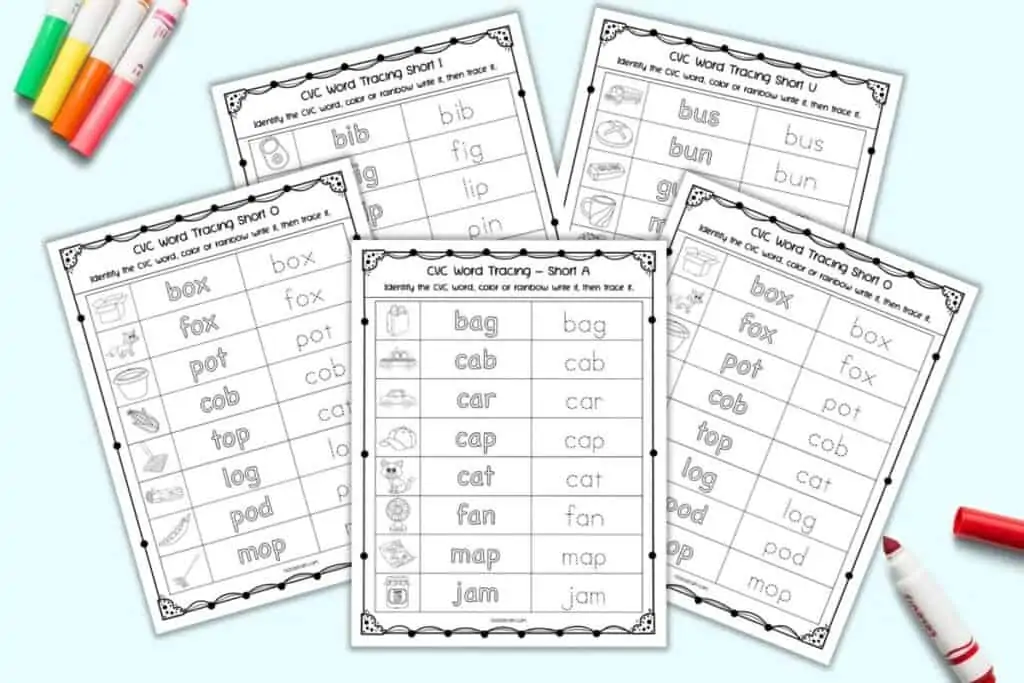 Looking for more literacy activities? Find more cvc word activities below:
This post includes affiliate links, which means I may earn a commission on purchases made through links at no additional cost to you.
What are CVC words?
CVC words are short, three letter words spelled in a consonant, vowel, consonant pattern. They are usually among the first words that a child learns to sound out, recognize, and read.
CVC words are frequently used to teach reading, like in the popular BOB Books series. BOB Books are empowering for young learners because they can read the entire book with just a few letters. The stories seem simple to adults, but kids are so proud when they read the whole book! My daughter loves her Series 1 Bob Books.
Sale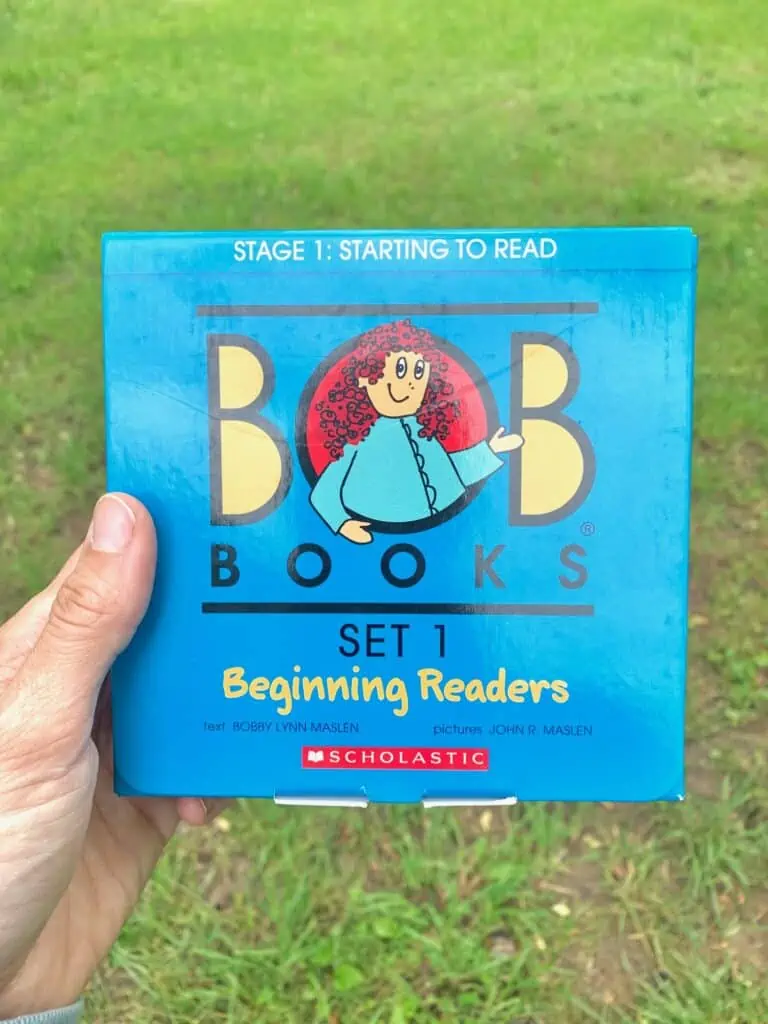 These I Spy pages feature short vowel CVC words. Short vowel sounds are more common in English than long vowels. That's why many parents and educators teach them first. Even if you don't know the term, you're probably already familiar with short vowel sounds. They're the sound in common words like cat, hat, sat, and pat.
Long vowel sounds are the vowels that "say their name." The "a" in both say and name are long vowel sounds. "Cape" is another example of a word with a long a sound. We are not using long a words in today's worksheets – only short a CVC words.
Short vowels can be particularly difficult for English Language Learners because short vowels aren't really used in romance languages like Spanish and French. (My Spanish-speaking father-in-law says English is very confusing because of the different vowel sounds.)
Materials needed for CVC word tracing worksheets
It's easy to print and use these short a CVC word tracing pages with your child or students. The PDFs can also be used on a tablet with a note-taking app or with the markup feature. Each page has 8 images with their corresponding words in a bubble font and a tracing font. The bubble font can be used for coloring or "rainbow writing," a technique where the same word is trace multiple times in different colors.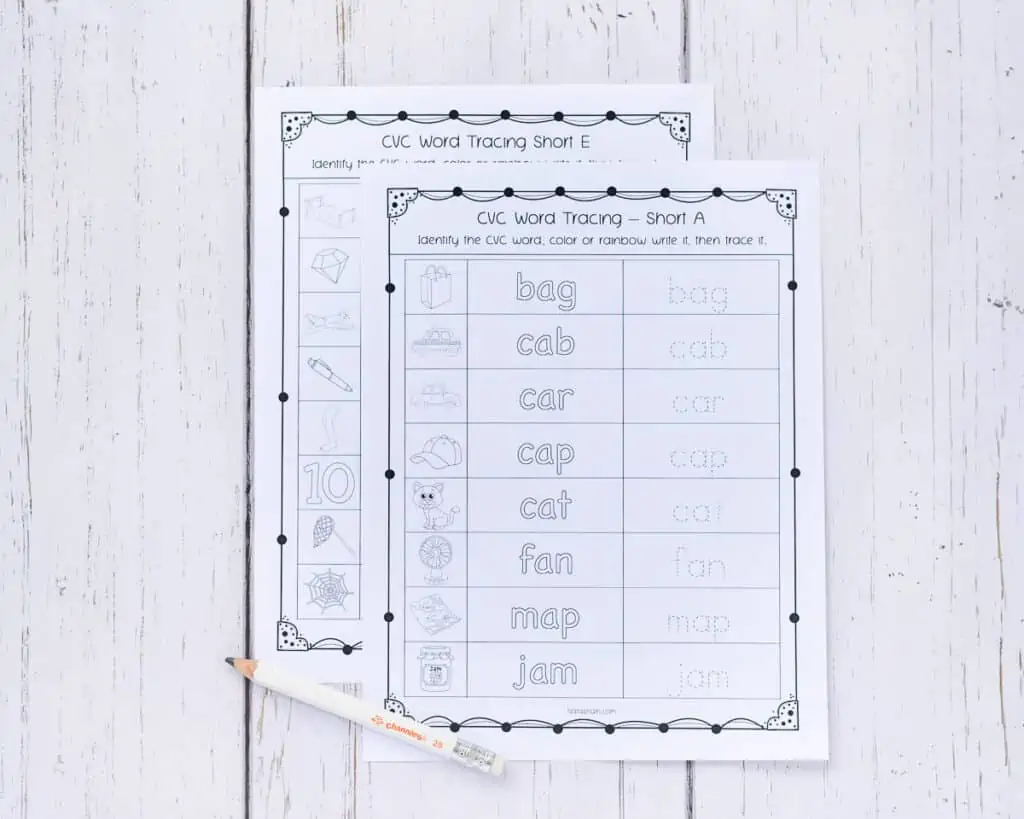 Make sure to provide your child with a developmentally appropriate writing implement. We use these preschool pencils because they're chunky and perfect for younger hands.
Channie's Easy to Hold Wooden Lead 2B Graphite Pre-Sharpened Pencils for...
Cute Pencil Set for Children - Large pre-sharpened pencils for writing and drawing; Easy to hold and perfect for beginning writers with small hands; 2...
Jumbo Barrel - Medium point and 2B graphite core creates thick, dark lines; Each pencil is 4.7'' long and 0.5'' in diameter and weighs 5 oz to help...
Complete School Set - Ready to use in kindergarten or preschool; Pencils include bulky erasers and come pre-sharpened for immediate use; Pack includes...
To make the worksheets reusable, slide each printed page into a secure page protector or dry erase pocket. We like heavy duty, "secure" page protectors because they're easy to organize in a 3-ring binder and they have a flap to keep the pages from accidentally sliding out.
Sale
Avery 76000 Secure Top Sheet Protectors, Super Heavy Gauge, Letter, Diamond...
Keep contents secure in the protective sleeve with convenient top flap; perfect for holding nonstandard size papers and important items
Get a crisp, clear view of the contents of your documents with diamond clear page protectors featuring a polished finish for high clarity
Ensure your documents stay protected with long-lasting super heavyweight sheet protectors for all of your frequently referenced items
Free printable short vowel CVC word tracing worksheets download area
Let's take a quick look at the tracing pages so you can see the words that are included. Look below the preview image for download information.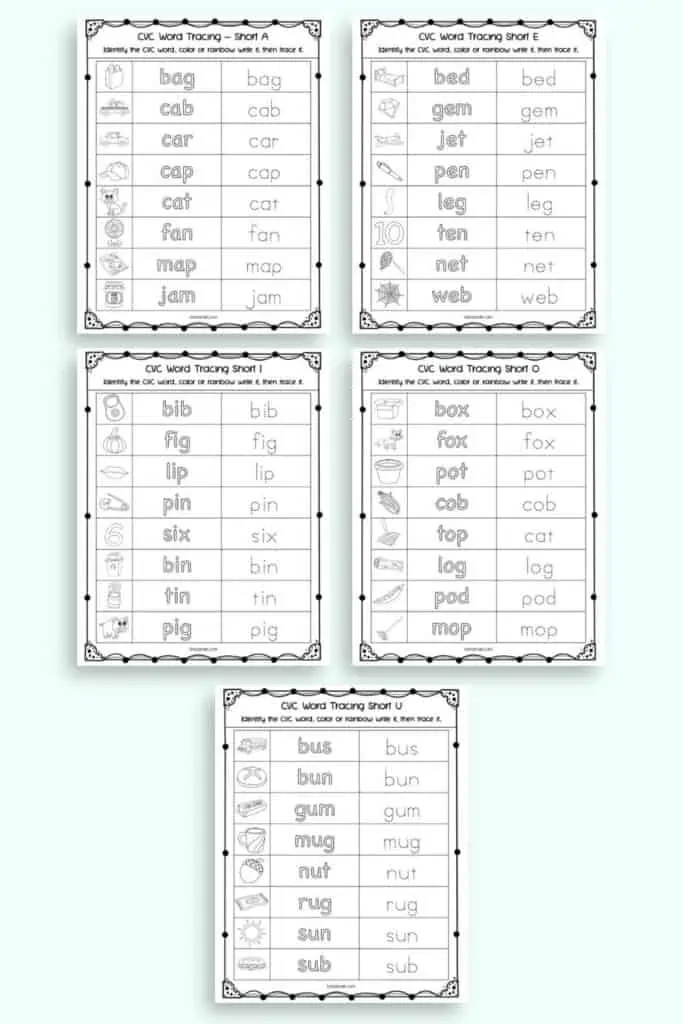 These short a CVC worksheets are available for personal and single classroom use. You are not licensed to redistribute the files to other parents/teachers for use with their children/students. Instead, please refer them to this page so they can download their own copy.
If you agree to this license, you may click below:

I hope you and your little learner enjoy these free short vowel CVC word worksheets! Make sure to check back again soon for additional CVC word resources. In the meantime, here are more early literacy printables:
Free Printable Literacy Resources
If you want to encourage your child's love of reading, you've come to the right place! Discover the ever-expanding library of free printable emergent readers, sight word worksheets, and bookmarks.