These free printable short a CVC words worksheets are perfect for helping kinders and pre-kinders practice their letters and sounding out words. There are two CVC word worksheets with a simple word search, word bank, and space to practice writing each word. I hope your little learner enjoys!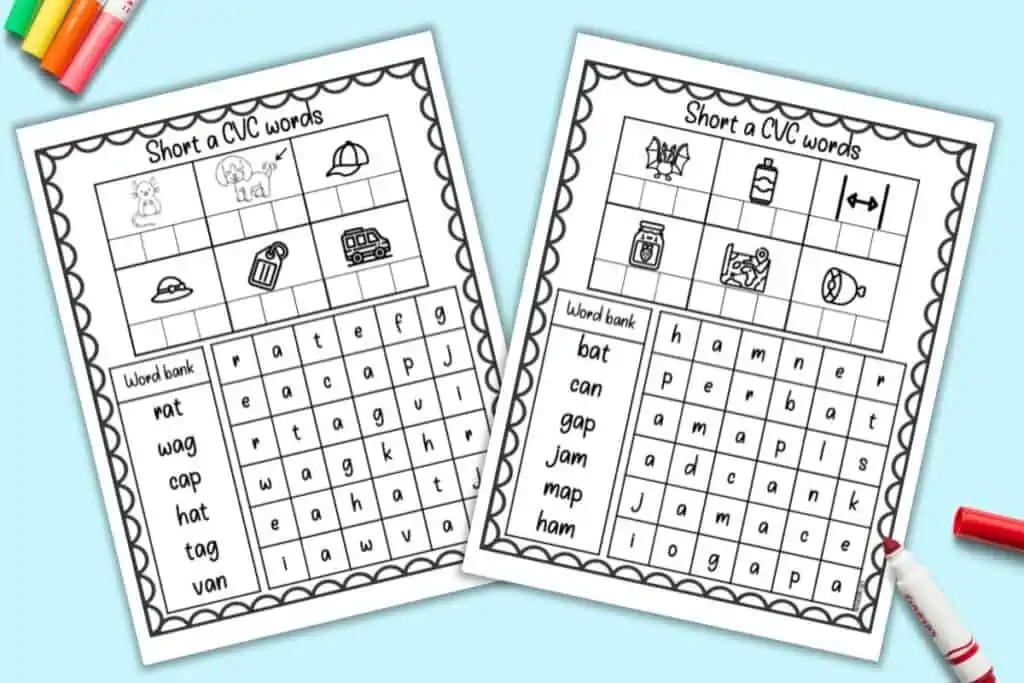 This set of CVC word worksheets has two pages with a total of twelve short a CVC words. Each page has 6 words with images, boxes to write out the word, a word bank, and a simple word search. Words are one to a row and only written forwards (not backwards or diagonally).
Looking for more literacy activities? Visit these posts to collect the whole set!
You can also save time and purchase the entire bundle for one low price. Click here to learn more.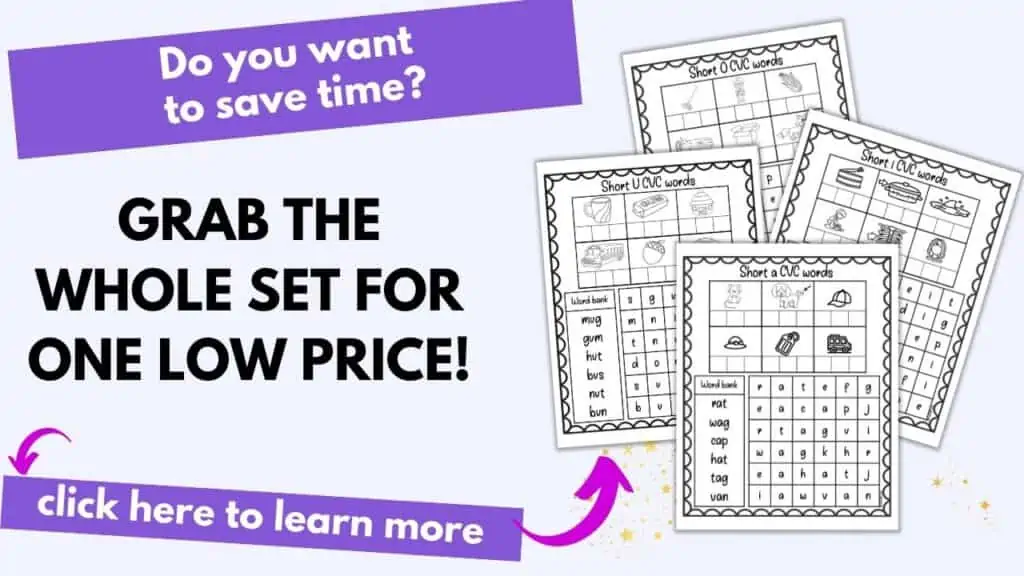 This post includes affiliate links, which means I may earn a commission on purchases made through links at no additional cost to you.
What are CVC words?
CVC words are consonant, vowel, consonant words. They are short, three letter words and are usually among the first words that a child learns to sound out and recognize as sight words.
CVC words are commonly used to teach reading, like in the popular BOB Books series. BOB Books are so empowering for young learners because they can read the entire book with just a few letters.
Sale
There are many different word families of CVC words and various ways to teach and organize them. For example, you might teach -at words together (bat, cat, sat, mat) or focus on words that share a middle vowel sound. Because I prefer to teach the alphabet phonetically, starting with short vowel sounds, I'm also teaching CVC words by vowel sound grouping.
Short vowel sounds are more common in English than long vowels. That's why many teachers and educators teach them first. Even if you don't know the term, you're probably already familiar with short vowel sounds. They're the sound in common words like cat, hat, sat, and pat.
Long vowel sounds are the vowels that "say their name." Conveniently, the "a" in both say and name are long vowel sounds! "Cape" is another example of a word with a long a sound. We are not using long a words in today's worksheets – only short a CVC words.
Short vowels can be especially challenging for English Language Learners because short vowels aren't really used in romance languages like Spanish and French. (My father-in-law says English is very confusing because of the different vowel sounds.)
Materials needed for CVC worksheets
It's easy to print and use these short a CVC worksheets with your child or students. The PDFs can also be used on a tablet with a note-taking app or with the markup feature.
If your little learner is new to this type of activity, you may want to help them sound out the words or help them write letters in the appropriate boxes. They may surprise you, though. My daughter (4.5 at the time of writing) jumped right in and started circling letters in the CVC word search box.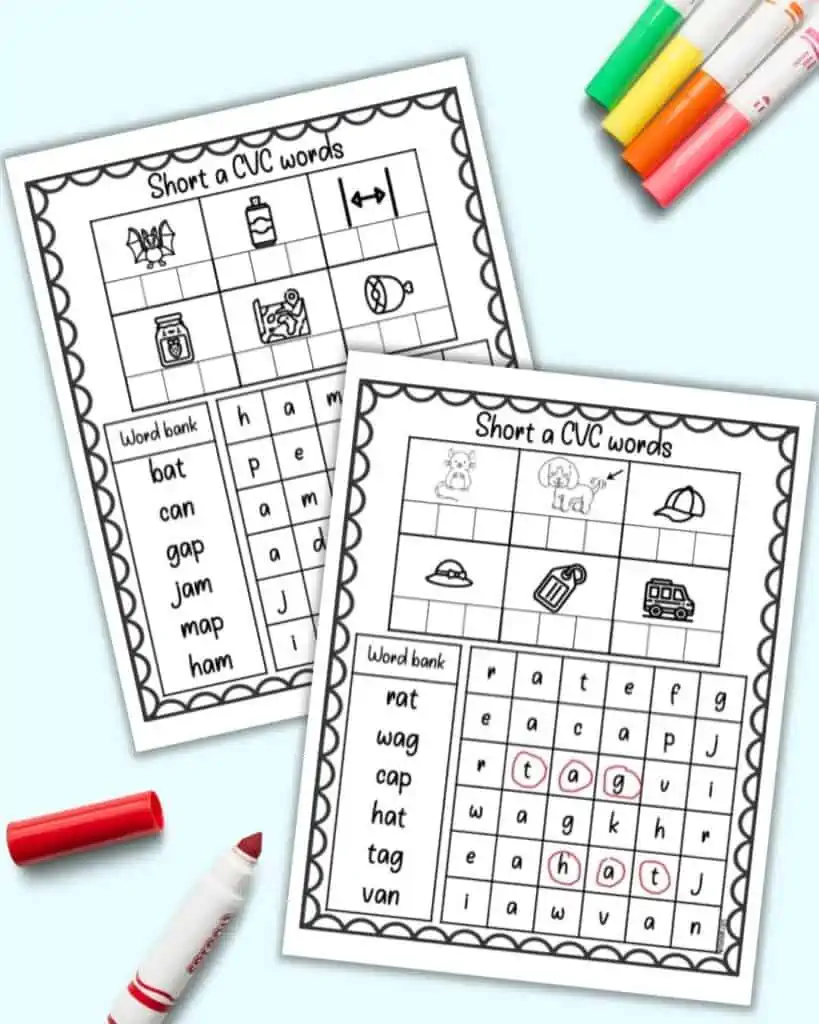 To make the activity reusable, slide each printed page into a secure page protector or dry erase pocket. We like heavy duty, "secure" page protectors because they're easy to organize into a binder and they have a tab to keep the pages from accidentally sliding out.
Sale
Avery 76000 Secure Top Sheet Protectors, Super Heavy Gauge, Letter, Diamond...
Keep contents secure in the protective sleeve with convenient top flap; perfect for holding nonstandard size papers and important items
Get a crisp, clear view of the contents of your documents with diamond clear page protectors featuring a polished finish for high clarity
Ensure your documents stay protected with long-lasting super heavyweight sheet protectors for all of your frequently referenced items
Instead of using a dry erase marker, we typically use Stabilo Woody 3 in 1 pencils. They don't have ink so they don't smell and they're easy to wash off. They do cost more than dry erase markers, but they're totally worth it when the pencil washes right off of something (like the wall in your rented home…) They also color and write really well on page protectors and laminated pages. Stop by this post with dinosaur coloring pages to see them in action.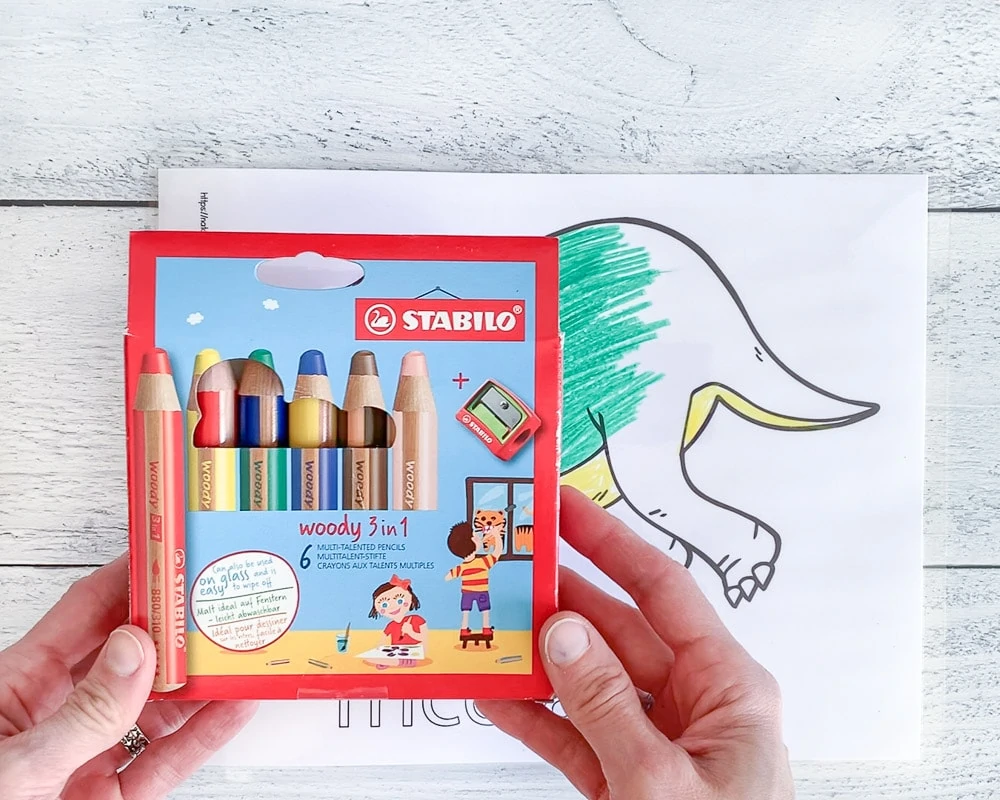 Free printable short a CVC worksheets download area
These short a CVC worksheets are available for personal and single classroom use. You are not licensed to redistribute the files to other parents/teachers for use with their children/students. Instead, please refer them to this page so they can download their own copy.
If you agree to this license, you may click below:

I hope you and your little learner enjoy these free short a CVC word worksheets! Make sure to check back again soon for additional CVC word resources. In the meantime, here are more early literacy printables:
Free Printable Literacy Resources
If you want to encourage your child's love of reading, you've come to the right place! Discover the ever-expanding library of free printable emergent readers, sight word worksheets, and bookmarks.