These free printable Valentine's Day themed letter matching cards are a fun, low prep way to help your little learner practice matching their uppercase and lowercase letters. Letter matching activities help preschoolers and kindergarteners associate the lowercase letters with their uppercase matches. They're perfect for a literacy center or go-bag of activities. I hope you enjoy!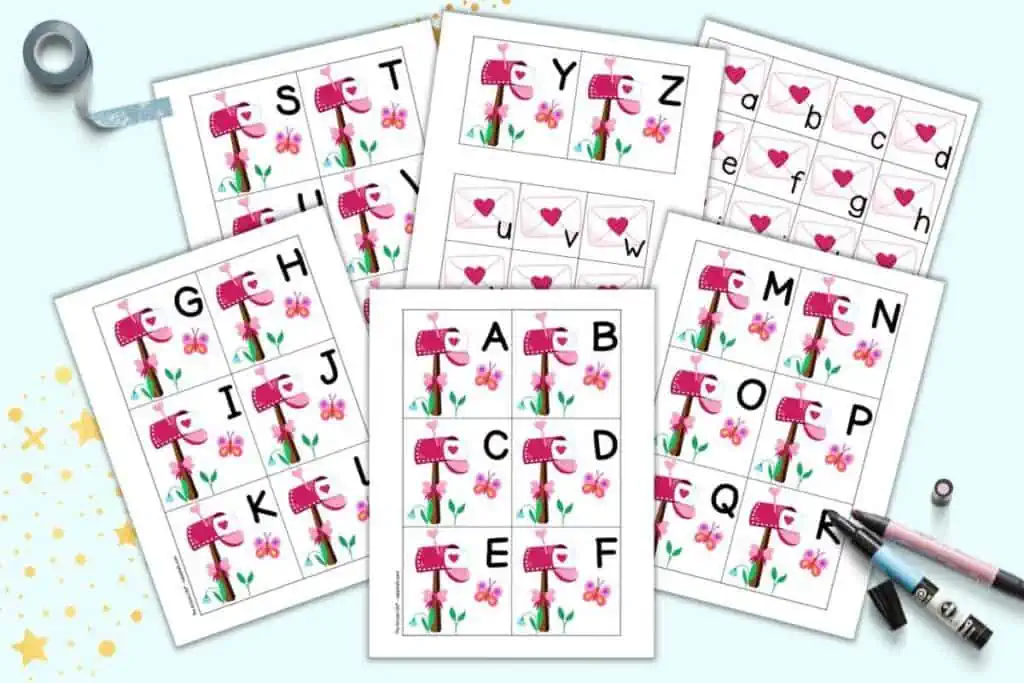 This post may include affiliate links which means I may earn a commission on qualifying purchases at no additional cost to you.
How to use and prepare alphabet matching cards
Materials needed:
How to use alphabet matching cards:
Download and print your alphabet matching cards (keep scrolling until you see a row of purple arrows pointing at the "download here" picture.)
Laminate the pages first, unless your laminator instructs you differently. My laminator says to laminate pages, then cut.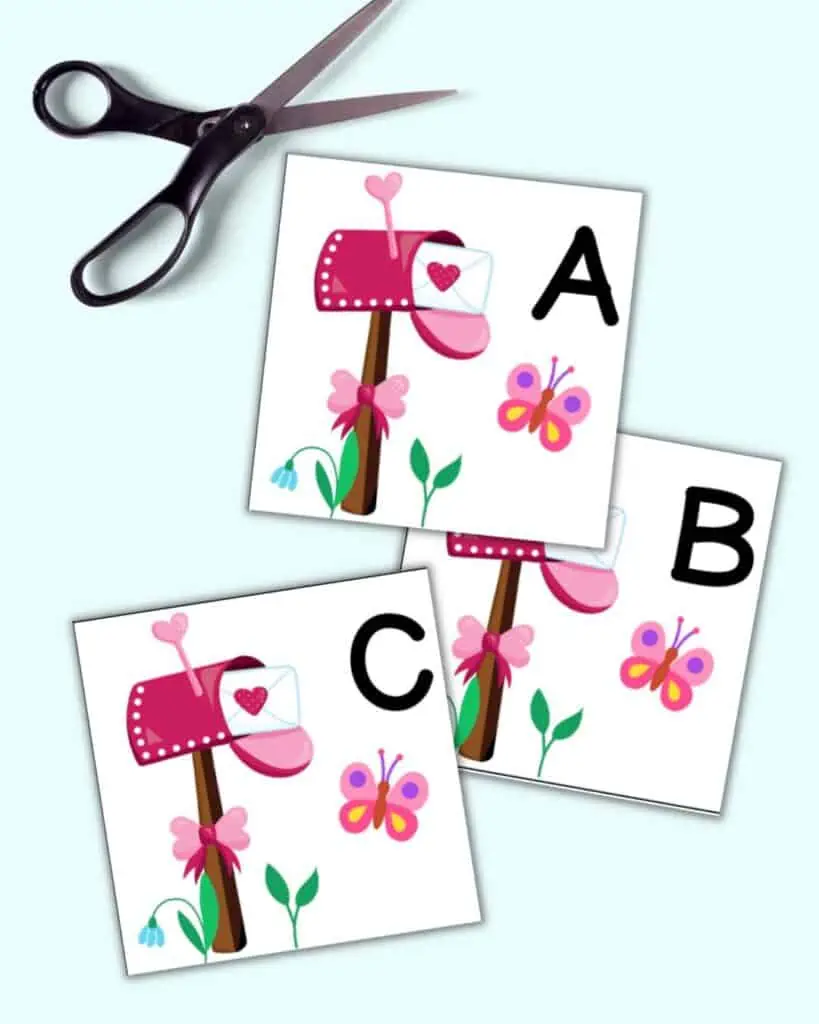 Cut the cards. A paper cutter or paper trimmer works best, but you can use scissors. If your child is working on their cutting skills, you can have them use a pair of blunt-nosed small scissors to cut the cards. You can also cut the cards into strips, then have your little learner snip the cards apart. My daughter uses these small scissors from Fiskars.
Introduce a few letters at a time to your child. I recommend starting with the four letters your child knows best in the case they know best. If your child is already proficient with letters, you can use more to begin with – even the whole set.
Review these four letters, then introduce the matching pairs.
I love the "I do, we do, you do" method for activities like this. First you model how to match the letters, then you have your child help, and finally they do it independently.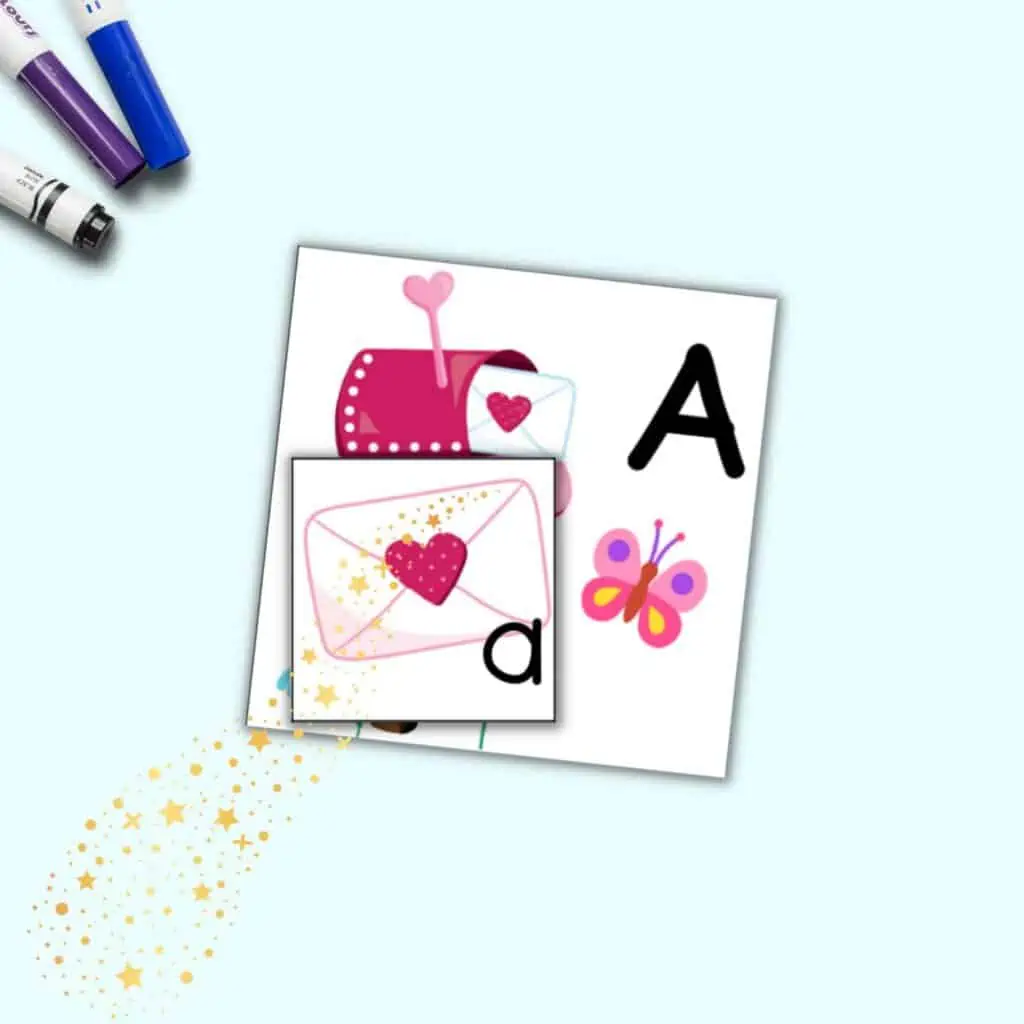 Printable letter matching cards download
These alphabet matching cards for Valentine's Day are licensed for personal and single classroom use. This includes use with your personal therapy clients, library activity you are organizing, etc.
You are not licensed to redistribute the digital file or print outs to other adults for use with their children/students. Please refer them to this post so they can download their own copies.
If you agree to this license, you may click below. The download should start automatically, but you may need to authorize downloads from Dropbox if a seed for permission. You do not need an account or their app.
I hope your little learner enjoys these Valentine's alphabet matching cards as much as mine does! Be sure to grab these additional free printables while you're here:
Stop scrolling Pinterest for Valentine's Day printables and crafts - check out these Valentine's posts right here on The Artisan Life!