Are you tired of turning your books into porcupines covered in sticky tabs so you can find specific spots in the book again? Only to feel frustrated once you turn to the page because you're not even sure what you wanted to remember from that page?
Or maybe you're one of those people who is completely against writing in the margins or highlighting in books.
Make reminders for yourself and note page numbers without writing in the margins or making Post It Notes' annual profit goal with these free printable book notes bookmarks!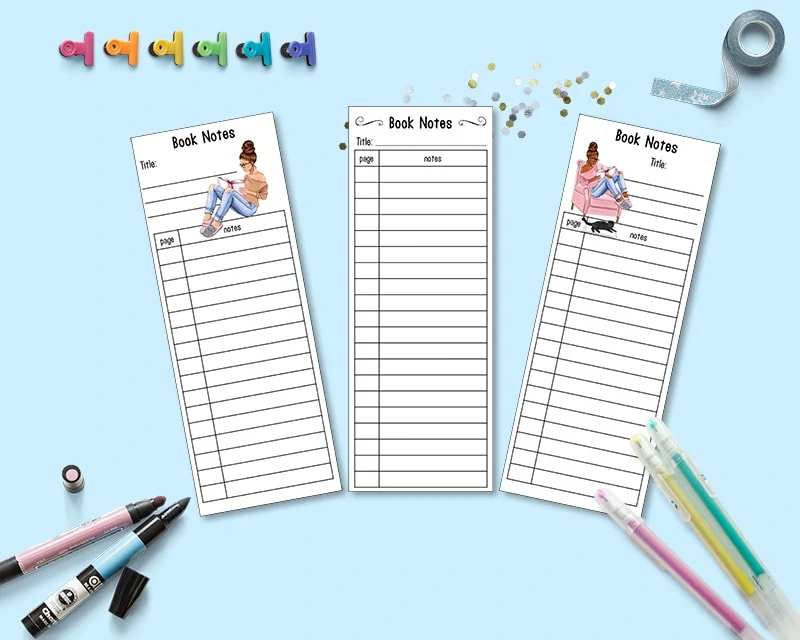 Whenever I'm reading something informative (like gardening books…I'm very into reading gardening books) or personal development books, I wish I had a handy place to jot down page numbers and reminders. I tell myself I'll make a note "later," but by later I've forgotten.
That's why I created this free printable bookmarks for taking notes. Now you can always have a convent place to write down notes, reminders, and page numbers. These free bookmarks are available in a minimalist, black and white style and with a variety of cozy reading girls. I hope you enjoy!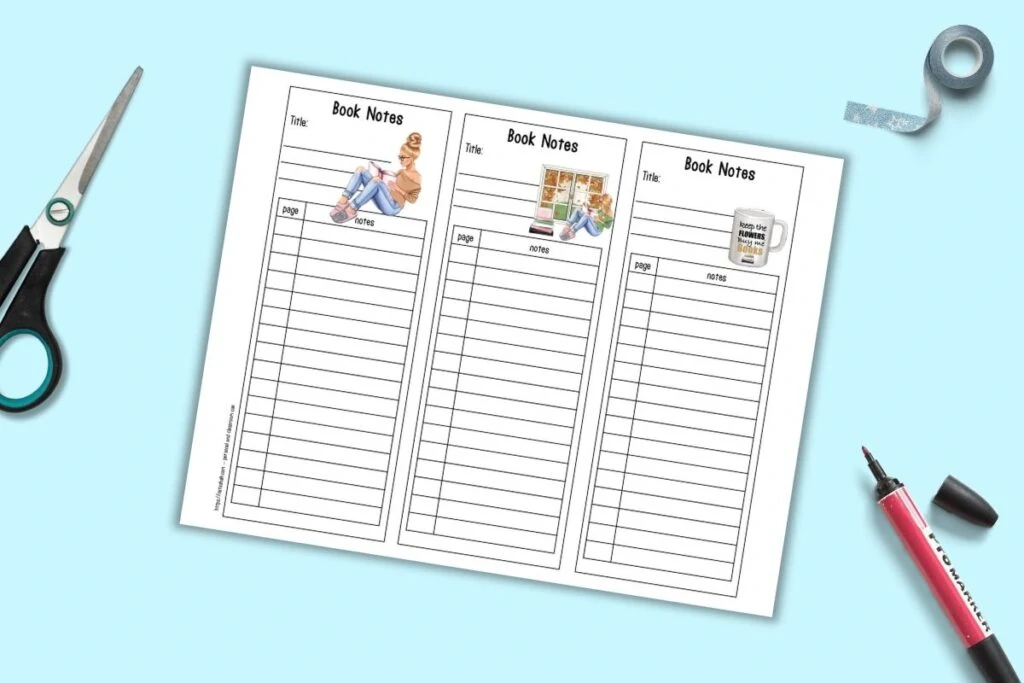 This post may include affiliate links which means I may earn a commission on qualifying purchases at no additional cost to you.
How to print and use book notes bookmarks
Normally I'm a huge fan of laminating printable bookmarks. That obviously isn't a great idea if you want to write on your book notes bookmark easily.
I experimented with printing these bookmarks on my favorite 32 lb bright white paper and card stock. The 32 lb paper did have brighter images, but is noticeably lighter weight than the cardstock. For ease of use and durability, I recommend using cardstock for these particular printables. For an even heavier duty bookmark, use index stock.
To print and use these book notes bookmarks:
Grab your free printable PDF from lower down in the post
Print your desired pages on cardsock
Use a paper trimmer or scissors to cut out the bookmarks
Use and enjoy!
These are large bookmarks that measure 3″ x 8″ each so you have space for your notes.
As noted above, there are several versions of these bookmarks available in the free PDF. The first page has black and white bookmarks that are budget-friendly and easy to print: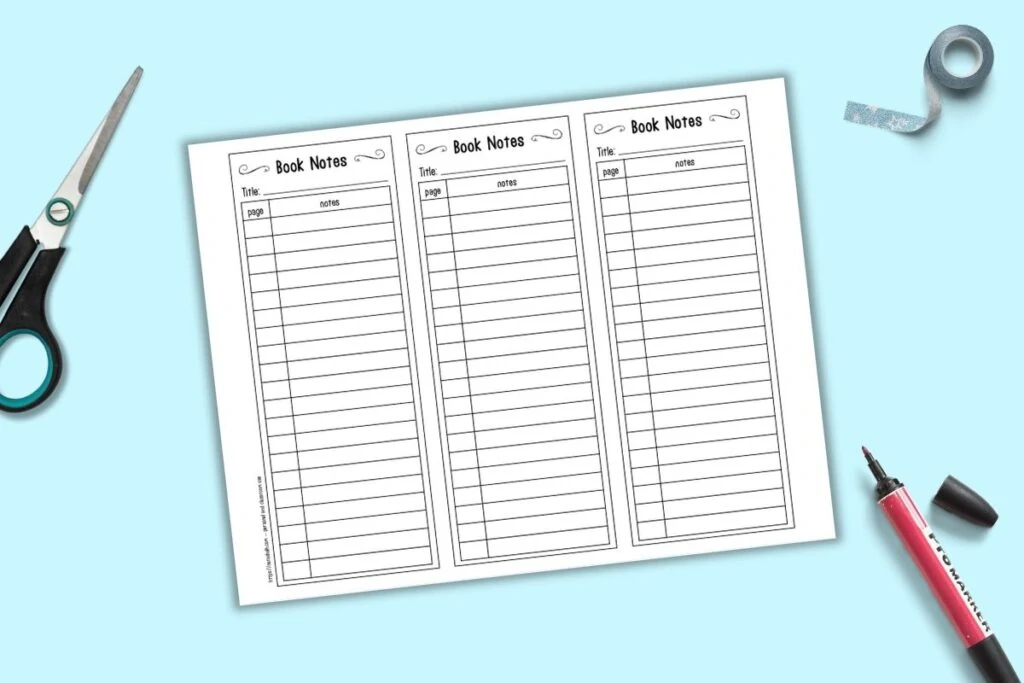 On the following pages, you'll find a variety of reading girls and fun items like the quotation "It's not hoarding if it's books."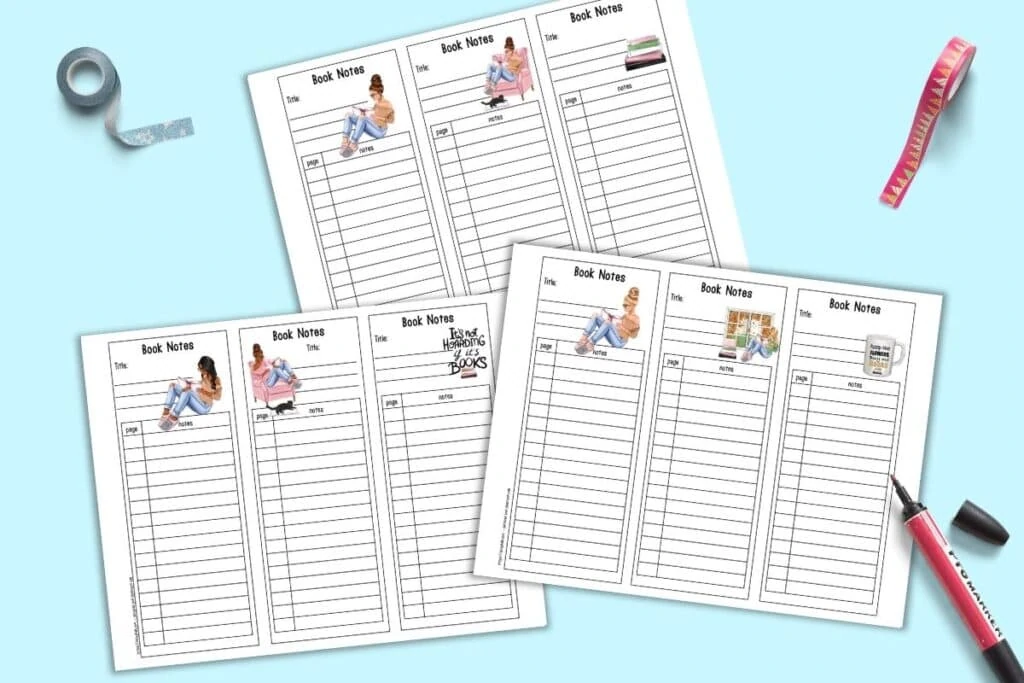 Free printable book notes bookmarks download
Like all free printables on The Artisan Life, these are licensed for personal and classroom use. This includes use with book clubs, library meetings, etc. as long as you are personally organizing the activity and note charging to receive the bookmark.
You are not licensed to redistribute the digital files or printouts to others for use with their own activities/classrooms or to sell the bookmarks.
If you agree to these license terms, you may click below:

I hope you enjoy using these book notes bookmarks as much as we do!
If you like free printables, be sure to check out these free printable planner and journal pages while you're here on The Artisan Life:
Planner Printables
Plan your year with free, colorful monthly themed planner printables in US Letter and Happy Planner Classic sizes! The entire year is available now so you can plan ahead.
There are also non-month specific planner printables and free printable planner stickers.