These free summer dot it printables are an easy, no prep activity for your kids. Download 11+ summer dot marker color sheets for free and stop wondering what to do today with your bored toddler or preschooler!
This post may include affiliate links which means I may earn a commission on qualifying purchases at no additional cost to you.
These summer do a dot worksheets are perfect for young children. My daughter started enjoying filling circles with dot markers at around 2.5 years old. Preschoolers and even kindergarteners enjoy and benefit from dot marker activities! They're fun, low-prep, and easy to bring on a road trip or to a relative's house.
Want to discover more about dot marker printables and how they can help your child? Check out the short video below:
How to use printable dot activities
However you decide to use your dot activity printables, they'll keep your little ones busy and honing important skills.
Dot worksheets can help your child develop their hand-eye coordination, fine motor skills, and finger strength.
Children are increasingly entering schools with poor fine motor skills and manual dexterity. One study found that preschool-aged children's manual dexterity was inversely related to their screen time. In other words, more screen time = worse fine motor skills.
These summer do a dot printables are fun and easy activity that can help your child develop important skills they need to succeed.
My toddler adores her classic Do A Dot! Markers. They're chunky, easy for young children to hold, and a lot of fun. Allowing your child to remove and replace the cap provides great fine motor practice, too!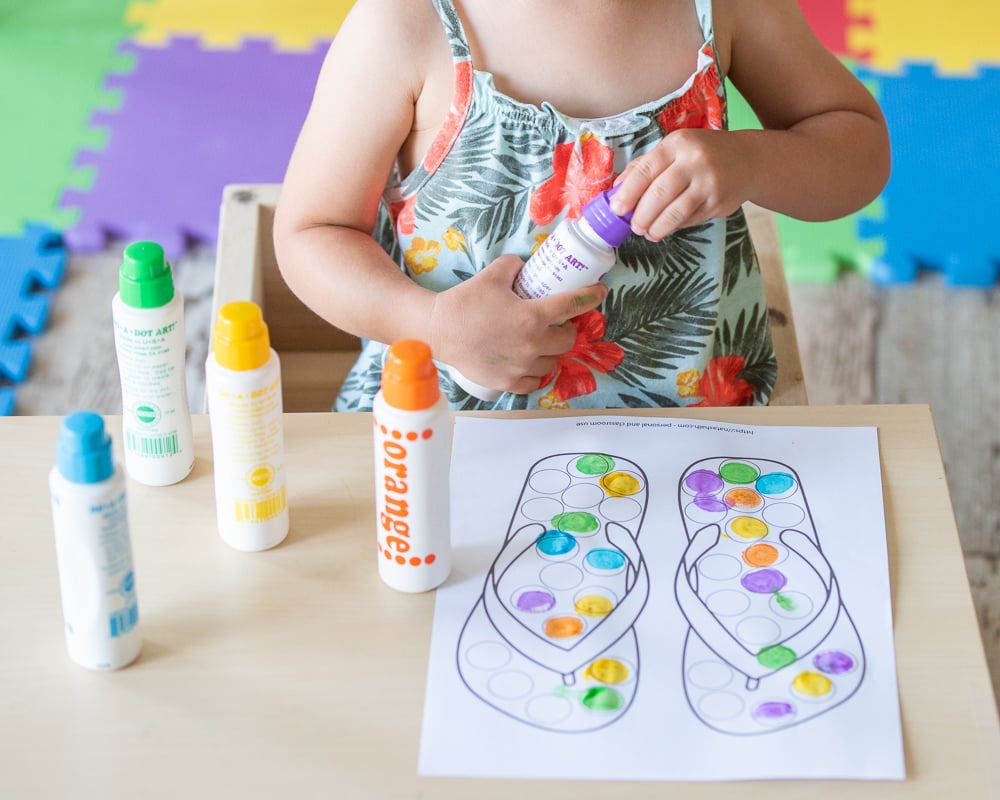 For less mess, and an easy activity for the car, restaurant, or doctor's office, try using round stickers instead of dot markers. Because of the circle size, make sure you get 5/8″ or 3/4″ round stickers, not the big 1″ round stickers.
For an extra fine motor challenge, provide pompoms and plastic tweezers, bamboo tongs, or small silicone tipped tongs. Have your child grip each pompom with the tongs and transfer it to the printable to cover a circle. Other small manipulative, like buttons, can be used instead of pompoms.
Pro tip: if the keeper bar on the tongs slides down and frustrates your child, use a couple of pairs of pliers to pry it open and remove it.
To make your dot marker printable reusable, laminate the sheet and use pompoms or other manipulative instead of markers.
Free summer dab a dot printables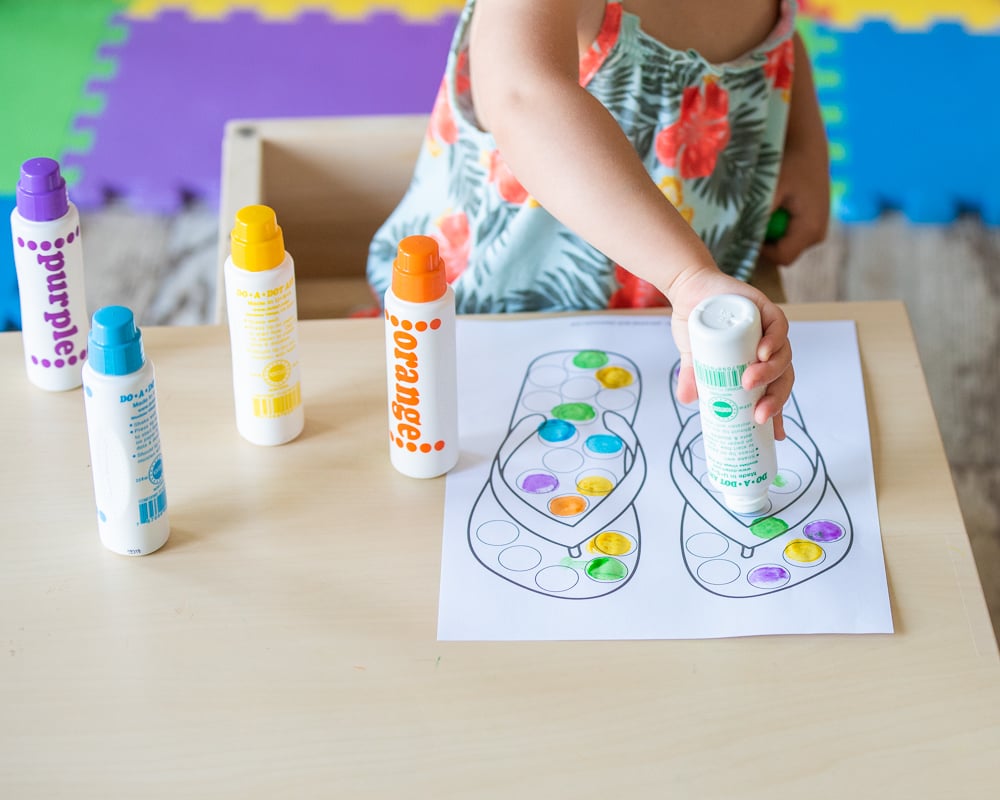 Like all free printables on The Artisan Life, these summer dot worksheets are free for personal and classroom use. You may print and use them as many times as you'd like with your own children, scout group, classroom, therapy clients, etc.
You are not licensed to alter, redistribute, or sell the printables. Do not give the digital files or printouts to other adults for their use. Instead, please refer them to this post so they can download their own copies.
The download link is located below the preview image. Make sure to print the sheets at 100% so the circles are the right size.
This summer dot printable pack includes 13 pages:
Sand bucket with a shovel
Beachball
Flipflops
Popsicle
Ice cream cone
Board shorts
Surfboard
Lemonade
Sand castle
Beach umbrella
Flamingo
Pineapple
Sun
Free summer printables
If you're looking for budget-friendly ways to keep your kids happy, busy, and learning without screen time, you've come to the right place! Be sure to check out some of the most popular free printables for kids here on The Artisan Life: