These free printable sun templates are perfect for summer craft ideas, kindergarten projects, solar system crafts, lessons about the weather, and more!
When I create free printable shape and object templates, I tend to get really excited and create a whole bunch of different sizes. These sun printouts are no exception. I couldn't make just one size of sun for you. I created small, medium, and large suns as well as a sun with sunglasses, a cute sun, and yellow sun templates, too. I hope you enjoy!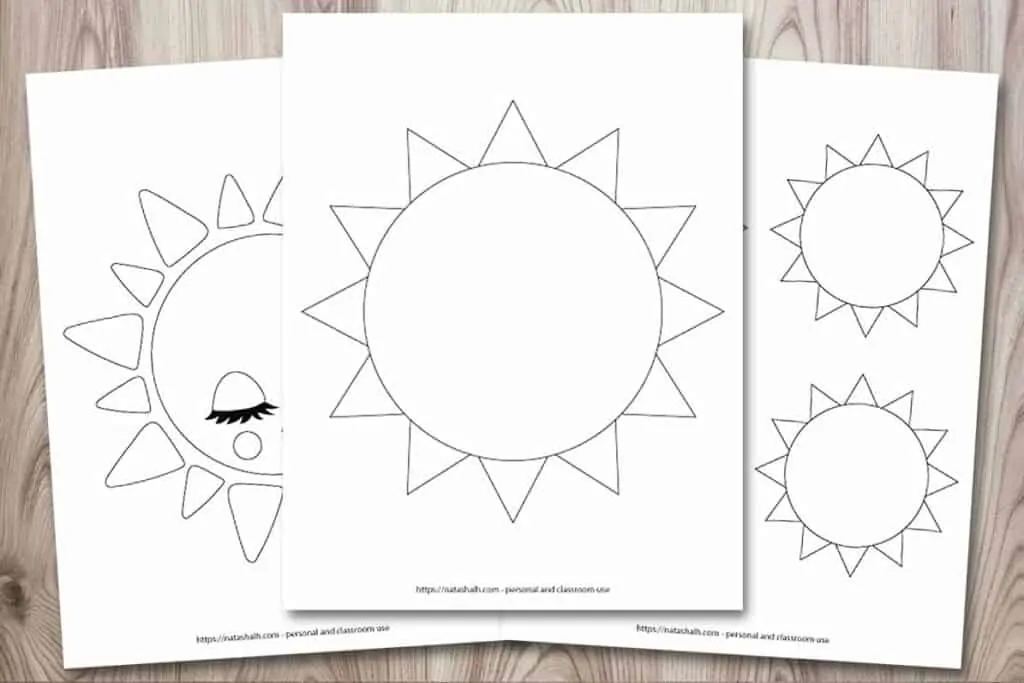 This post may include affiliate links which means I may earn a commission on qualifying purchases at no additional cost to you.
Sun craft ideas & sun activities:
The sun printouts are great for a variety of crafts from children as young as toddlers all the way on up. Here are a few ideas to get you started!
Grab small, blunt-tipped scissors and have your preschooler or kindergartener practice their fine motor skills by cutting out a sun
Use the printables as tracing sheets to help your child develop their fine motor skills and pencil grasp
Make a sun stencil by cutting the sun out of the printout
Make a sun-shaped sun catcher
Use the yellow sun stencil or yellow cardstock/construction paper and a dowel to make a sun stick puppet
Use the template as a pattern to make sun felt shapes for a felt board

Stick puppets and felt pieces make great complements to story time when you read a book about the sun or weather

Make a solar system craft using this sun template and free printable circle templates to make the planets (Learning about the solar system? Be sure to check out this outer space bingo game!)
Use the large sun template as a sun coloring page for a unit on weather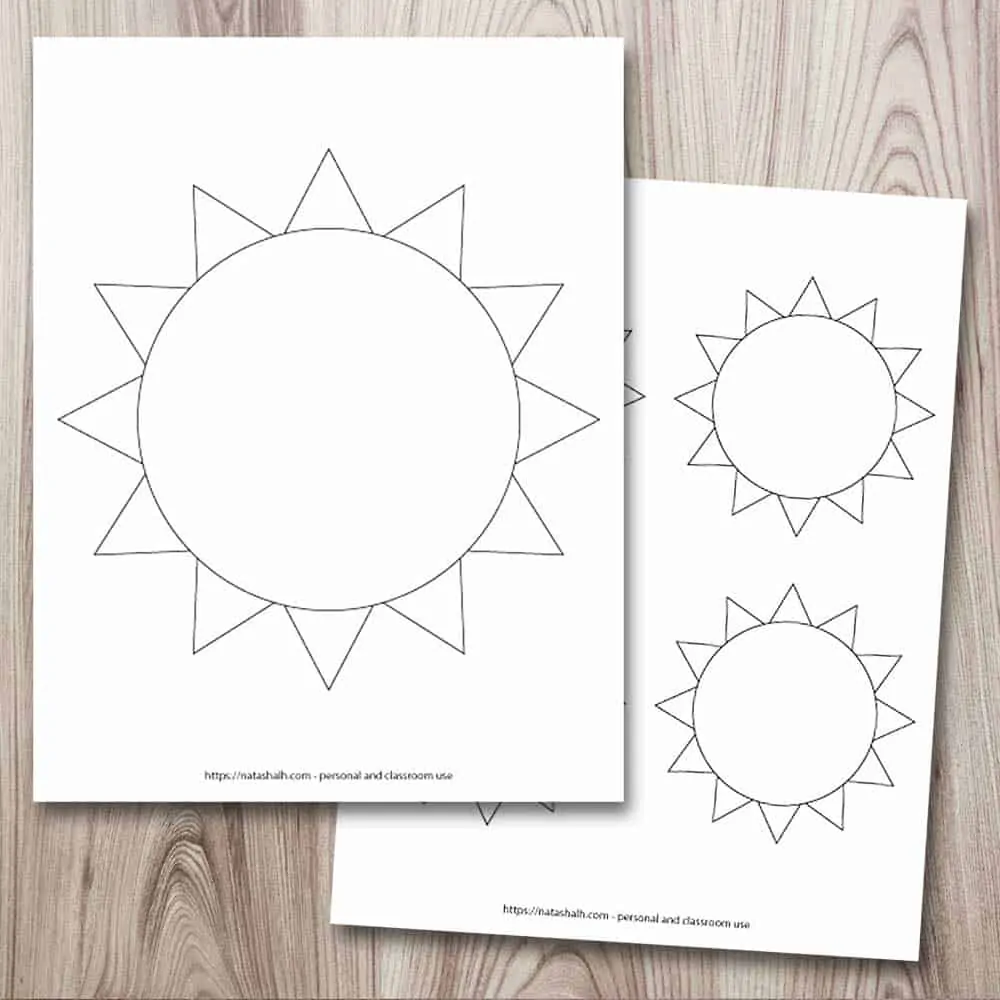 Related: Free printable summer bingo
Free printable sun templates
Like all free printables on The Artisan Life, these sun printouts are available for personal and classroom use. This includes use with your Sunday school class, Scout troop, homeschool co-op, etc. as long as you are directly involved with the activity.
Please do not share the digital files or printouts with other adults for their use. Instead, refer them to this page so they can download their own copies. Thank you!
All files are available for free with individual download links, but you can save yourself valuable time by getting all 9 sun printables in one handy file for just $1!
Individual free download links are located below each preview image. Do not download the preview image. They are all low resolution and will look terrible if printed. Make sure to download the PDF printables by clicking the purple buttons.
Large sun template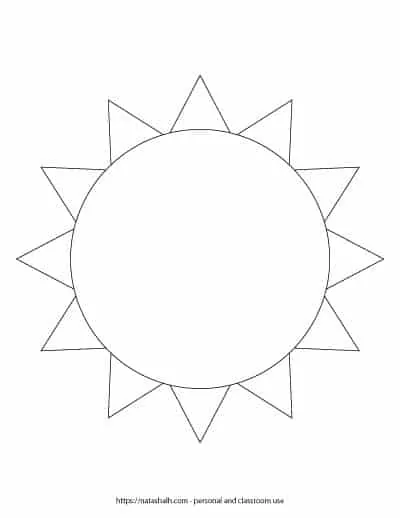 Simple medium sun template printable
Next there are four medium suns to print on one page. These simple suns are about 3.75″ across when printed at full size.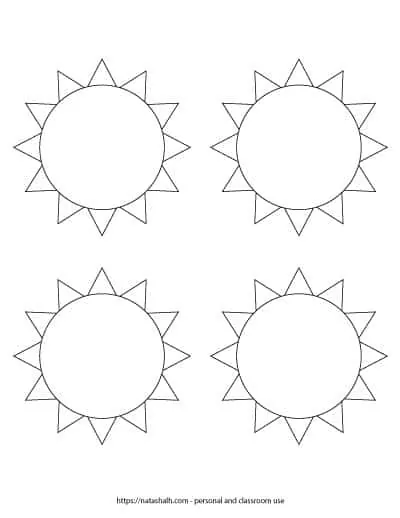 Download the medium sun template here
Small sun template
Next there are twelve small suns on one page. These sun outlines are about 2″ across when printed at full size.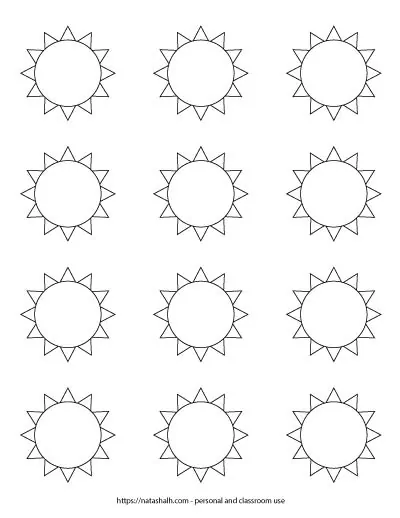 Cute sun template
This cute sun would make a fun coloring page.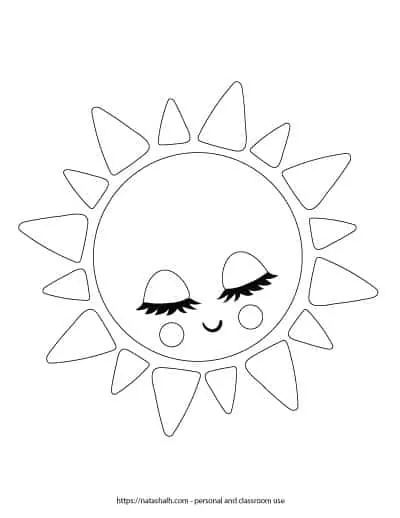 Sun with sunglasses coloring page
This sun wearing glasses is too cool!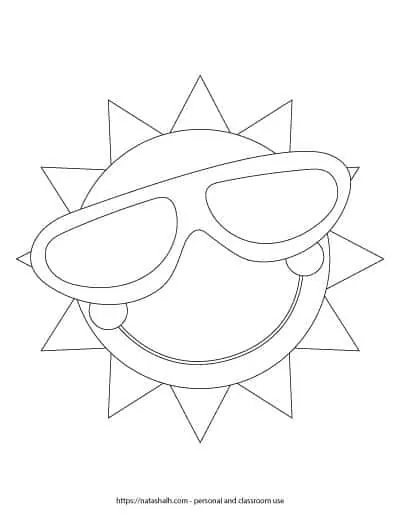 Yellow sun template
Next there's a large yellow sun template. This option is great if you don't have construction paper or cardstock.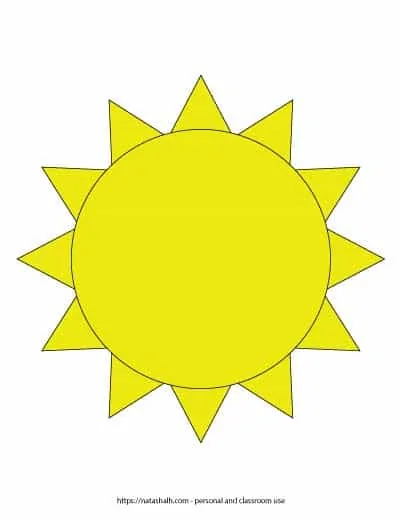 Large sunshine template
This large sunshine template has a yellow center and orange rays.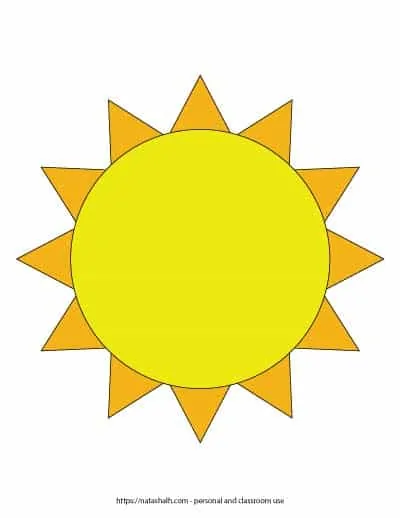 Medium yellow suns to print and cut
The yellow sun is also available in medium size (3.75″ across).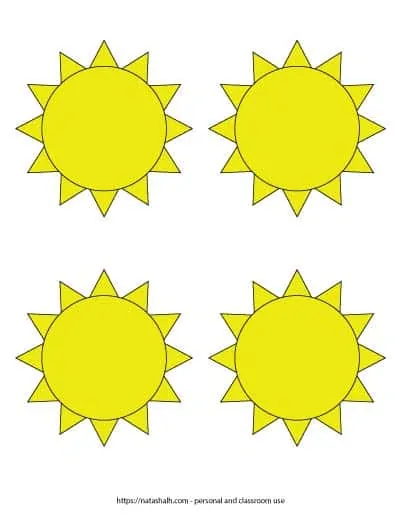 Medium sunshine templates
And, last but not least, here's the sunshine template in a mid-size. They're also about 3.75″ when printed at 100%.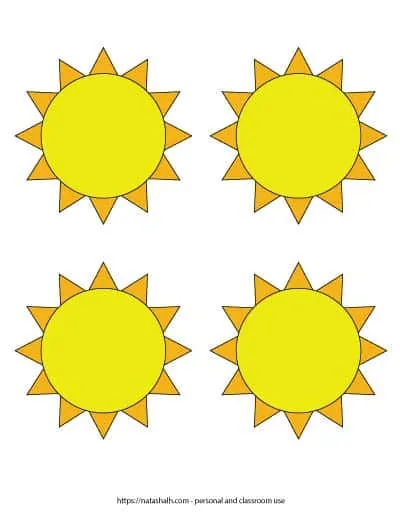 Don't lose track of these sun templates – Pin them now (by following the link) so you can find them again later.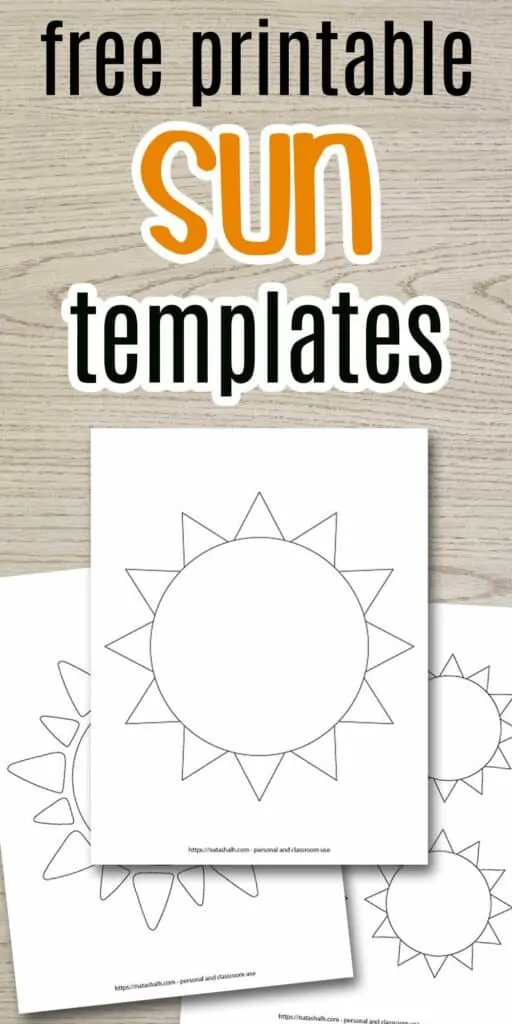 Free summer printables
If you're looking for budget-friendly ways to keep your kids happy, busy, and learning without screen time, you've come to the right place! Be sure to check out some of the most popular free printables for kids here on The Artisan Life: