This Valentine's Day activity pack has printable activities for children of all ages! These printable low-prep and no-prep activities for Valentine's Day are great for classroom, homeschool, and personal use.
As a parent and former classroom educator, I know how hard it can be to find affordable, high-quality activities for your children and students. That's why I love creating printables that are easy for you to use and both fun and educational for your children.
This set of Valentine's Day activity printables has something for everyone in the whole family to enjoy. With matching cards and pre-writing practice sheets for your littles, mazes and puzzles for your bigs, and bingo cards for everyone you'll be busy and screen-free all day long!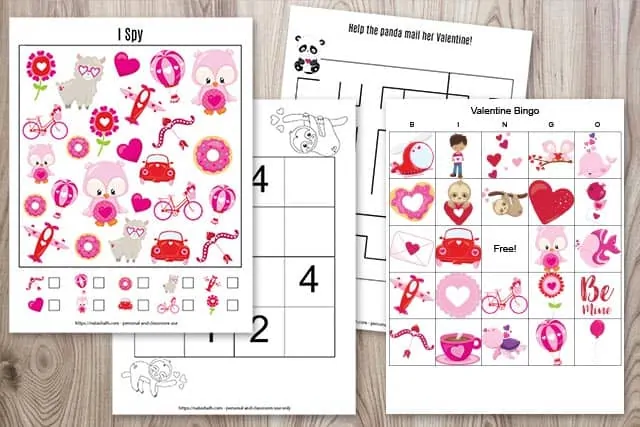 Printable Valentine's Day Activities
This post may include affiliate links which means I may earn a commission on qualifying purchases at no additional cost to you.
Let's begin with an overview of everything that's included!
This printable activity pack includes:
Two difficulties of Valentine's Day I Spy puzzles
Three Valentine's Day pre-writing/fine motor practice sheets
A set of Valentine's Day matching cards

These can be used face-up for younger children or as a memory game

Two number building puzzles with numbers 1-10
Three difficulties of maze (answer keys are included for your convenience!)
Two sudoku puzzles for children
A Valentine's Day word search
Four unique Valentine's Day bingo cards
If you've already downloaded the free printable Valentine's Day word search or Valentine's Day bingo, don't worry. The word list/image pools are the same, but the word search has a unique solution and the bingo cards are different, too!
Let's take a closer look at the printables in the activity pack and suggestions for how to use them.
First we have two difficulties of I Spy puzzle. One puzzle features just 1 or 2 of each image and the pictures are larger. It's perfect for younger children who are just learning how to write their numbers. There's also a more challenging puzzle with a larger number of smaller images.
I Spy puzzles help develop your child's concentration, counting skills, and visual discrimination. To make them reusable, slide them into a dry erase pocket or laminate them.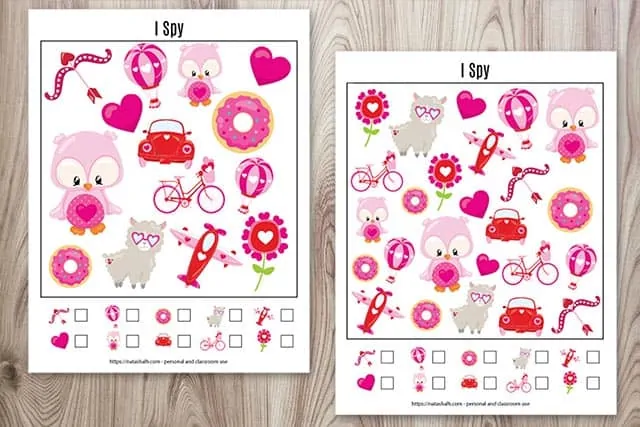 Next there are three pre-writing or fine motor practice sheets.
One sheet features four lines to cut or trace. It is the easiest and can be used in a variety of ways. Toddlers can trace the lines with a finger, for example. Preschoolers and kindergartners can trace with a pencil or crayon. Laminate the sheets or use a dry erase pouch to save ink and make the pages reusable!
This page can also be used as scissor/cutting practice.
The next two pre-writing sheets can be laminated and written on, traced with a finger, or used with manipulates. For example, have your child slide pieces of Valentine's candy along the dotted line.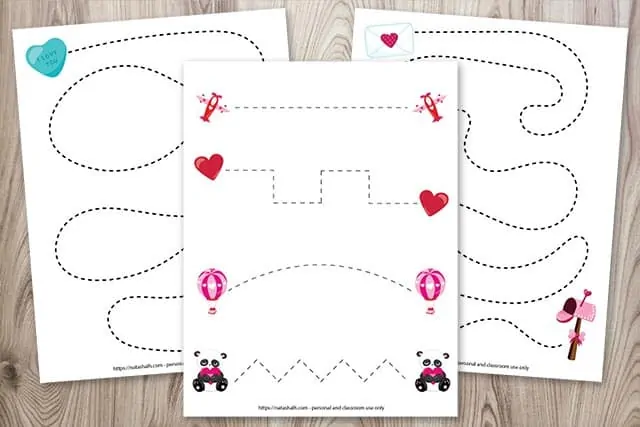 The Valentine's Day matching cards are multipurpose and useful for children of all ages.
Five pairs of cards have very distinct images but five require knowledge of colors and careful visual discrimination. They can be used face up for matching or color practice with younger children or face down as a memory game for older children.
I recommend laminating the matching cards and cutting them out with a paper cutter.
Full disclosure: these Valentine's Day matching cards are available for free if you want to click around and go get them.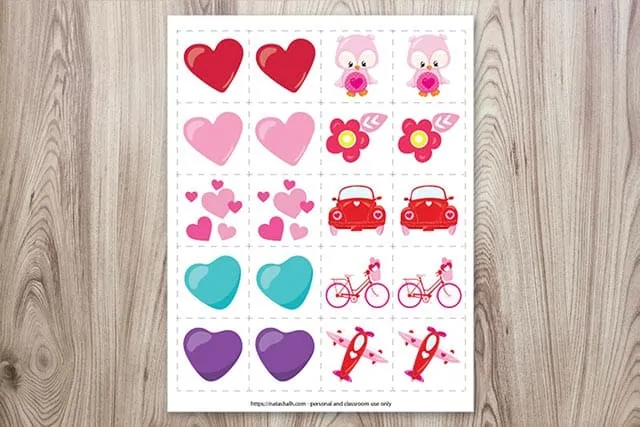 I highly recommend laminating the number building puzzles and using a paper cutter to cut the strips.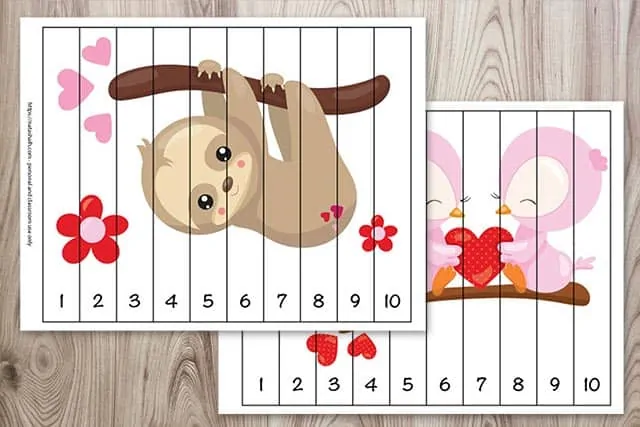 The three mazes come with an answer key in case your little one gets stumped and needs some help. There are three difficulties ranging from easy to complex. These mazes are unique and do not overlap with other activity packs, like this free printable woodland animal activity pack.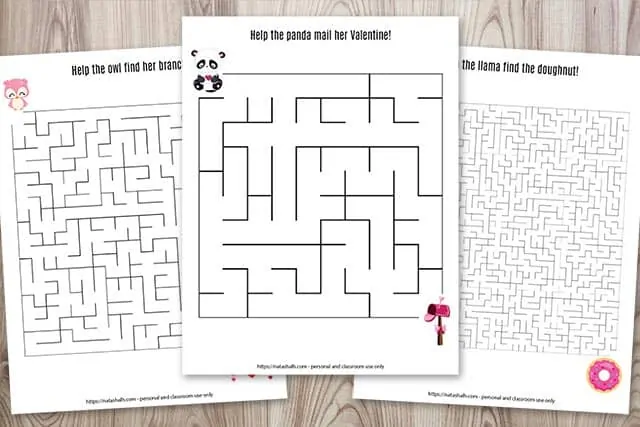 Next there are two easy sudoku puzzles for children. Both feature Valentine's images to color! The sudoku puzzles also come with an answer key so you can offer assistance without having to solve the puzzles, yourself. Like with the mazes, these puzzles do not overlap with others available in my store or on my blog.
The Valentine's Day word search shares a word bank with this free printable word search for Valentine's Day, but the solution is unique. (Yes, the answer key for the word search is included, too!) It is a moderately challenging word search since words can be hidden forwards, backwards, and on the diagonal.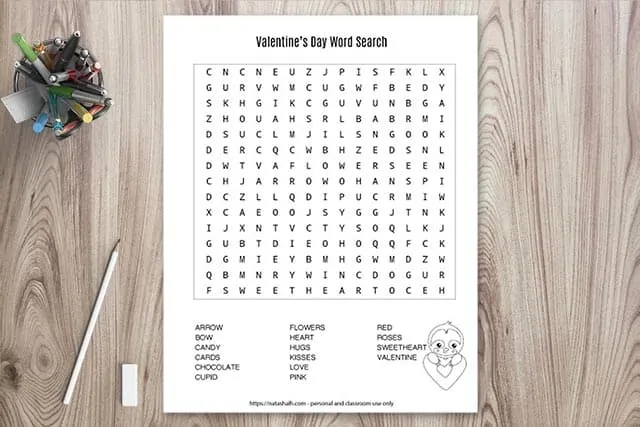 And, finally, we have four Valentine's Day bingo cards. They are also unique and different from the cards available in this set of free printable Valentine's Day bingo cards. Grab the ones in that post and combine them so more people can play!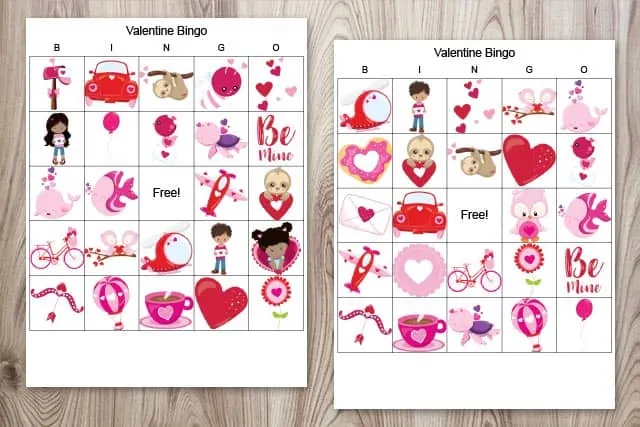 All these great activities are available in one handy PDF at one very low price. They're perfect for personal and classroom use. You're also welcome to use them with your scout troop, homeschool co-op, Sunday school class, etc.!
Stop wasting your valuable time scrolling Pinterest to piece together activities from 11 different sources when you grab this Valentine's Day printable activity pack today!
If you need even more Valentine's Day activities for kids, be sure to check out these other posts on The Artisan Life!
Stop scrolling Pinterest for Valentine's Day printables and crafts - check out these Valentine's posts right here on The Artisan Life!