I (not so) secretly love steampunk. Today I'm excited to finally share some pages I've had in the works for a long time – steampunk coloring pages for adults! These steampunk fashion coloring pages feature a variety of men and women in awesome steampunk outfits. Each person is on a detailed background filled with pipes and gears to color.
This collection has 15+ pages that are downloadable for free in one handy PDF so you can color and enjoy steampunk at the same time. How much fun is that?! I'll also have steampunk animals and steampunk insect coloring pages posted in the future, so make sure to check back again soon for more steampunk coloring fun.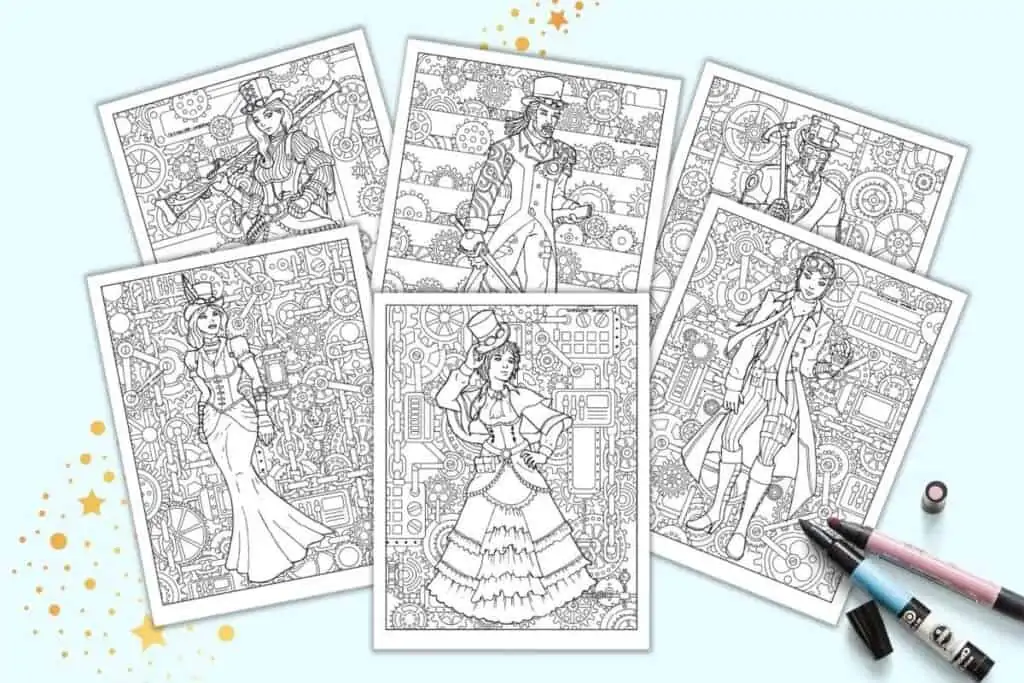 This post may include affiliate links which means I may earn a commission on qualifying purchases at no additional cost to you.
If you're been a reader for a long time (since 2017 or earlier), you may remember that I used to do a lot of fine art portrait and self portrait photography. I created levitation portraits, composite photography, and had a lifestyle family portrait photography business. You may remember some of the photos I shared, like this one of my husband in a mask we made out of foam:
Or maybe you remember tiny top hats I made, like this one. (The kraken necklace tutorial is still available here on The Artisan Life, if you want to make your own.)
Anyway, I love steampunk and am stoked to share these pages with you. I hope you enjoy them, too!
How to use printable coloring pages for adults
Printable coloring pages are fun and easy to use. You can print and color your favorite pages again and again without having to purchase a whole new book. You can also experiment with different techniques and color schemes. If you don't like how your page has turned out, or want to try again with other colors, no problem! Just print the page out again and recolor it.
The biggest "secret" to printing your own coloring pages is using a premium paper, not whatever cheap copy paper is in your work printer.
For the best coloring experience, print your coloring pages on 32lb bright white paper. This paper is thick, bright, and smooth for rich colors and easy blending. Your coloring pages feel professional, like in higher end books, when you use this paper.
HP Paper Printer | 8.5 x 11 Paper | Premium 32 lb | 1 Ream - 500 Sheets |...
Made in USA: HP Papers is sourced from renewable forest resources and has achieved production with 0% deforestation in North America.
Heavyweight premium printing: HP Premium32 is a heavyweight (32 pounds), brighter (100 bright) and whiter (163 whiteness) paper with a super-smooth...
Certified sustainable: HP Premium32 presentation paper is Forest Stewardship Council (FSC) certified and contributes toward satisfying credit MR1...
If you have access to a laser printer, you can print coloring pages watercolor paper. Laser toner doesn't run when it gets wet. Laser printed pages are also great for coloring with markers. Copiers are laser, as are printers called "laser jet."
If you don't have a laser printer but really want to color on a laser print, print off a copy on an inkjet, then make a copy on a black and white copier. Black and white copies are usually just a few cents at an office supply store, library, or even (sometimes) the post office.
Your coloring implements have an influence on your coloring experience, too. If you like to color, investing in a set of high quality coloring tools is worth it. Let's take a quick look at three popular choices for adult coloring:
Gel pens
Markers
Colored pencils
Gel pens are a fantastic choice for coloring these steampunk pages. Break out all the glittery metallics for the gears and pipes!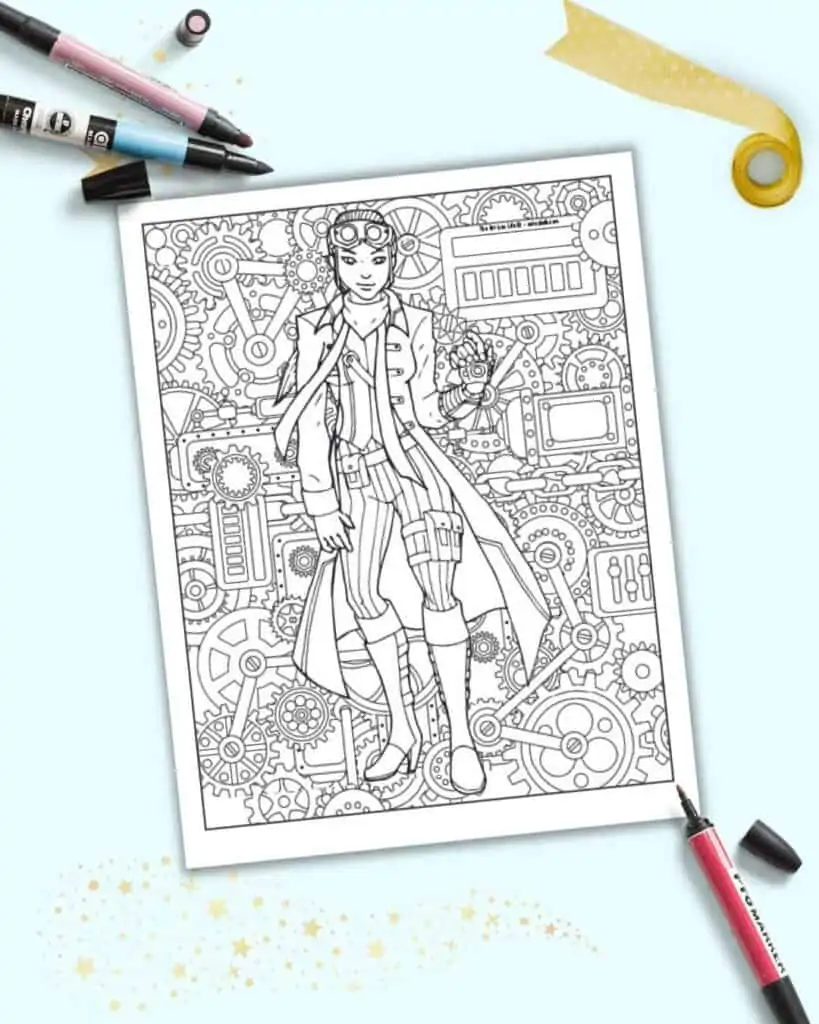 There are tons of cheap gel pen sets available. Unfortunately, many cheap gel pens don't simply color well. Purchasing a cheap set that doesn't actually color is very frustrating. My husband loves gel pens, so we've been burned by our fair share of cheap-o pens that don't work well. That's why I wrote an entire post on the best gel pens for coloring. Here's the TL;Dr version with the best budget pick and best overall gel pens for coloring:
In the photo below, you can see some gel pen coloring on a printable owl coloring page. Gel pens are super fun to color with, especially when you use them to add sparkly accents. They're great for blending when you get nice "juicy" ones like Sakura Gellyrolls (my husband's favorite brand). As soon as he has the chance to color some of these steampunk pages, I'll take a photo to show his WIP with gel pens using a page from this post.
I think the best budget markers for coloring Crayola Supertips. They're a bargain and fun for both adults and children. They're popular for hand lettering practice, too, because you can make brand strokes or thin lines with them. The fine tip makes them better than many other markers for coloring details.
Please note: Crayola Supertips caps don't always look exactly like the ink when you color. In general, I think the colors are darker than what the cap shows. I've noticed this problem with lots of markers, including much more expensive ones. I recommend making squiggles on a scrap sheet of paper if you're unfamiliar with the color so you don't run into any unpleasant surprises.
My favorite colored pencils are Prismacolors. Prismacolor colored pencils are soft and creamy, even their more budget lines. Prismacolors color easily and are great for blending. A colorless Prismacolor blending pencil is the perfect tool for the job if you want to start blending colored pencils.
Sale
Even though they're not Prismacolors, I also like these metallic pencils from Crayola for these steampunk coloring pages. They are an affordable way to add shimmer and shine to the page. The colors are muted compared to gel pens or glitter crayons, but the color goes on smoothly and the lead usually doesn't break constantly (like some colored pencils do).
The video below has tips on blending colored pencils. It's a fun technique that requires a little practice, but can really take your coloring to the next level.
Free printable steampunk fashion coloring sheets for adults
Because there are 16 steampunk fashion designs to print and color, downloading each one individually would be annoying and time consuming. The file names would get repetitive and confusing, too. That's why all 16 pages are conveniently located in one PDF. Download information is located below the preview images.
Previews are grouped two pages at a time. Don't worry – each sheet is on its own page in the PDF. Normally I show coloring page previews four at a time, but I wanted these previews to be larger so you can see the details.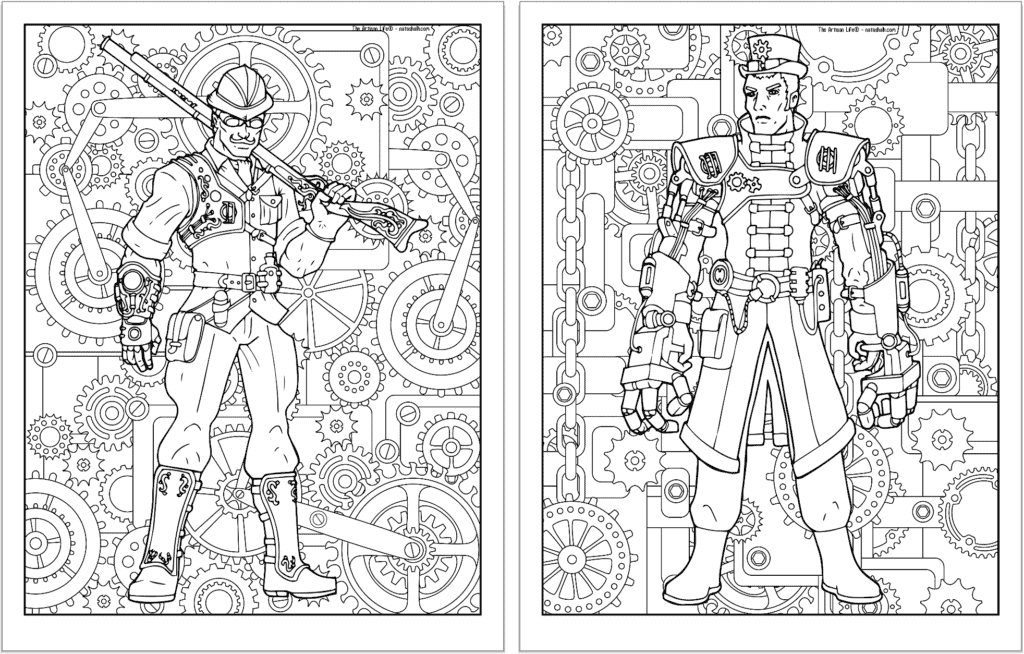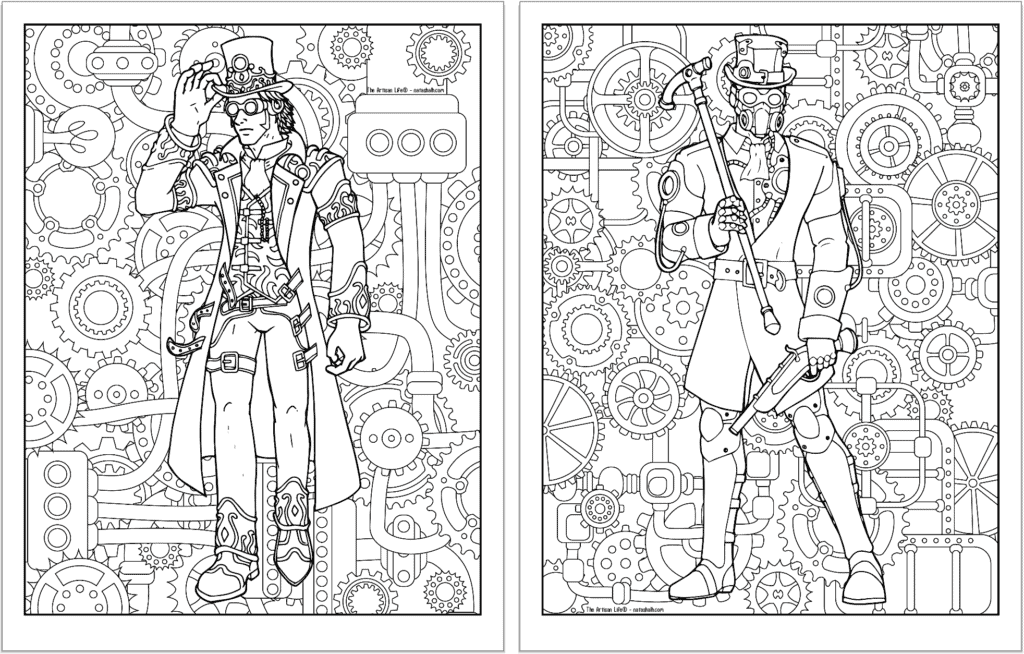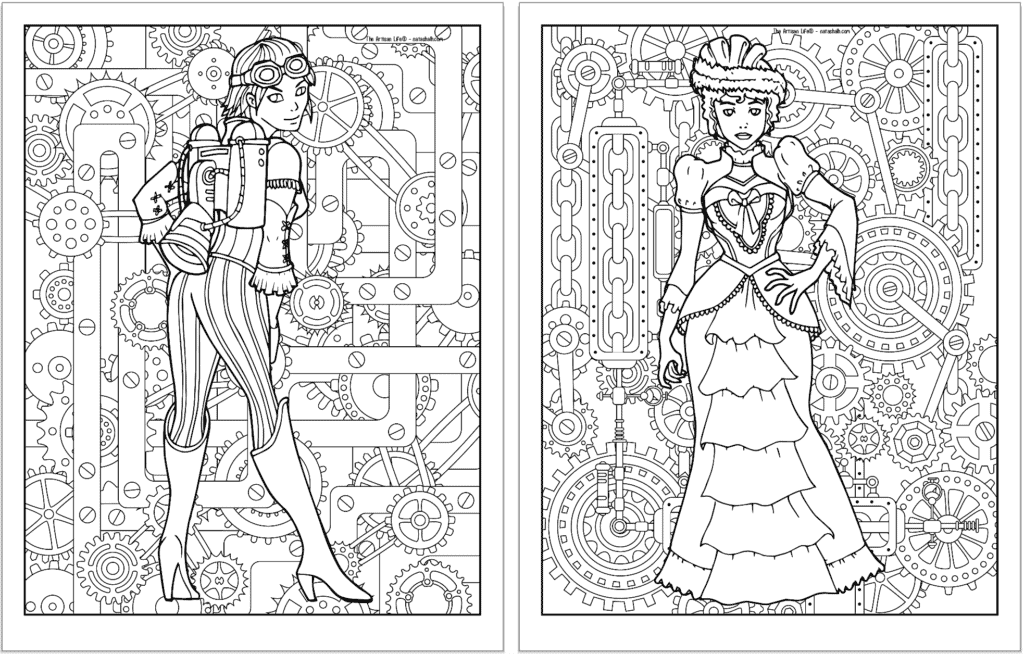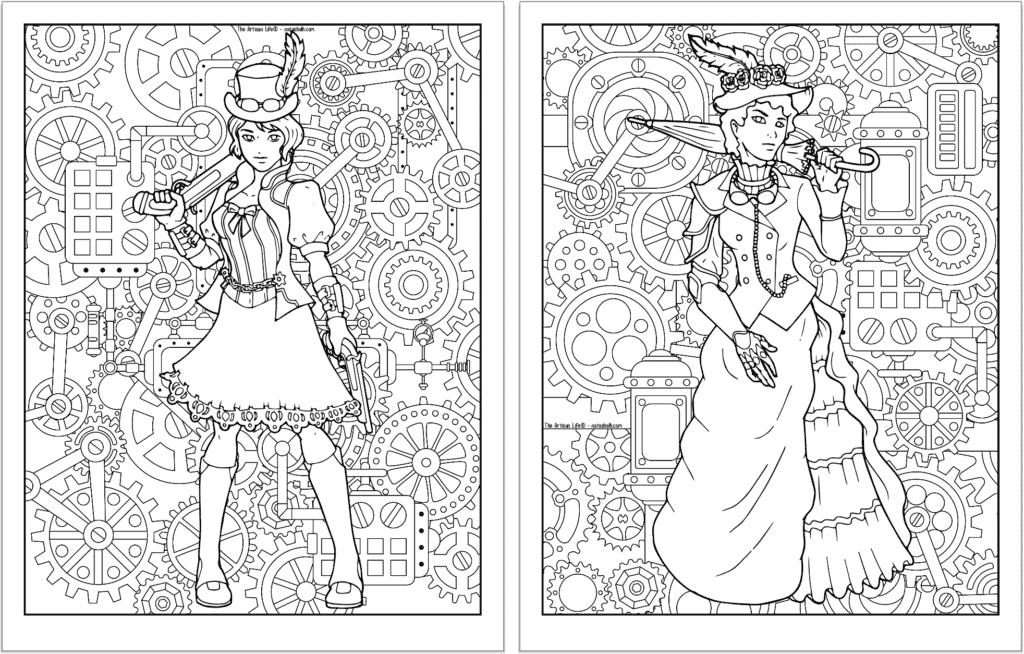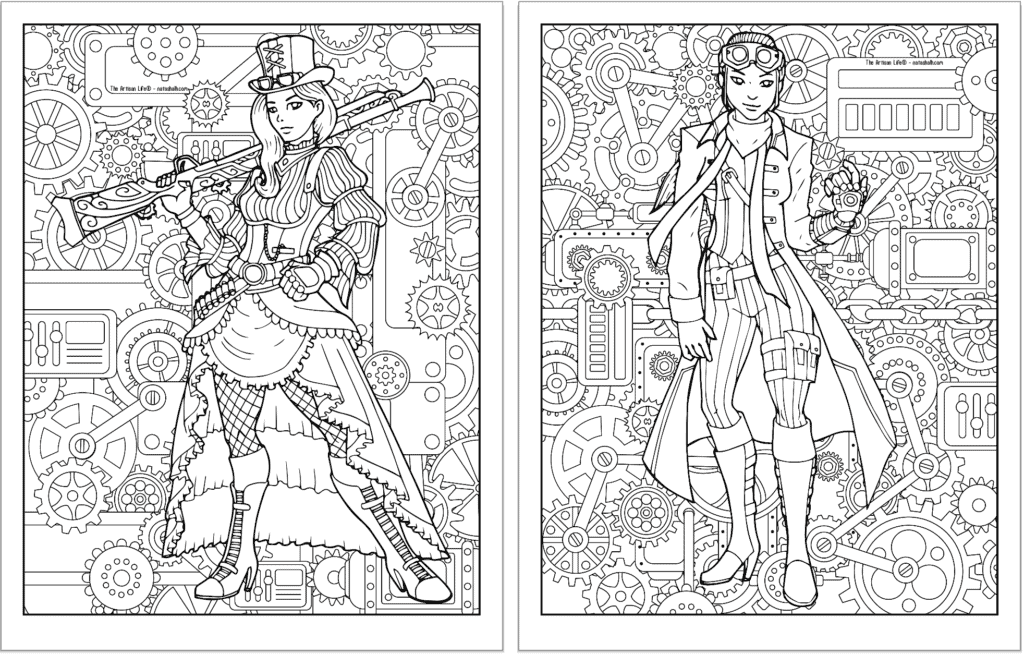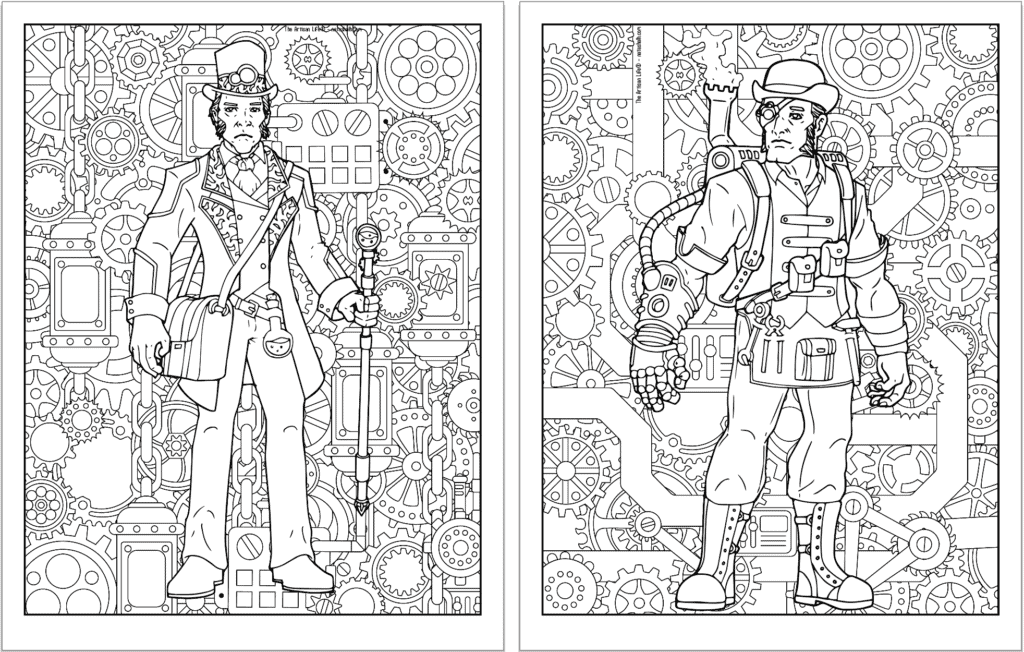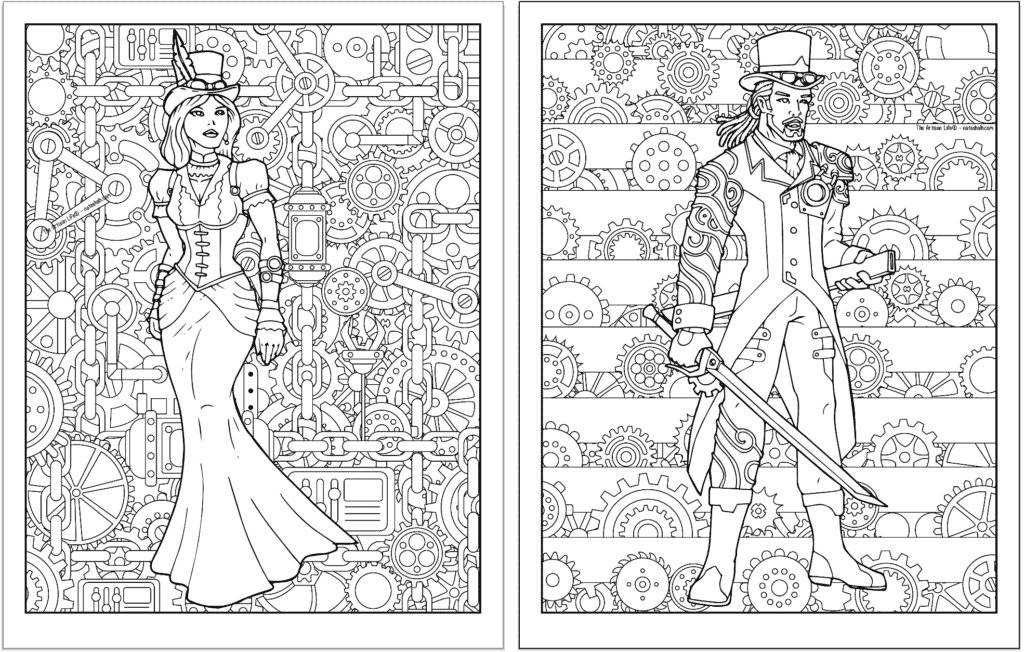 Like all free printable coloring pages here on The Artisan Life, these are licensed for personal and single classroom use. This includes use with your own family, students, therapy clients, homeschool co-op, library activity, etc. as long as you are personally organizing the activity and not charging to participate.
You are not licensed to redistribute or sell the files or printouts to others.
If you agree to this license, you may click below:

I hope you enjoy coloring your stress away with these steampunk coloring sheets. Make sure to snag these additional free printable coloring pages for yourself and your family while you're here:
Free printable coloring pages
Check out more free printable coloring pages on The Artisan Life!