This printable Valentine Cherub bingo is a fun classroom game for Valentine's Day or a great way to celebrate the holiday at home with your family! Even children who are working on their letters and numbers can play along because this is a picture bingo game without text or numbers.
This Valentine's Day cherub bingo game features cute cherubs with a variety of skin and hair tones. Because the images are all winged cherubs, this game is a bit challenging for little learners. For the youngest players, consider this printable Valentine's Day bingo with pictures of hearts, cards, and other very distinct Valentine's-related images.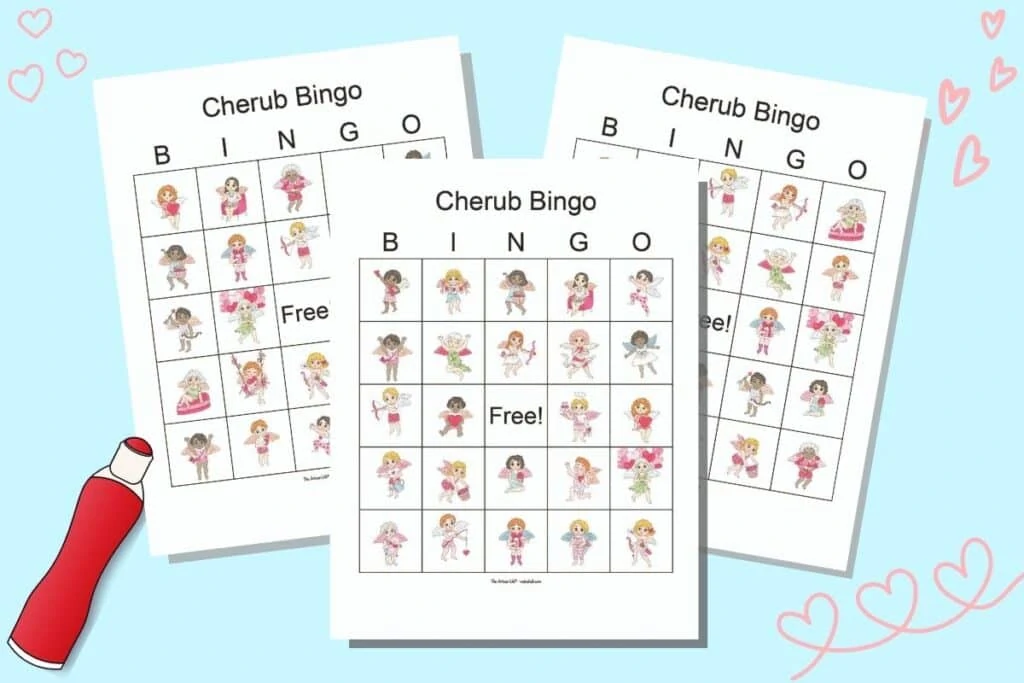 This post may include affiliate links which means I may earn a commission on qualifying purchases at no additional cost to you.
How to play cherub picture bingo
Valentine's bingo is an easy, no-prep way to keep your kids occupied or enjoy some screen-free family fun time together. It's also great for classrooms, after school programs, scout groups, and even senior nights. I've received many comments and emails from readers telling me how much assisted living residents they work with enjoy playing picture bingo.
Picture bingo is fun, plus it's a brain booster. Since the images in this Valentine cherub bingo game are fairly similar, players need to pay close attention to details. Is there any parent who doesn't want their child to practice paying attention and noticing details?
You can use these bingo cards in a more traditional way by cutting out the pictures on the call list sheet, placing them in a bag, and drawing them randomly.
Make sure to print the two pages of call cards at the back. There are 30 total cherub images, but only 24 appear on each card. Don't print an extra card and cut it up or you'll miss 6 of the images!
Because all images are cherubs, it's easiest if you show the image tile instead of just describing it.
You can save some time cutting out tiles by giving the call sheets to an adult and having them 'randomly' call out images. I think this is a good choice if you're at a party because it means fewer pieces to keep track of!
Make a tic mark with a pencil to denote which pictures you've already called.
If you laminate the cards (or use dry erase pockets), you can use markers to mark off called images.
I recommend printing on presentation paper for the best-quality images. Presentation paper is a heavyweight paper with a special coating for crisp, clear images.
Bright white 32 lb paper is another good choice. It isn't as heavyweight as presentation paper and the images aren't quite as nice, but the paper is brighter white and costs much less. For a side by side comparison of 32 lb paper, presentation paper, and cardstock, check out this post on the best paper for printables.
HP Paper Printer | 8.5 x 11 Paper | Premium 32 lb | 1 Ream - 500 Sheets |...
Made in USA: HP Papers is sourced from renewable forest resources and has achieved production with 0% deforestation in North America.
Heavyweight premium printing: HP Premium32 is a heavyweight (32 pounds), brighter (100 bright) and whiter (163 whiteness) paper with a super-smooth...
Certified sustainable: HP Premium32 presentation paper is Forest Stewardship Council (FSC) certified and contributes toward satisfying credit MR1...
For repeated play, especially near drinks, water, or sticky candy hands, laminate the sheets or place them in a dry erase pocket or page protector. Dry erase pockets are like page protectors, only sturdier.
If you use page protectors, I recommend heavyweight "secure" page protectors with a flap on top to keep the page from slipping out. They're not quite as sturdy as dry erase pockets, but they're a fraction of the cost and work very well.
Sale
Avery 76000 Secure Top Sheet Protectors, Super Heavy Gauge, Letter, Diamond...
Keep contents secure in the protective sleeve with convenient top flap; perfect for holding nonstandard size papers and important items
Get a crisp, clear view of the contents of your documents with diamond clear page protectors featuring a polished finish for high clarity
Ensure your documents stay protected with long-lasting super heavyweight sheet protectors for all of your frequently referenced items
You can make the game even more fun by using fun things like stickers, erasers, or other small prizes as tokens to mark off called cards. Conversation heart candies, goldfish crackers, and other small treats can also be used if you're at home and know hands/bingo cards are clean.
Or, of course, you can use ever-popular dot markers to mark cards for one-time use.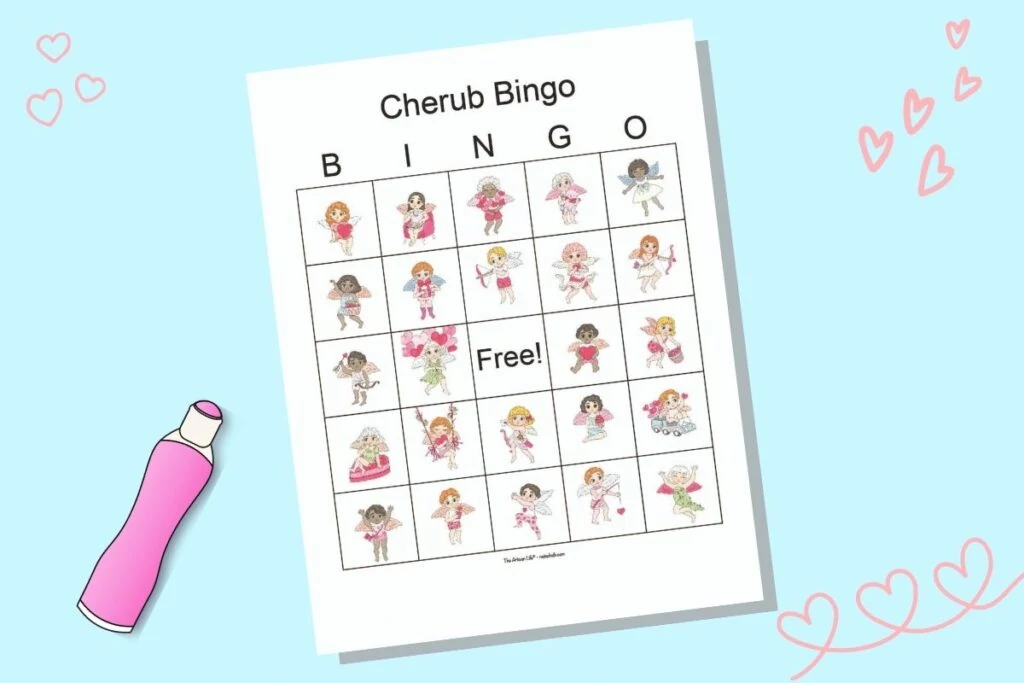 For more Valentine's Day fun, be sure to snag these additional freebies:
Printable Cherub Bingo Game for Valentine's Day
Like all picture bingo printables on The Artisan Life, these cards are available for personal use. This includes use in your own classroom, with your scout troop, with your personal therapy clients, at the school celebration you're helping organize, etc. As long as you are personally organizing the activity and not charging specifically to participate, you're fine.
You are not licensed to redistribute the digital files or printouts to other adults for their personal use with their students/children/activities. Please refer your friends and coworkers to this page so they can download their own copies.
There are three sets of bingo cards:
A set of 25
A set of 10
A set of 4
The sets of 10 and 4 are free. There's no email required to grab the set of 4 – just keep scrolling past the larger sets if you only need four cards. All the card sets are unique, which means you can combine them to have 39 unique bingo cards.
Classroom set of 25 cherub bingo boards
First we have a set of 25 unique bingo cards with cute cherub Day illustrations. These cards are different from the other sets, so you can combine them for 30+ unique bingo cards! This set is available for the very low price of $2.99:
Free printable set of 10 Valentine cherub bingo boards
The set of 10 cute bingo cards is perfect for larger families and small groups. Because they're unique, you can pair them with the larger set of 25 for big groups or print them with the set of 4 for mid-sized groups.
This set is free to Artisan Life family members. Simply complete the box below the preview image and the PDF will fly across the internet to you. If you're already a member, please use the same email address to get this download. There's no need to drag out your 12 year old Hotmail email account!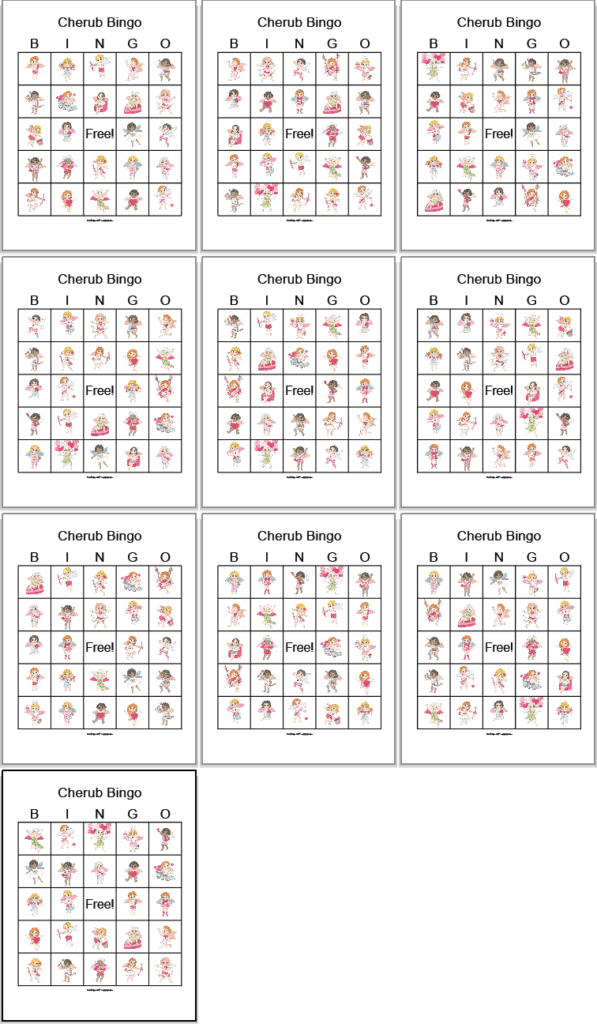 Free printable cherub bingo game – family set
Last we have a set of 4 Valentine's bingo cards to print.
The set of 4 bingo cards is available for free, right here in the post – no email address required.
The download link is located below the preview image. It should open in a new window and begin downloading immediately. You may need to authorize downloads from Dropbox if a dialogue box appears asking for permission.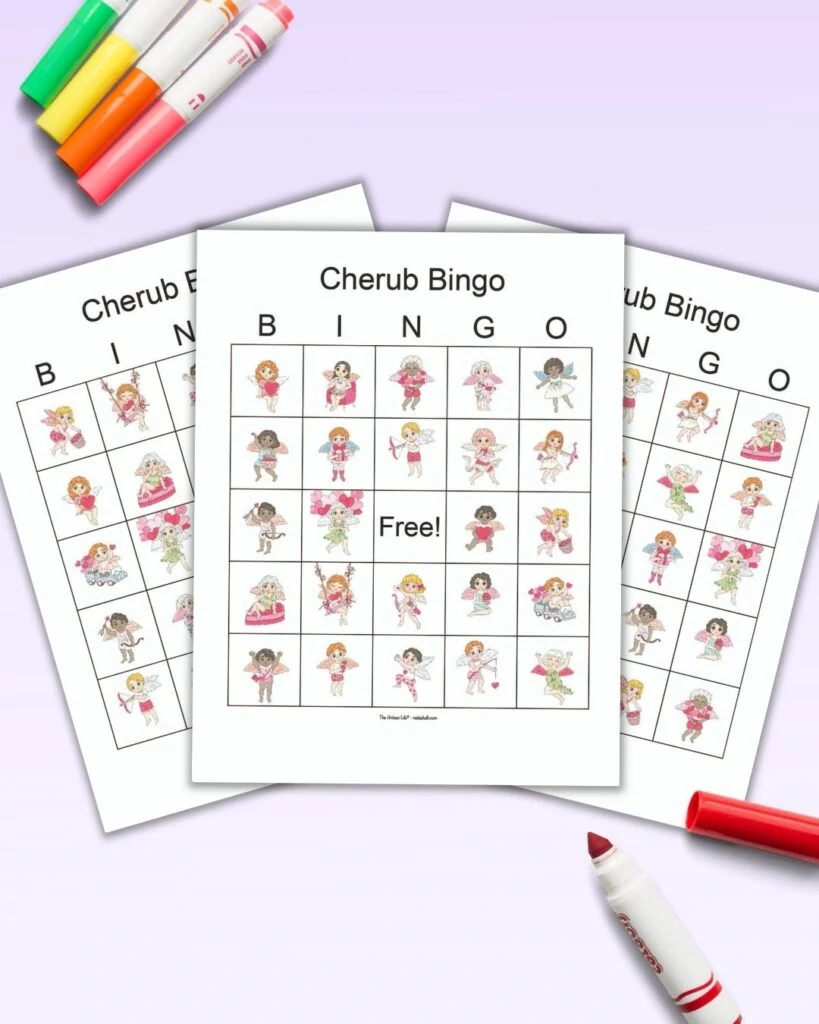 Download a set of 4 free printable Valentine cherub bingo cards here
I hope your family or students enjoy playing cherub bingo this Valentine's Day! Be sure to grab these additional free printables for Valentine's Day while you're here:
Stop scrolling Pinterest for Valentine's Day printables and crafts - check out these Valentine's posts right here on The Artisan Life!