These free printable Cupid coloring pages for Valentine's Day are so cute! Use them as a low-prep activity for your kids or to print your own Valentines at home. Keep scrolling to download 21+ printable Valentine Cupid coloring pages for free!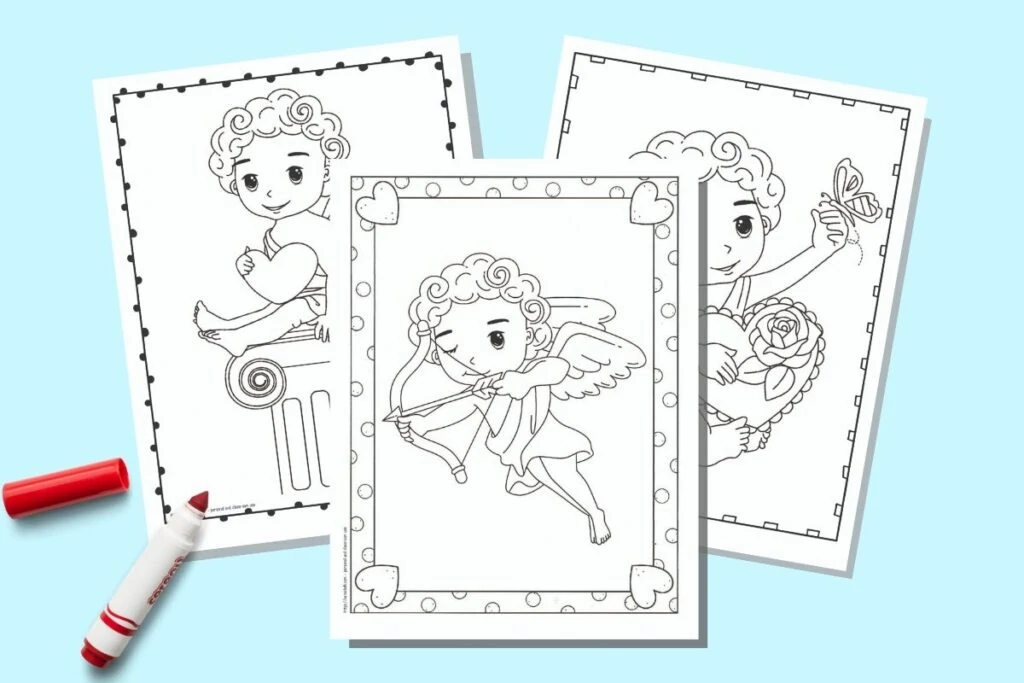 For more Valentine's Day fun, be sure to grab these free printable Valentine's coloring pages for kids and free printable Valentine's Day picture bingo.
This post may include affiliate links which means I may earn a commission on qualifying purchases at no additional cost to you.
How to print your own coloring pages
I enjoy printable coloring pages even more than coloring books. You don't have to worry about your color choices. If you aren't happy with the way the page turned out, you can just print a new copy and color it again!
For professional-feeling coloring pages that are fun to color, make sure to use a nicer paper (not whatever cheap feeling paper is in the printer at work). You can see side-by-side companions of the best papers for printables in this post. It focuses on planner printables, but papers that are good for colorful printouts are also good for coloring on.
I use and recommend HP 32# paper for coloring pages. It's thicker and brighter than "regular" copy paper, which helps keep markers from feathering. The paper also feels smoother, so pencils and crayons glide and color smoothly on it. This paper is also good for cards, but cardstock is sturdier if you want to use it, instead.
HP Paper Printer | 8.5 x 11 Paper | Premium 32 lb | 1 Ream - 500 Sheets |...
Made in USA: HP Papers is sourced from renewable forest resources and has achieved production with 0% deforestation in North America.
Heavyweight premium printing: HP Premium32 is a heavyweight (32 pounds), brighter (100 bright) and whiter (163 whiteness) paper with a super-smooth...
Certified sustainable: HP Premium32 presentation paper is Forest Stewardship Council (FSC) certified and contributes toward satisfying credit MR1...
For fun Valentine's Day sparkle, color these pages with gel pens. They are perfect for adding metallic accents to these complex steampunk designs. Even if you don't want to use all your ink coloring the whole page, at least add some sparkly accents! Check out this post for the best gel pens for coloring, including a great budget pick. The short version is that the pens shown below are the best overall and best budget pick:
In my experience, the best budget markers for coloring Crayola Supertips. They're a bargain and fun for adults and children. The fine tip makes them better than many other markers for coloring details. Because there are dozens of shades with multiple pinks and reds, they're great for Valentine's Day coloring pages.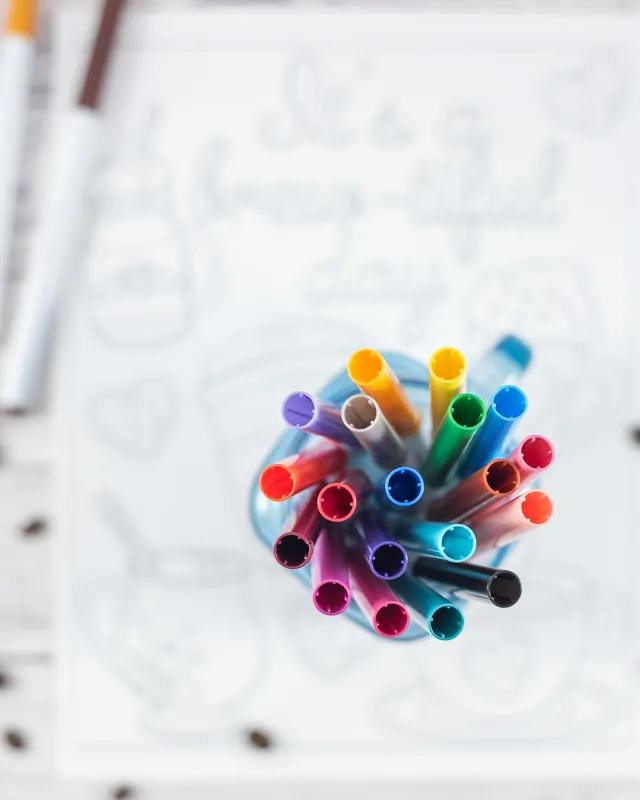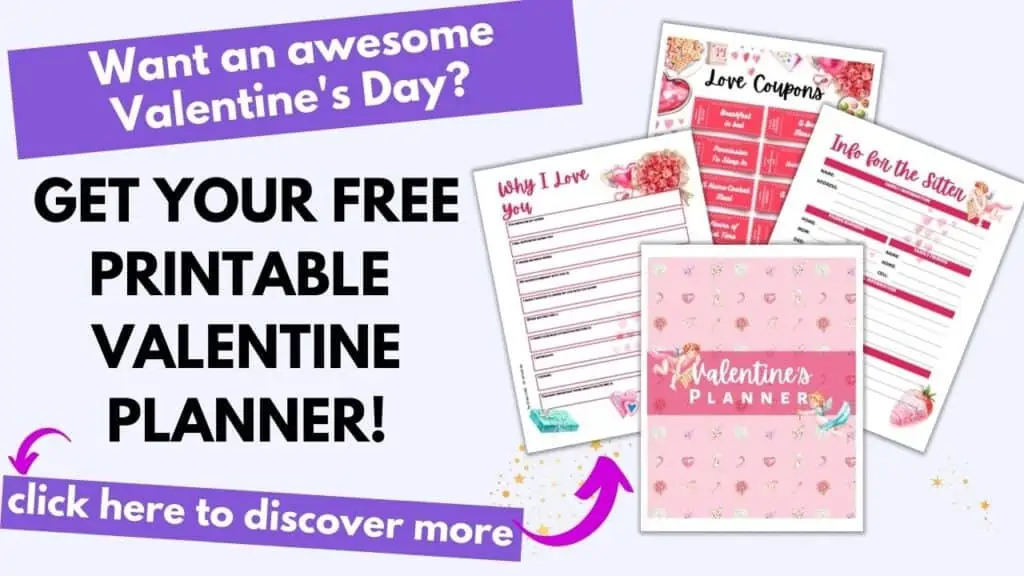 Free Printable Valentine Cupid Coloring Sheets
Like all printable coloring pages on The Artisan Life, these are for personal and classroom use. This includes use with homeschool co-ops, therapy clients, extended care facilities, etc. as long as you are not specifically charging to participate.
You are not licensed to redistribute the files or printouts to others for use with their students/children/clients. Please refer your friends and colleagues to this page so they can download their own copies.
Add sparkle to your pages by coloring with gel pens! We love coloring with gel pens – discover the best gel pens for coloring in this guide.
Individual free download links are located below each preview image. The font is bold and larger to make it easier to find. The link should open in a new window and begin downloading immediately. You may need to authorize downloads from DropBox if a box appears asking for permission.
Don't worry – the purple watermark does not appear in the high resolution PDF printables.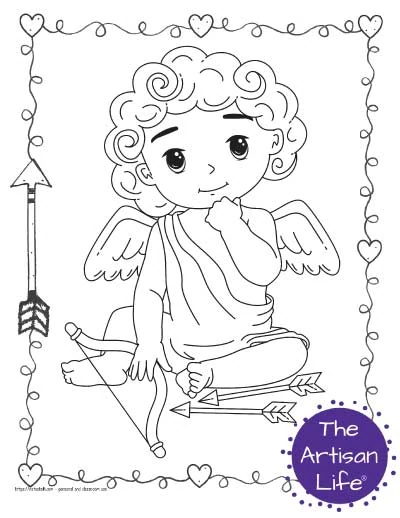 Thinking Cupid sitting with a bow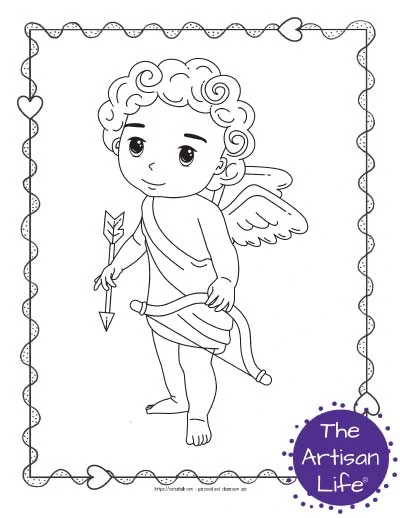 Standing cupid holding bow and arrow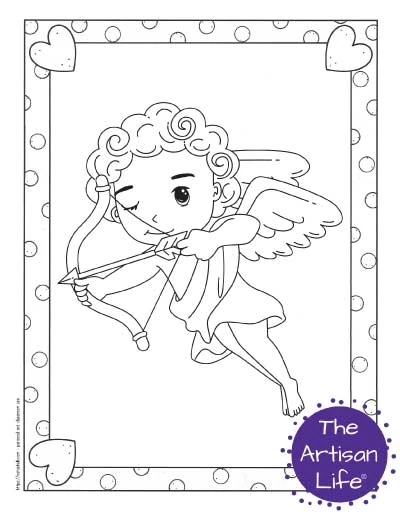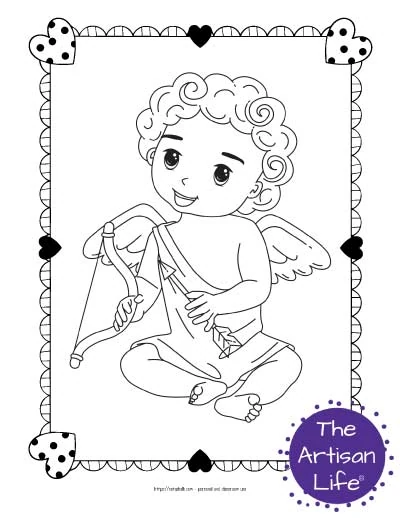 Sitting cute cupid with heart frame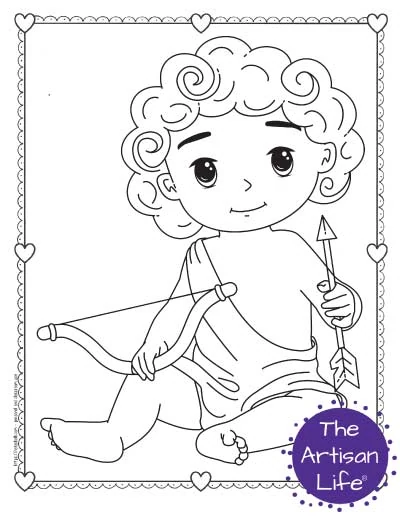 Sitting cute cupid holding his bow and arrow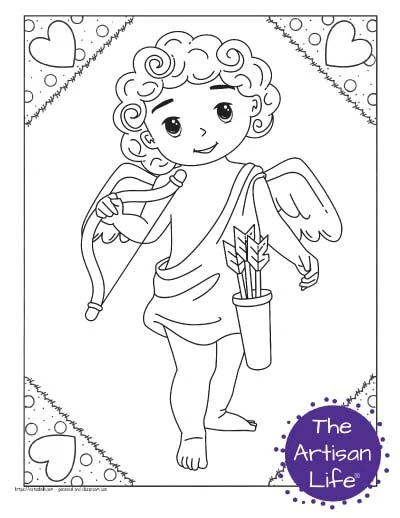 Standing Cupid with quiver of arrows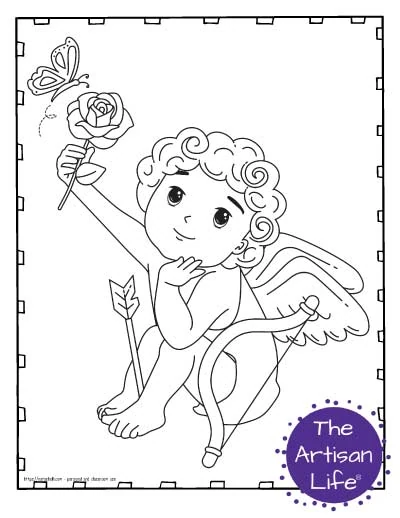 Cute Cupid sitting with a rose and butterfly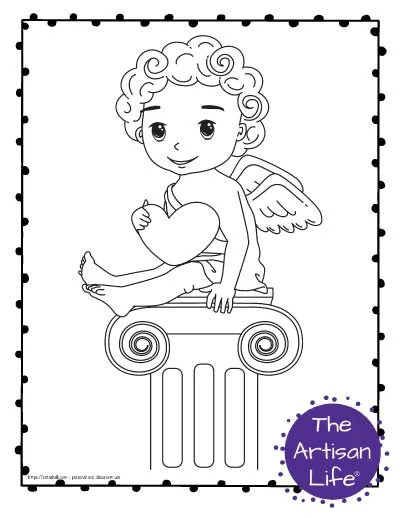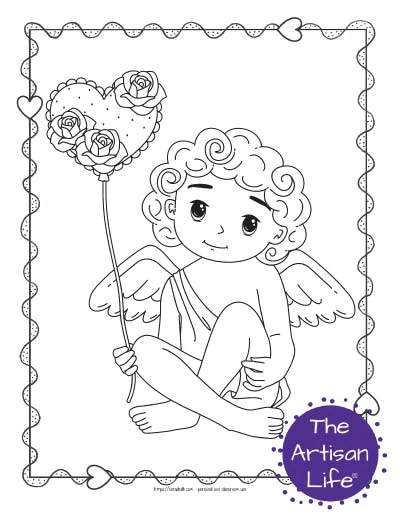 Cute Cupid with a heart balloon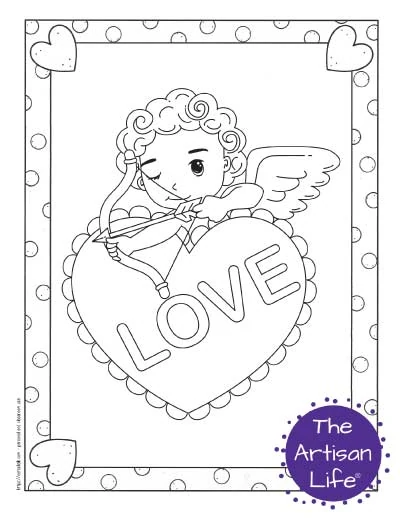 Cupid taking aim from behind a heart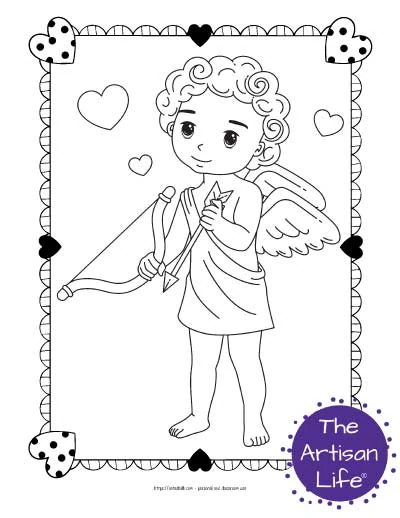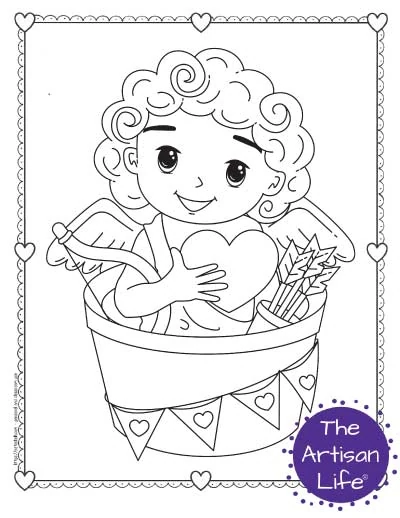 Cute Cupid sitting in a bucket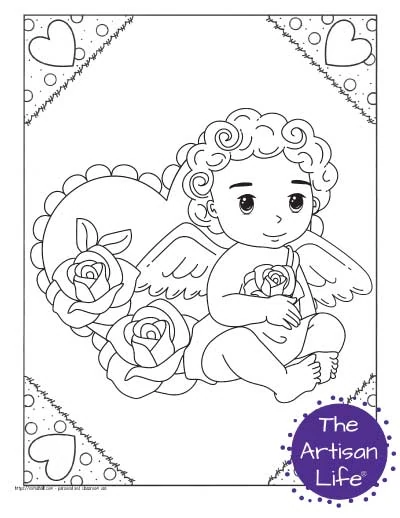 Cupid sitting with a Valentine and roses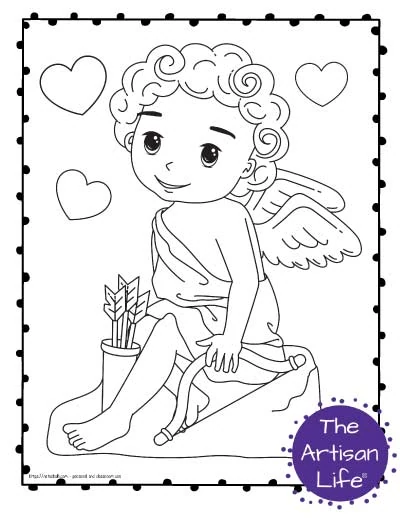 Cupid sitting on a rock with his bow and arrow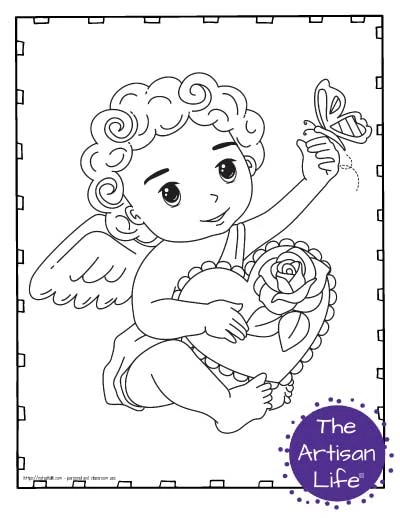 Cute Cupid holding a box of chocolates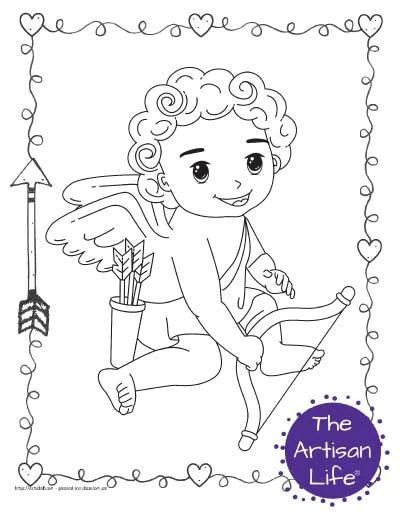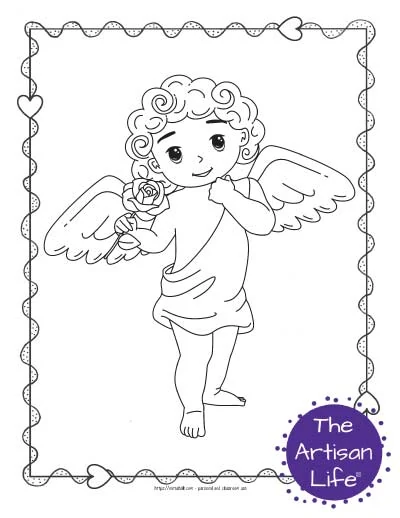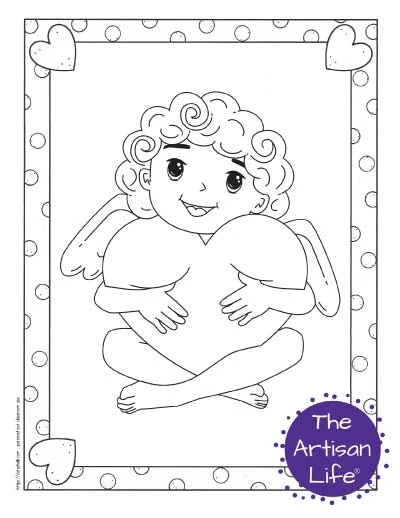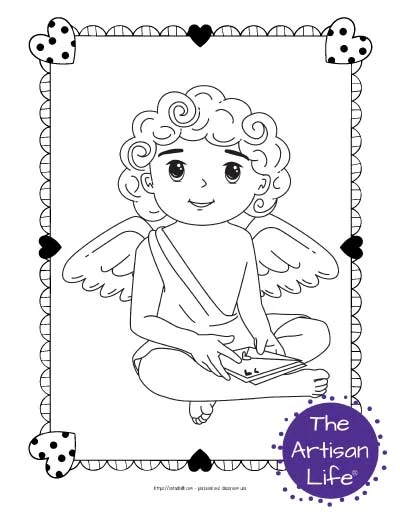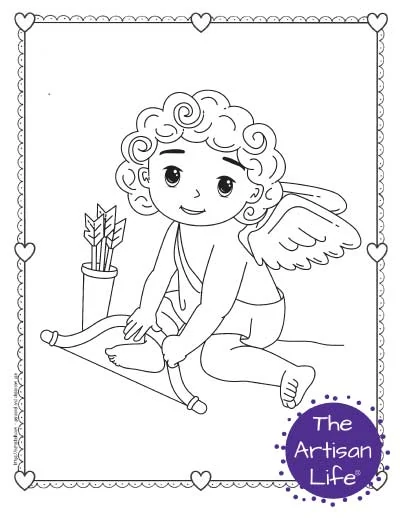 Cupid sitting down with bow and quiver of arrows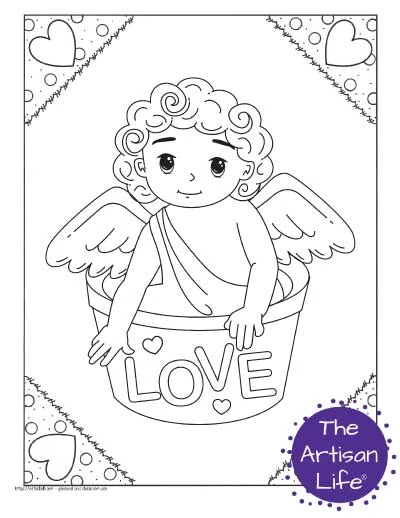 Cupid sitting in a bucket of Love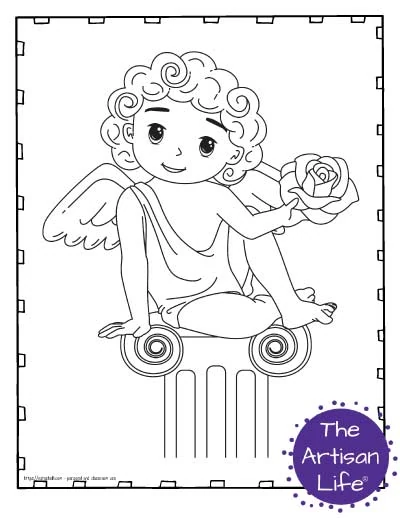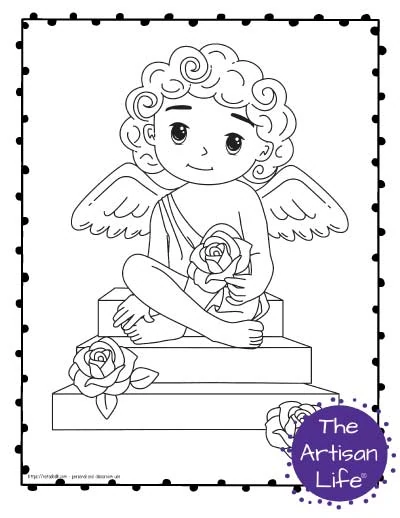 I hope you and your family enjoy these printable Cupid coloring sheets! Be sure to download additional freebies for Valentine's Day while you're here:
Stop scrolling Pinterest for Valentine's Day printables and crafts - check out these Valentine's posts right here on The Artisan Life!