Do you want to start journaling for self care, but aren't sure how to begin? Keep reading to discover everything you want to know about journaling for self-care (including self-care journaling prompts and a free printable).
Whether your goal is to become more mindful, understand your emotions, or track changes in your mood, journaling is a beneficial habit to form.
Incorporating journaling as part of your self-care routine can improve your memory, reduce stress, improve emotional maturity, and it can even help you sleep better. The wellness benefits of journaling have been well documented. Adding a simple journaling routine to your day can help you so much!
Journaling is the act of putting thoughts and feelings onto paper. Whether it's typing on a keyboard or handwriting with a pen or pencil on paper, journaling is one of the most accessible self-care practices you can do.
Keep reading to discover the benefits of journaling, how to use journaling for self care, and how to download free printable journaling pages so you can start journaling today.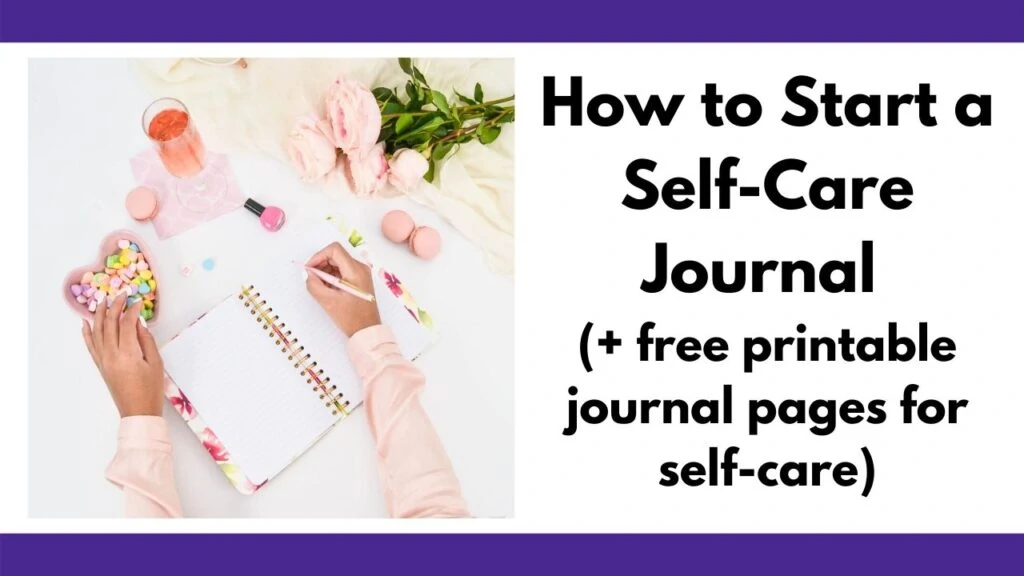 This post may include affiliate links which means I may earn a commission on qualifying purchases at no additional cost to you.
Benefits of journaling for self-care
Journaling has many benefits. The benefits of journaling for self-care include:
Reduced stress
Improved mental clarity
Increased self-awareness
Strengthened emotional maturity
Reduced disagreements with others
Improved focus
More peace of mind
Less anxiety
Improved memory
Additionally, journaling helps you get to know yourself. You create your own log of what sparks certain emotions, how you consistently think of yourself, what parts of your life you are grateful for, and what you feel you need to change to change. Journaling can make you more aware of your emotional cycles.
Journaling can help you answer questions about yourself and help you become more conscious. Journaling provides a private and accessible way to notice the things that make you happy, anxious, or content. When you have access to more data or evidence of your emotions, you're able to make improvements to your life in a more guided and focused manner.
How to start journaling for self-care
Journaling looks different for everyone. Each person has different goals for mindfulness, self-care, and improving themselves.
Journaling can help anyone, but it's important to customize the practice to achieve maximum benefits. Please, please don't worry about comparing the way you journal to the ways other people journal.
Depending on your lifestyle, it may be easier to jot down short phrases or sentences throughout the day, or you might want to devote fifteen minutes before bed. Many people who practice journaling to improve their mindfulness like freewriting for a set amount of time in the morning to start the day off on a good note.
I'm personally a big fan of "brain dump" style journaling. Learn more about how to do a brain dump and get a free printable brain dump template here.
When people imagine journaling, they picture sitting down at a desk and writing for an extended time. But this doesn't necessarily have to be the way you incorporate journaling into your day.
Some tips for making journaling fit into your lifestyle are:
Determine when you're most likely to want to write down your thoughts
In the morning or at night is best when you have time to reflect
Always keep a pen or pencil on hand – in your purse or on your desk
Utilize your phone – use the notes app, voice memos, or email yourself thoughts to come back to and journal about. You can also grab a free digital planner for a more personalized feel.
Set an alarm on your phone to remind you when to journal
Journaling can help you feel productive and improve your self-awareness, but don't feel like you have to journal when you don't want to. Journaling is supposed to be a time you dedicate to taking care of yourself. It should help you feel more at peace and provide a healthy outlet for your thoughts and emotions.
Keeping the materials you need in a specific location will help you remember to journal on a regular basis. This location might be your nightstand, desk or even in your purse. Find what works for you and don't worry if it isn't what other people do!
Having everything you need in a specific spot helps eliminate barriers and excuses for not journaling. When you want to journal, all you need to do is pick up the pen and start writing.
Make sure to try out different times and different durations for journaling to figure out what works best for you. You want the habit to stick, so make it easy on yourself. When you set realistic goals, you can easily achieve journaling each day, and you set yourself up to journal in ways that fit your lifestyle.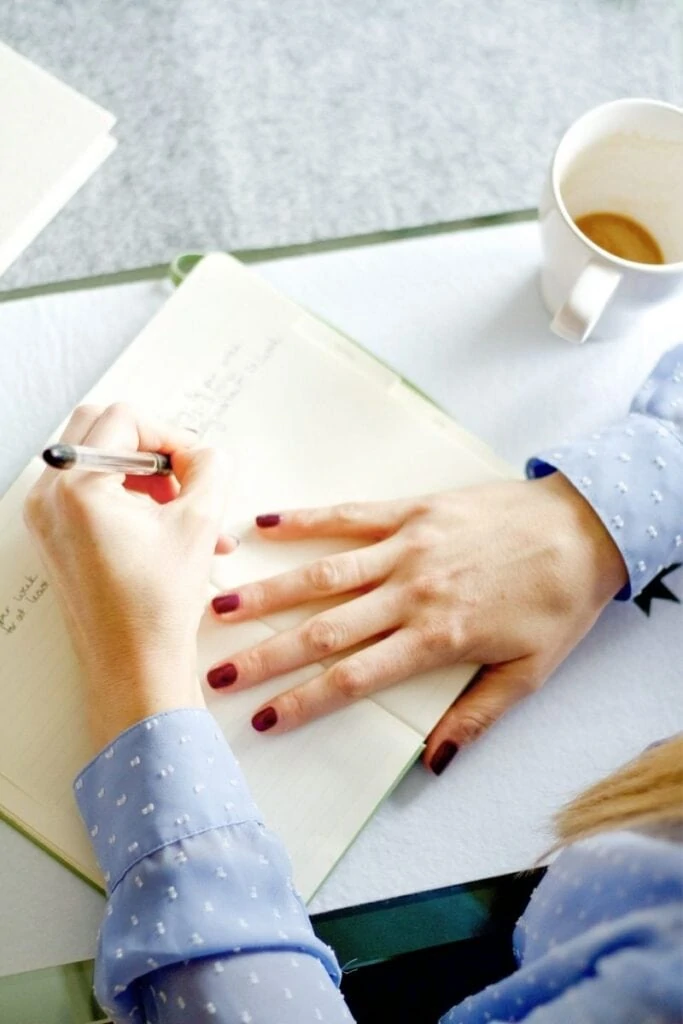 Define your purpose and set goals for journaling
Before you try journaling for mindfulness and self-care, you should define your goal or purpose for journaling.
What are you hoping to get out of this habit? Knowing this before you start can serve as a guidepost for the types of things you may focus on writing about, and it'll serve as a useful benchmark in the future to look back on.
Whether you're looking to start journaling to understand your emotions better, understand the things in your life that trigger negative reactions or you want memories to look back on, it's good to know where you're starting.
Taking note of what you want to get out of journaling is extremely useful for measuring how journaling can improve your life.
After figuring out why you want to journal, the next step is to gather the tools and materials you'll need to make the habit stick. Set goals for how much or how long you'll write while you build up the habit.
Whether it's for 30 minutes before bed or at least three sentences a day, choose a goal that you can achieve each day easily.
You may also want to grab a free printable habit tracker to keep track of your journaling routine.
Ensure journaling feels like a retreat, not a responsibility. If a nice pen and a nice journal inspire you to write a bit each day, choose inviting materials that make you excited to write a little bit down each day. I'm personally a huge notebook junkie and can't resist a pretty, functional notebook.
If you're having trouble defining your writing goals, this post on how to set weekly goals can help. (You can also grab a free printable weekly goals planner in that post!)
Ways to use journaling for self-care
Self-care is the practice of fulfilling your needs and dedicating time to practices that help you feel healthy and safe.
Improving your mindfulness is one act of self-care, and journaling is a proven way to help you improve your mental clarity and take care of your mind and body.
Ways to use journaling for self-care include:
Releasing built up emotions
Building emotional vocabulary
Create more peace of mind
Discovering more about yourself
Creating a self-care ritual with some restorative "me time"
Journaling can provide an outlet for emotions that you want to get out healthily and privately.
Writing out your feelings can also help you feel more in control of how you express yourself. Simply naming your feelings helps calm them, a phenomenon called "name it to tame it."
This mindful way of expressing your feelings creates less opportunity for emotions to build up to a boiling point and cause you to react or act in ways you know aren't as productive or as healthy as if you were to a journal.
Improved emotional vocabulary from journaling is a form of self-care as it can help you feel more empowered in the way you express your emotions. You can become more confident in expressing and communicating your feelings from journaling consistently.
Journaling for self-care can easily turn into journaling for self-discovery. This can be used as a tool to help you improve your life by understanding you triggers, patterns, and even past traumas that are ready for healing.
Lastly, creating a mindful ritual around your journaling is a useful form of self-care as well.
You might want to make a cup of your favorite tea, grab a pen that makes you feel fabulous, light a candle, burn incense, or play a favorite song while you journal.
Journaling can form the basis of a self-care ritual that you look forward to. My doctor suggested that I journal by candlelight to help me calm down before bed. It really works for me.
Small acts that help you get in the mood to the journal will not only help the habit stick, but it will also help you feel more cared for.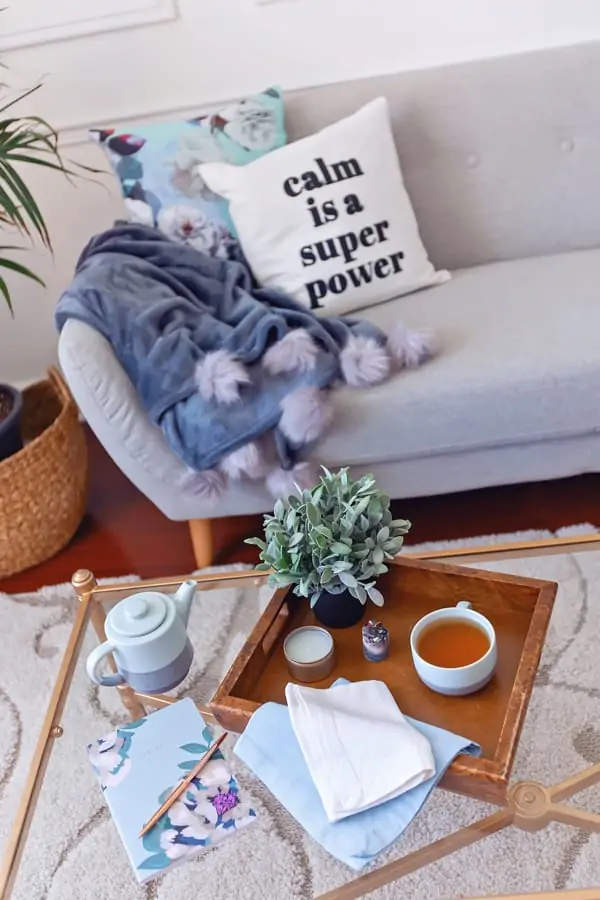 What to write in your self-care journal
You know how to incorporate journaling into your routine and why journaling is beneficial to your mental and physical wellness. You've decided to try out journaling.
You grab your journal and a pen, open the page and your mind goes blank. Don't worry. This happens to almost anyone who has ever tried to journal.
There are several different ways to journal. Make sure to keep scrolling for your self-care journaling prompts so you can sit down and star journaling today without the fear of the blank page.
Free writing
Open up to a blank page and write whatever comes to mind. Don't censor or delete anything. Even starting with "I don't know what to write" is a perfect way to begin. Write down what you think at that moment you open the page or write down how you feel. Let the words flow from your brain to the page.
You can free-write for a specific amount of time or until you fill up half a page. Once you've met your goal for the free write, you can stop right there. But if you find you have more to put on the page after the timer goes off, keep writing until you feel content.
Write in a list format
If you don't want to write full sentences, a gratitude list is a helpful format to test out. You can also write a short list, such as three things you're looking forward to that day, and then write a short paragraph to go along with the shortlist.
Or, if you're feeling inspired to write a longer list, you can write a list of your most favorite memories or a list of the characteristics you like most about yourself. Whatever the topic is, make sure it encourages you to reflect on yourself, your emotions, or your goals.
Answer or respond to previous entries
If you've been journaling for a while but are feeling stuck on a new entry, try reading through past entries you've made and write a short reflection.
How have you changed? Do you still feel or think the way you did when you wrote on a previous day?
These reflection entries can help you look back at what struggles are sticking with you and what your life changes have been beneficial.
Reading through and creating a new entry responding to your previous journaling pages is a great way to see your evolution.
Write about your goals
Not only does journaling encourage self-reflection, but it can also help you look forward and think about your future goals. Imagine what you want your life to be like and write that down. You can be as creative or straightforward as you like.
Since your journal is private, you can write down whatever you like without having to worry about how it will come off to someone else. Journaling is the time for you to be alone with your thoughts.
Writing down your goals can help you keep track of what you desire in life. When you journal about your goals, it's your opportunity to put them into action. Acknowledging to yourself what you want is the first step to achieving it. Journaling is the perfect place to feel comfortable and safe, acknowledging the goals you have for yourself.
Make it Cathartic
Not only can you journal in ways that help you be self-reflective and think about your goals, but you can also journal about the things you want to let go of or move on from.
If you want to release emotions or thoughts, you feel the need to communicate, but you don't feel comfortable sharing them with someone else, journaling, and then throwing away the page can be useful.
If you have negative emotions or thoughts that you feel the need to put into words, you don't have to save the entry. Simply writing the thoughts down is a release. You can tear out the page after writing and throw it away. You can even rip it up if that helps you feel better. Writing to release your emotions has been used as a healthy coping mechanism for many people.
You don't have to do this with every journal entry, but if there are ones you're compelled to get rid of, it may help you feel a healthy sense of relief if there are emotions you want to let go of and move on from.
Journaling to release emotions and thoughts is a wonderful element to incorporate into of a full moon practice for self-care.
Bullet journaling
You can actually use any of the other suggestions in your bullet journal instead of a traditional lined journal, but I wanted to point it out separately. Bullet journaling is usually done on a blank page or a page with grid dot guides.
Bullet journaling for self-care can offer additional benefits because people usually decorate their bullet journal pages. The space to doodle, draw, paint, or place your favorite stickers gives you the chance to express yourself creatively and release even more stress. One study found that even simple drawing like creating stick figures reduces stress-related hormones in your body. Wow!
I am a huge sticker lover. There are so many lovely self-care and positive self-talk stickers available today so you can have a beautiful, uplifting bullet journal even if you're not confident in your drawing abilities.
Stickers for Self-Care
Some of these self-care stickers are digital files to print yourself and others are pre-printed. Make sure to read this listing so you know exactly what you're getting!
Self-care journal prompts
It is 100% totally, completely okay to use journal prompts in your journaling practice.
Every month I share a list of journal prompts with free printable journal pages so you can start journaling today, even if you don't know what to write. Here are the month I've share so far:
Special for this post, I created a list of journal prompts for self-care and self-discovery. Make sure to scroll to the bottom for your free printable self-care journal PDF with the prompts already included plus additional blank pages.
What three things are you most grateful for right now?
What color do you love? How does it make you feel?
If you asked a friend, what would they say you are really good at?
If you received $1000 that you had to spend on yourself, how would you spend it?
What's your favorite way to calm down when you're feeling frustrated or overwhelmed?
What is your favorite positive affirmation? (Don't have one? Discover how to write powerful affirmations that work.)
Is there an area of your life where you could really use support or help? Can you think of ways to ask for help from someone else?
"No" is not a dirty word. Is there something in your life (a limiting belief, a draining activity, etc.) that you can say "no" to and improve your wellbeing?
What personal trait or accomplishment are you most proud of?
What is something you've done or said that you are not proud of? Is there anyone who you could reach out and apologize to?
What inspires you?
Write a thank you note to your body expressing your appreciation to it for carrying you through life.
What are you afraid of?
What do you wish you had time to do more often?
What is currently worrying or stressing you the most?
What action (or inaction!) do you regret most? What would you do differently if you had the opportunity for a do-over?
Do you hold a piece of resentment or blame in your heart that you haven't been able to let go of? What is it?
What values are most important to you?
What is your favorite positive or motivational quote?
What does your ideal day look like? Describe it in great detail.
How do you want to feel right now?
What are your top three fears?
What activity makes you feel most energized, alert, and engaged?
What is the biggest challenge or obstacle you face right now?
What is your greatest desire in life?
What are your three favorite ways to de-stress or relax?
What place makes you feel happy or at peace? Describe it in detail.
Do you have any limiting beliefs you're ready to let go of? What are they? What are helpful beliefs you could replace them with?
What does it feel like to receive recognition and appreciation from others?
Who is someone you deeply appreciate? Have you told them you appreciate them? If not, what could you say, or write, to them to share your appreciation?
How do you feel when you journal regularly?
Keep scrolling just about one paragraph more to download your free printable self-care journal!
It's okay to change how you journal
Don't feel like you have to stick to any one format every time you journal. If you feel like free writing one day and the next day you need a prompt, that's perfectly okay. The benefits of journaling require you to put pen to paper and let your inner thoughts and emotions flow.
Free printable self-care journal
Alright, let's get you your printable journal!
For best results, make sure to print your journal on one of the best papers for printables. (I used a ton of my ink testing several different papers so you don't have to.)
Like all free journal and planner printables on The Artisan Life, these are available for personal and classroom use. Even though you're getting the journal for free, please do not redistribute the files or printouts to others. Simply refer them to this post so they can download their own copies!
Your free printable journal for self-care has 35 pages including a cover page, 31 prompts, and three blank pages with different illustrations. The journal features pretty watercolor botanicals.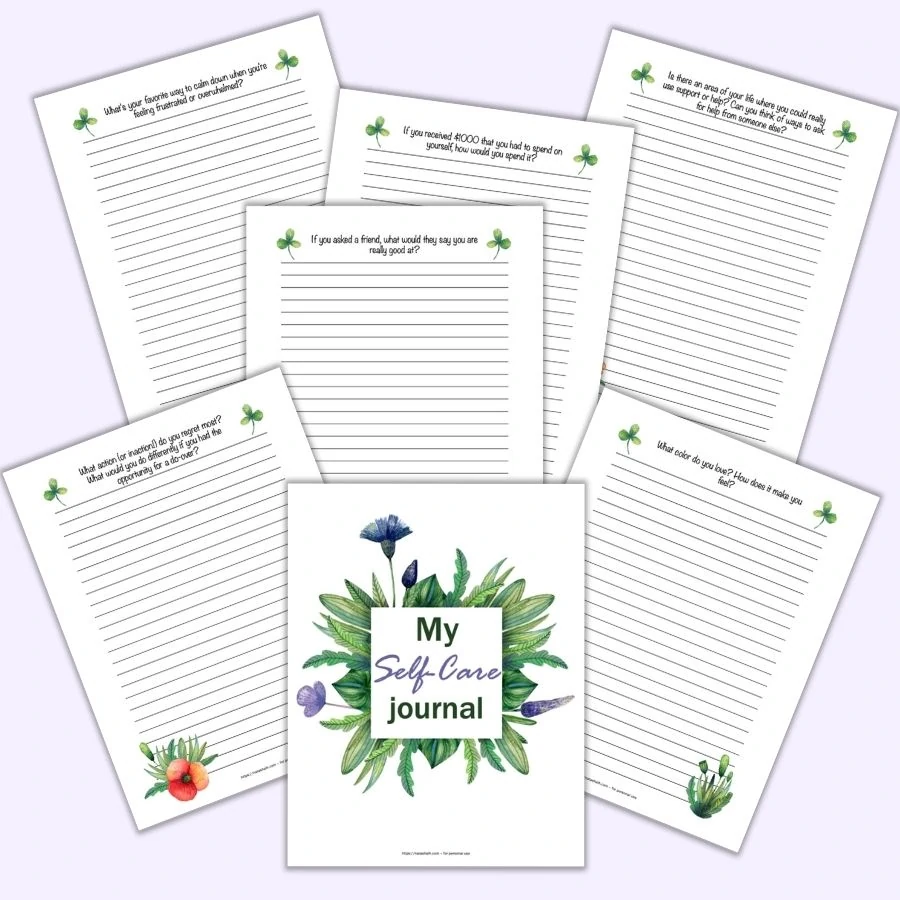 The journal is sized for US letter. It's easy to print your pages to scale and trim them down for use in a your favorite planner system. Make sure to check out this post on the best paper for planner printables and scroll to the bottom for the percentages you need to print for many popular planner sized.
IF you agree to this license, you may click below:
Final Thoughts
Journaling is a simple and accessible form of self-care. It's a positive habit that can bring many different benefits and bring more mindfulness to your life.
After journaling consistently, people can have more gratitude, more happiness, and more mental wellness because they have evidence of themselves and can draw conclusions about improving their lives. The more we know about ourselves, the more equipped we are to set ourselves up for success.
If you've wanted to try journaling for self-care—this is your sign to start today. The benefits of writing out your thoughts, emotions, worries, and gratitude can ultimately help you become more fulfilled and prepared to tackle the things each day throws at you. Try it out, and see for yourself how journaling can improve your life.
Planner & Journal Printables
Looking for more planner and journal printables? Check out these freebies on The Artisan Life!