These cute Valentine's Day coloring pages are so much fun and make great homemade Valentines. Grab 15+ free printable Valentine coloring pages and your favorite pencils for plenty of coloring fun!
These free printable Valentine's Day coloring pages are super cute. I had so much fun creating them and coming up with silly puns. I hope you and your family enjoy them, too!
For more Valentine's Day coloring fun, be sure to grab these 21+ free printable Cupid coloring pages, Valentine dot to dot printables, and free printable unicorn Valentine's coloring pages.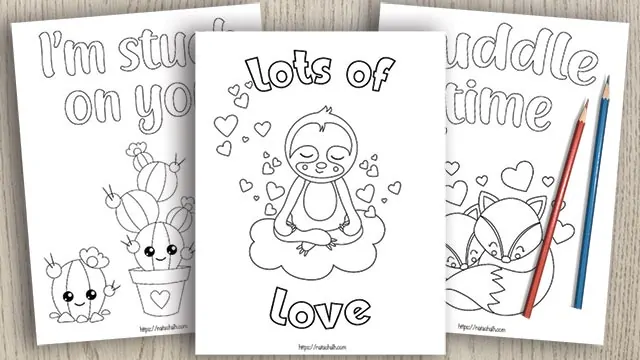 How to print coloring pages as Valentines cards
Homemade Valentines are the best! Your child can definitely give the full-sized printables as Valentines, but it's easy to make your own Valentine's Day cards from coloring pages by changing the way each page prints.
This is super easy to do if you have Preview for Mac:
When your print dialogue box is open, look for the options "copies per page" and change it. I like 4 copies per page, but you can pick a different number. Make sure "scale to fit" and "print entire image" are also selected to ensure none of the image gets cut off. Voila! Instant Valentines from coloring pages.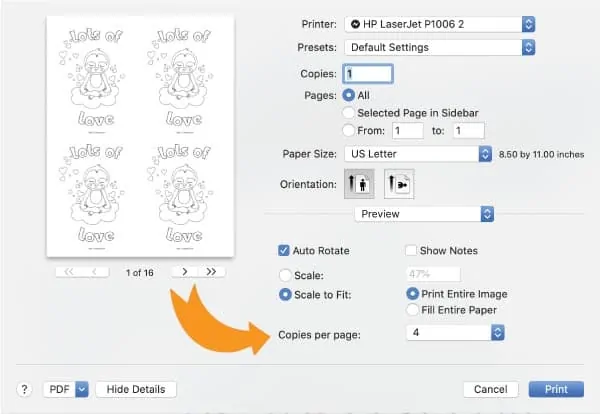 Acrobat Reader seems to not have this feature built in anymore. You'll need to combine multiple pages into one PDF, then print multiple copies to a page. You can make duplicates of one page to have the same design repeated, or put multiple pages into one file. This tutorial from SmallPDF shows you how to merge files in Acrobat Reader.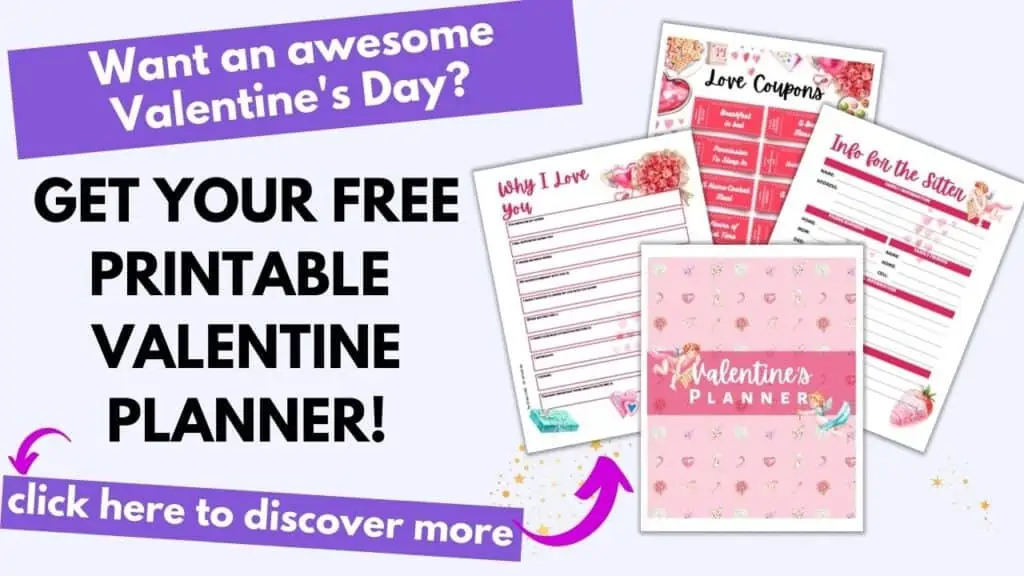 Valentine's Day coloring pages for kids
First, some important housekeeping. These Valentine's Day coloring pages are for personal and classroom use. This means you're free to print and use them as many times as you'd like with your own children or students.
Please do not redistribute the digital files or printed copies to others for their use with their families or classrooms. Just send your friends and coworkers to this page to download their own copies!
Please do not download the images. They are low resolution previews that will look terrible if printed. Look for PDF download links under each image!
Download links are located below each image. You should see a grey background behind each link to help it stand out. The link should open in a new window and begin downloading automatically. You may need to authorize downloads from DropBox if a dialogue box appears asking for permission. If you have any trouble accessing the files or find an incorrect link, please leave a comment on this blog post. I'm always happy to help!
Save yourself valuable time when you download all 16 Valentine's coloring pages in one handy PDF for the very low price of $1.29!
If you'd rather spend your time clicking around, just keep scrolling a little more for the free download links.
First there's a cute sloth with the text "lots of love" and plenty of hearts to color.
Download the sloth Valentine coloring page here
Next we have a coloring page with two Valentine's bees and the text "bee mine."
Download the bee Valentine coloring page here
What's Valentine's Day without some puns? Up next we have an avocado that says "you guac my world."
Download the avocado Valentine printable here
This pair of flamingoes is too cute! They're cuddling under a heart banner with the text "love birds."
Download the printable flaming coloring sheet here
This boy and girl have flowers and heart balloons to color.
Download the cute Valentines kids here
More Valentine silliness! These cute cacti have the text "I'm stuck on you."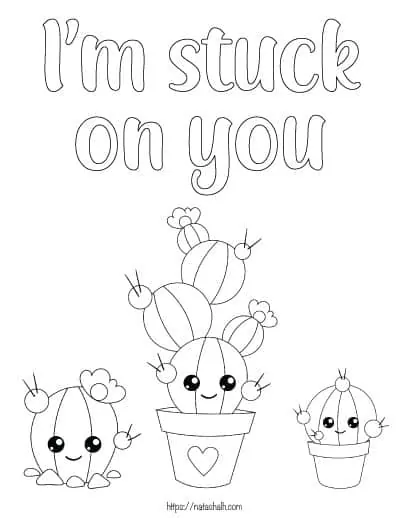 Download the cactus Valentine printable here
This sweet fish and seahorse are blowing heart-shaped bubbles! The page also features the text "you're o-fish-ally awesome."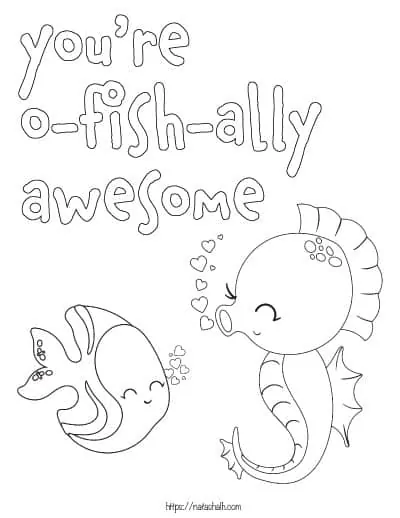 Download the fish Valentine coloring page here
It's time for even more Valentine puns! Next we have a frog prince and princess with the text "my heart leaps for you."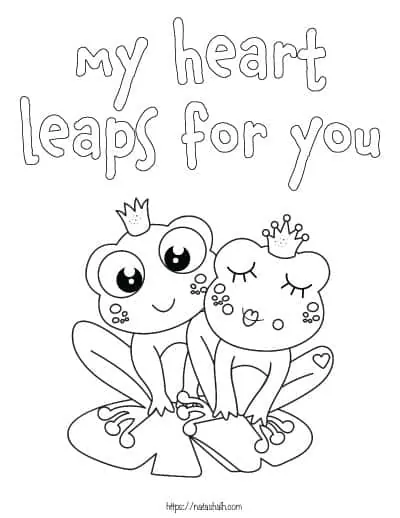 Download the frog Valentine here
This cute llama with heart sunglasses is ready to mail a Valentine!
Download the "you're sweet" pineapple here
This cute Valentine monster has a speech bubble to fill in your own message.
Download the Valentine monster here
Download the candy hearts here
Next we have two cute foxes with the text "cuddle time."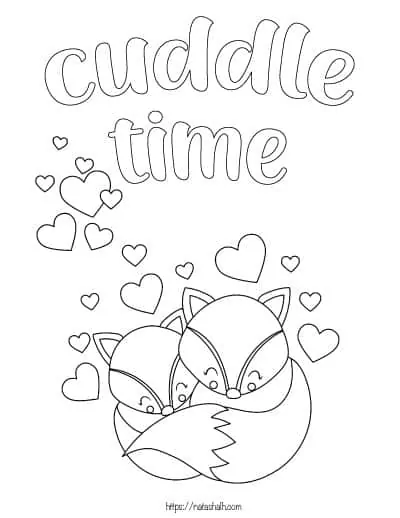 It's pun time again! In this coloring page, a cute owl sits in a wreath with hearts and the text "you're a hoot."
Download the Valentine owl here
This cute puppy with a Valentine is a great coloring page for younger children because it has bold images and no text.
Download the cute puppy coloring page here
I can't help myself – I have to end on another Valentine's Day pun! The last coloring printable has a cute beet and the text "my heart beets for you."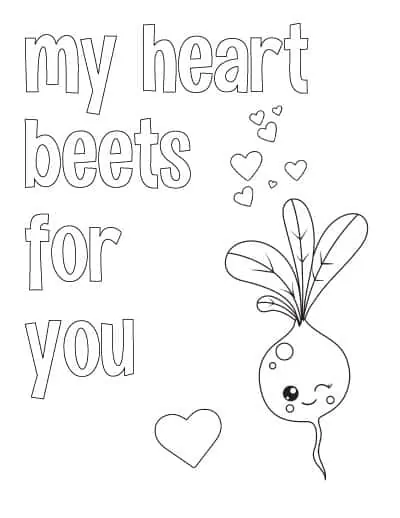 Download the kawaii beet Valentine page here
Stop scrolling Pinterest for Valentine's Day printables and crafts - check out these Valentine's posts right here on The Artisan Life!