Welcome to this list of x words for kids! This list contains both words that start with the letter x and words that contain the letter x so you can use them for letter of the week activities, reading centers, and more. The words are grouped by x words for preschool, x words for kindergarten, and x words for elementary students/older children.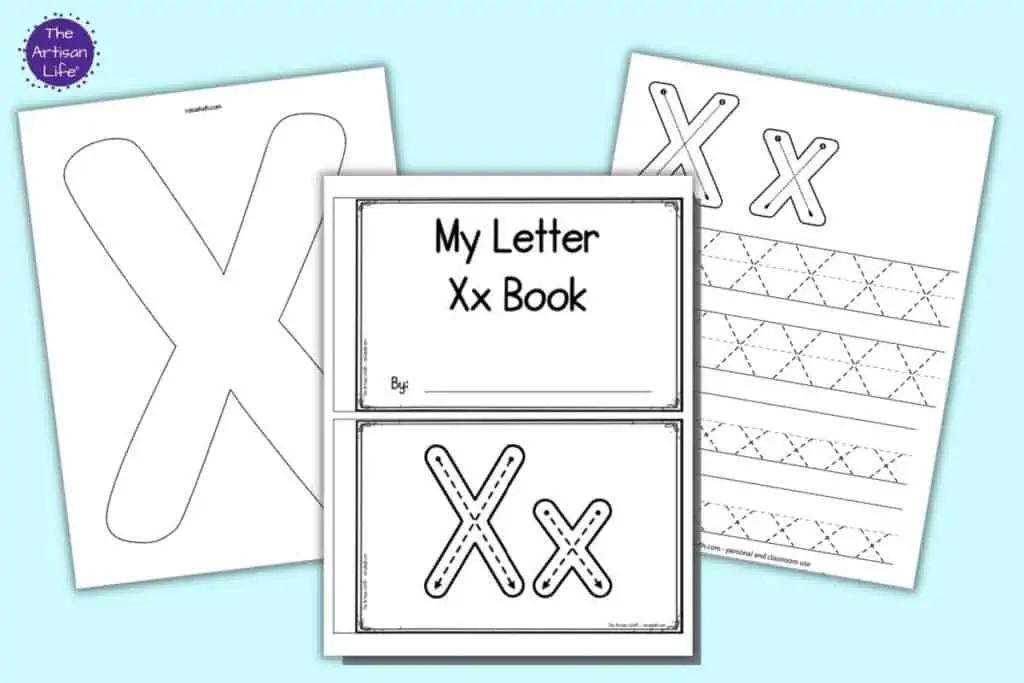 Teaching the letter is is always tricky because there are few common words in the English language that start with the letter x. That's why I frequently include words that contain x in my letter themed printables. If you're teaching the letter x, be sure to grab these additional freebies:
This post may include affiliate links which means I may earn a commission on qualifying purchases at no additional cost to you.
What sound does x make?
Teaching the sound letter x makes in English can be challenging!
The most commonly used sound for 'x' when teaching kids is the /ks/ as in box. This is one reason why it's popular to use words that end in x when teaching kids the letters x sound.
Because English is complicated, the letter x also makes other sounds. (In some other languages, like Spanish, letters make just one sound.) Other sounds of x include: /gz/ as in exam, /z/ as in xenon, /k-sh/ as in complexion, and /e-ks/ as in x-ray fish or extra.
Letter x words for preschoolers
Teaching the letter x to preschoolers usually focuses on words that make the "x" sound. This means you'll mostly work with short words that contain or end with the letter x. Here are some common preschool letter x words and simple sentences to help you use them in context:
Ox – An ox is big.
Fox – The fox is red.
Box – The box is brown.
Axe – He has an axe.
Mix – We mix the dough.
Six – She is six.
Fix – We can fix this.
Letter x words for kindergarten
As children grow confidence in their letter skills, it's time to move on to slightly more difficult letter x words for kindergarteners. Kindergarteners are also learning to read CVC words by sight, so you'll see some repeats from the preschool list above. For more CVC word practice, be sure to grab these free printable CVC word word searches and CVC word tracing pages.
Ox – The ox has big horns.
Max – His name is Max.
Fox – The small fox is fast.
Fix – He can fix the broken cup.
Box – The brown box is big.
Axe – He can swing the axe.
Wax – The candle is made from wax.
Mix – We can mix the batter.
Six – I am six.
Tax – We pay a tax.
T-Rex – The T-Rex is my favorite dinosaur.
X-ray – The doctor can take an x-ray.
X-ray fish – The x-ray fish lives in the ocean.
X words for elementary students and older kids
Now that your child has the simpler x words mastered, it's time to move on to longer, more difficult x words!
Words that start with X
While there are more complicated and obscure letter x words in the dictionary, I'm only including words that a child may encounter in life or class during the elementary school timeframe.
Xerox – We made a Xerox copy of the photographs.
Xenon – Xenon is an element.
Xeric – I learned about dessert animals that live in a xeric environment.
Xylophone – I love to play my xylophone.
Xylophonist – The xylophonist plays the xylophone.
Xylem – The xylem supports the plant.
Xerus – A xerus is an African ground squirrel.
Ximenia – A ximenia is a small fruit.
Xiaosaurus – The xiaosaurus is a dinosaur.
Xytol – Xytol tastes sweet.
Xenopus – The canopus is a frog.
Xebec – The xebec is a type of sailing ship.
Xenial – The denial teacher was welcoming.
Xanthin – Many foods contain xanthin gum.
X-Mas – X-Mas is an abbreviation for Christmas.
Xenop – The xenop is a tropical bird.
Xenophobia – People with xenophobia are afraid of people from different places and cultures.
Words that include letter X
Again, there are many words that include the letter x. This list includes words that an elementary student is likely to encounter during in first-fifth grades.
Axis
Boxcar
Complex
Exercise
Expert
Explode
Expose
Extent
Extant
Extra
Extreme
Extraordinary
Extort
Flex
Index
Mexico
Mixture
Next
Oxen
Perplex
Texas
Toxic
Toxin
Tuxedo
Saxophone
Vex
I hope you enjoy this list of letter x words and find it useful! Make sure to check out these additional literacy resources below:
Free Printable Literacy Resources
If you want to encourage your child's love of reading, you've come to the right place! Discover the ever-expanding collection of printable emergent readers, alphabet worksheets, sight word worksheets, bookmarks, and more.