This free printable letter x word tracing worksheet is perfect for pre-k and kindergarten students who are working on their letters and sight words. This worksheet features six words with letter x to trace and cute images to color. I hope your little learner enjoys!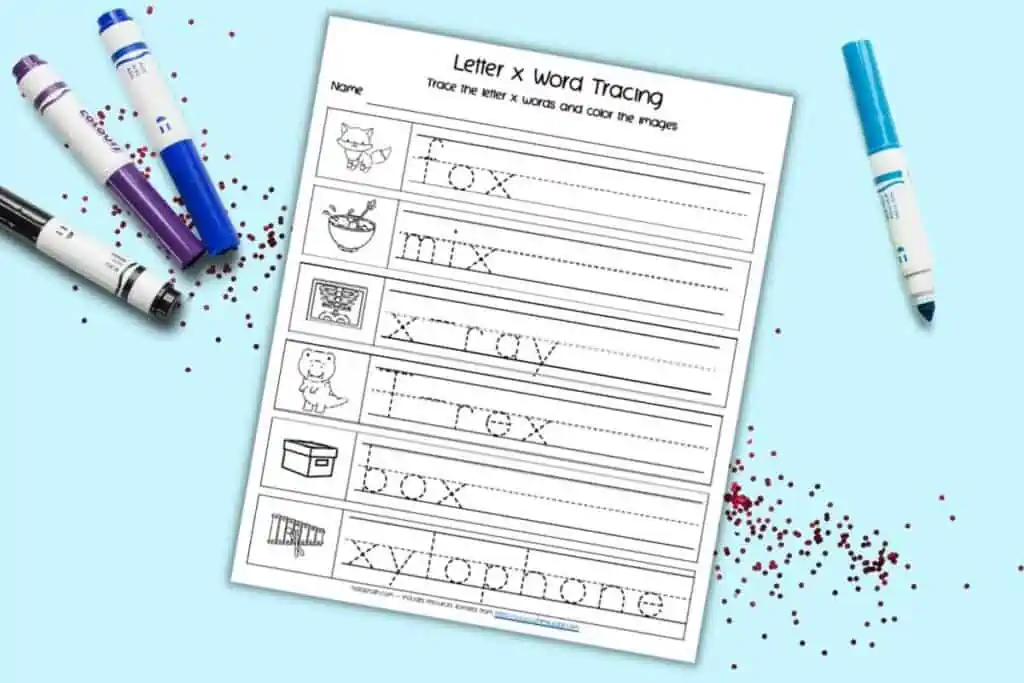 If letter is is your letter of the week, be sure to check out these additional resources:
This post may include affiliate links which means I may earn a commission on qualifying purchases at no additional cost to you.
How to use a word tracing worksheet
This word tracing worksheet is no-prep. You can simply print it out and hand it to your little learner. However, the experience will be even better if you keep a new things in mind.
Provide your child with an appropriate writing implement. Kids benefit from shorter, chunkier pencils. Those little golf pencils are way too tiny, and full sized pencils can be unwieldy. We use these Channie's preschool pencils to help develop pencil grip and control.
Channie's My First Pencil, Easy-to-Hold Write Size Graphite Jumbo Barrel...
Cute Pencil Set for Children – Large pre-sharpened pencils for writing and drawing; Easy to hold and perfect for beginning writers with small hands;...
Jumbo Barrel – Medium point and 2B graphite core creates thick, dark lines; Each pencil is 4.7" long and 0.5" in diameter and weighs 5 oz to...
Complete School Set – Ready to use in kindergarten or preschool; Pencils include bulky erasers and come pre-sharpened for immediate use; Pack...
The pages don't have to be single use! Your child can trace the word multiple times using a technique called "rainbow writing" where the word is traced in every color of the rainbow.
You can also make pages reusable by sliding them into a dry erase pocket or heavy duty page protector. We use heavy duty page protectors with Stabilo Woody 3-in-1 pencils. There's no ink and no stink, so I prefer them over dry erase markers. They can also be used for rainbow writing becuase they don't erase themselves like a dry erase marker. The video below from post with dinosaur coloring pages demonstrates how well they work:
Sale
Free printable letter x tracing words worksheet PDF
This worksheet includes six words and accompanying images:
fox
mix
x-ray
T-rex
box
xylophone
For more detail on why words ending with the letter x are frequently used to etch x, please visit this post on letter x words for kids.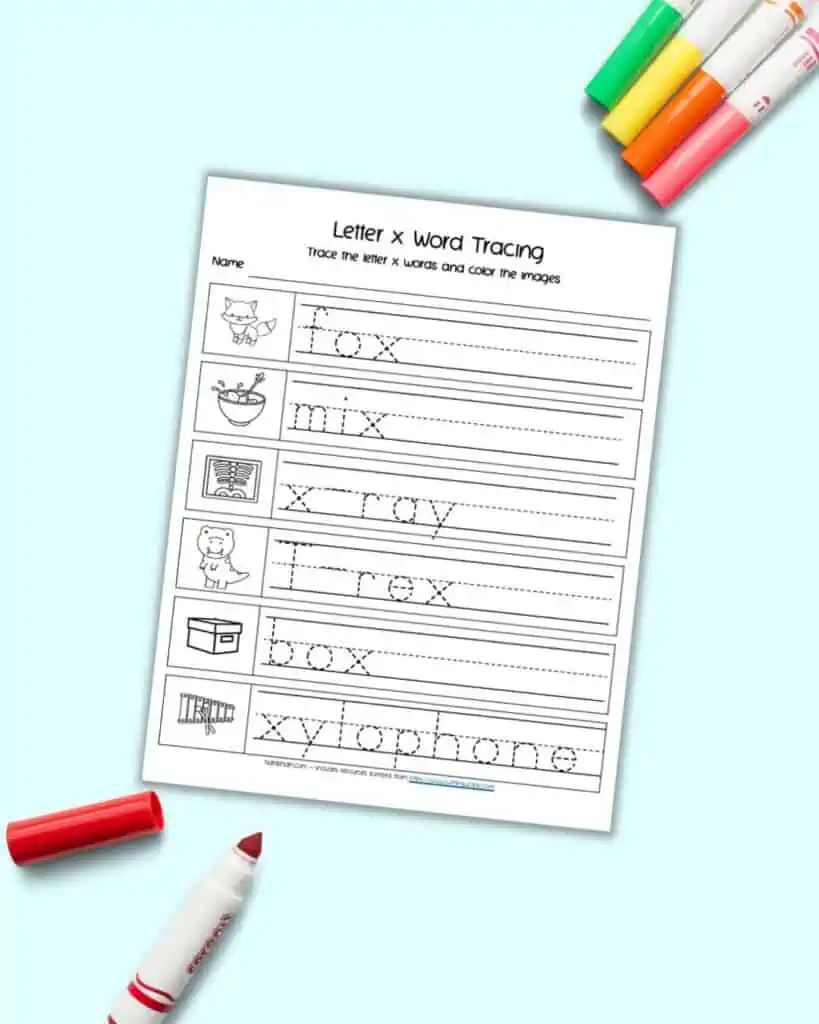 This tracing worksheet is licensed for personal and single classroom use. You are not licensed to redistribute (or sell) the files or print outs to others for use with their children/students. Instead, please refer them to this post so they can download their own copy.
If you agree to this license, you may click below:

I hope you enjoy using these free printable word tracing worksheets. Make sure to check out these additional literacy resources before you leave:
Free Printable Literacy Resources
If you want to encourage your child's love of reading, you've come to the right place! Discover the ever-expanding collection of printable emergent readers, alphabet worksheets, sight word worksheets, bookmarks, and more.