These free printable Christmas count and clip cards are low prep, hands on way to help your preschooler work on their counting, number recognition, and fine motor skills. They're great for homeschool preschool or a preschool classroom as part of your math center.
Although this post has been updated for 2021, these were some of the first counting clip cards we started using shortly before my daughter turned three. It's been awesome to watch her grow and learn over the past year of using them. I hope these Christmas counting cards give your little one a year of learning fun, too.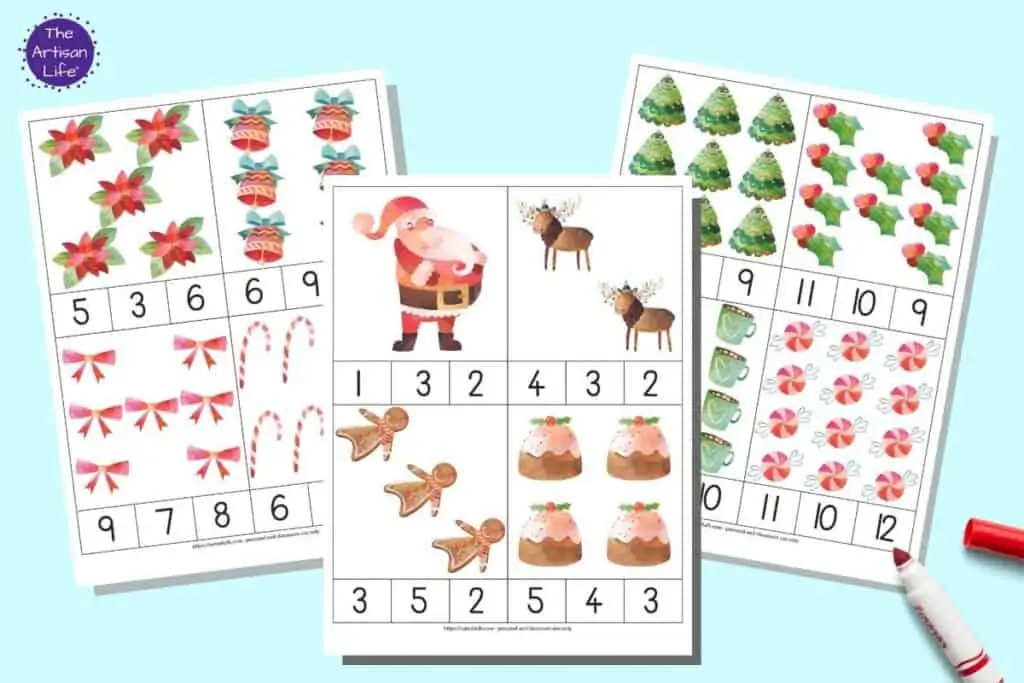 This post may include affiliate links which means I may earn a commission on qualifying purchases at no additional cost to you.
How to print & use counting clip cards
Count and clip cards are a fun, hands-on way to teach number and counting.
Counting clip cards help your child develop a variety of skills, including their number sense, counting abilities, number recognition, and fine motor skills.
Each card shows a quantity of Christmas themed images with a row of three numbers along the bottom. Your child counts the pictures, then selects the corresponding number. People typically use the cards with a clothespin to "clip" the answer, which is why they're called "count and clip" cards.
If you don't have a clothespin (or if your child can't use one yet), that's okay. When my daughter first started using these cards, I held the card for her and she used both hands to operate the clip. Your child can mark the answers with a manipulative, like a counting bear, pompom, or nature treasure. They can also simply point to their answer.
For more fine motor practice, your child can use toast tongs or plastic tweezers to place a manipulative on their answer. In the picture below, you can see my daughter using a plastic tweezers and wool balls to mark a count and graph page:
We also like to use this set of counting bears that comes with tongs, cups, and activity cards. It also has a storage box (ours was dented a little on arrival, but has held up to a year of use, anyway.) This is the set we personally use and an easy way to get started with math manipulatives if you don't have any yet:
NEOFORMERS Counting Bears with Matching and Sorting Cups, Preschool Math...
【Counting Bears Toy】: Make fun for preschool learning. Counting Bears set includes 60pcs bears and 6 cups, 10 activity cards, 2 dices and 1...
【Toddler Educational Toy】: Great teaching toy for basic mathematics concepts. Matching and sorting colorful cups and rainbow counting bears help...
【Toy for Preschool Learning】: Counting bears as Montessori toys with dices and cups for toddlers help them notice differences between things and...
Materials needed
Getting these cards printed and ready is quick and easy. Here's what you need:
Your free printable. The download is located further down the post. Look for the row of purple arrows.
Paper or cardstock. If you're not laminating the pages, use cardstock. If you are laminating, I recommend HP 32 lb paper. It's thicker than "normal" paper and produces crisp, bright images. To see it in use, see this post with the best paper for printables.
Laminator and laminating pouches. Optional, but recommended to make the cards reusable.

Non-laminated printables usually don't last long when they're being clipped.
Laminating at home is way easier than dragging your kids to the office supply store to get them laminated.
A laminator pays for itself quickly compared to the cost of having individual sheets laminated at the store.

Scissors or a paper trimmer/cutter. I use this paper trimmer.

A guillotine style paper cutter is better for cutting laminated pages, but a paper trimmer is safer for little helpers.

A clothespin or manipulative to mark answers. If your pages are laminated, your child can use a dry erase marker or a dry erase crayon.
How to use count & clip cards
First, download your printable and print the pages you want to use. The cards have numbers 1-12 with 4 cards per page. You may want to use only the first page for a toddler or younger preschooler. You know your child best.
Laminate the pages before cutting them out, unless your laminator specifically instructs otherwise. If you cut first, them laminate, you have to cut everything twice. Laminating first is a real time saver!
Cut the cards out. Make sure to leave the numbers along the bottom of each card with the picture area.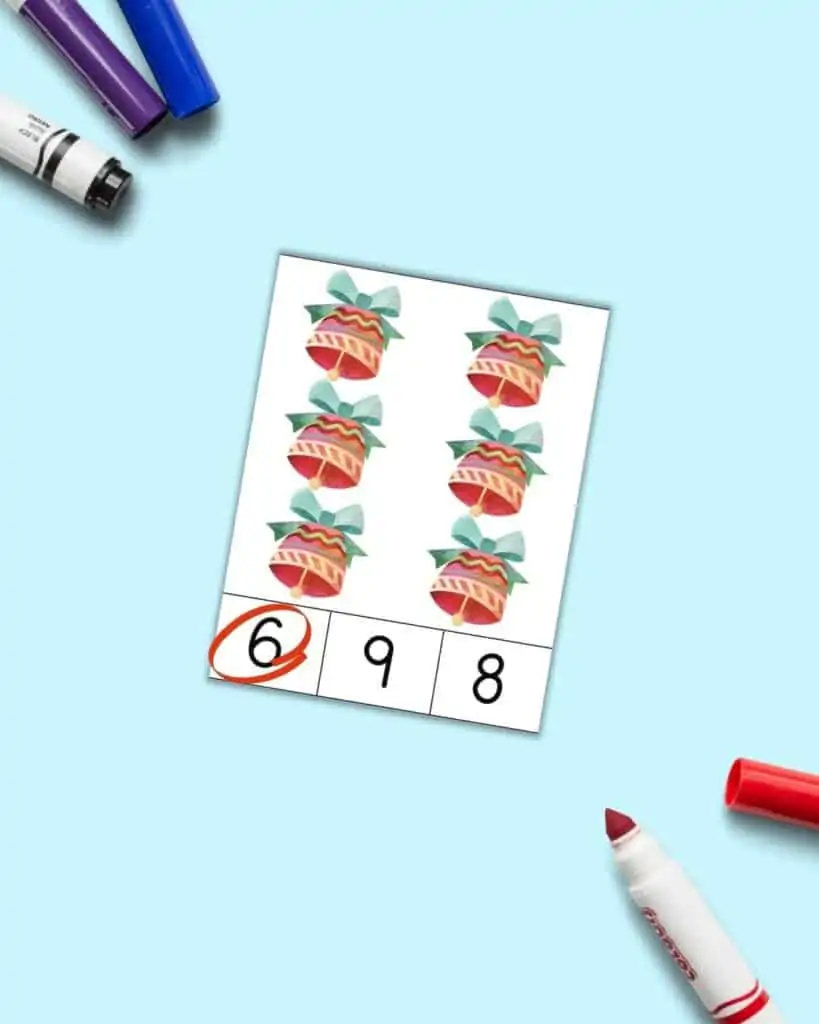 Count, clip, and have fun learning! If your child is new to this type of activity, use the "I do, we do, you do" method with your child. Count and demonstrate how to use the cards by yourself, then do the work together before having your child use the cards solo.
Make the cards self-checking for your child by marking the correct answer on the back of each card. Place a sticker or make a mark behind the correct number so it's easy for them to flip the card and see if they've clipped the correct answer.
Free printable Christmas theme count and clip cards PDF download
Please note that the lovely Christmas clipart is copyright by Digital Artsi and is used under license.
Like all free preschool printables on The Artisan Life, this printable is licensed for personal and classroom use. You are also welcome to use it with scout troops, homeschool co-ops, etc. Basically, as long as you are personally organizing the activity, it's fine to use these. Yes, you are also welcome to leave it for a substitute. Thank you to the considerate readers who've emailed to ask.
I hope your little learner has lots of fun with these Christmas themed counting clip cards!
Be sure to grab these additional printables for your Christmas theme below:
Christmas & Holiday Printables
Looking for printables for the holidays? You've come to the right place! Discover Christams templates for DIY ornaments and decorations, Christmas games for families at home, and more.