These printable alphabet tracing strips feature Christmas trees that are a great fit for your Christmas preschool theme. Your child will be happily tracing away and learning their letters in just a few minutes with these easy to use printables.
Tracing letters is beneficial for early learners. Tracing helps introduce the shapes and forms of letters, develop fine motor skills, and build writing confidence.
Bonus: your little one will stay happily busy and learning while you catch a minute without a child literally climbing up your leg. Yay! (Or, of course, you can use them as part of your regular homeschool preschool lessons.)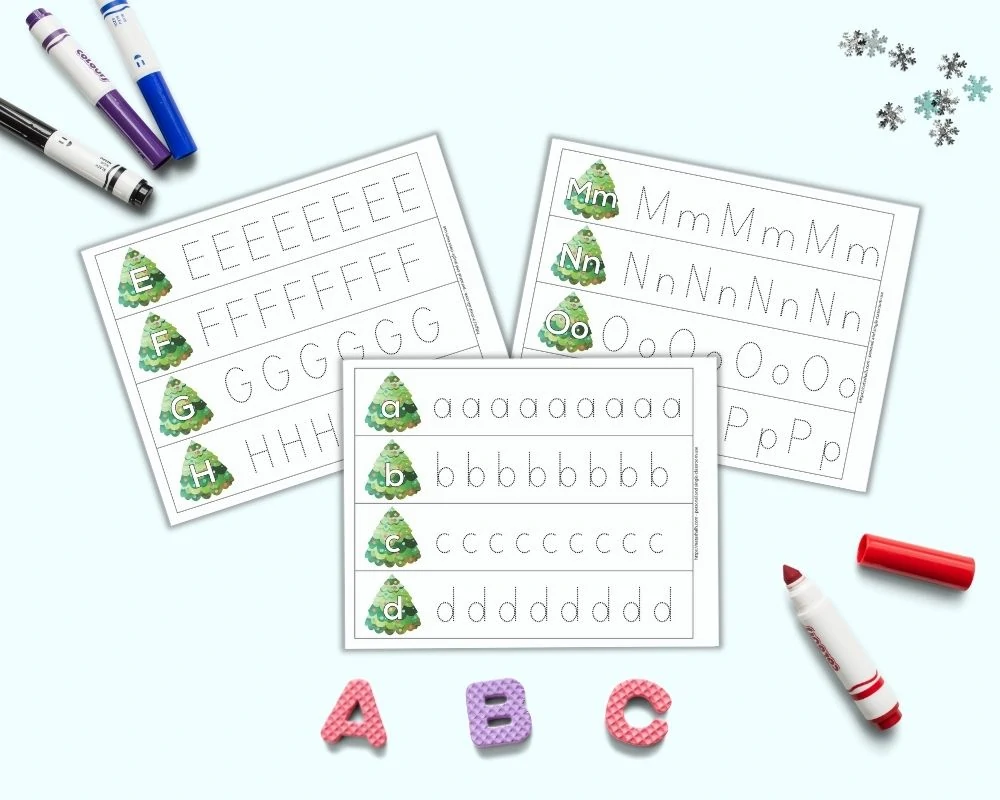 Download these Christmas letter tracing strips with uppercase letters, lowercase letters, or both on the same strip and laminate them to use again and again.
The lovely watercolor Christmas trees with colorful lights are sure to catch your little learner's eye and make practicing handwriting with these writing strips fun!
There are several ways to teach your child the alphabet and to read and write.
Some educators and parents believe that you should teach children uppercase letters first. Uppercase letters are easier to tell apart from one another. They are also less likely to be reversed by young children just learning how to write.
Others believe in teaching lowercase letters first. Most letters you encounter every day are lowercase. Also, lowercase letters can be easier to write because they involve fewer strokes.
And, of course, there are also people that believe in teaching children how to write uppercase and lowercase letters simultaneously.
Based on my own personal philosophy of teaching, graduate coursework, and experience as a homeschool preschool mom, I am teaching my daughter her lowercase letters first. (I also focus on phonetic sounds before letter names, in case you're wondering.)
This is why there are three separate sets of Christmas tree alphabet tracing strips. One size does not fit all in education, so you have choices. There are uppercase only tracing strips, lowercase only, and upper/lowercase letters presented together. All three versions are contained in the same PDF.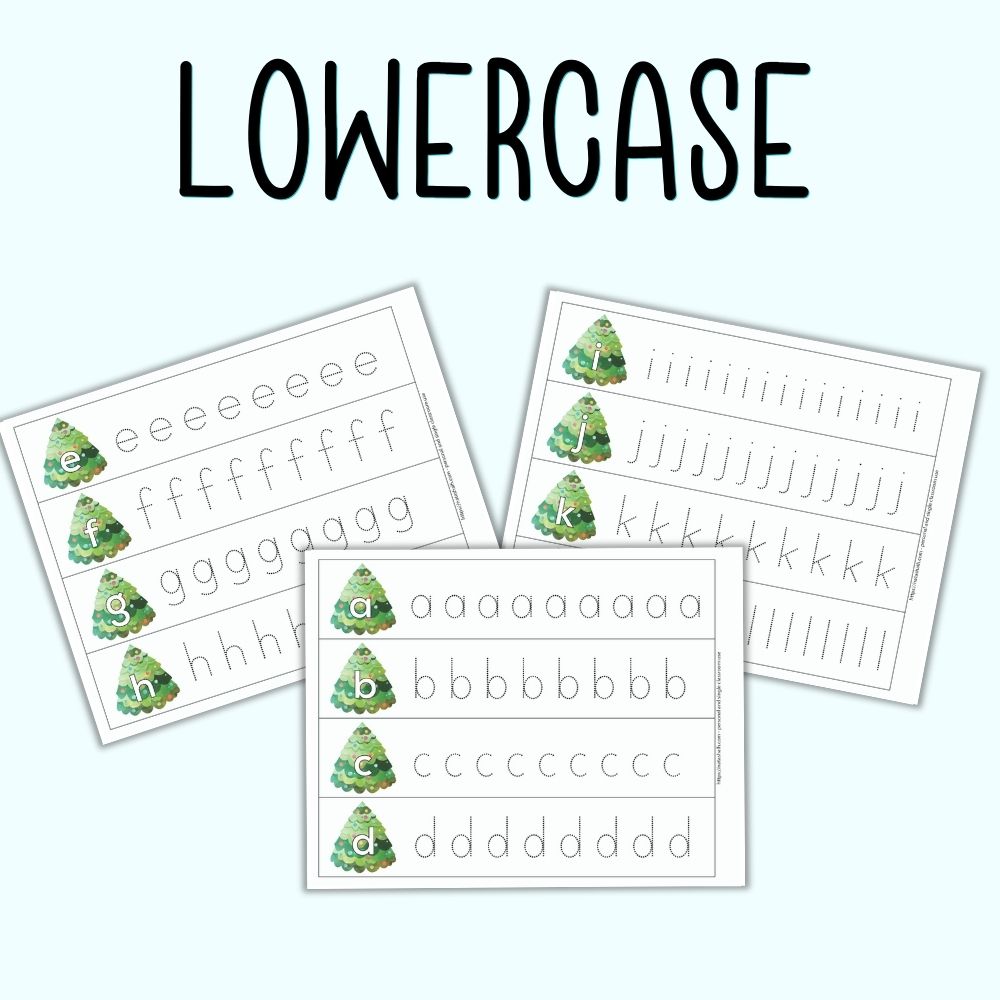 How to use alphabet tracing strips for preschoolers
An easy no-prep way to use these letter tracing printables is by printing them and having your child trace the letters without cutting the page into strips. They can write with with a crayon, pencil, or marker. Markers glide more easily across the page. Crayons and pencils create more friction and are a bit harder to write with, which means they provide a greater fine motor challenge.
Sometimes you need a quick, educational activity for your child to do right now!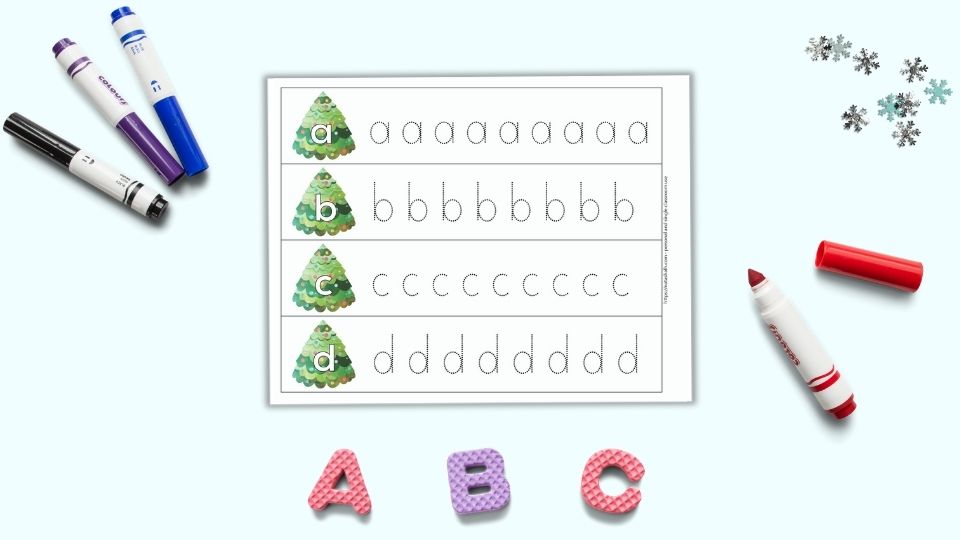 To make the letter tracing strips reusable: print the strips, laminate, cut into strips, and use with fine tip dry erase markers. 
I love printing my daughter's worksheets on 32# bright white printer paper. It's heavier than normal printer paper and makes images look really bright and crisp without breaking the bank. (For a side-by-side comparison of several printer papers, check out this post on the best paper for printables.)
You can hole punch each card in the upper left corner and thread them onto a binder ring for a fun go bag activity that's easy to sanitize.
Binder rings are a great way to keep any set of laminated printables together. I've also used with with these alphabet tracing worksheets and alphabet play dough mats.
40PCS Loose Leaf Binder Rings, Assorted Sizes (Inner Diameter 1, 1.25, 1.5,...
【ASSORTED SIZES】 - The package contains 2 inch x 5pcs, 1.5 inch x 5pcs, 1.25 inch x 10pcs, 1 inch x 20pcs binder rings. Assorted sizes book rings...
【HIGH QUALITY】 - Binder rings are made from stainless steel, nickel-plated metal. Feature a bright, corrosion-resistant finish, hard to rust and...
【EASY TO OPEN OR CLOSE】 - Convenient to use just pull to open and squeeze to close; you can use them easily and quickly. Make your work and life...
Free Christmas letter tracing printable
Like all preschool printables on The Artisan Life, these are for personal and classroom use. You are also welcome to use them with therapy clients, as long as you are not charging specifically to do this activity.
You are not licensed to alter, sell, or redistribute the files to others for their personal use. Instead, please refer your friends and colleagues to this page so they can download their own copies. All three versions are contained in one PDF – just print the pages you want to use!
If you agree to these terms, you may click below.

There are many free printables for the holidays here on The Artisan Life. Be sure to download them while you're here!
Christmas & Holiday Printables
Looking for printables for the holidays? You've come to the right place! Discover Christams templates for DIY ornaments and decorations, Christmas games for families at home, and more.