If you want to start journaling, or pick the habit up again as the year draws to an end, this post is for you! These journal prompts for December and free printable December journal can help you de-stress and reflect during the busy holiday season.
It can be easy to let self-care practices like journaling slip when you get busy. Unfortunately, that's exactly when you need to take time for yourself the most!
Journal prompts can save you time and help you journal, even if you're busy. They help you get past "not knowing" what to write and allow you to start journaling instead of spending all your time wondering what to write about.
Make sure to keep scrolling to the end to get your free printable journal prompts cheatsheet and December journal pages.
Grab your free printable December journal pages and start journaling today!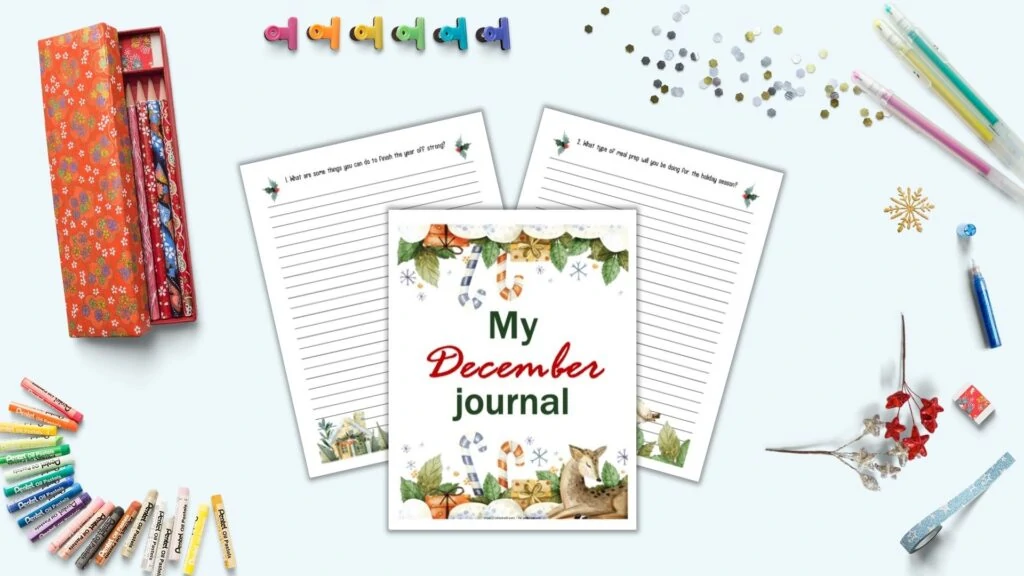 December journal writing prompts
I know you're busy, so let's get right to business with the journal prompts. There's no need to copy each of them down by hand unless you want to. You can download a page with all 31 prompts on one convenient sheet when you snag the free December journal printables lower down in the post.
What are some things you can do to finish the year off strong?
What type of meal prep will you be doing for the holiday season?
What is something that always makes you laugh or smile?
List some of your favorite cold weather meals.
If you could revisit any moment in a past December, what would it be?
The holidays can be stressful. Create and write down a self-care routine for December.
December 7th is Letter Writing Day – Write a letter to yourself about any topic.
If you could write a letter to anyone, who would it be?
Do you believe you are honest with yourself? Why or why not? In what ways, if any, are you dishonest with yourself?
Plan some fun crafts or activities to do indoors on cold days.
What are some ways your daily routine can be more efficient? Is there any way you're "wasting" time that could be freed up for other things (like practicing self-care)?
Describe how your relationships with your family are going.
What is something you are proud of achieving or doing?
Make a list of movies, books, or songs that always cheer you up.
What are 5 things you're good at?
List 3-5 of your top priorities in your life. Does how you spend your time align with these priorities?
Write something creative about the holiday season (a poem or short story).
Write down some ways to be more organized this month to reduce holiday stress.
What things make you anxious?
What things help you feel calm?
December 21st is Winter Solstice – How are you going to celebrate?
What is a funny memory you remember from a past holiday season?
What childhood family traditions do you continue to practice?
How old were you when you stopped believing in Santa?
How is this holiday season different from last year for you?
Describe an ideal day in your dream life. Is there anything you can start doing now to bring some part of this dream life into your reality?
List the people (and animals!) you are grateful to have in your life.
What is your definition of success? What successes have you had this past year?
It may have been a challenging year for you, but there are frequently hidden "rainbows in the cloud." Can you think of positive things that happened as a result of negative things in this past year?
Write down some goals you have for the new year. Remember to make them SMART! (Not sure what this means? Stop by this post on how to set weekly goals for a detailed look at goal setting.)
You made it to another New Year's Eve! What are you celebrating from this past year? What are you most proud of?
Make sure to Pin these journal prompts now so you can find them again later: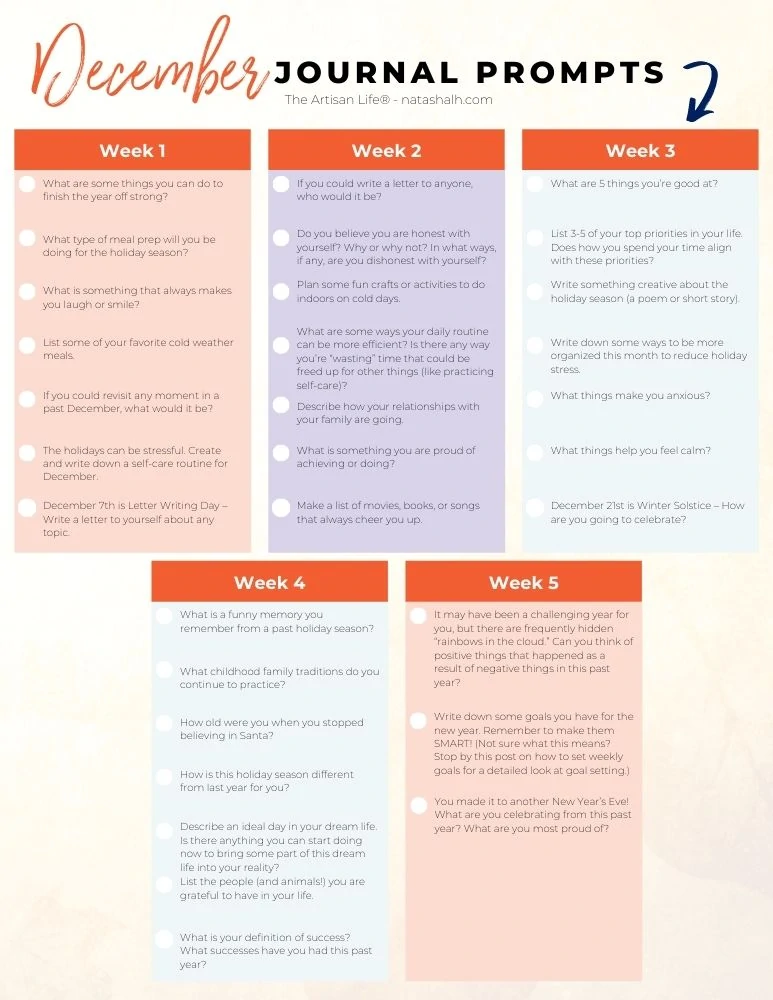 Free printable December journal pages
You can see a preview of the free printable journal in the video below:
If you like the watercolor illustrations, be sure to check out these printable December planner pages because they match!
Like all journal & planner printables on The Artisan Life, these are for personal and classroom use. You are welcome to use them for yourself and with your own children, students, and therapy clients.
You are not licensed to redistribute the files to others for their own personal use. Please just send your friends to this post so they can download their own copies!
The first page of the PDF has your cheatsheet with all 31 December journal prompts on one page. The journal cover page, 31 pages with prompts, and three extra lined pages without prompts all follow in the same PDF.
For the most enjoyable journaling experience, be sure to use a high quality pen that doesn't scratch, leak, or bleed. Discover more about pens and the best pens for bullet journaling here.
Unlike with the November journal printables, these are available only in US letter size.
If you want to scale them to fit in a Happy Planner or other planner system, please refer to this chart below. Print them at scale, then trim the pages down to fit. You can find more information about printing planner and journal pages in this post on the best paper for planner printables.
These printable journal pages with journal prompts for December are free for Artisan Life family members. Just fill out the box below and the PDF will zip its way across the internet to you! If you're already a member, please use the same email address – there's no need to drag out your 12 year old hotmail account.
I hope you join me in journaling your way through December! It's an easy, affordable way to practice self-care and to destress during a busy holiday season.
Planner & Journal Printables
Looking for more planner and journal printables? Check out these freebies on The Artisan Life!