Help your child or students celebrate with this free printable last day of pre-k coloring page. It's a fun, no-prep activity and you can use it as a last day of school sign when you take your last day of school picture. I hope your little learners enjoy it!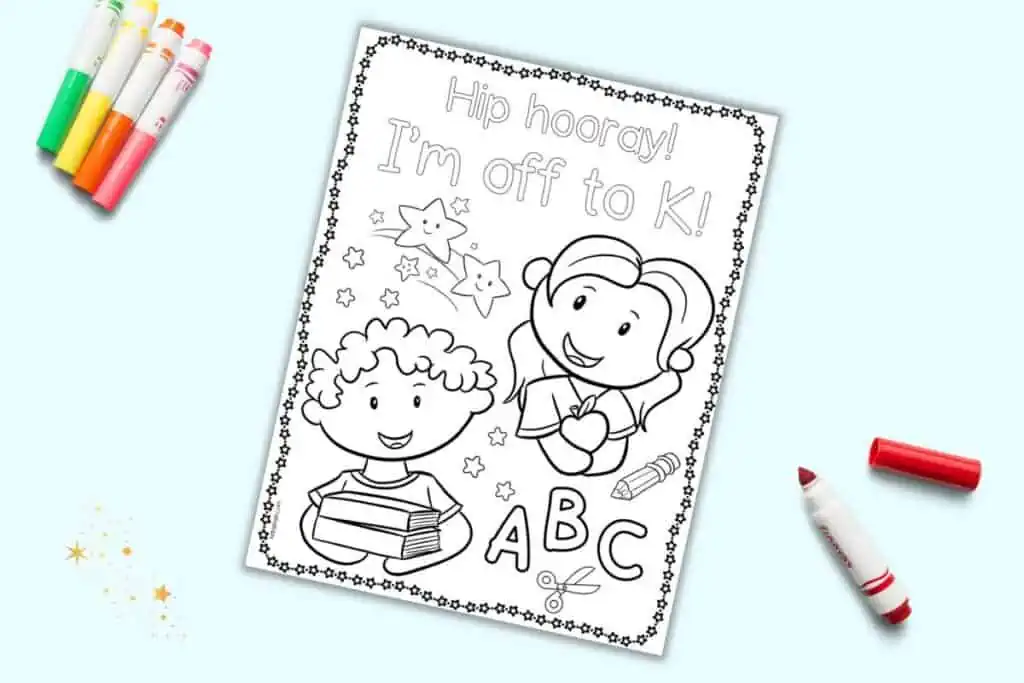 Make sure to grab your free printable last day of school sign to go with your final day of school festivities. You may also enjoy these free "hope you have a ball this summer" end of year gift tags.
This last day of Pre-K coloring sheet features two kids, school supplies, and the caption "Hip hooray! I'm off to K!" It makes a fun keepsake so you and your child can see how much their coloring and fine motor skills have improved over their pre-k year.
Last day of Pre-Kindergarten coloring page PDF download area
This last day of Pre-K coloring page is licensed for personal and classroom use. You are not licensed to redistribute (or sell) the printout or digital file to other adults for use with their children/students.
I hope you enjoy! Make sure to check out the free summer themed printables below to keep your kids busy and learning this summer.
Free summer printables
If you're looking for budget-friendly ways to keep your kids happy, busy, and learning without screen time, you've come to the right place! Be sure to check out some of the most popular free printables for kids here on The Artisan Life: