Whether starting a journal is a New Year's Resolution for you or you're looking to revive your existing journaling practice, these January journal prompts can help!
Journal prompts are a fun and easy way to get started journaling without the stress of staring at a blank page. Discover these journaling prompts for every day of January and download your free printable January journal.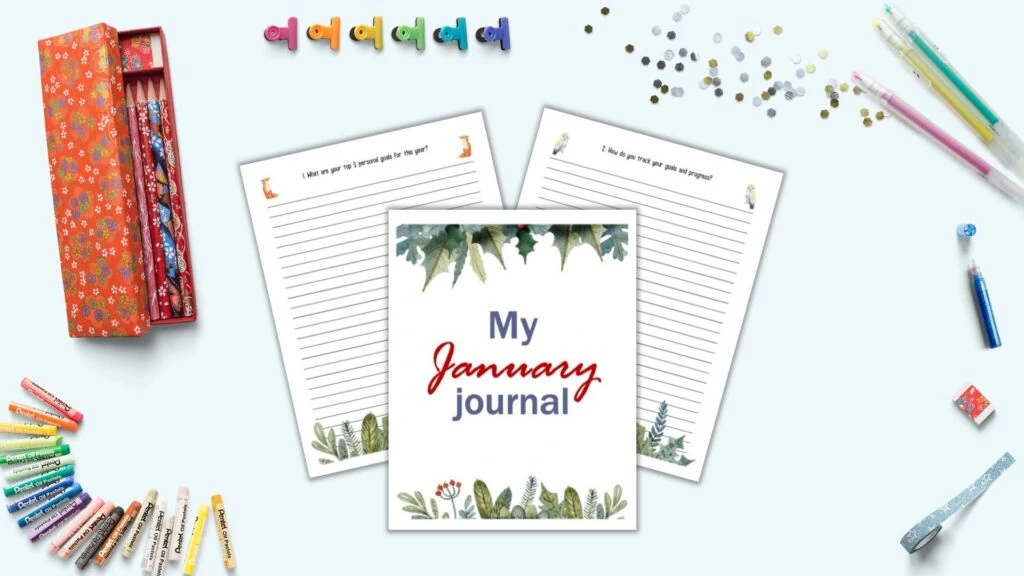 This post may include affiliate links which means I may earn a commission on qualifying purchases at no additional cost to you.
Journaling and goal setting for the New Year
If you want to make this the year your resolutions finally stick and you actually achieve your goals, make sure to discover these additional resources here on The Artisan Life:
January journal writing prompts
Alright, let's get to the journaling prompts for January!
Keep scrolling past this list to download a free printable journal with all 31 prompts already printed on lined pages with cute winter watercolors. The download also includes a cheat sheet with each journal prompt conveniently located on a single page.
What are your top 3 personal goals for this year?
How do you track your goals and progress?
How are your goals and/or resolutions this year different than last year?
What goals/resolutions from last year did you achieve or keep up with? What goals did you not achieve?
How do you want this year to be different? What are you willing to do differently in order to have a different year?
What is something difficult that turned out to be a blessing?
What people in your life make you feel supported?
If you could go back and read a book series from the beginning without ever having read it before, which would it be?
How have you changed the most in the last year?
January is National Hobby Month – List your favorite hobbies.
In what ways do you feel strong?
Write a list of things you want to manifest into your life.
How can you work toward making your dreams come true? What aspects of your dream life can you start living right now?
Write down 10 positive affirmations.
Write about one of your biggest accomplishments or something you are proud of achieving/creating/doing.
Make a list of three things you wish people knew about you.
What are your favorite activities for snowy or rainy days?
Make a list of 5 things you love about the cold weather season.
Write down 10 words that make you associate with January.
Is there a new skill you want to learn this year?
Write down 5 complements to yourself.
If you could have dinner with anyone, alive or not, who would it be and why?
What is a holiday you wish happened more than once a year?
How often do you express gratitude? What is your favorite way to express gratitude?
What are you grateful this month?
Write down the 10 best moments of your life so far.
What is your favorite thing to do when it snows?
What is one thing you can do to show yourself love today? Write it down and make sure to do it!
Write about the first friend you remember having.
Has anyone shown you an unexpected kindness recently? Or helped you when you needed it? Write about the experience.
Write a review of how this month went. Are you keeping up with your goals and resolutions? How can you get back on track, if needed?
Make sure to Pin these journal prompts now so you can find them again later: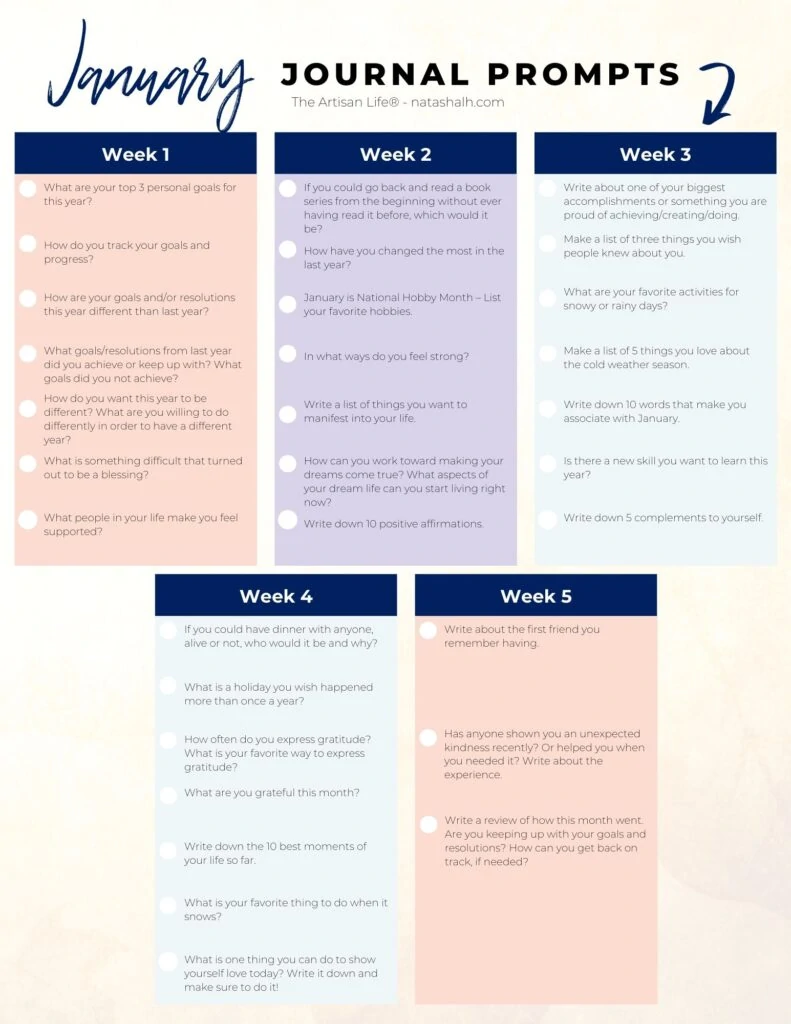 Free printable journal for January
Like other journal and planner printables here on The Artisan Life, these January journal pages are for personal and classroom use. You are welcome to print and use them with your own students, therapy clients, etc. as long as you are not charging specifically to use the pages or prompts.
You are not licensed to redistribute the files or printouts to others. Please simply refer your friends and coworkers to this page so they can download their own copies.
For best results, I recommend printing your journal on bright white 32# paper. It helps your pages look professional and makes journaling a more luxurious experience without a huge price tag.
HP Paper Printer | 8.5 x 11 Paper | Premium 32 lb | 1 Ream - 500 Sheets |...
Made in USA: HP Papers is sourced from renewable forest resources and has achieved production with 0% deforestation in North America.
Heavyweight premium printing: HP Premium32 is a heavyweight (32 pounds), brighter (100 bright) and whiter (163 whiteness) paper with a super-smooth...
Certified sustainable: HP Premium32 presentation paper is Forest Stewardship Council (FSC) certified and contributes toward satisfying credit MR1...
To see why I recommend this paper, stop by this post with reviews of the best paper for planner printables. I used a ton of my ink printing the same floral planner page on multiple different papers so you don't have to waste your ink, too.
For the most enjoyable journaling experience, be sure to use a high quality pen that doesn't scratch, leak, or bleed. Discover more about pens and the best pens for bullet journaling here.
The pages are sized for US letter. To use these pages as planner inserts, follow the scaling chart below then trim the pages down to size:
If you like the watercolor illustrations in this journal, be sure to check out these printable January planner pages because they match!
This printable journal is free for Artisan Life family members. Just input your email address into the box below and the printables will fly across the internet into your inbox.
If you're already a member, please fill out the form using the same email address you've previously subscribed with. There's no need to drag out your ancient hotmail account to get an additional printable.
I hope you join me in journaling your way through January! It's an easy, affordable way to practice self-care and help ensure you're on track to finally meet your goals and keep your resolutions.
Planner & Journal Printables
Looking for more planner and journal printables? Check out these freebies on The Artisan Life!