Do you want to select a word of the year (or word of the month, week, or day), but aren't quite sure of what to pick? This list of word of the year ideas can help!
Keep scrolling past the list of positive words to grab a free printable word of the year reflections journal page with a complete printout list of the word suggestions.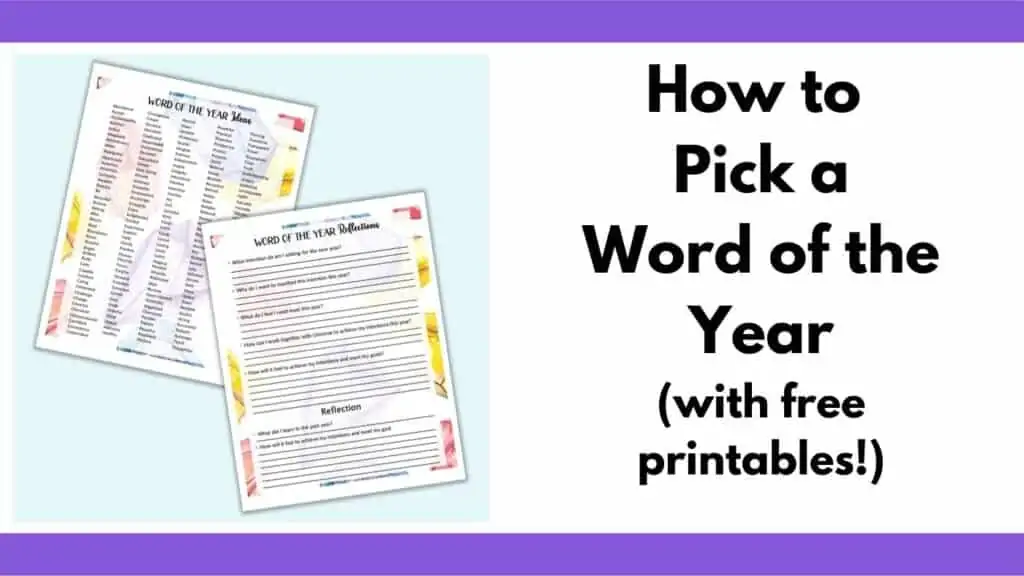 What is a word of the year?
A word of the year (or month, week, or day), is a word you pick to guide your year (or month, week, or day). People usually select a positive word or a word that reminds them of their intentions and desires.
A word of the year helps remind you of your goals and desires for the year. You can use it as a mantra, as part of your affirmations practice, or as inspiration for journaling. It can help guide your goals and intentions.
How to pick a word of the year
Your word of the year needs to feel "right," which is why picking a word of the year can seem so daunting sometimes! Here are a few questions you can journal on as you select a word of the year:
What intention do am I setting for the new year?
Why do I want to manifest this intention this year?
What do I feel I need most this year?
How can I work together with Universe to achieve my intentions this year?
How will it feel to achieve my intentions and meet my goals?
These questions are included on a free printable journaling page available further down the page. Look for the row of purple arrows.
Answering these questions can help guide your selection. If, for example, what you desire most in the new year is a feeling of peace, select an appropriate guiding word. Words like peace, relax, allow, trust, and accept might be appropriate for you. Words like adventure, hustle, and excited might not be a good fit if you're craving peace.
Keep your answers in mind as you read through the list of word of the year ideas below.
Here's a quick look into my thought process when I selected my personal word of the year. For the year ahead, I have chosen "Aparigraha," or non-attachment. I'm working on natural vision improvement (yes, that's a thing), and know that non-attachment will help my progress.
Vision is the only sense we attempt to force on a regular basis instead of allowing the sensations to arrive at our body. Instead of trying to force and strive for more clear vision (which totally doesn't work), I'm seeking to have fun and enjoy the experience while expressing gratitude for my eyes. The more I relax and let go of worry about the blur, the more clear my vision becomes. (Curious about natural vision improvement? Check out this post from the Weston A Price Foundation and, if you'e really curious, sign up for a free class with my vision instructor.)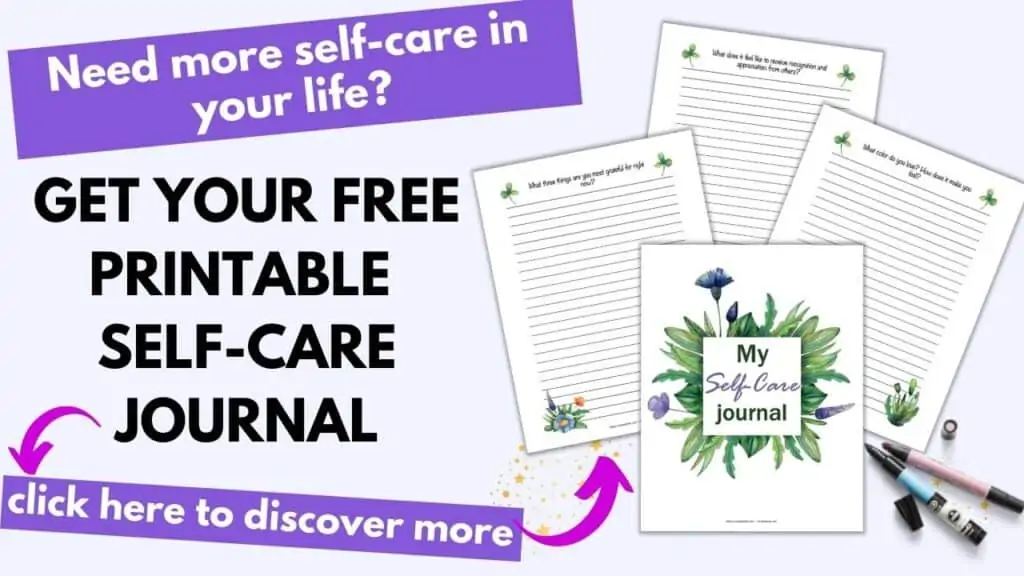 How to use a word of the year
I personally like to write my word of the year at the start of my new planner to remind me of my positive intentions. Sometimes I also write it on a note on my fridge or at my desk. You might repeat it like a mantra or use it as your guide when making choices.
You can make a game out of looking for your word of the year as you move through each day. You might even be able to find pillows, posters, mugs, etc. that remind you of your word of the year!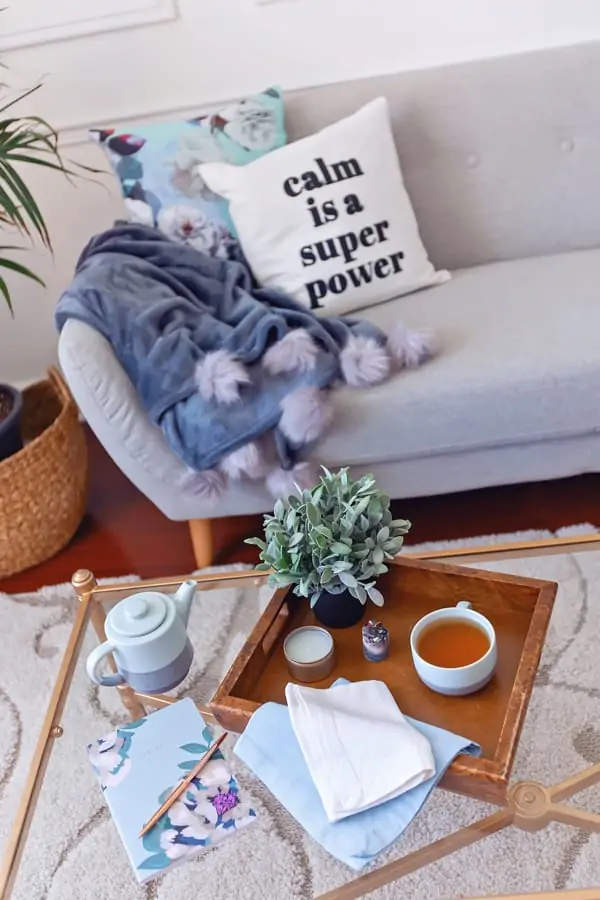 Word of the year list
As you go through this list, you will immediately find words that do not resonate with you. Cross them off, either mentally or physically on the free printable. Then, you can make a short list of 3-5 words (if you need to), before narrowing in on a single word of the year. You can always use your shortlisted words later as a word of the month, week, or day!
Make sure to keep scrolling down the page for your printable word of the year list PDF and journaling pages to help you uncover your word of the year.
Abundance
Accept  
Accountability  
Achieve  
Active  
Adaptable  
Adventurous  
Allow  
Aparigraha
Appreciate  
Assertive  
Attentive 
Authentic  
Awaken  
Balance
Be  
Beautiful  
Believe  
Belong  
Bliss  
Bloom  
Bold  
Boundaries  
Brave  
Breathe  
Bright 
Brilliant  
Build
Calm  
Capable  
Carefree  
Caring  
Celebrated  
Challenge  
Change  
Cheerful  
Cherished
Compassionate
Confident
Consistency
Cooperative
Courageous  
Create  
Decisive  
Declutter  
Dedicated  
Dependable  
Determined  
Devoted  
Disciplined  
Dream
Easy-Going  
Elevate  
Embrace  
Empathic  
Empowered  
Encourage  
Energetic  
Enjoy  
Enlightened  
Excited  
Experience  
Explore 
Faith  
Family  
Fearless  
Fitness  
Flourish  
Focus  
Forgive  
Forward  
Freedom  
Generous  
Gentle
Give 
Goals  
Grateful  
Grow  
Happy  
Harmony  
Healthy
Honest  
Hope  
Humble  
Humorous 
Hustle  
Imagine  
Improve  
Independent  
Inspire  
Integrity  
Intentional Intuitive  
Inventive 
Journey
Joy  
Just
Justified  
Kind  
Laugh  
Learn  
Lively  
Loved  
Loving  
Loyal  
Lucky  
Magical  
Mindful  
Miracles  
Motivated  
New  
Nurture
Open-Minded  
Optimistic  
Organized  
Overcome  
Passion  
Patient  
Peaceful  
Persistent  
Positive
Powerful  
Practical  
Proactive  
Prosperous  
Protect  
Purpose  
Quick  
Rational  
Ready  
Realistic  
Receptive  
Refresh  
Relate  
Relax 
Reliable  
Relieved  
Renew  
Resilient  
Resourceful 
 Respected  
Rest
Revive  
Rise  
Romantic  
Sacred  
Safe 
Satisfied  
Secure  
Seek  
Shine  
Skilled  
Smart  
Sociable  
Soulful  
Strong  
Successful  
Support  
Surrender  
Teach
Thoughtful
Thriving  
Transform  
Transparent  
Travel  
Triumphant  
Trust
Truth  
Understanding  
Unique  
Unlimited  
Unstoppable  
Uplift  
Valuable  
Versatile  
Vibrant  
Victorious  
Vision  
Vulnerable  
Warm  
Wealthy  
Welcoming  
Wellness  
Willing  
Wisdom
Wise  
Witty  
Wonder  
Worthy  
Zestful  
Zing
Word of the year free printable
Ready to get clarity and select a word of the year? Download your free printable word of the year reflection journal plus a page with all the word of the year ideas!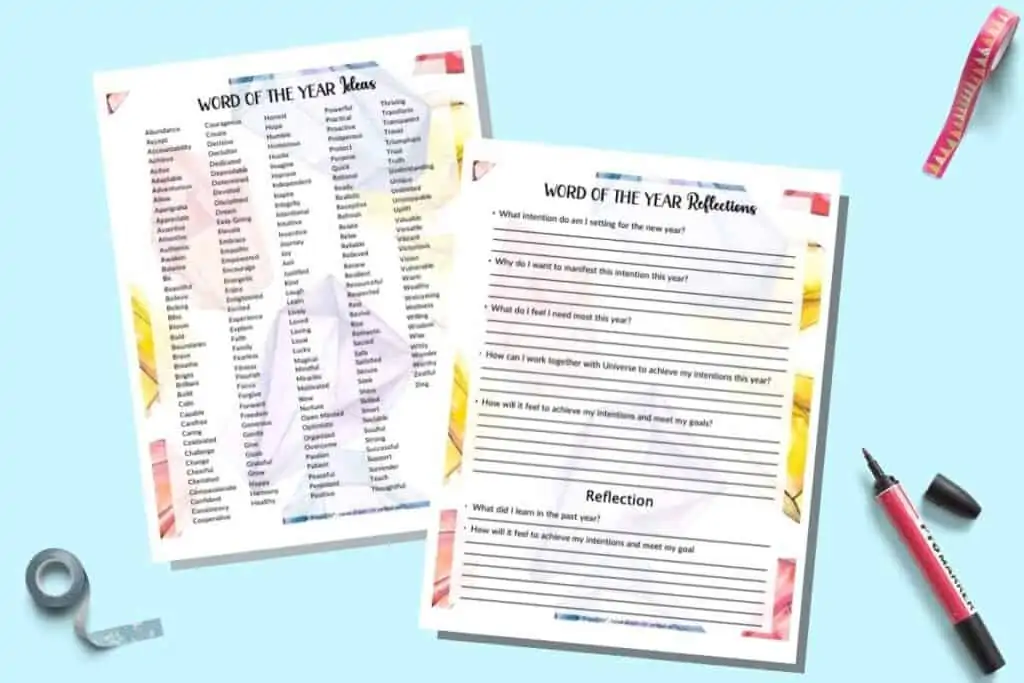 Like all free printable journals here on The Artisan Life, these are available for personal use. This includes use with your personal classroom or an activity you are personally organizing. You are not licensed to redistribute, or sell, the files or printouts to others. Please just refer your friends and coworkers to this page so they can download their own copy for free.
If you agree to this license, you may click below:

I hope you enjoy the free word of the year printables and that they help you achieve clarity! If you enjoy journaling, make are to check out these additional journal and planner printables here on The Artisan Life:
Journal Prompts and Planner Printables
Planner and calendar printables allow you to stay organized without a trip to the store or wait for the mail.
Journal prompts remove the fear of the blank page and allow you to start journaling today! Make sure to grab your free printable journal pages in each post.