This free printable missing letter worksheet features a cute Little Bo Peep theme that can be used any time of the year. It's perfect for a spring theme, farm theme, or whenever you feel like sharing the classic nursery rhyme. I hope your young learners enjoy this fun way to practice alphabetical order and the letters of the alphabet!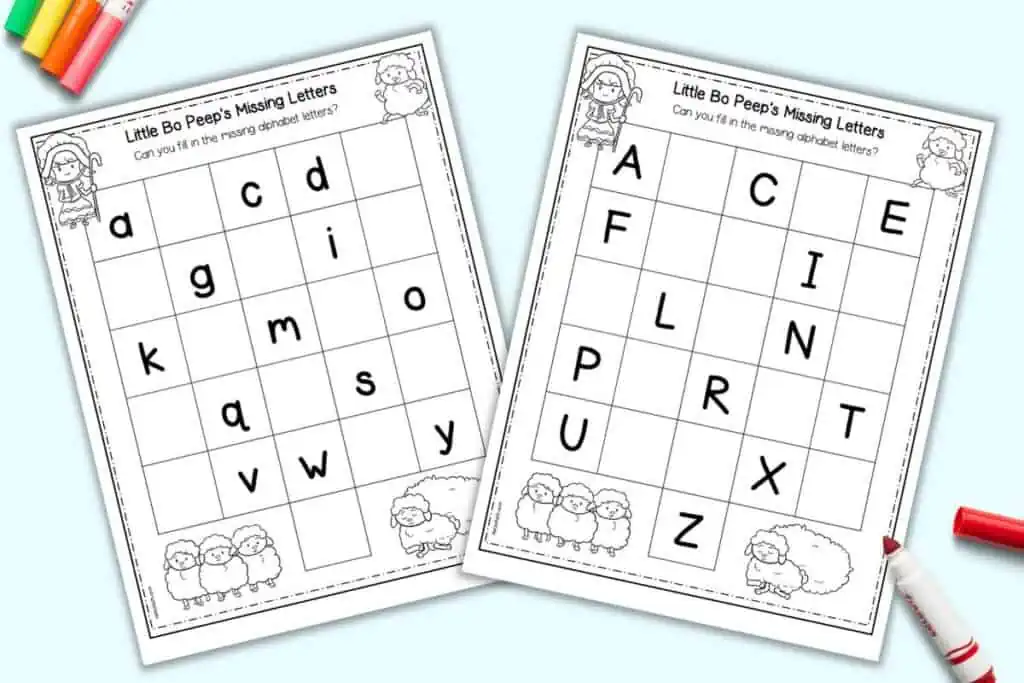 This post may include affiliate links which means I may earn a commission on qualifying purchases at no additional cost to you.
You may also want to share this short video of one of our super cute lambs!
There are two missing letter worksheets in this set: one with uppercase letters and the other with lowercase letters. Preschool and pre-k students may need to reference alphabet charts when filling in missing letters worksheets. Filling in alphabet worksheets isn't just for practicing alphabetical order. They're also a great way to work on fine motor skills and early writing skills. 
Both printables featuring a chart with letters that are filled in as well as blank squares for your child or student to fill in the missing alphabet letter in the right place.
Repetition is the key to mastery. It's easy to make a set of worksheets like these reusable when you slide the printed pages into heavy duty page protectors. It's faster and easier than laminating, plus you can reuse the sheet protectors for other worksheets.
Instead of dry erase markers, we prefer to use Stabilo Woody 3-in-1 pencils. They write and color beautifully on page protectors (and laminated sheets). Theres no ink, which means no stink and no staining! See a video of them in use in this post with dinosaur coloring pages.
Missing letter worksheet PDF download area
This missing alphabet worksheet is available as a printable PDF. It is licensed for personal use. You are not licensed to redistribute the files or print outs to other adults for use with their children/students. Instead, please refer your friends and colleagues to this post to download their own copy. Commercial use is strictly prohibited.
Be sure to look below for more fun worksheets for use with your little learners!