These free ocean themed monthly planner dividers are great for keeping your planner or household binder organized. They are in budget-friendly black and white and make beautiful coloring pages so you can relax and unwind. Pair them with these free printable ocean themed monthly calendar pages for a complete planner solution!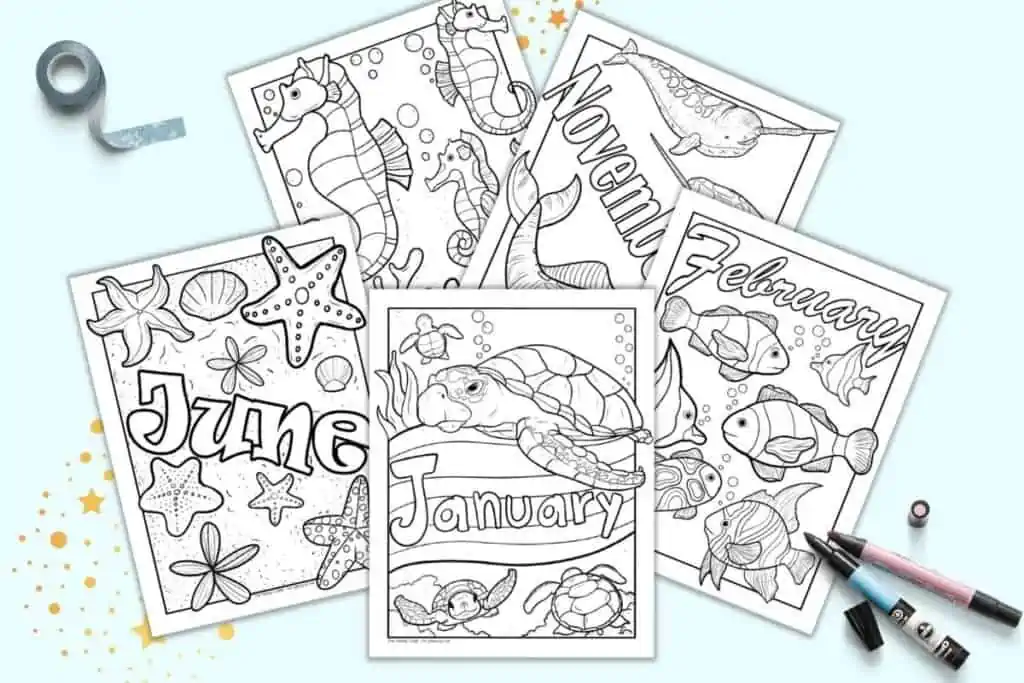 How to print and use planner dividers
This post may include affiliate links which means I may earn a commission on qualifying purchases at no additional cost to you.
You don't need much to make your own planner dividers:
Cardstock or paper
Stick on divider tabs
Hole punch to match your planner or binder. I use this inexpensive hole punch – it works well for one sheet of card stock or 3-5 printer pages.
Scissors or paper trimmer, if you're scaling the pages down for a planner system like Happy Planner
Your free printable (lower down in the post – look for the row of purple arrows)
I prefer to print planner pages on premium, bright white paper. Feathering and bleed through are the worst when you're writing in your planner. However, I usually print divider pages on a heavyweight cardstock. Either will work, depending on how gently you treat your planner. The premium paper has a smoother finish and is nicer for coloring, but the cardstock holds up to use better.
Neenah Index Cardstock, 8.5" x 11", 90 lb/163 gsm, White, Lightweight, 94...
BRIGHT WHITE CARDSTOCK: The smooth texture and crisp bright white color of our 90 lb cardstock produces high resolution images and prints for...
LIGHTWEIGHT CARDSTOCK: This is 90 lb. INDEX cardstock, which is measured differently than COVER cardstock. For a weight comparison, it's heavier...
LETTER SIZE CARDSTOCK: This 8.5" x 11" white cardstock comes in a pack of 300, so you always have enough on hand
Since these are coloring page divider pages, you may also want to grab your favorite pens, markers, or pencils. I frequently write about my favorite coloring supplies, so I won't go into great detail here. (Stop by this post about the best gel pens for coloring if you want to know more!)
I will mention a new favorite coloring tool – multicolored pencils. They are perfect for adding depth and interest to ocean scenes . You can see a glimpse of them in action in this picture of the mermaid crown printable craft shown below:
I used these multicolored pencils on the mermaid's hair and shell. These pencils would also look great on these ocean themed monthly dividers.
Sale
nsxsu 8 Pieces Rainbow Pencils, Jumbo Colored Pencils for Adults,...
🌈[Pencil packaging] There are 8 pencils of different colors in box, they're pretty combination colors which is equivalent to having a lot of...
🌈[Pencil features] Rainbow colored Pencil is strong and durable, made of black wood, and won't break easily, the pencil core than ordinary much...
🌈[What to do] It can be used draw, doodle, and mark on the book, we can use to draw anything we want to draw, the changeable color of the pencil...
Stick on tabs are a quick and easy way to add tabs to these printables. I may start making printable divider tabs in the future. Please leave a comment and let me know if that's something you'd like to see!
Avery Margin Ultra Tabs, 2.5" x 1", Assorted Metallic Geometric Designs, 24...
Mark pages with no interference; the narrow body of the page tab fits perfectly within margins of books, notebooks and documents
Easily view underneath the clear index tabs body as you bookmark chapters, separate important documents, highlight notes and more
Stick securely to any page or document; the durable and repositionable tab is strong enough to turn a page, but removes easily for quick and clean...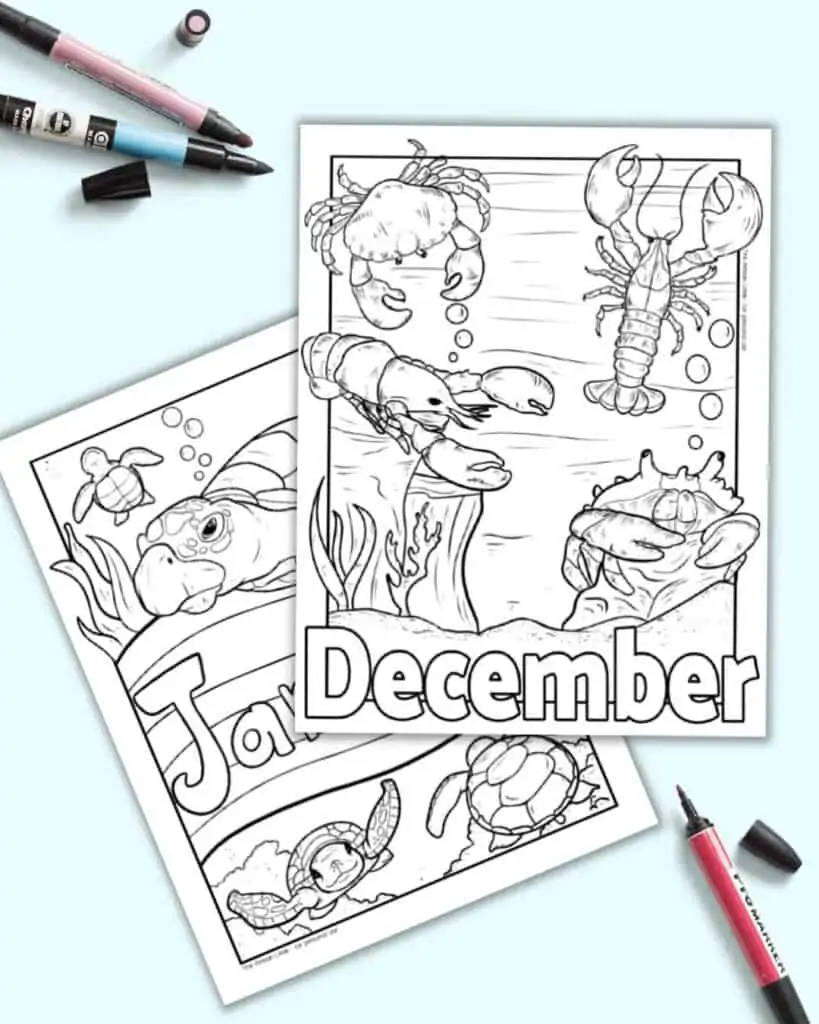 How to print letter sized PDF printables for disc bound planners
It's easy to scale PDF planner printers to find your MAMBI Happy Planner, Erin Condren planner, or whatever planner you prefer to use.
There are two ways to do this: You can set up a custom page size for printing or scale to print. We're not going into custom page sizes in this post because it's a little more complicated. Scaling your printout is much easier.
For my Happy Planner Classic, I usually just print at 82%, trim the pages with my trusted page trimmer, then punch holes with a Happy Planner hole punch. The preview below shows pages from the matching free printable ocean themed calendar pages.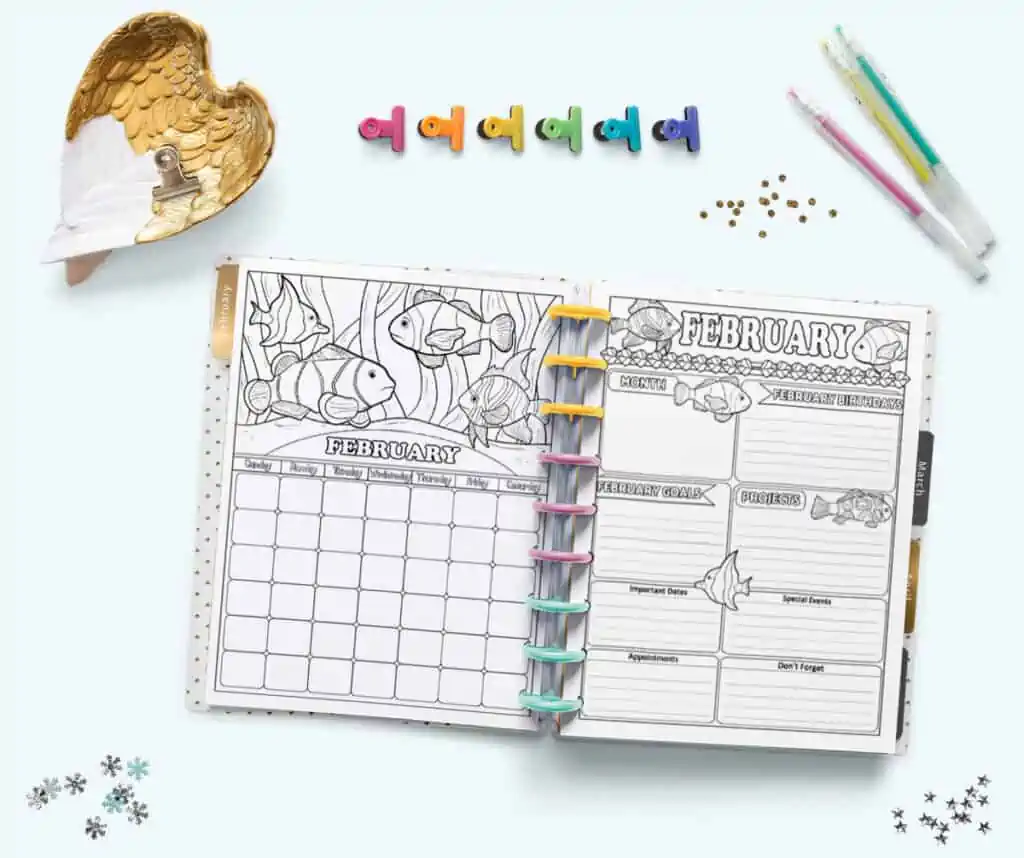 To scale your page for printing this, type 82 in the "scale" box on your print dialogue box popup, as shown below: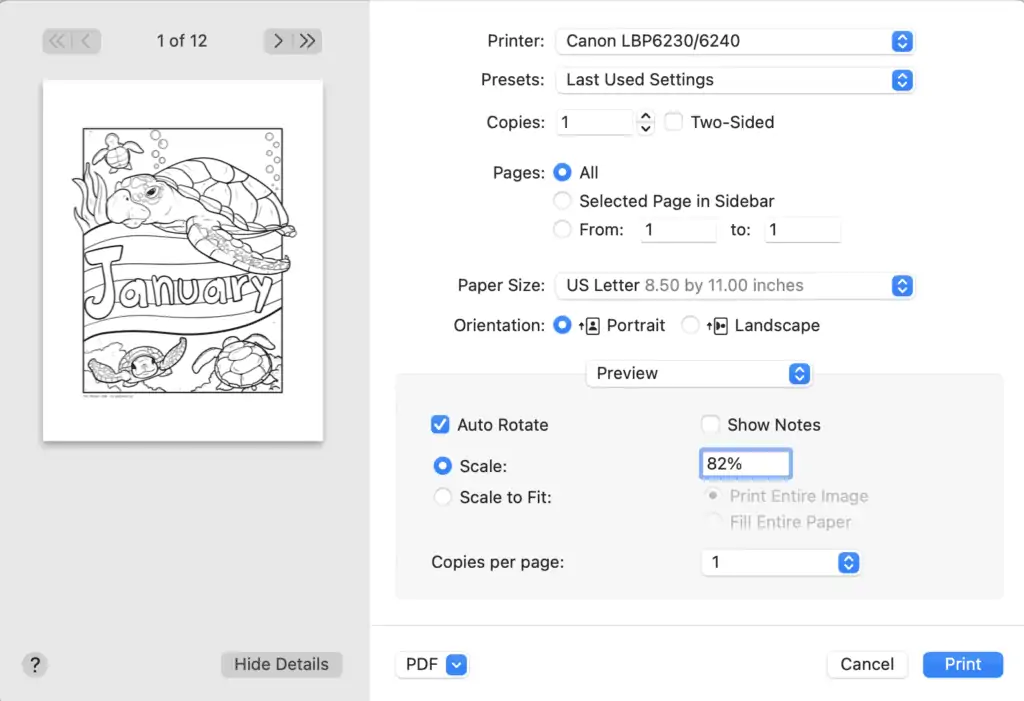 You can print other planner size pages from US letter sized PDFs, too. I created the chart below to show you many popular planner sizes and what percentage to scale when printing from US letter. I recommend running a test page or two before printing off the whole planner.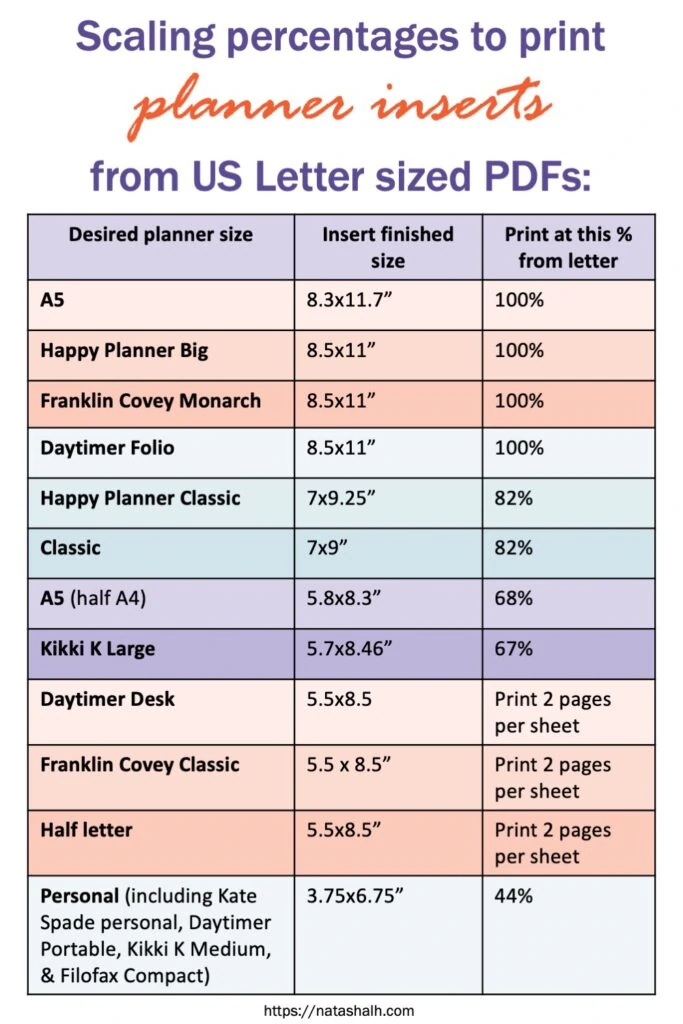 How to add pages to a coil planner
Yes, you can add pages to a coil bound planner or notebook!
I covered this process in depth with two different ways to add pages to your coil planner in this post with planner printables for 2020. Please visit that post to see photos, or watch the video below:
Free printable ocean themed monthly divider pages
Alright, let's take an in-depth look at the printables! I've screen-shotted each page in the divider printable set so you can see everything before you download. Download and license information is located below the previews. Any blurriness or pixelation in the images is the result of image compression to help this page load more quickly. The PDF has one month per page in high resolution.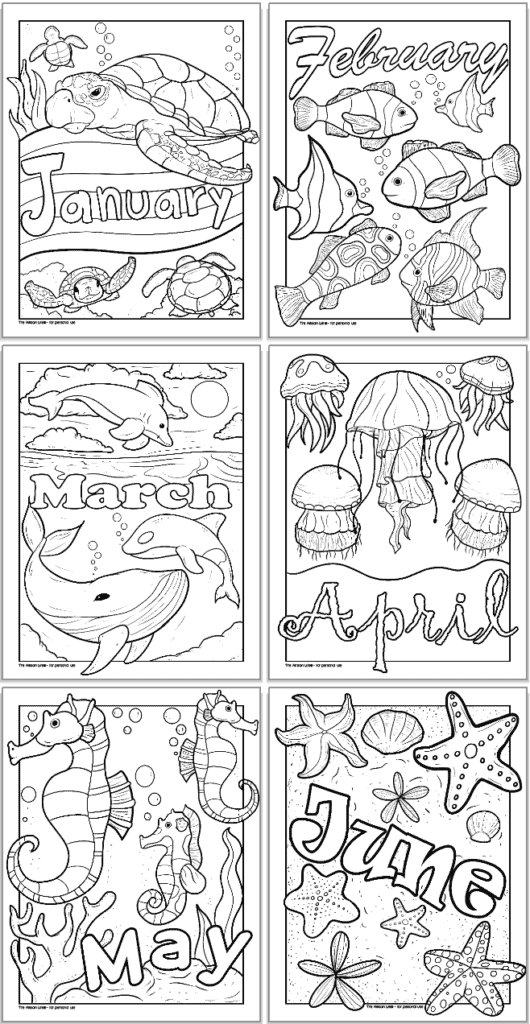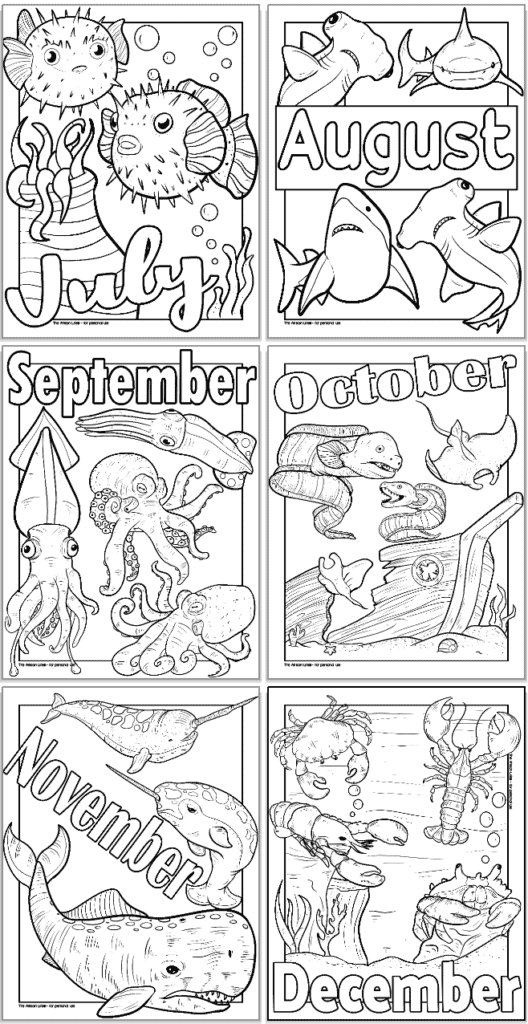 These divider pages are licensed for personal use only.
You are not licensed to alter, sell, or redistribute the files or printouts to others. If you want to share these printables – thank you! Please refer your friends and coworkers to this page so they can download their own copy.
If you agree to this license, you may click below:

I hope you enjoy using and coloring these ocean themed monthly planner divider pages! Stop by the posts below for more free planner and journal printables:
Planner & Journal Printables
Looking for more planner and journal printables? Check out these freebies on The Artisan Life!