Set your preschooler up for writing success with these summer themed trace in the path cards for fine motor pre-writing practice! Use them as a print and play, no-prep activity or laminate them for repeated use.
These prewriting practice tracing pages will help your child develop their fine motor skills and hand-eye coordination as they trace along the path. These summer themed pages feature a small arrow on the bottom left corner of each card to remind your child which direction they should trace.
These summer prewriting trace in the path pages are a great low-mess activity for road trips, plane rides, or anytime you're away from home. Of course, they're also great for at home learning. However you decide to use them, I hope you enjoy!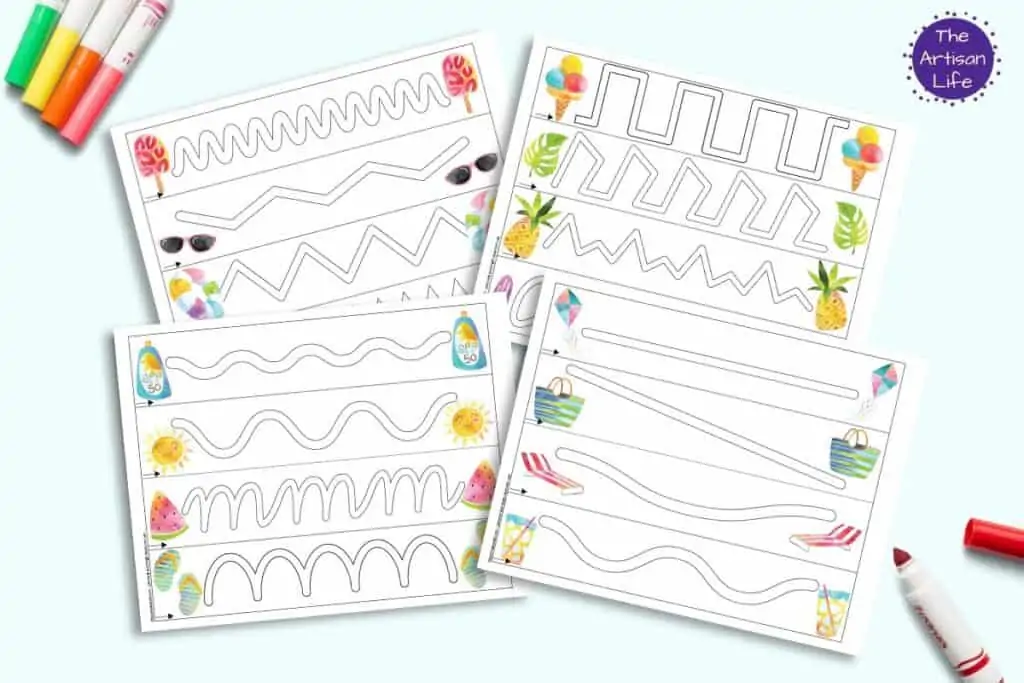 This post may include affiliate links which means I may earn a commission on qualifying purchases at no additional cost to you.
What are prewriting skills?
A lot of parents wonder whether prewriting worksheets and activities are just "busy work" for toddlers and preschoolers. In fact, trace in the path pages for preschoolers provide an important opportunity for practicing prewriting skills.
Prewriting skills are all skills that must be learned before writing.
Prewriting skills help your child hold and use a pencil correctly and comfortably, draw, color, and copy shapes. Your child has to develop these skills before they can write legibly and confidently.
Your child won't know how to hold a pencil correctly the first time they pick one up. Or the second time or even the one hundredth time. These skills are difficult and take a lot of practice. That's okay! Demonstrate a correct pencil grasp, but don't worry if your child isn't doing it "right." Your child can even use a finger to trace the lines if they aren't ready for a pencil or crayon yet.
The arrow on each card reinforces the important left to right order of reading and writing in English and many other languages. (We're an English/Spanish bilingual household and our daughter is working on left to right tracing. The arrow has helped her a lot, so I'll be including arrows in future tracing path sets.)
There are many play-based ways to build and reinforce prewriting skills:
Threading and lacing activities
Playing with play-dough (check out these alphabet play-dough mats for a recipe you can make at home!)
Using scissors
Using tongs and large tweezers with manipulatives
Drawing and coloring
Tracing
Practicing the specific pre-writing shapes
Making crafts
Building with blocks
Using fine motor trays to write in cornmeal, sand, etc.
Tearing paper
Using stickers
And more!
These summer themed prewriting trace in the page paths can help keep child your engaged, learning, and having fun. They're perfect for homeschool preschool parents, classroom literacy centers, summer library programs, and therapists.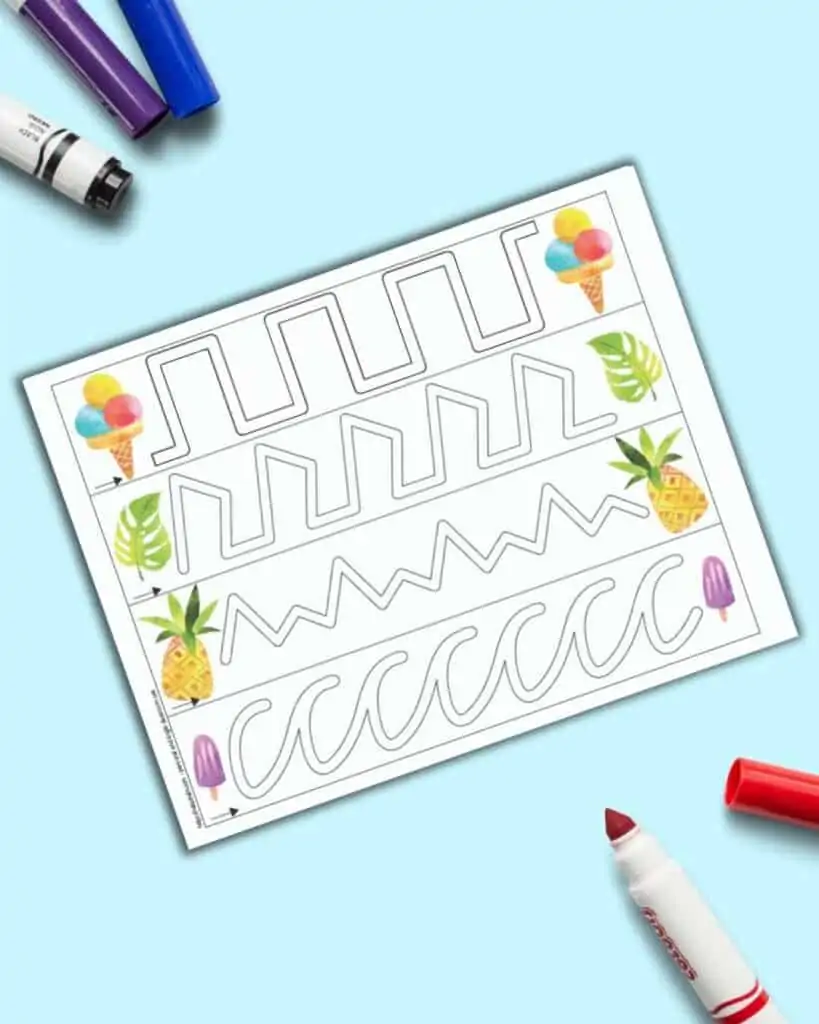 How to print and use trace in the path prewriting pages
This set of summer themed tracing pages has a total of 16 paths to trace. Some of the paths are easy and some of them are more challenging. It's fine if your child can't do every single one on their first attempt.
Materials needed:
How to use trace in the path prewriting cards
1. Grab your download from lower down in the post.
2. Print the pages you want.
3. Laminate the pages or place them in page protectors. This protects the pages and makes them reusable. I recommend laminating so you can save time – just print and prepare the pages or cards once and use them for years.
4. Cut the pages into cards, if you're making cards. You can also leave them as whole sheets. To make an easy go bag activity, hole punch one corner on each strip and place them all on a binder ring. You can see these Easter trace in the path pages cut into cards in the image below: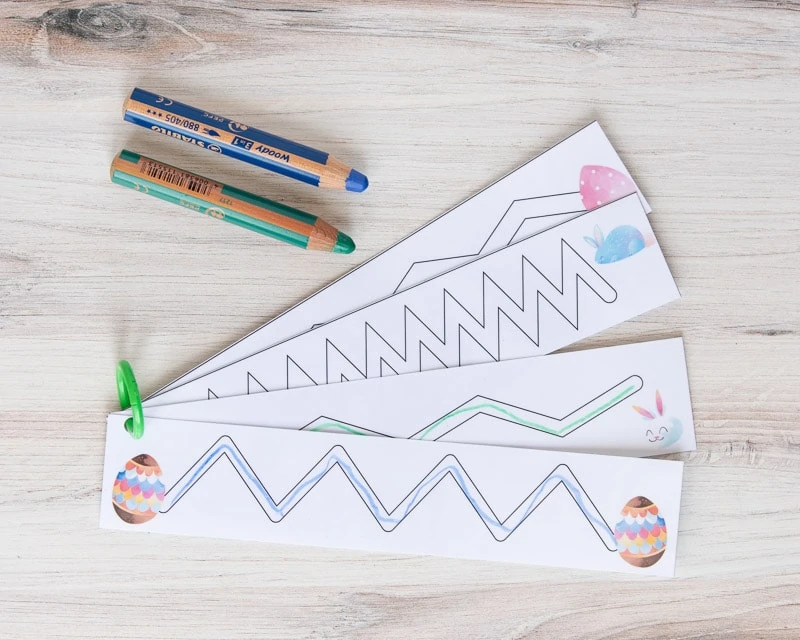 5. Demonstrate how to use the tracing paths. You can start by tracing from left to right with your index finger, or you can jump straight to using a marker/crayon. Each rectangle has an arrow in the bottom left corner as a reminder to trace from left to right.
If your child has difficulty tracing, or if you want a new activity to keep your child's attention, you can have your child place manipulatives to fill the path instead of tracing inside.
Virtually anything small can work for covering the path. You can use nature treasures like sea shells, pompoms, balls of play dough, mathlinks cubes, etc. Add math learning to this activity by counting how many manipulatives it took to fill the path!
Free printable summer tracing path download
Please note that the artwork in these printables is copyright by DigitalArtsi and is used under license. Thank you, Jane, for your beautiful artwork and generous licensing.
Like all free preschool printables on The Artisan Life, these are for personal and single classroom use. You are welcome to use them with Scouts groups, home school co-ops, personal therapy clients, etc.
For more low-prep summer fun (that's educational, too!), be sure to grab these additional free printables while you're here on The Artisan Life:
Free summer printables
If you're looking for budget-friendly ways to keep your kids happy, busy, and learning without screen time, you've come to the right place! Be sure to check out some of the most popular free printables for kids here on The Artisan Life: