Keep tabs on your UFOs, organize your yarn stash, and stay on track with your crochet projects with this free printable crochet planner. The planner features crochet hook and yarn inventory pages, project planner pages, charity gift planning pages, pattern graph paper, and more.
This planner can save you time. Using it can reduce the amount of time you spend hunting for patterns and help you avoid making the same mistakes the next time you crochet the same pattern. It will even keep your crafting space more organized because you can keep your yarns and dye lots catalogued without messy bags of tags. I hope you enjoy!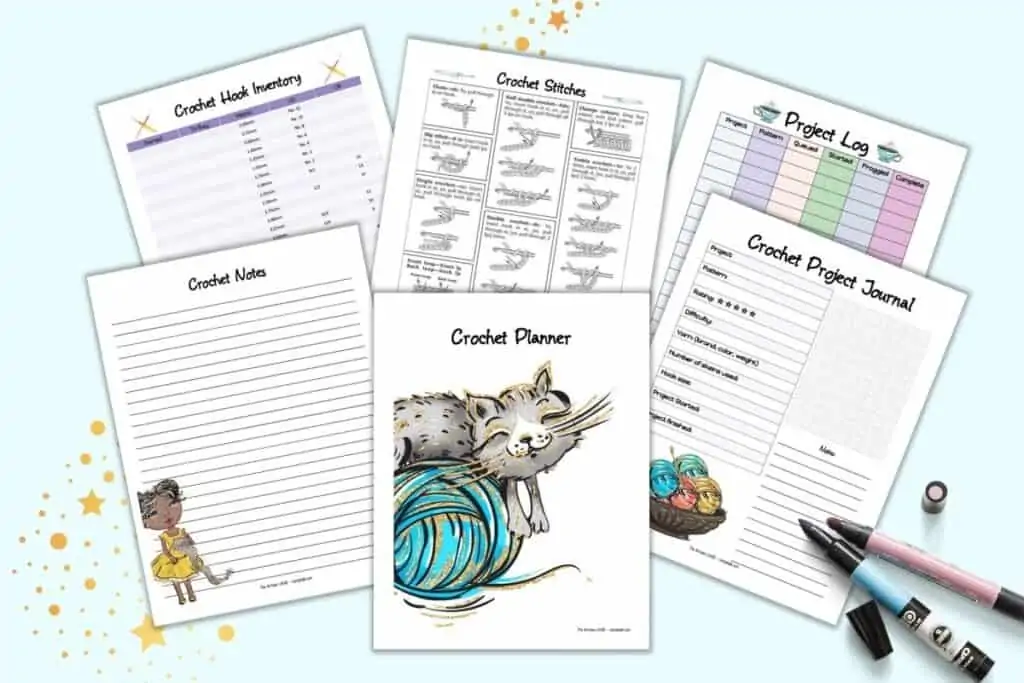 If you're like most crochet lovers, you probably have a backlog of projects you'd like to start, a couple unfinished objects, and some yarns that you really like but you just can't remember exactly what they are or where you got them.
This printable crochet planner is here to help! (Are you a knitter, too? Make sure to download your free printable knitting planner.)
This post may include affiliate links which means I may earn a commission on qualifying purchases at no additional cost to you.
How to print and use your crochet journal
Here are a few tips to help you make the most of your printable crochet binder:
As detailed in this post on the best paper for planner printables, I recommend using HP 32 lb paper for planners and journals. This paper is sturdier than "normal" printer paper, and is brighter for nicer images. You'll flip through your crochet binder a lot. Printing on sturdier paper will help it last.
HP Paper Printer | 8.5 x 11 Paper | Premium 32 lb | 1 Ream - 500 Sheets |...
Made in USA: HP Papers is sourced from renewable forest resources and has achieved production with 0% deforestation in North America.
Heavyweight premium printing: HP Premium32 is a heavyweight (32 pounds), brighter (100 bright) and whiter (163 whiteness) paper with a super-smooth...
Certified sustainable: HP Premium32 presentation paper is Forest Stewardship Council (FSC) certified and contributes toward satisfying credit MR1...
Although I generally don't print entire planners on cardstock because images aren't as bright and the planner gets bulky, you might want to print the yarn inventory page on cardstock. This page has holes to punch out so you can attach a yarn sample. I personally use the Neenah 90 lb cardstock or the Neenah 110 lb cardstock whenever I need cardstock. You can see both demonstrated in the post on planner paper.
This planner is designed for US letter size, which means it fits perfectly in a regular 3 ring binder. I've even carefully designed the page margins so they're safe for hole punching: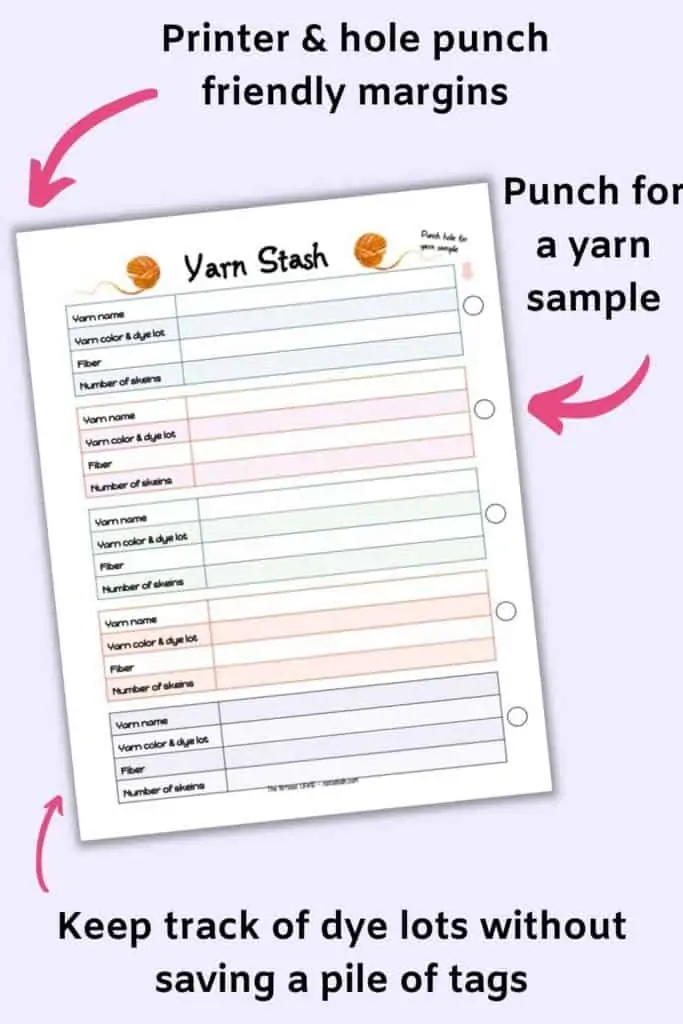 If you like to keep a smaller binder like a half letter sized binder, for your crochet projects, it's easy to scale these pages down. Simply print at scale and use a paper trimmer to cut away the extra. You don't even have to do the math because I did it for you in this handy chart:
Free printable crochet binder
Now that you know how to print your pages so they look their best, let's take a look at what's inside the planner!
This planner has 25 pages, including 5 different cover options so you can pick the design you like best:
Pages include:
5 cover page options, as shown above
A "this planner belongs to" page
Crochet stitches quick reference guide
Crochet hook inventory
Yarn stash
Yearly crochet goals at a glance
Monthly crochet goals
Weekly crochet goals
Charity gifts
Handmade gift tracker
Project graph paper
Project planner
Crochet project journal
Project log
Crochet wishlist
Notes (6 different options)
For a look at everything, watch the flip through video below:
Crochet journal PDF download area
Like all free planner and journal printables on The Artisan Life, this crochet planner is available for personal and single classroom use.
This means you may print and give the pages to your own crochet class students, members of your Scouts troop, etc. as long as you are personally organizing the activity and not charging specifically for the planner.
You are not licensed to redistribute the files or printouts to others for their personal use or with classes they are leading. Instead, please refer your friends to this page so they can download their own copies.
If you agree to these license terms, click below:
I hope you enjoy using this crochet planner and use it to finally keep track of your crochet projects!
If you enjoy staying organized with free printables, be sure to check out these additional free planner and journal printables on The Artisan Life:
Planner Printables
Plan your year with free, colorful monthly themed planner printables in US Letter and Happy Planner Classic sizes! The entire year is available now so you can plan ahead.
There are also non-month specific planner printables and free printable planner stickers.