These printable April Happy Planner Classic inserts and US letter planner pages are a functional, cheerful way to step into spring.
There are two sets of April planner inserts available from this post: a 6 page free set with monthly and weekly pages for April and a very affordably priced April planner kit with 23 pages including a habit tracker, goal setting sheets, printable Happy Planner stickers, and more. Keep scrolling to see everything that's included and make your choice! Make sure to get prepared and download your May planner printables from this post, too.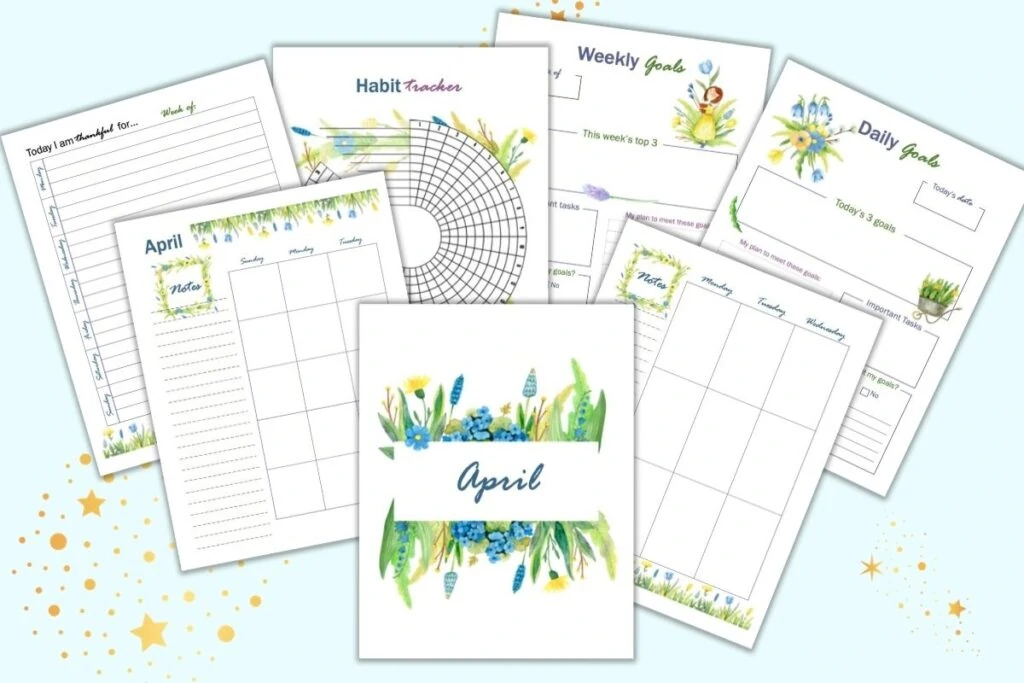 This post may include affiliate links which means I may earn a commission on qualifying purchases at no additional cost to you.
How to print your own planner sheets
This planner features cute spring watercolor clipart. To make sure the images look their best, remember these two things when you print your planner pages:
Use a nicer, "premium" printer paper, not whatever cheap copy paper is in the printer at work. I use HP 32# bright white paper for my printables for bright, professional looking results.
To see the 32 lb bright white paper paper in use, visit this post on the best paper for planner inserts. I tested the same floral planner printable pages on five different types of paper/cardstock so you can see which paper brings you the best results.
HP Paper Printer | 8.5 x 11 Paper | Premium 32 lb | 1 Ream - 500 Sheets |...
Made in USA: HP Papers is sourced from renewable forest resources and has achieved production with 0% deforestation in North America.
Heavyweight premium printing: HP Premium32 is a heavyweight (32 pounds), brighter (100 bright) and whiter (163 whiteness) paper with a super-smooth...
Certified sustainable: HP Premium32 presentation paper is Forest Stewardship Council (FSC) certified and contributes toward satisfying credit MR1...
2. Print the pages at 100% size for the Happy Planner Classic and US letter sizes, unless you're scaling them down on purpose to fit another planner system. The artwork and functional planner boxes are positioned to fit inside standard print margins.
Programs will sometimes default to scaling the Happy Planner pages up to fill the entire page. Double check before printing to make sure sure you're printing at actual size or 100% size.
Your print dialogue box should look similar to the screenshot below (page shown is from the February planer printable set):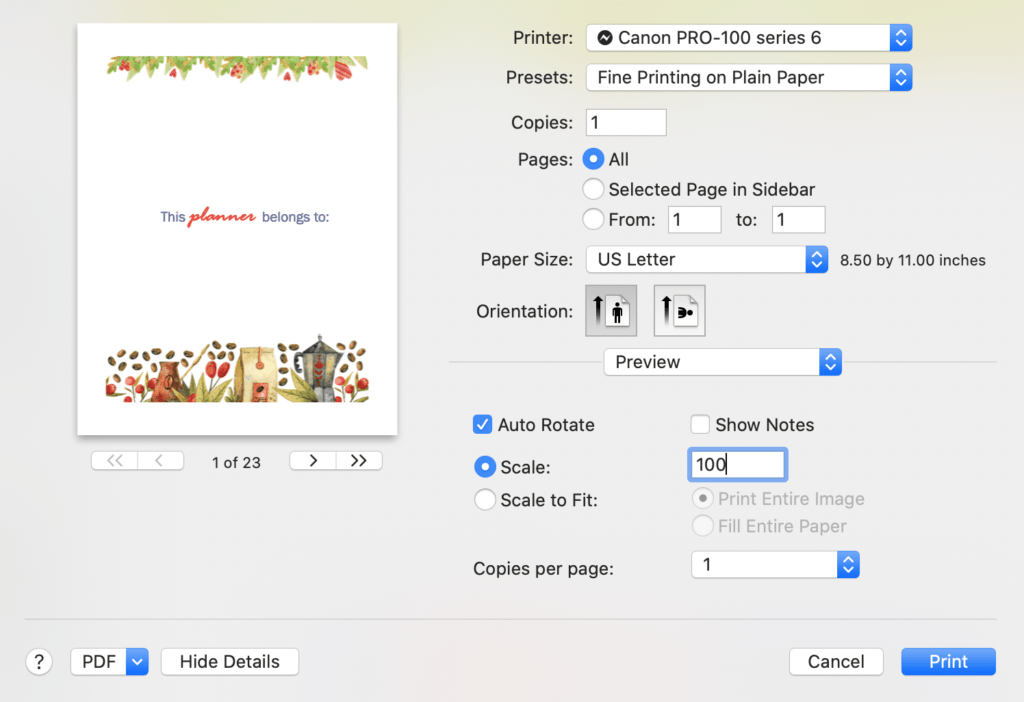 How to use letter sized planner inserts
It's easy to use letter sized planner pages in a 3 ring binder or Happy Planner Big. Just print, hole punch, and enjoy. Please note that the boxes on the letter pages are not an exact match for the big Happy Planner box sizes.
How to print and trim Happy Planner Classic inserts
The Happy Planner insert pages are not scaled down versions of the letter size. I am personally a Happy Planner Classic user. That's why the Happy Planner boxes are the correct size for your HPC stickers. The printable planner stickers I make are also sized for Happy Planner Classic, so be sure to check out these free printable planner stickers.
First, print your pages. As described above, make sure to print at 100% size.
Trim your printed pages along the light grey dotted line. This line is exactly the right size for HPC inserts, so cut directly on the line.
I recommend using a paper cutter or trimmer (not scissors) for quick, clean results. I use a Fiskar's paper trimmer with a guide wire, as seen in the video below featuring the October planner pages:
A guillotine-style paper cutter is faster than a sliding paper trimmer. If you hold the pages firmly, you can cut through multiple sheets at a time. I don't use mine often because I'm afraid my three year old will lose a finger, but they're great if you don't have a young helper around.
Next, hole punch your Happy Planner pages using your Happy Planner punch. This punch seems to go in and out of stock frequently. Sometimes it's on Amazon, but sometimes it's in stock with Michael's at a lower price.
Sale
Finally, insert the pages in your planner and enjoy! I recommend adding plenty of stickers. =)
Printable stickers are an easy way to make your planner fun and functional. Stickering my planner brings me joy – I love it! You do not need to own a cutting machine or sticker maker to use printable stickers. Discover more about the benefits of printable stickers and how to cut stickers without a cutting machine.
How to print letter sized printables for other planners
You can print letter sized pages to scale and trim them to fit other planner sizes. Use the planner sizing chart below as your guide:
Printable April planner insert download links
Like all free journal and planner printables on The Artisan Life, these planner pages are for personal and classroom use.
Personal use includes use with your own students, therapy clients, homeschool co-op group, etc. as long as you are personally organizing the activity and not charging specifically to use the printables.
You are not licensed to alter, redistribute, or sell the digital files or printed pages. Please contact me if you have any questions.
There are two versions of the printables:
The set of free planner pages. Keep scrolling past the paid kit and click on the image that says "download here" to get your free printables.
The April planner kit with 23 pages (in each size) plus printable stickers for one very low price.
April printable planner insert kit
The goals pages can help you set and achieve your weekly and daily goals. If setting and achieving goals is challenging for you, be sure to visit this post on how to set weekly goals that work.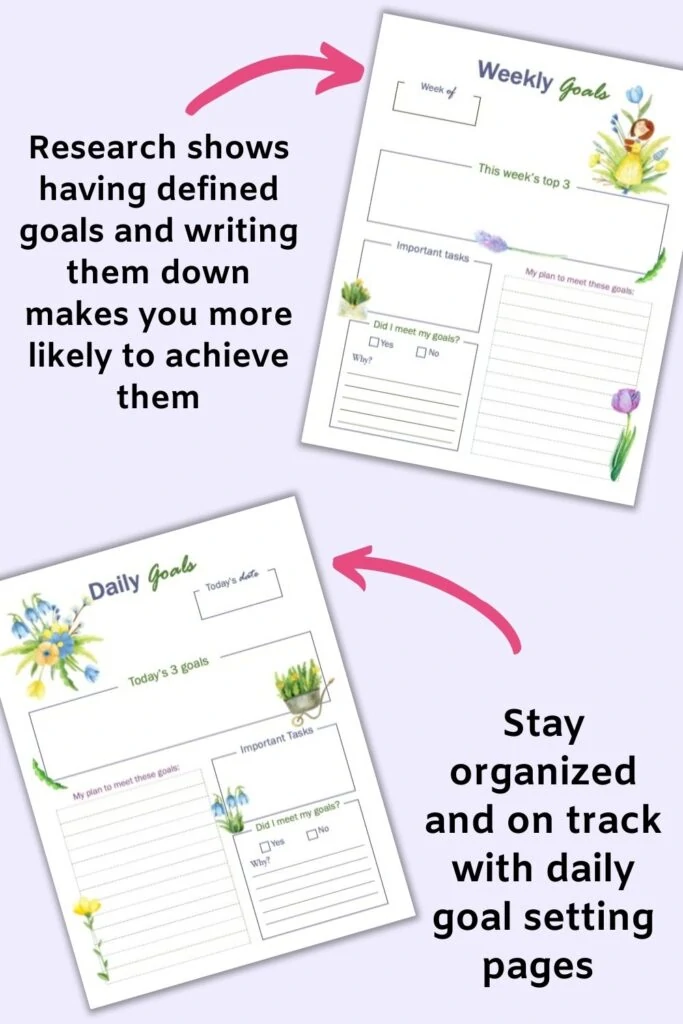 Watch a flip through of the planner in the video below. The video shows the US letter sized pages, but the HPC pages are very similar.
Here's a preview of the sticker sheets. There are three sheets of HPC-sized sticker with a cheerful spring color palette. The washis are a 8″ long so you can cut them down and use them in multiple places without printing the same sheet multiple times. This month's stickers feature new habit tracker and bill tracker stickers that haven't appeared in previous months.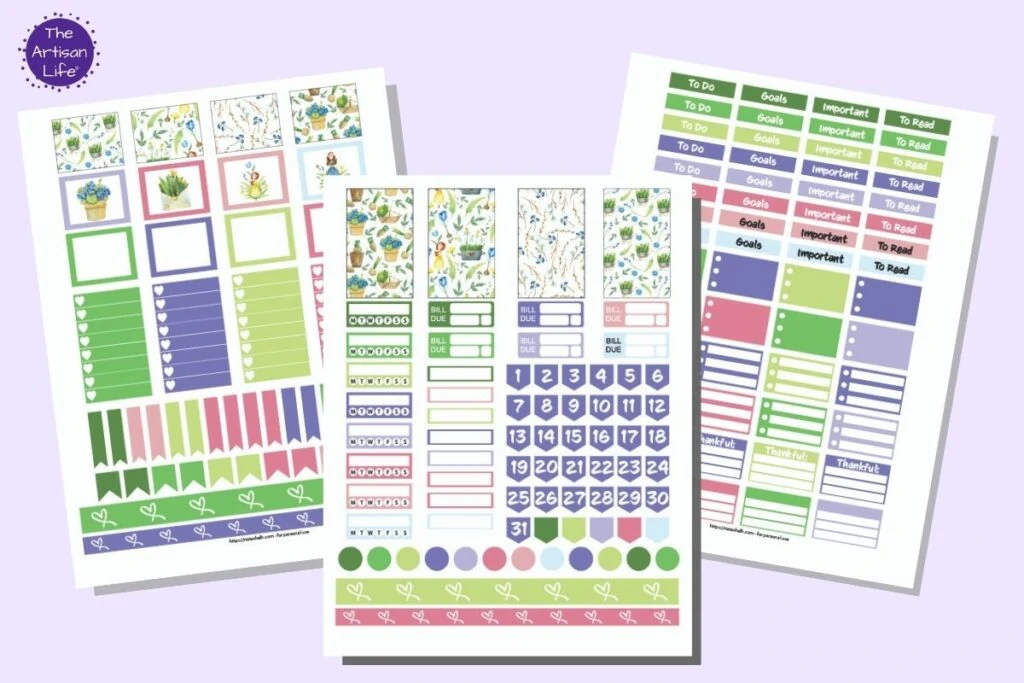 This April planner kit is available for the very low price of $2.99. (Keep scrolling a tiny bit more for the free version.)
Free April printable planner inserts
Stop the scroll! Here's where you'll find your free printable download information.
Here's a look at your free printable pages: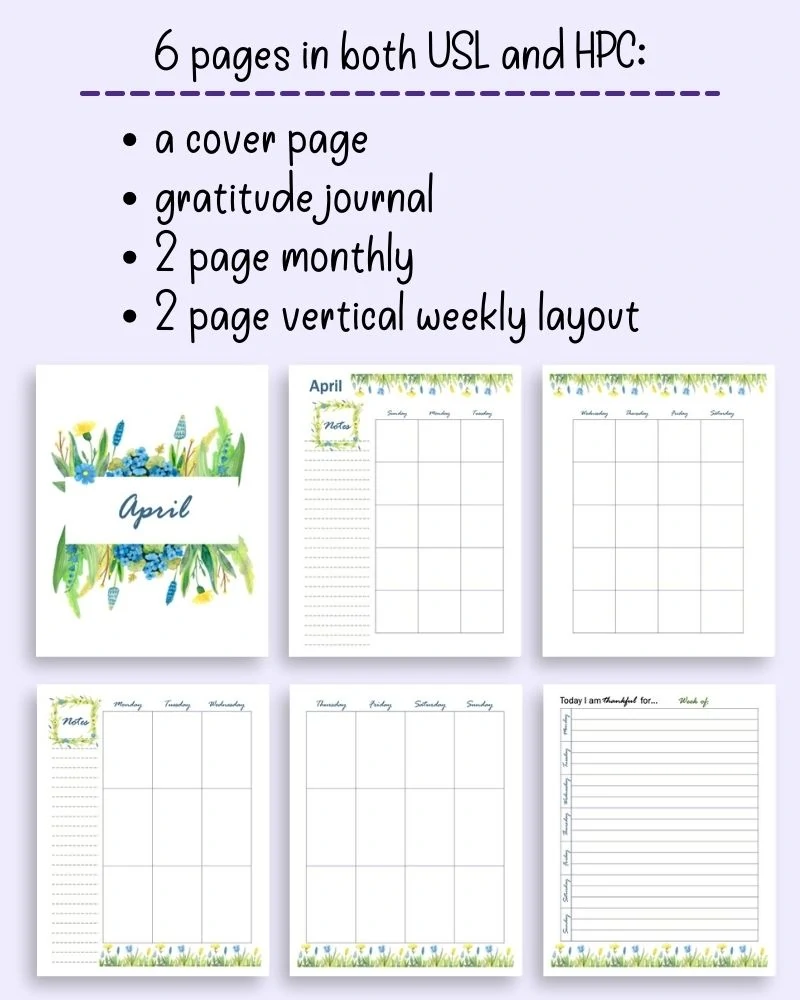 The free version has six pages:
April cover page with watercolor illustrations
Monthly calendar pages for April (undated)
Vertical weekly layout pages (undated)
Gratitude journal page

I hope you enjoy using these printable April planner pages! Be sure to download these planner printables while you're here:
Planner Printables
Plan your year with free, colorful monthly themed planner printables in US Letter and Happy Planner Classic sizes! The entire year is available now so you can plan ahead.
There are also non-month specific planner printables and free printable planner stickers.