This free printable spider craft free template is a fun fall craft for kids of all ages. Toddlers, preschoolers, and kindergarteners can practice their fine motor skills and older kids can construct a spider craft as part of a science lesson. No matter how you decide to use your printable spider craft template, I hope you enjoy it!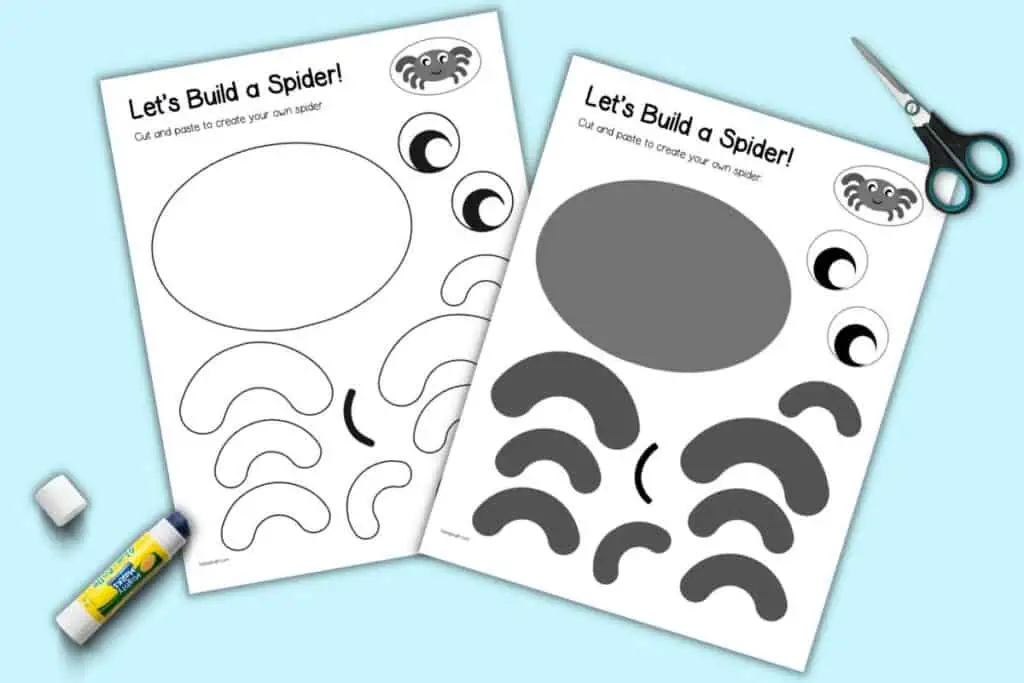 This post may include affiliate links which means I may earn a commission on qualifying purchases at no additional cost to you.
This spider template comes with two different pages. One is pre-colored and the other is black and white so your little learners can color or paint their own spider.
Spiders are fascinating creatures. While they can be dangerous, some of them are downright cute! My daughter loves finding jumping spiders and watching them jump around.
This spider craft has 2 eyes to cut and paste, but did you know that spiders have up to eight eyes? Most have eight, but some have six or even fewer. Even though they have lots of eyes, spiders have fairly poor eyesight and tend to rely on other senses (feeling vibrations in their web, for example).
This spider craft printable only shows two eyes to keep the spider cute instead of spooky. Feel free to use googly eyes to add a more accurate number of eyes to your spider.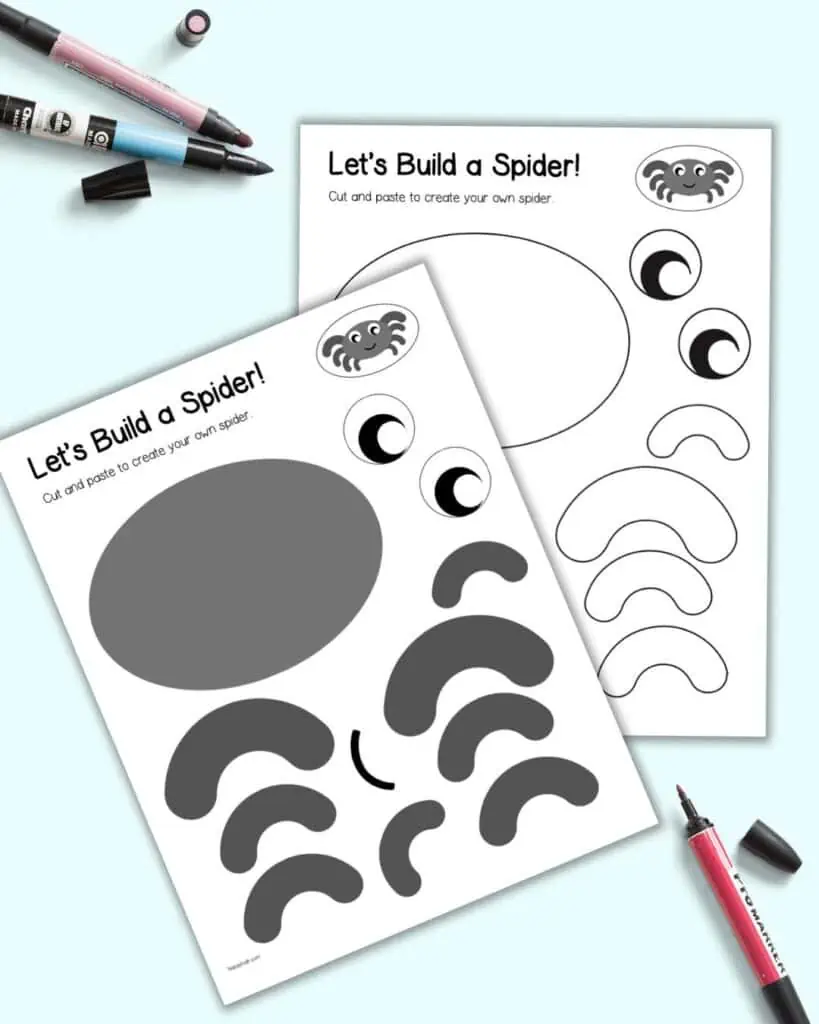 I believe my daughter's love of spiders have been influenced by reading Charlotte's Web. She has it on audiobook and will listen to the entire book in a single day when she's in the mood.
We got her a basic MP3 player (no bluetooth, no games, etc.) and a portable wired speaker so she can listen to audiobooks whenever she wants. I love that I control what books and music go on her device and she loves that she can use it all by herself.
Fall and Halloween Craft Templates
If you enjoy paper crafting and Halloween, you've come to the right place! Be sure to check out these additional free printable templates while you're here:
Spider craft ideas
There are many funs ways to use this spider craft. Here are a few ideas to get you started:
Have students create their spiders for fine motor practice, then display the completed spiders on your bulletin board
Make a cute garland
Use them as Halloween decorations on your door or mantle
Make a paper bag puppet or a stick puppet
Glue the finished spider to a toilet paper roll so it can stand up (see my post on sanitizing toilet paper rolls for crafts here)
Use a spider as a teaching aide for a math, science, or literacy lesson
This craft goes well with a story about spiders, such as Are you a Spider? You're welcome to use these templates for your library activity or reading hour.
Spider craft supplies needed
You don't need much to make this simple fall craft:
Your free printable spider template (look for the download towards the bottom of the post. There's a row of purple arrows pointing at the download button.)
Printer access
Paper or white cardstock
Glue (glue stick or a small cup of glue with a paintbrush)
Markers, pencils, paint, etc., if you're using the blank version of the spider template
Popsicle sticks or a paper lunch bag, optional, to make a spider puppet
For an even cuter spider, use googly eyes instead of, or in addition to, the cut out eyes.
If you decide to make puppets, I recommend giving your child or students a little help with a hot glue gun to stick their spider to the wooden stick or paper bag. In my experience, kids want to play with their puppet right away, before glue dries, which causes the puppet to fall apart.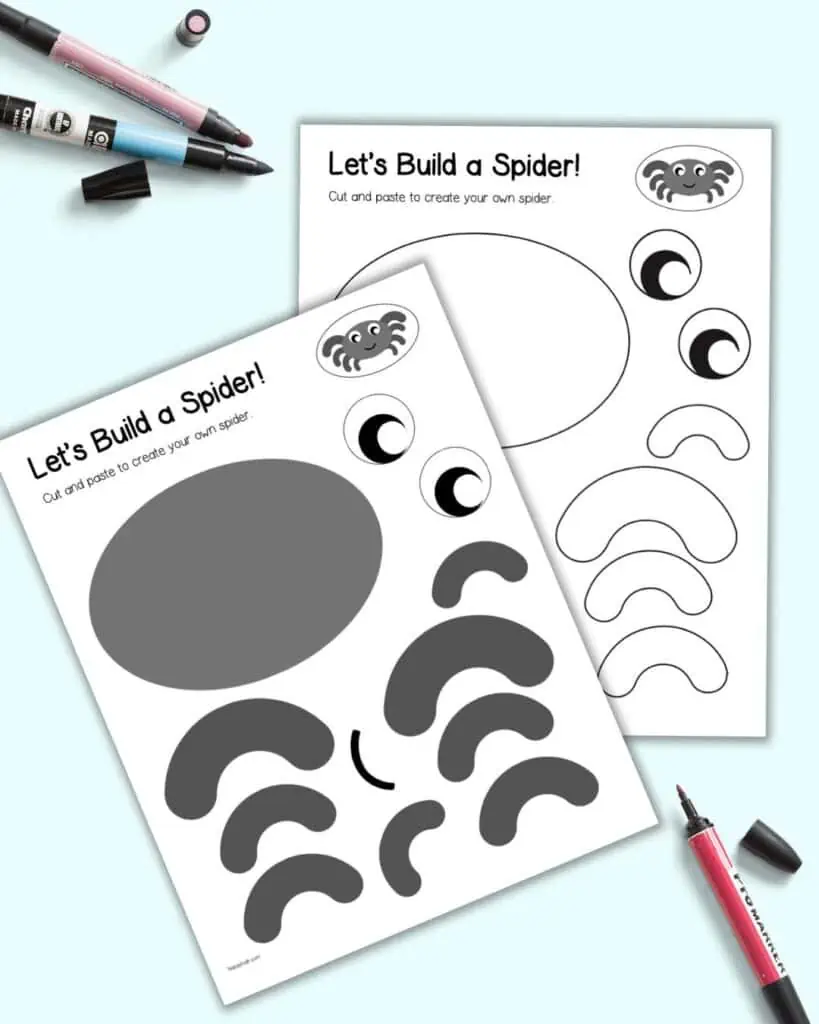 How to make a cut and paste spider
The basic process is fairly simple: have your child or students cut out the spider's body, legs, mouth, and eyes, then use the guide image to glue the pieces together.
The curves on this spider template make it quite the fine motor challenge for little hands! Make sure to provide blunt nosed, child-sized scissors.
If you're using the coloring page version, coloring the spider before cutting it out makes the project easier.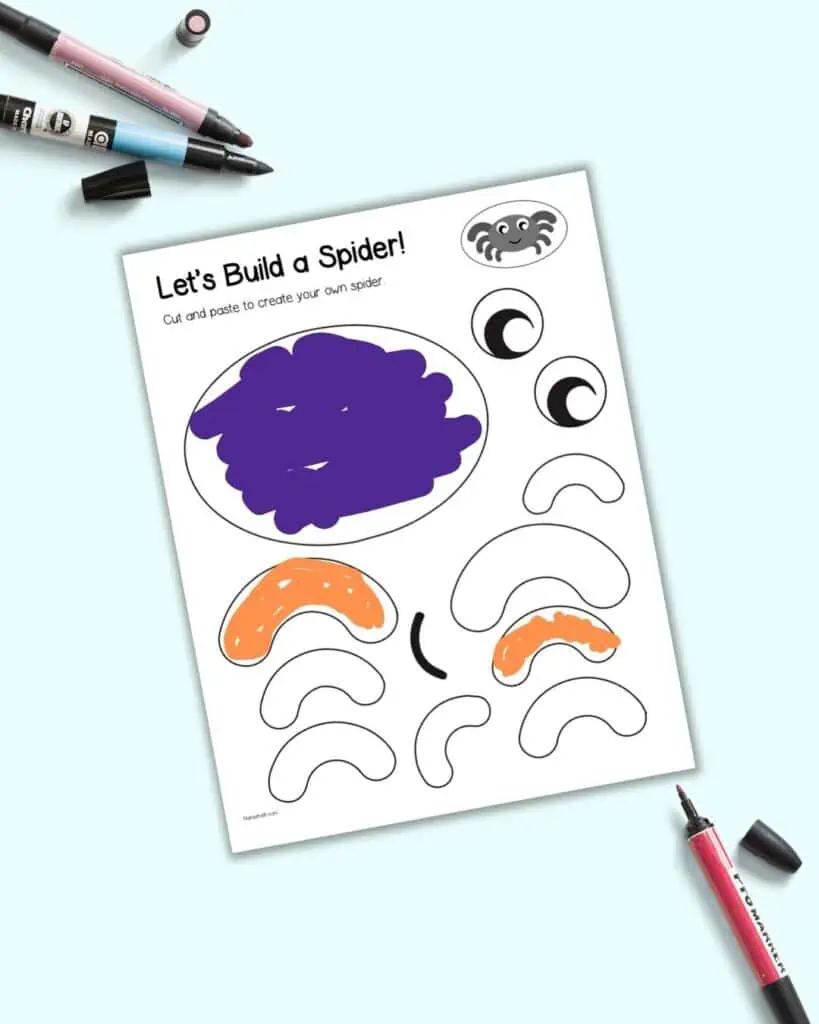 After the spider is completed, it can be glued to a stick, bag, or toilet paper roll. It can also be laminated or strung up and hung. The choice is yours!
Spider craft template PDF file download area
Both version of the printable spider craft template are in the same PDF file. Just print whichever page you need!
These printables are licensed for personal use and classroom use. This includes use with library activities and therapy clients.
These printables are NOT licensed for commercial use. You are not authorized to sell or redistribute the pages or print outs to other adults for use with their children/students. Please refer friends and colleagues to this post so they can download their own copy.
I hope you enjoy your cute printable spider craft template! be sure to check out more fall crafts and Halloween printables below:
Printables for Halloween
If you're looking for Halloween printables, you've come to the right place!
Snag your Halloween shape templates, printable games, Halloween bingo, free coloring pages, and more.