These free printable Valentine's Day gnome coloring pages are so cute! They're fun for children, teens, and adults. They even make quick and easy homemade Valentine's that are fast and virtually free to make. Keep scrolling to learn how to print your own Valentines using coloring pages and grab 9 free Valentine gnome coloring sheets!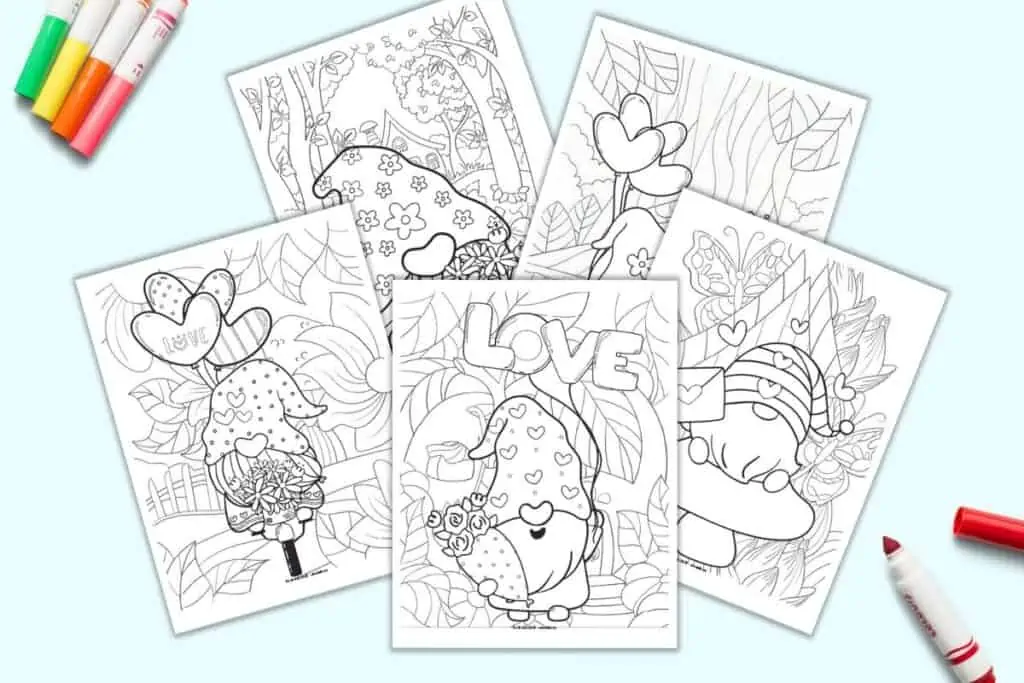 This post may include affiliate links which means I may earn a commission on qualifying purchases at no additional cost to you.
If you love Valentines, you've come to the right place. Make sure to stop by this page of free Valentine's Day printables for party games, templates, preschool learning pages, additional coloring pages, and more.
How to print your own gnome Valentines with coloring pages
It's easy to print your own gnome Valentine's Day cards with these coloring pages. You can print four-up (4 to a page) to make post cards. Trim the pages apart with a paper trimmer. This Fiskars paper trimmer is my favorite because it has a guide wire so you can tell exactly where you're cutting. This is how the print dialogue box looks in Adobe Acrobat Reader when you print 4-up: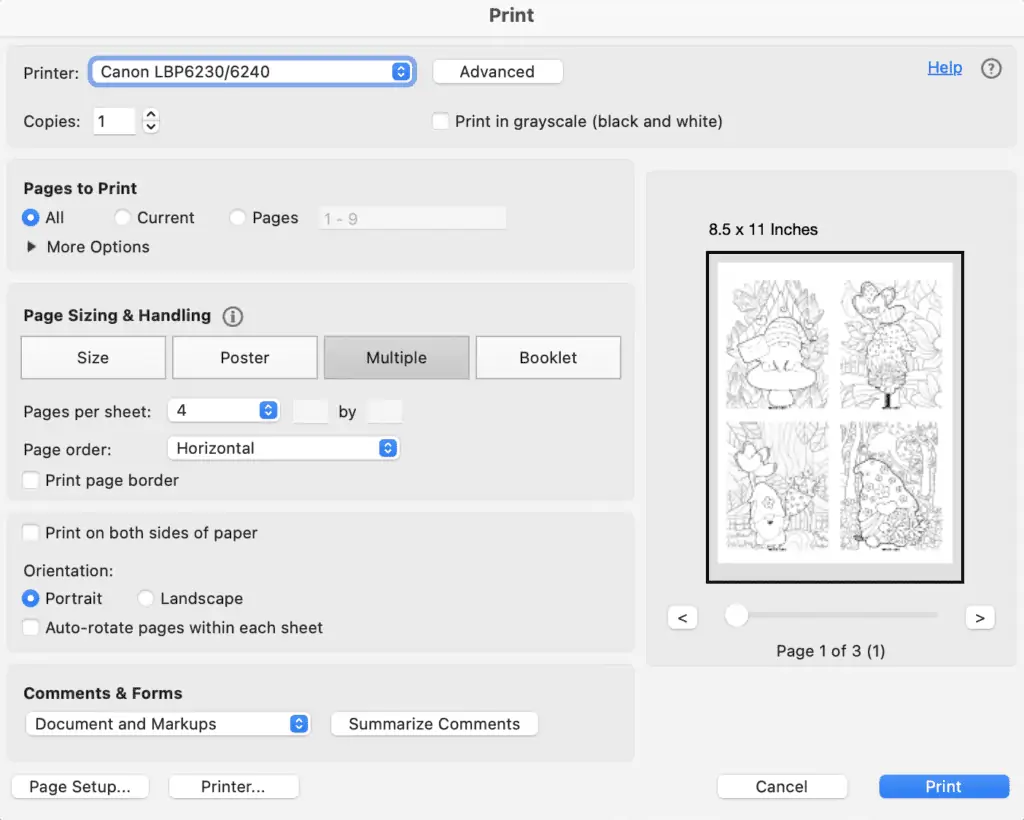 Fiskars SureCut Deluxe Craft Paper Trimmer - 12" Cut Length - Craft Paper...
ARTS AND CRAFTS STAPLE: Fiskars SureCut Deluxe Craft and Office Paper Trimmer is a great addition to scrapbook supplies, stationary projects, and...
PRECISION ART SUPPLIES: Scale and base deck grid help ensure accuracy; Break- and fray-proof SureCut wire cut-line makes it easy to see where the...
LONG LASTING AND RELIABLE: Lightweight and portable trimmer is easy to transport and store; Fiskars craft supplies and materials are built to last
Or you can use the "booklet" feature in Acrobat Reader to print fold-over cards. Make sure to select "Binding: left" as shown below. You may also need to select the specific page in order to have a blank card back. Be sure to check your print preview and fiddle with settings as needed to have the left side of the page blank. Trim the pages down to size with a paper trimmer and you're ready to go!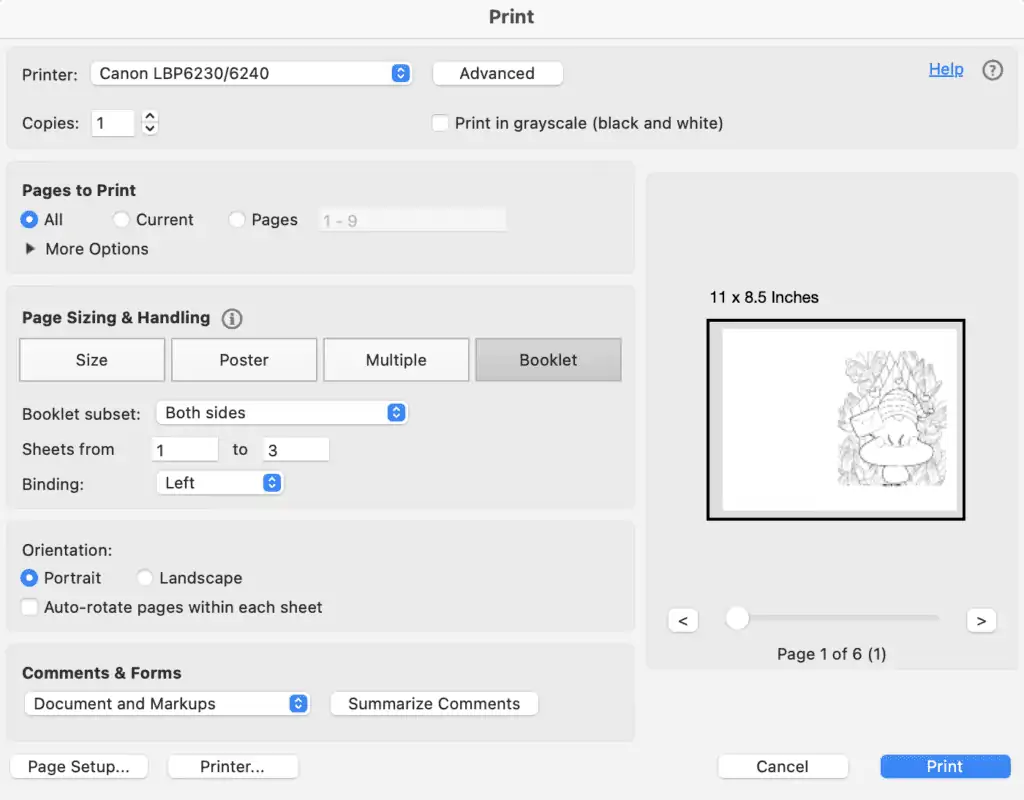 Add a small package of crayons or colored pencils for a stand-out homemade Valentine.
Outus Mini Drawing Colored Pencils for Kids with Sharpener Cartoon Coloring...
Sufficient Quantity: you will get 6 packs mini drawing colored pencils with sharpener, each pack accounts for 12 assorted colors, totally 72 pieces...
Cute Cartoon Patterns: the tube for containing is made of strong cardboard and can hold the pencils nicely, and each holder is designed with adorable...
Practical Sharpener Design: the cover of the pen holder is designed as a sharpener, which is very useful when you need to sharpen a pencil, you don't...
Printing coloring pages at home
Printing your own coloring pages is awesome because it saves you time and money You don't have to worry about your color choices. If you aren't happy with the way the page turned out, you can just print a new copy and color it again! Printable pages are perfect for kids. I know my daughter frequently wants to color her favorite pages multiple times.
For professional-feeling coloring pages that are fun to color, make sure to use a nicer paper (not whatever cheap feeling paper is in the printer at work). Remember those rough, yellow coloring books you had as a kid? They're just not as much fun to color.
I use and recommend HP 32# paper for coloring pages. It's thicker and brighter than "regular" copy paper, which helps keep markers from feathering. The paper also feels smoother, so pencils and crayons glide and color smoothly on it. This paper is also good for cards, but cardstock is sturdier if you want to use it, instead.
HP Paper Printer | 8.5 x 11 Paper | Premium 32 lb | 1 Ream - 500 Sheets |...
Made in USA: HP Papers is sourced from renewable forest resources and has achieved production with 0% deforestation in North America.
Heavyweight premium printing: HP Premium32 is a heavyweight (32 pounds), brighter (100 bright) and whiter (163 whiteness) paper with a super-smooth...
Certified sustainable: HP Premium32 presentation paper is Forest Stewardship Council (FSC) certified and contributes toward satisfying credit MR1...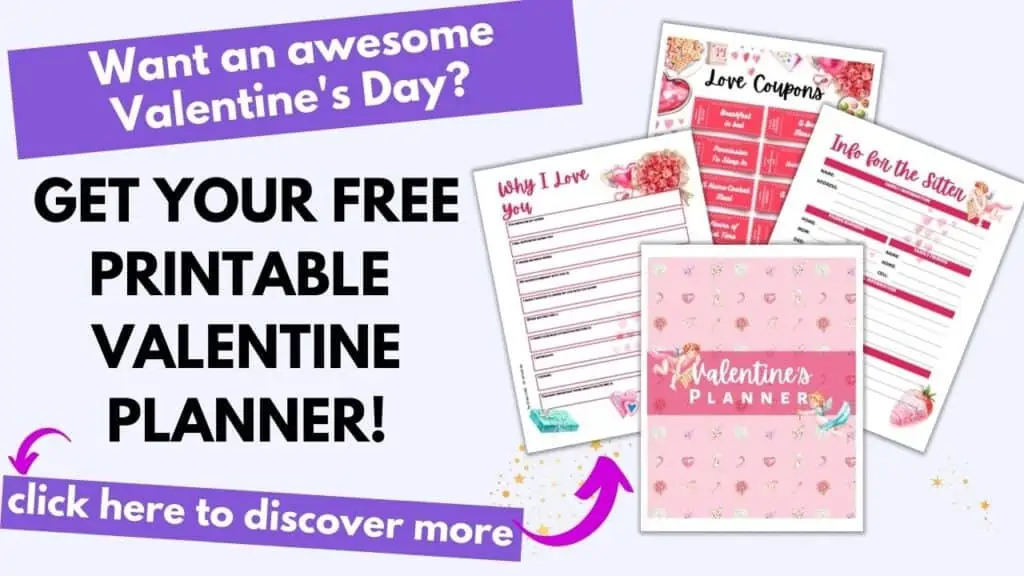 For a glittery Valentine's Day fun, color these pages with gel pens. They are perfect for adding sparkly accents to these fun gnome designs. Even if you don't want to use all your ink coloring the whole page, at least add some sparkle! How about adding some shine on a heart? Check out this post for the best gel pens for coloring, including a great budget pick. The short version is that the pens shown below are the best overall and best budget pick:
My favorite budget coloring markers are Crayola Supertips. They're a bargain and fun for adults and children. They have a fine tip for details, but can also be used on the nib's side for broader swaths of coloring. Because there are dozens of shades with multiple pinks and reds, they're great for Valentine's Day coloring pages.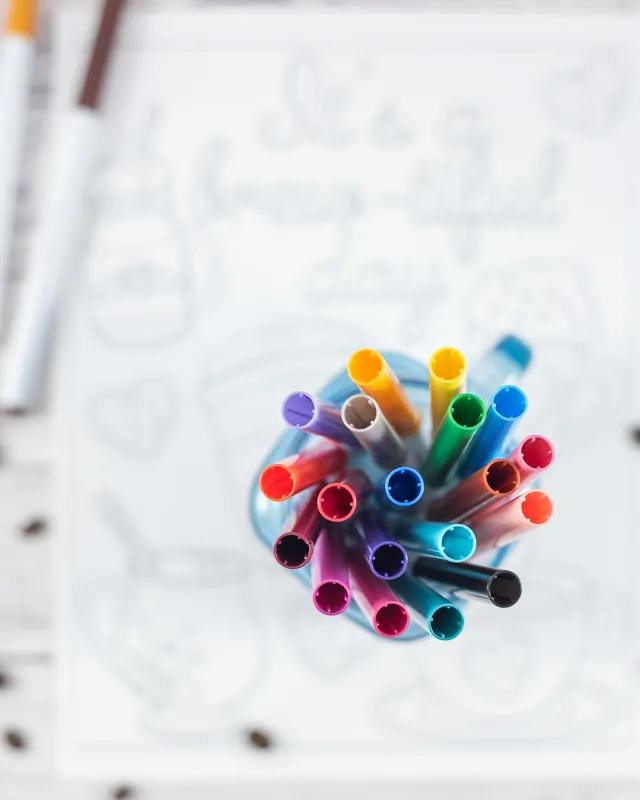 Some of the best colored pencils are Prismacolors. Even the more budget lines of Prismacolor colored pencils are softer and creamier than brands like Crayola. Prismacolors color easily and are great for blending. A colorless Prismacolor blending pencil is the perfect tool for the job if you want to start blending colored pencils.
Sale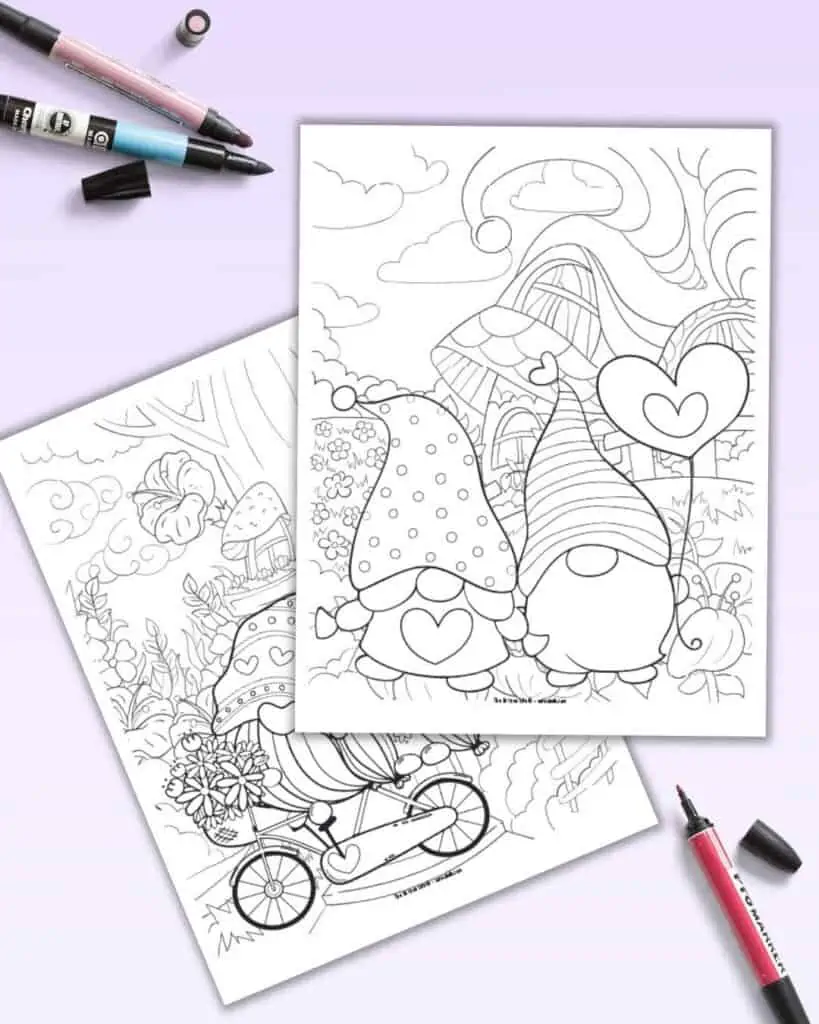 Free printable Valentine's gnome coloring pages
This set of gnome coloring sheets has 9 pages to color. Each page has a gnome (or gnomes!) and a forest home background with fun elements like mushrooms, flowers, and vines. Any blurriness in the previews is due to image compression for the website. The downloads are high resolution and print clearly.
The coloring page printables are in groups to help this page load more quickly. Each sheet has its own page in your printable PDF. Download information and license terms are located below the previews. Look for the row of purple arrows pointing the way!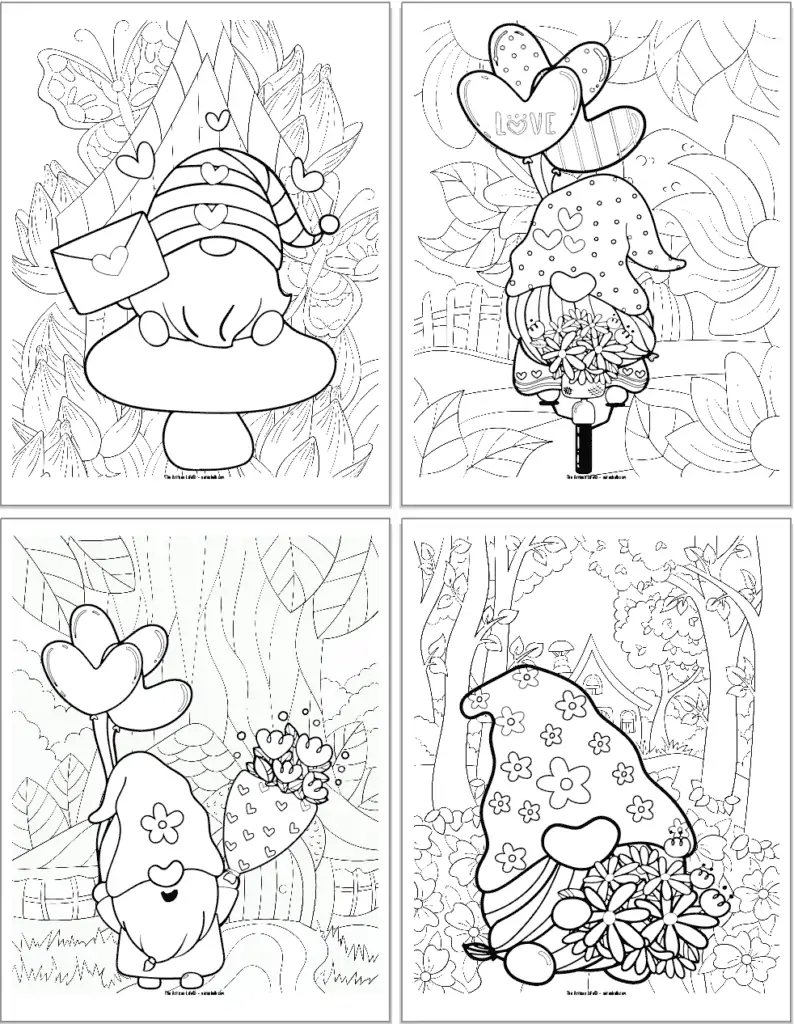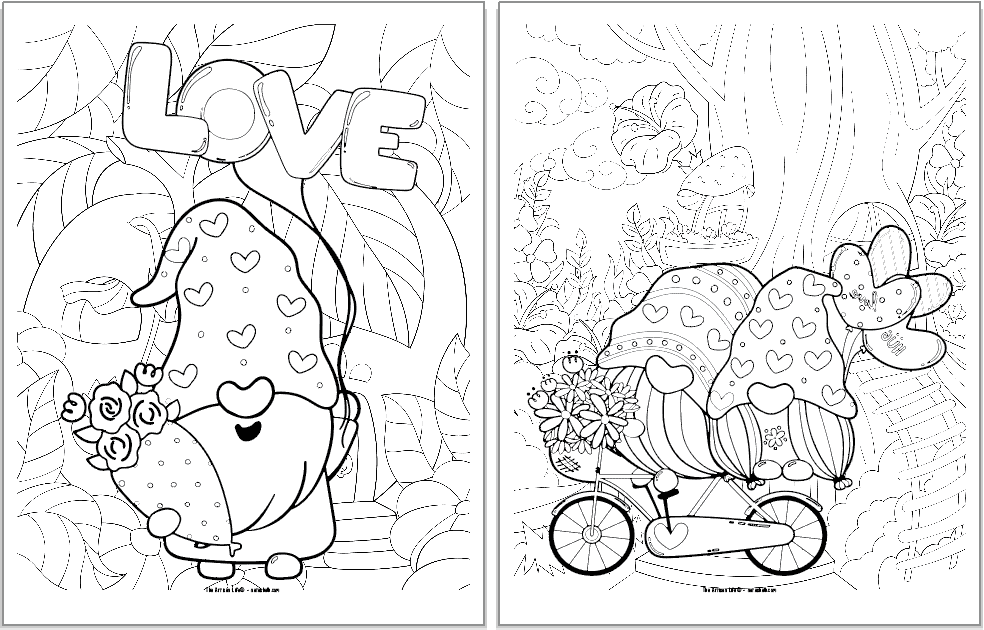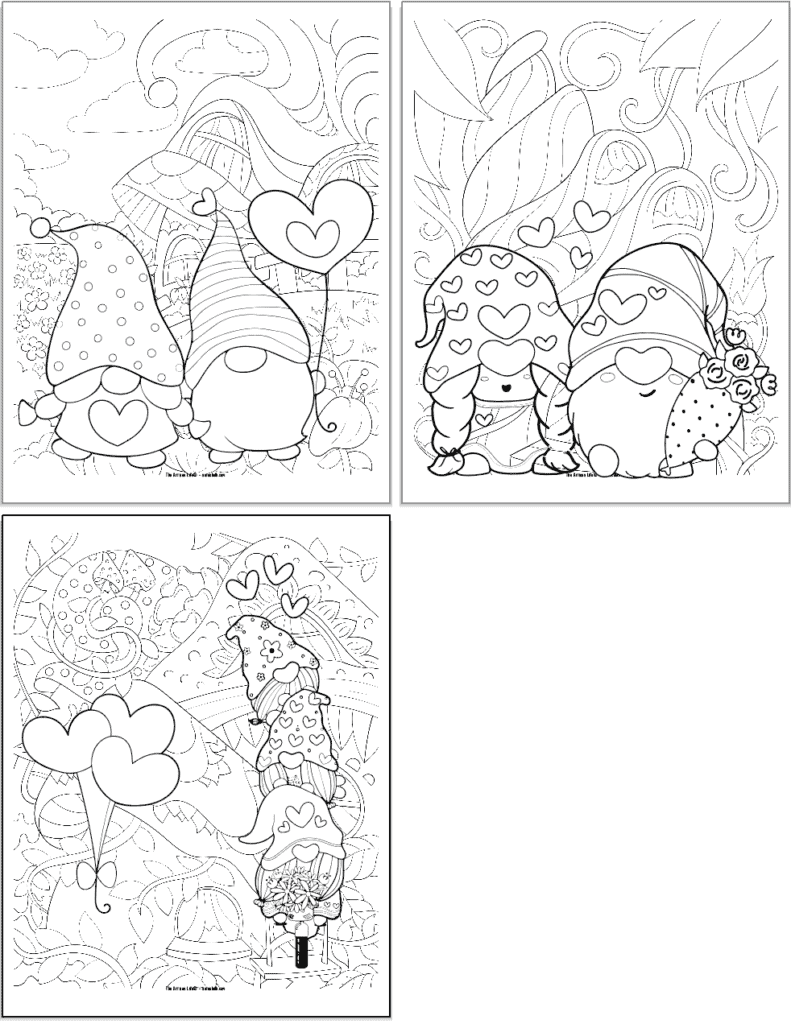 Again – please don't be alarmed by blurriness in the image previews! It's just because of image compression for the website. The actual PDF is sharp and crisp. Like all printable coloring pages on The Artisan Life, these sheets are available for personal and classroom use. You are welcome to use them in your own personal classroom, with your Scout troop, your own therapy clients, etc. as long as you are organizing the activity.
You are not licensed to alter, sell, or redistribute the files (digital or printed) to others for their use. You absolutely are not licensed to post them for sale or download on any website. Please just send your friends and family to this page to download their own copies.
If you agree to this license, you may click below:

I hope you enjoy coloring these gnome coloring sheets! Be sure to check out these additional Valentine's Day printables here on The Artisan Life:
Stop scrolling Pinterest for Valentine's Day printables and crafts - check out these Valentine's posts right here on The Artisan Life!