These dino-themed black and white printable Valentine cards are so much fun! They're an easy way to make your own Valentines for family members or classroom party. I hope you enjoy these free printable Valentine's day cards!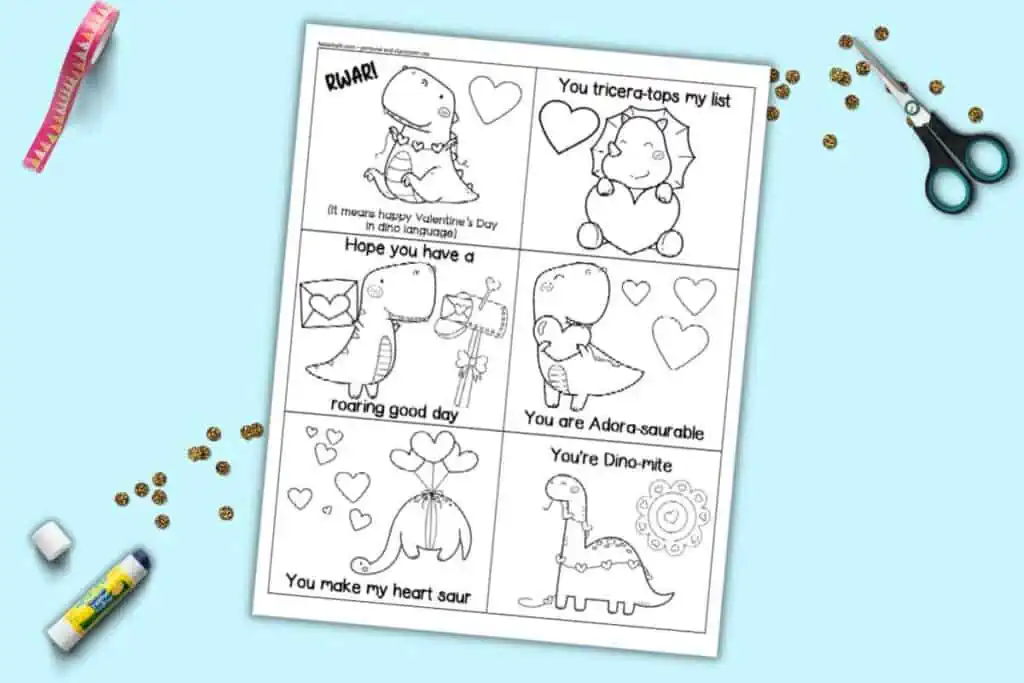 This post includes affiliate links, which means I may earn a commission on purchases made through links at no additional cost to you.
If you're look for full color free printable cards, make sure to see this post with a sweet, romantic designs and a vintage theme. Older kids and adults will also enjoy these steampunk themed Valentines printables!
Materials needed for DIY printable Dinosaur Valentines
You don't need much for these free Valentine cards. You will need:
Your PDF file (download link is towards the bottom of the page. Look for the row of purple arrows.)
A paper cutter or pair of scissors
A printer (a color printer is not necessary. Black and white is fine.)
Firbon A4 Paper Cutter 12 Inch Titanium Paper Trimmer Scrapbooking Tool...
Professional Guillotine: Present the clean straight cutting along printed line. No drag! And easy to replace the blade when it become blunt.
Size and Materials: Design to cut A3,A4,A5 Paper, Photos, Cards, Laminated Stuff (within 1.5mm) and more. Max cut 12 sheets paper (80g/m2) every time....
Accurate Measurement: With 45-degree to 90-degree angle measuring plate and cm/inch scale. Ensure to trim the angle and length you wanted.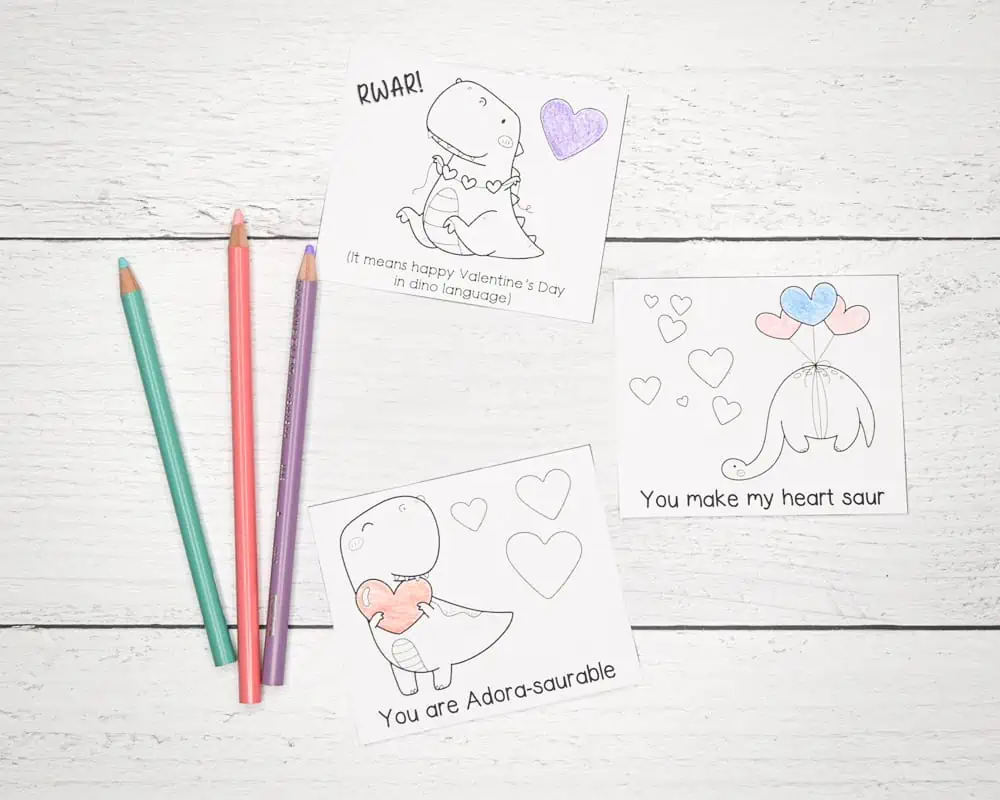 For best results, it's important to use heavy duty white cardstock. Cards printed on paper don't hold up well.
The white images on each card can be colored by your child, or you can add a little gift like a small package of pencils and leave the cards uncolored.
Outus Mini Drawing Colored Pencils for Kids with Sharpener Cartoon Coloring...
Sufficient Quantity: you will get 6 packs mini drawing colored pencils with sharpener, each pack accounts for 12 assorted colors, totally 72 pieces...
Cute Cartoon Patterns: the tube for containing is made of strong cardboard and can hold the pencils nicely, and each holder is designed with adorable...
Practical Sharpener Design: the cover of the pen holder is designed as a sharpener, which is very useful when you need to sharpen a pencil, you don't...
How to print and make simple cards
These printable Valentine's card make a great last minute Valentine craft because they're so quick and easy to use.
First, make sure to get your free printable towards the bottom of this page. Look for the row of purple arrows and big box with the text "click here to download your free printables" to get your digital download.
Next, print the cards out on your card stock.
If you're coloring the pages before giving them, it can be easier to color before cutting them out. You can also add your own personal touch with glitter, washi tape, or stick on rhinestones!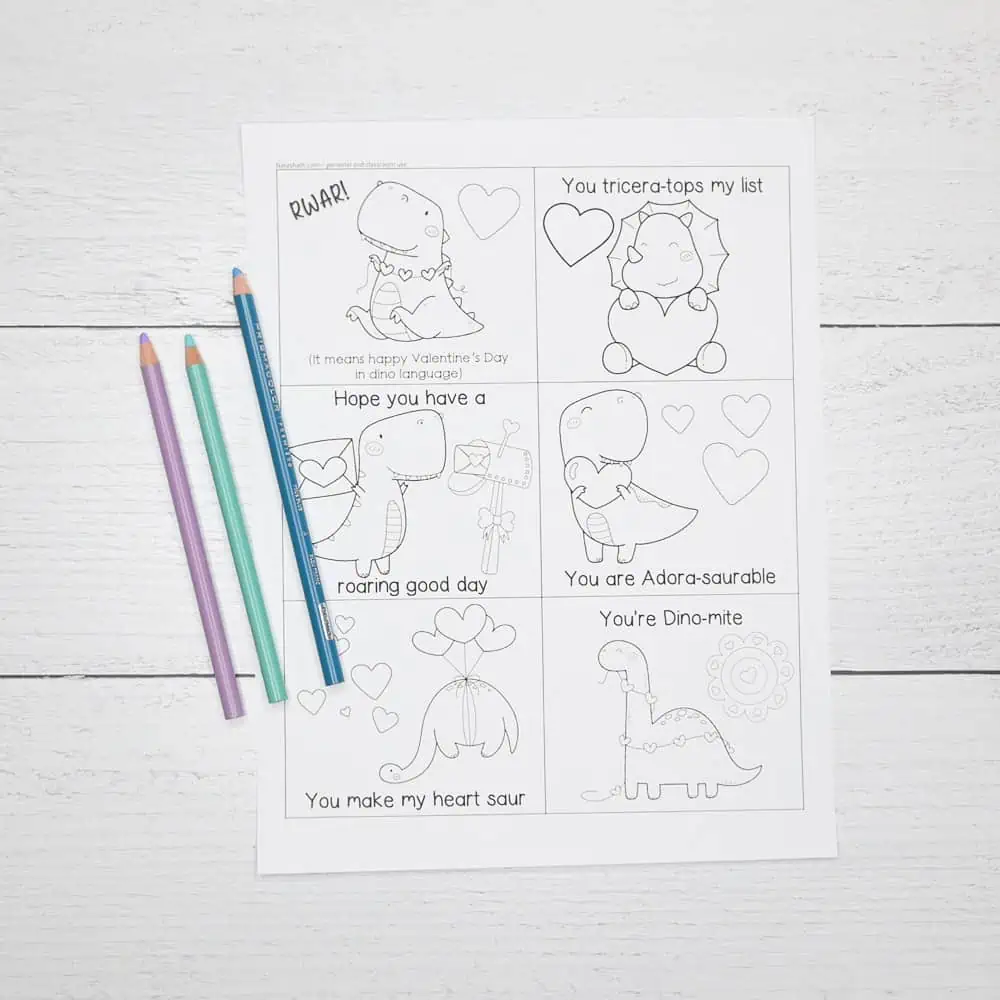 When you're ready, cut the cards out along the straight lines. Now they're ready to gift! The paper cutter shown below is not my preferred model, but it fits better in the photos. =)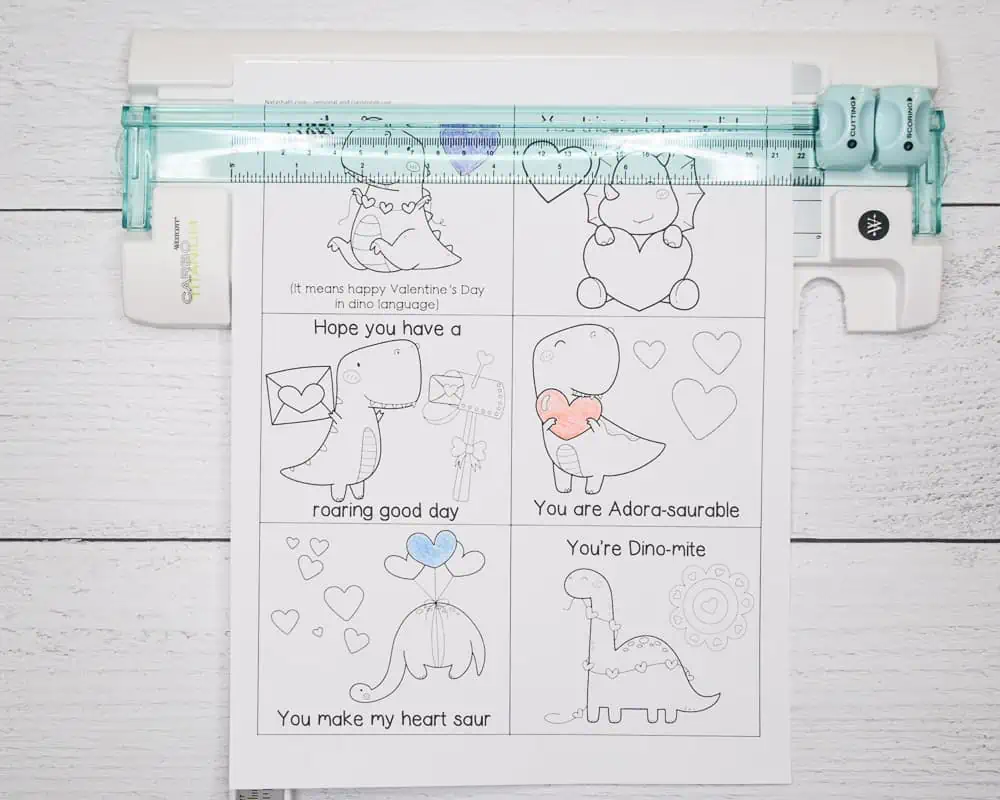 Free printable dinosaur black and white Valentine's Day cards PDF
These free dino Valentine card printables are licensed for personal use. This means you can use them as a fun activity or handout for your own children and classroom. They are not licensed for commercial use. This mans you are not allowed to redistribute or sell the PDF file or print outs to other adults for use with their children/students.
I hope your family or class enjoys using these black and white Valentines printables with cute dinosaurs! Be sure to check out these additional free printables for Valentine's Day while you're here on The Artisan Life:
Stop scrolling Pinterest for Valentine's Day printables and crafts - check out these Valentine's posts right here on The Artisan Life!