These free printable summer theme count and clip cards are a fun, low-prep way to help your child improve their number recognition, counting to 12 skills, finger strength, and fine motor skills.
Use these counting clip cards as a fun & educational no-mess road trip activity, or as part of your homeschool preschool summer theme.
This post includes affiliate links, which means I may earn a commission on purchases made through links at no additional cost to you.
How to print and and use summer count and clip cards
Counting clip cards, also called count and clip cards, are a fun, interactive way to practice counting and number recognition.
Count and clip cards help your child develop and improve their:
Number sense
Counting abilities (numbers 1-12)
Number recognition (numbers 1-12)
Subitizing skills
Fine motor skills
What is subitizing? I'm glad you asked! Subitizing is the ability to recognize small quantities without actually counting them. For example, you automatically know when you see four dots on a die that it means "4" without counting "1, 2, 3, 4."
These count and cards also help develop your child develop their fine motor skills when they use a clothespin or manipulative to mark their answer. These fine motor skills prepare your child for writing and other tasks like tying their own shoes and (finally, one day) brushing their own teeth without getting toothpaste all over their face, jammies, and mirror.
If you don't have clothespins, or if they're too challenging for your child, they can mark their answer with a manipulative like a pompom or seashell. To add an extra fine motor challenge, have your child use bamboo toast tongs or plastic tweezers to place the manipulative.
We like to use this set of counting bears that comes with a pair of tongs. It also comes activity cards, sorting cups, and a reusable storage box. It's a great way to get started with math manipulatives if you don't have any yet. The container isn't the sturdiest in the world, but the cups, bears, and tongs are fine.
Neoformers Counting Bears with Matching and Sorting Cups, Preschool Math...
【Counting Bears Toy】: Make fun for preschool learning. Counting Bears set includes 60pcs bears and 6 cups, 10 activity cards, 2 dices and 1...
【Toddler Educational Toy】: Great teaching toy for basic mathematics concepts. Matching and sorting colorful cups and rainbow counting bears help...
【Toy for Preschool Learning】: Counting bears as Montessori toys with dices and cups for toddlers help them notice differences between things and...
Materials needed to use count clip cards
You don't need much time or materials to print and use this low-prep preschool math activity.
Your free printable summer count and clip cards. The download is located further down the post.
Paper or cardstock. If you're not laminating, use cardstock for greater durability.

If you are laminating, I recommend 32 lb "premium" paper. It's sturdier than normal printer paper and produces bright, beautiful images.

Laminator and laminating pouches.

Laminating is optional, but it saves time and makes the pages reusable. A laminator usually pays for itself after about 15-20 pages when compared to laminating at the store.

Scissors or a paper trimmer/cutter. I use this paper trimmer.
A clothespin or manipulative to mark answers. If your pages are laminated, your child can use a dry erase marker or (even better) a dry erase crayon.
We use Stabilo Woody 3-in-1 pencils instead of dry erase markers. They write very well on laminated pages, plus they don't have ink so there's no ink and no staining. If your little one does color on something unauthorized, it washes off very easily. Just use a very slightly damp cloth or paper towel.
If that sounds too good to be true, check out the video in this post with free printable dinosaur coloring pages. I demonstrate how well they color on laminated pages and how quickly they erase.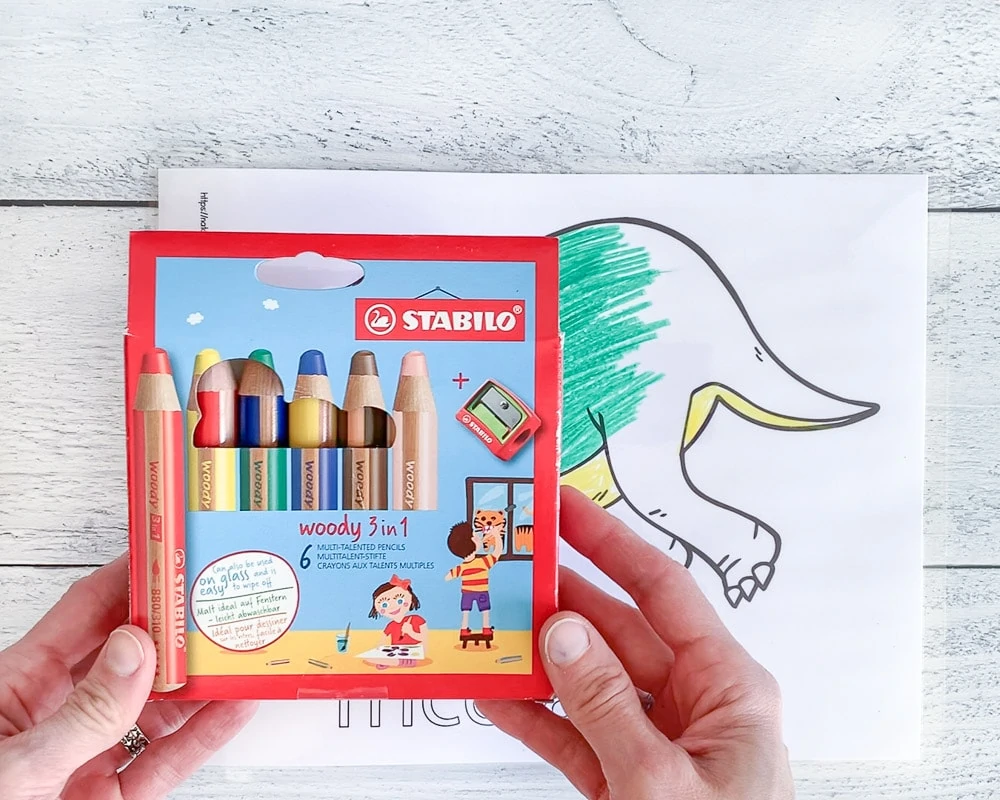 Sale
How to use counting clip cards
Download the free PDF below and print the pages you want. The cards have numbers 1-12 with 4 numbers per page. (Numbers 1-4, 5-7, and 8-12.) You can use use one or two of the pages if your child isn't working on larger numbers yet.
Laminate the pages before cutting them out (unless your laminator specifically instructs otherwise). Laminating first saves you time because you only cut once.
Cut out the cards. Make sure to leave the number choices along the bottom of each card attached to the image portion of the card.
Count, clip, and have fun learning! We usually count the images together, then my daughter finds and marks the correct number.
As mentioned above, it's not a problem if you don't have a clothespin for your child to mark their answer. Your child can place a manipulative on top of their answer or mark it with a dry erase crayon or marker. It's a great way to put some of their seashell collection to use!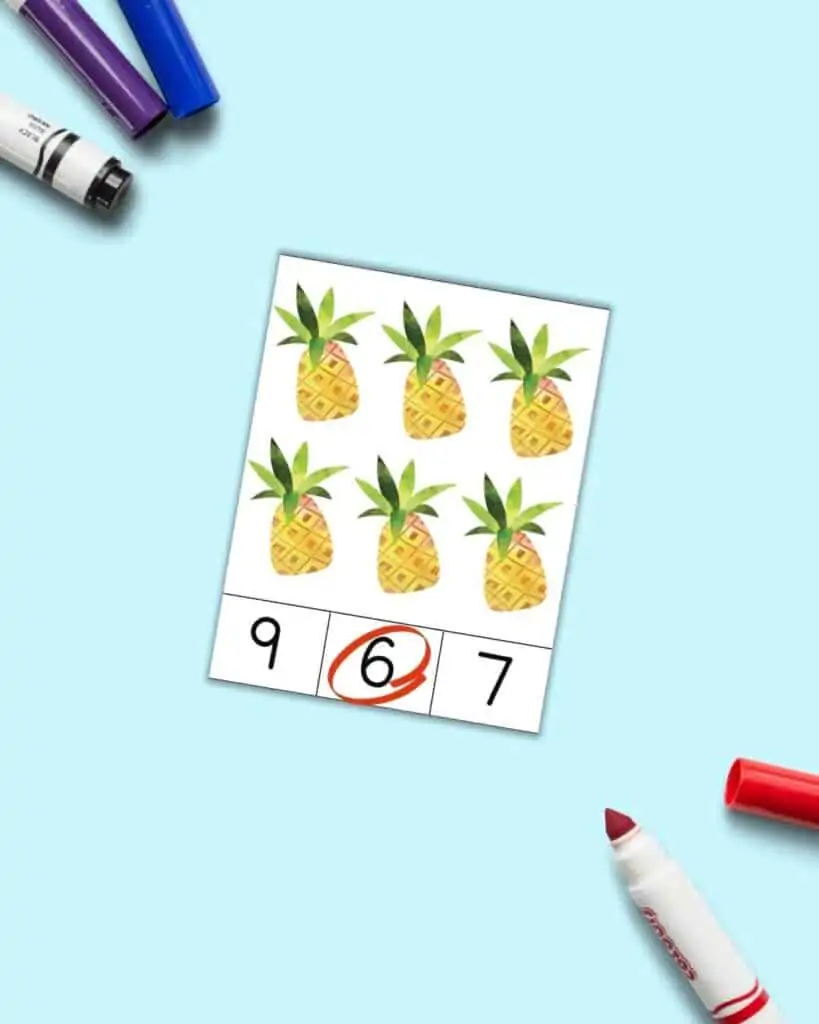 Free printable summer count and clip cards download
Please note that the watercolor clipart in these printables is copyright by DigitalArtsi and is used under license. 
Like all free preschool printables on The Artisan Life, this preschool math printable is licensed for personal and classroom use. You are also welcome to use it with scout troops, homeschool co-ops, etc. Basically, as long as you are personally organizing the activity, it's fine to use these.
You are not licensed to redistribute the printouts or digital files to others. Just send your friends or coworkers to this post so they can download their own copies. You are not licensed to sell or otherwise pass on the files to others in any form, except to your own students/children/clients, as outlined above.
If you agree to this license, you may click below:

I hope your little learner has lots of fun using these summer themed counting clip cards! Make sure to grab these additional free printables for summer to keep your family busy and learning, screen-free:
Free summer printables
If you're looking for budget-friendly ways to keep your kids happy, busy, and learning without screen time, you've come to the right place! Be sure to check out some of the most popular free printables for kids here on The Artisan Life: