These cute Thanksgiving alphabet coloring pages are no-prep fun for the whole family! Give everyone the first letter of their name with some pencils or crayons and have a family coloring contest or print them out multi-up for smaller letters to create a custom Thanksgiving banner. However you decide to use these letter coloring pages. I hope you enjoy!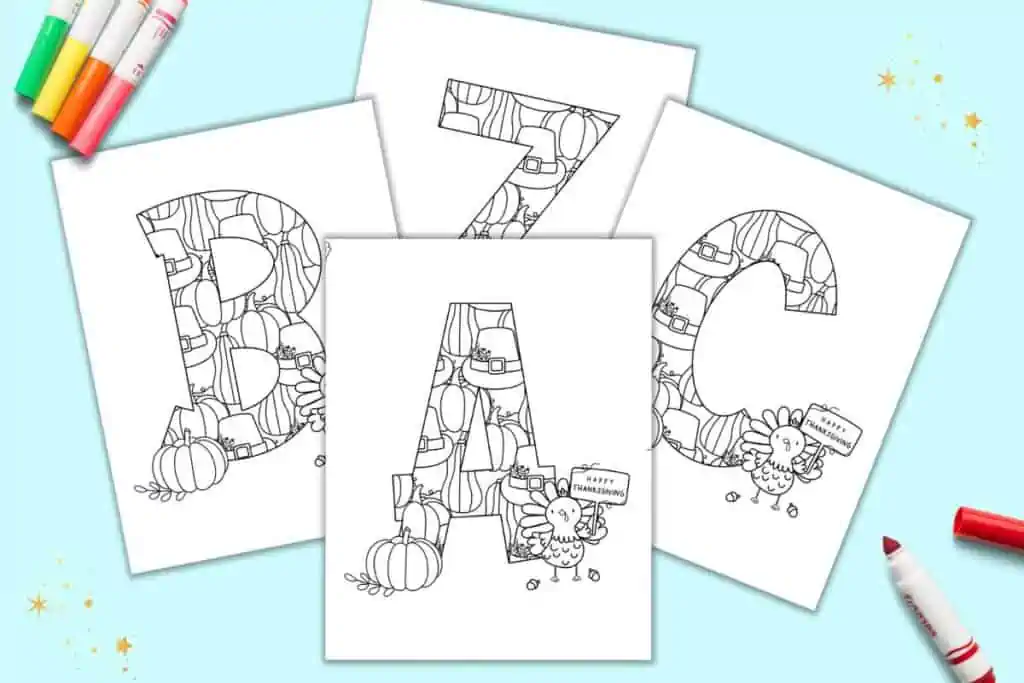 For more Thanksgiving fun, be sure to check out these additional free printables:
We're going to take a quick look at how to use these Thanksgiving monogram coloring pages as a banner. If you're not interested, just scroll past this section and look for the row of purple arrows to find your PDF download.
This post may include affiliate links which means I may earn a commission on qualifying purchases at no additional cost to you.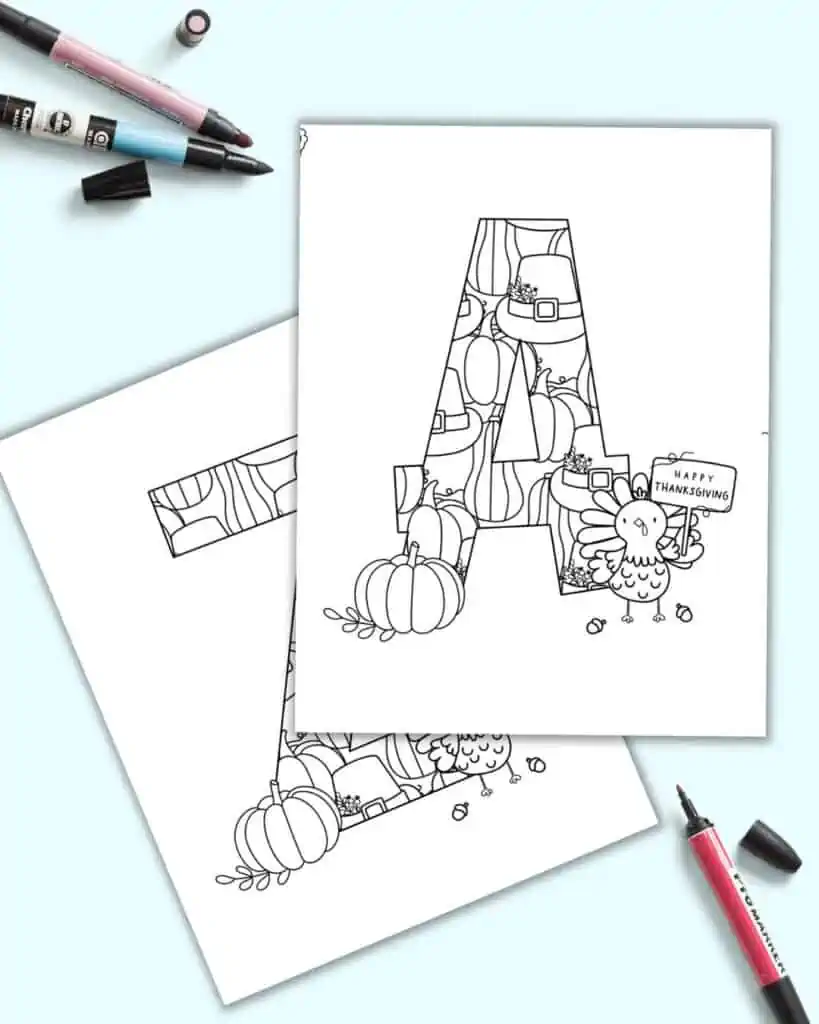 How to turn alphabet coloring pages into banner letters
It's very easy to print pages multi-up. This makes each letter smaller and perfect for creating a festive banner for your Thanksgiving decor.
I recommend using card stock for a more durable banner. Other materials you may want include:
In your print dialog box, you should see the option to print multiple copies per page. The screenshot below shows Acrobat Reader, which is free to download if you don't have it already. Mac Preview and other similar programs also have the multi-up printing function.
Select how many pages you want per page, then print. I recommend 4 pages per page for banners, but if you want larger letters you could select 2 pages per page.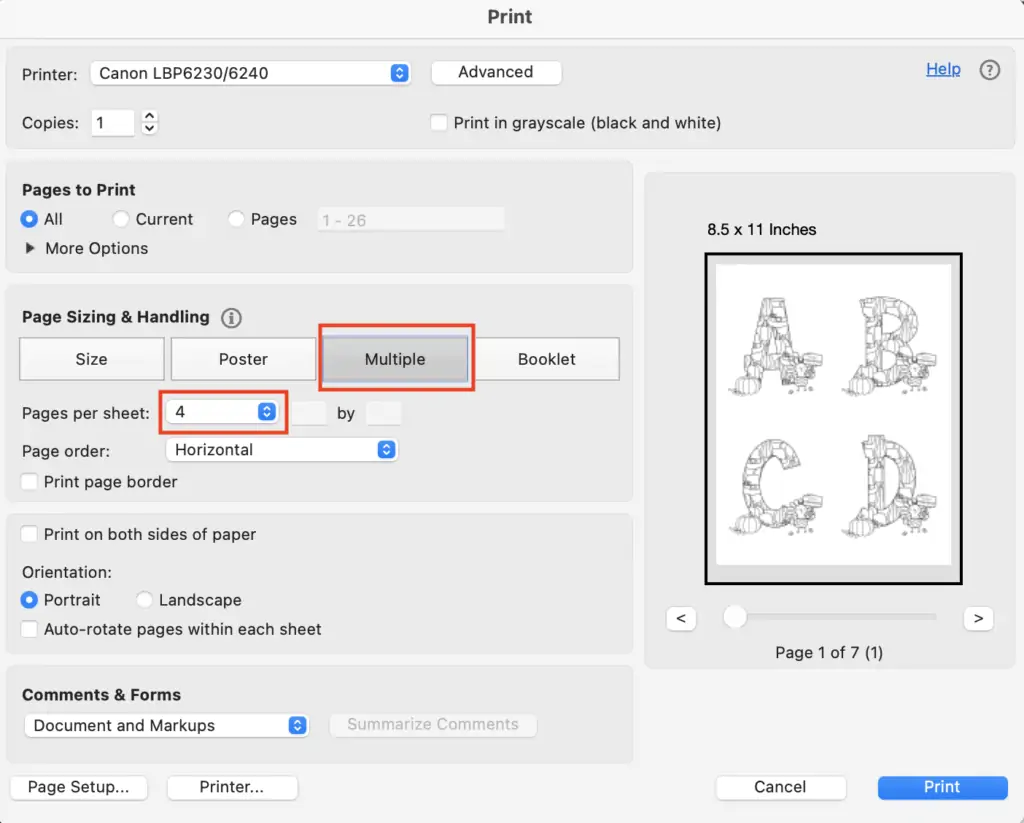 Cut the sheet apart into rectangles to separate the letters. Add a hole with your hole punch and string the cards up to make your banner. You can also use small clothespins to clip each letter in place instead of hole punching.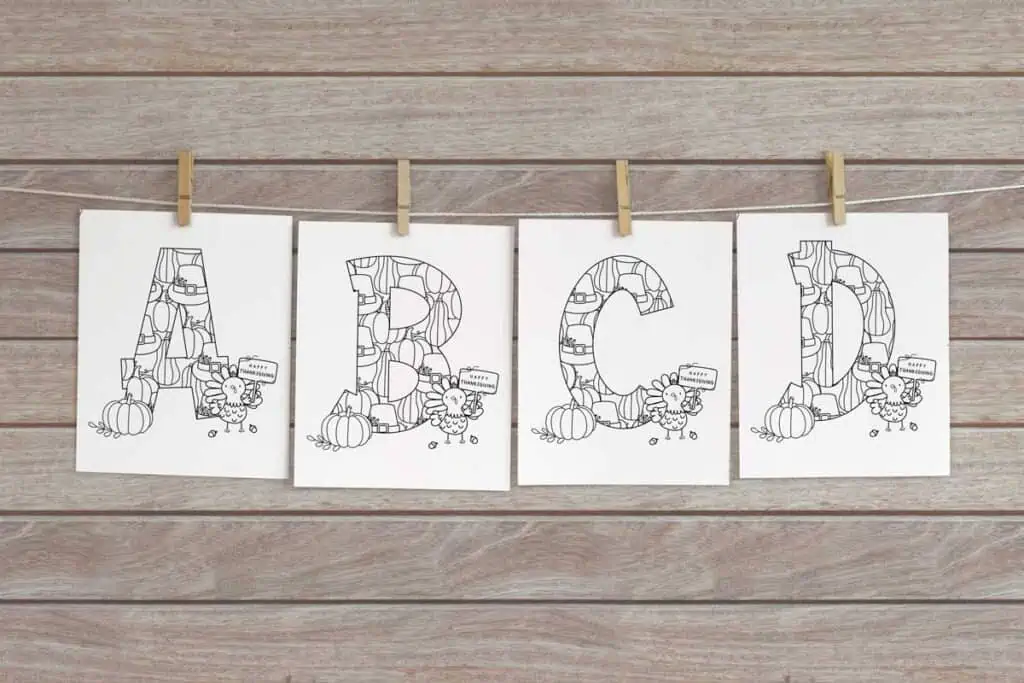 Free printable Thanksgiving alphabet coloring pages
These Thanksgiving alphabet coloring pages are licensed for personal use. This includes use with your own family or students. You are not licensed to redistribute the files or printouts to others for use with their family/students. Please refer friends and colleagues to this post so they can download their own copy.
If you agree to this license, you may click below:

I hope you enjoy these Thanksgiving alphabet coloring sheets. Make sure too check out these additional free printables while you're here!
Thanksgiving Printables
Keep your kids busy and learning without a screen and have fun making your own Thanksgiving crafts with these printables for Thanksgiving.