These free printable Thanksgiving theme missing number printables are a great way for your little learner to practice their ordinality and number writing skills! Pick from 1-5, 1-10, and 1-20 fill in the missing number printables to match your child's stage of learning. I hope you enjoy!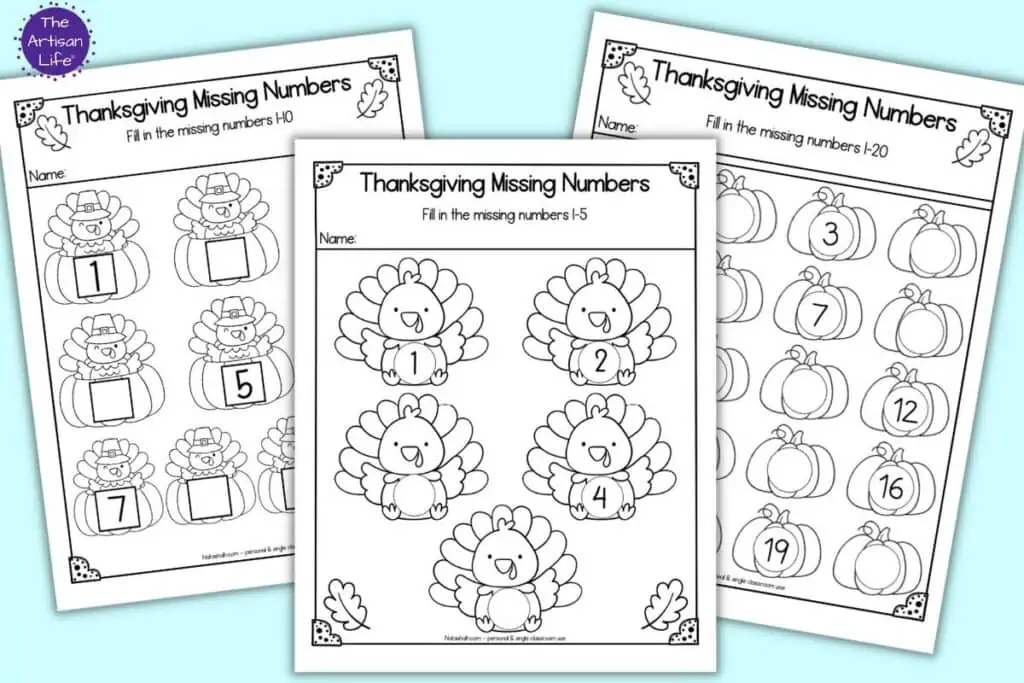 This post may include affiliate links which means I may earn a commission on qualifying purchases at no additional cost to you.
If your child or students are still working on writing their numbers, make sure to grab these number tracing 1-10 worksheets to provide number writing practice.
What numbers should preschoolers know?
Most 3-4 year olds should be able to count to 10, but they may be able to count higher.
Generally speaking, schools expect children to understand numbers up to 20 and write numbers up to 10 by the time they enter kindergarten. It is normal for kids to mix up the teen numbers for a while.
The 1-5 and 1-10 worksheets of Thanksgiving fill in the numbers are perfect for preschoolers.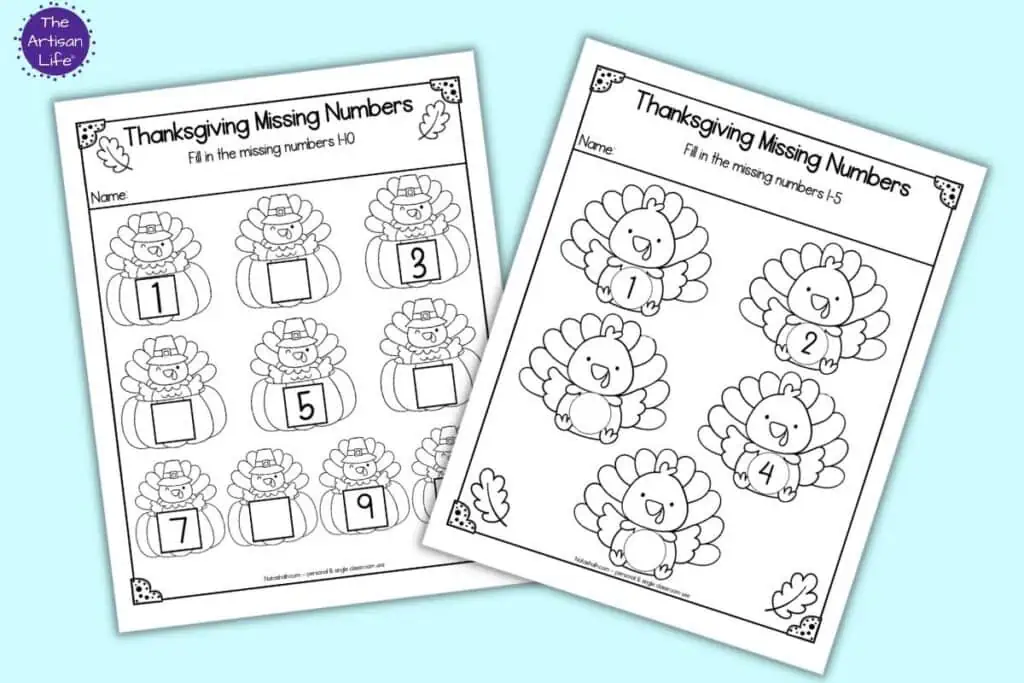 What numbers do kindergarteners know?
In general, kindergarteners are expected to write numbers up to 20 and count/understand numbers up to 100 by the end of the school year. The sets of 1-20 fill in the blank numbers is perfect for kindergarten number practice.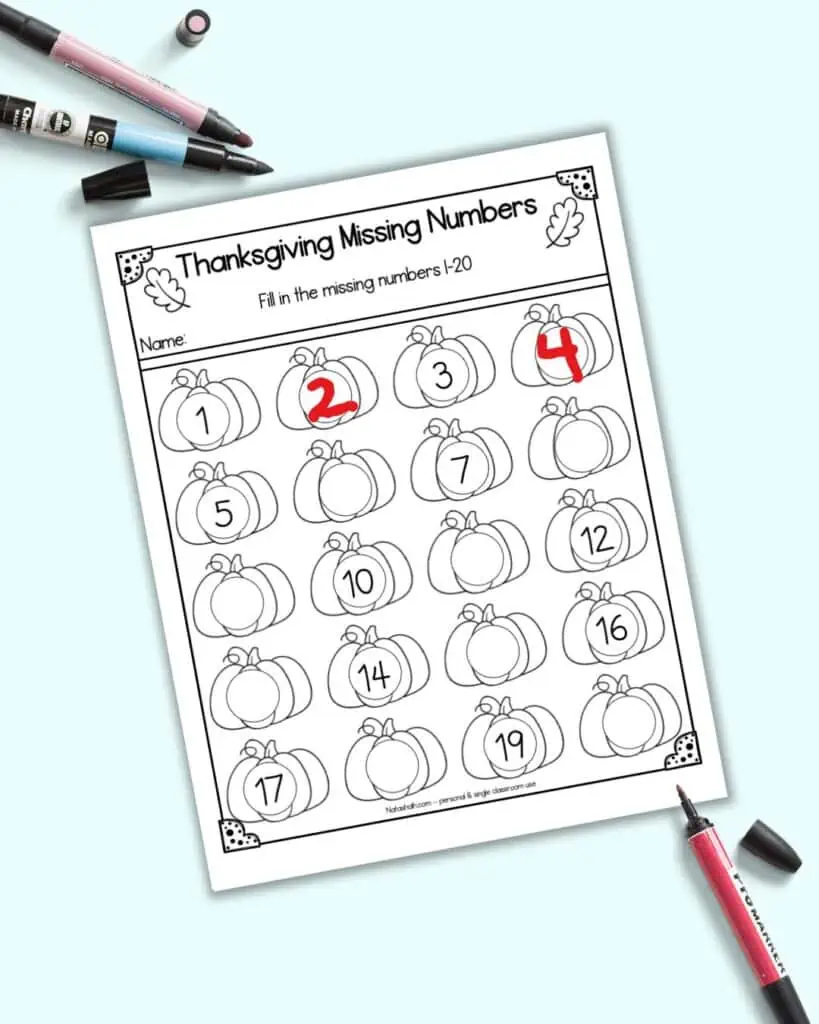 How to print and use missing number worksheets
Missing number worksheets are like a more casual, fun version of number charts. You can just print the pages off and hand them over to your little learner, but here are a few tips to help you make the most of your time and ensure your child has a great learning experience.
How to make math worksheets reusable
As adults, we usually think of worksheet pages as being single use items, but you can make preschool worksheets reusable. You can:
Making pages reusable saves you time and paper because you can print once and have your child use the same page multiple times. You can even stash the page away for use another year with a different child!
Laminating requires the most time and effort, but laminated pages are the most durable. If you have a young child at home, a laminator quickly pays for itself compared to the cost of laminating pages at an office supply store. I use my inexpensive at home laminator frequently.
Sale
Scotch TL901X Thermal Laminator, 1 Laminating Machine, Gray, Laminate...
LAMINATING MACHINE: One Scotch TL901X Thermal Laminator to help you protect frequently used documents up to 9 in. wide
PROFESSIONAL FINISH: Two heated rollers with two temperature settings create bubble- and wrinkle-free results that give your holiday paper items a...
FAST LAMINATING: Laminates one letter-size page per minute and has a release lever for quick pouch release to save you time during the busy holiday...
Dry erase pockets are highly durable and perfect for classroom centers.
Instead of dry erase pockets, I usually use "secure" heavy duty page protectors at home. They're thicker than normal page protectors and have a flap to help keep the page inside. It's easy to keep pages organized when you can put them in a three ring binder! They might not be durable enough for classroom centers, though.
Sale
Avery 76000 Secure Top Sheet Protectors, Super Heavy Gauge, Letter, Diamond...
Keep contents secure in the protective sleeve with convenient top flap; perfect for holding nonstandard size papers and important items
Get a crisp, clear view of the contents of your documents with diamond clear page protectors featuring a polished finish for high clarity
Ensure your documents stay protected with long-lasting super heavyweight sheet protectors for all of your frequently referenced items
Whether you laminate or use a page protector, it's easy for your child to use these pages again and again. You can use a dry erase marker or a Stabilo Woody 3-in-1 colored pencil.
We love using our Woody pencils and even use them with reusable coloring pages! Stop by this post with free printable dinosaur coloring pages to see Stabilo Woody pencils in action. They color very well on laminated pages and they don't have ink to stain or stink.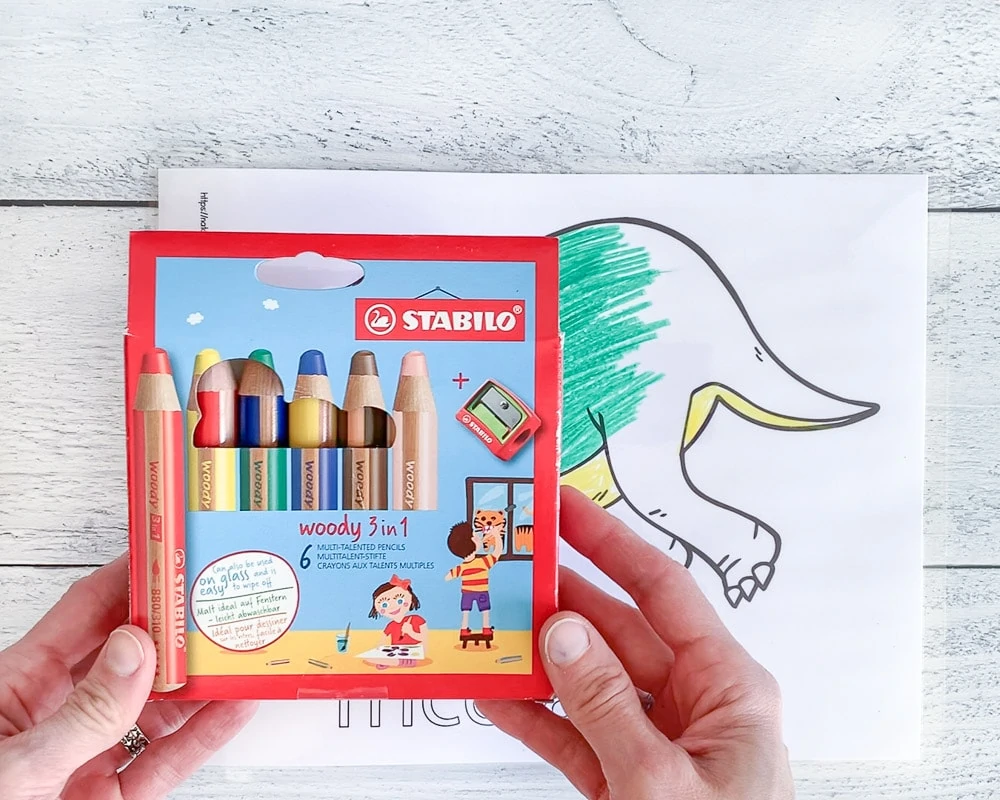 Sale
Printable Thanksgiving fill in the number pages PDF download area
Like other preschool printables on The Artisan Life, these are licensed for personal and single classroom use. You are welcome to use them with your own students, homeschool co-op, therapy clients, etc. as long as you are personally organizing the activity.
I hope your little learner enjoys these fill in the number pages! For more learning fun, be sure to grab these additional Thanksgiving printables while you're here:
Thanksgiving Printables
Keep your kids busy and learning without a screen and have fun making your own Thanksgiving crafts with these printables for Thanksgiving.