These cute free printable Thanksgiving cards to color are fun for the whole family! Use them as a fun activity to keep little helpers out of the kitchen while you cook or have everyone complete a gratitude note for another guest at your Thanksgiving dinner.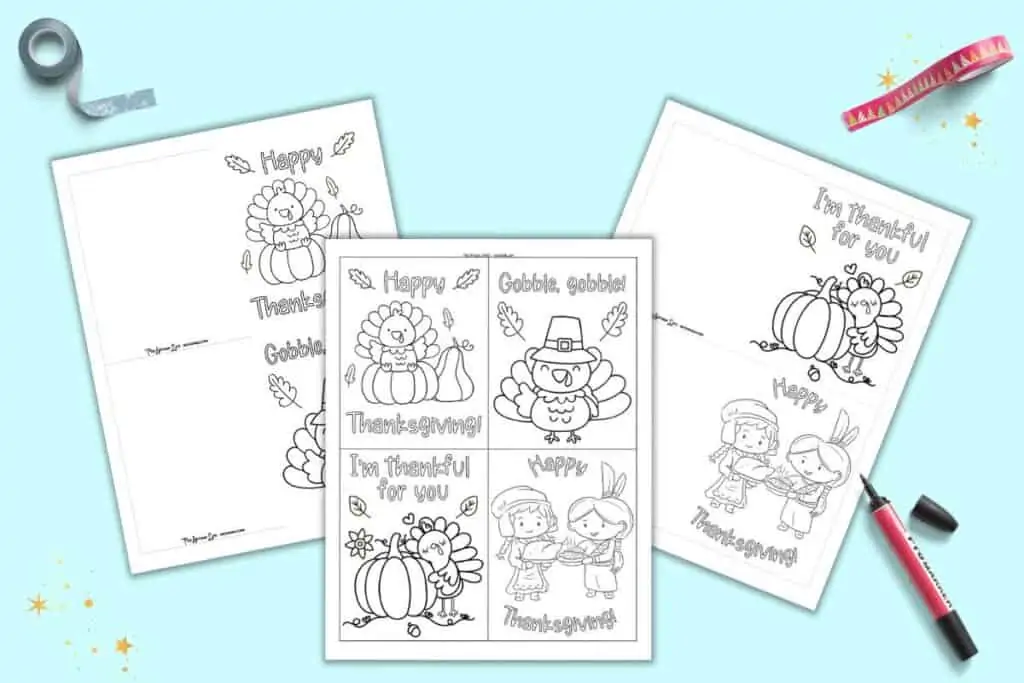 For more Thanksgiving fun, be sure to check out these additional free printables:
This post may include affiliate links which means I may earn a commission on qualifying purchases at no additional cost to you.
Materials needed for printable Thanks cards
There are two different styles: simple Thanksgiving notecards and the same images on fold-over cards.
For best results, print the notecard style cards on a bright white cardstock. The fold-over cards can work better on a heavyweight premium paper for a crisp, clean fold.
You will also need a paper trimmer or scissors to cut the parts apart.
Evteck Paper Cutter Trimmer Small: 12 Inch Crafting & Scrapbooking Supplies...
Professional School Paper Cutter: with sharp blade, easily to cut straight along the transparent wire. Very smooth and no resistance.Portable and...
Size: 14.17x 5.90x 0.78 inch. Suitable for cutting A3, A4, A5 paper, photos, cards, decal, cardboard (within 1.2MM), label, card stock and etc.
Security Design: This paper cutter trimmer is lightweight and safe. The blade works only when you press on it, which perfectly ensures the safety of...
And, of course you'll want something to color with! Our favorites are Crayola Supertips markers, Prismacolor pencils, gel pens, and multicolored pencils.
I haven't found the perfect set yet, but my favorite multi colored pencils so far are these multicolored pencils. I don't love every single color in the box, but I really use my favorite pencils constantly. We also use these tricolor pencils. I like the greens and blues in this set.
The image below is obviously not from these Thanksgiving card coloring pages, but you can see the multicolored pencils in action below: (The page is from this space girls outer space coloring book.)
How to make printable Thanksgiving cards
These cards are very easy to use.
Download your free printable Thanksgiving cards to color. Look for the row of purple arrows a bit lower down in the post. It's pointing the way to the download.
Print the pages you want.
For the notecard style, cut out each card along the solid line
For the fold-over cards, cut along the dotted lines and fold each card down the center.
Color and enjoy!
I love the idea of having an appreciation/gratitude note exchange with Thanksgiving guests. Have a "Secret Santa" style drawing and have everyone write a note of gratitude, thanks, or appreciation for someone else. Notes can be shared privately of read aloud at dinner.
Free printable Thanksgiving cards to color
These Thanksgiving cards are licensed for personal use. This includes use with your own family or students. You are not licensed to redistribute the files or printouts to others for use with their family/students. Please refer friends and colleagues to this post so they can download their own copy.
If you agree to this license, you may click below:


I hope you enjoy these Thanksgiving coloring sheets. Make sure too check out these additional free printables while you're here!
Thanksgiving Printables
Keep your kids busy and learning without a screen and have fun making your own Thanksgiving crafts with these printables for Thanksgiving.