These Thanksgiving themed double ten frame worksheet counting cards are a fun way to teach numbers 1-20 to your children or students. Pick from pre-filled double ten frames worksheets for young children or more challenging blank double ten frame cards for children who already have a strong foundation in using ten frames and teen numbers. I hope you enjoy!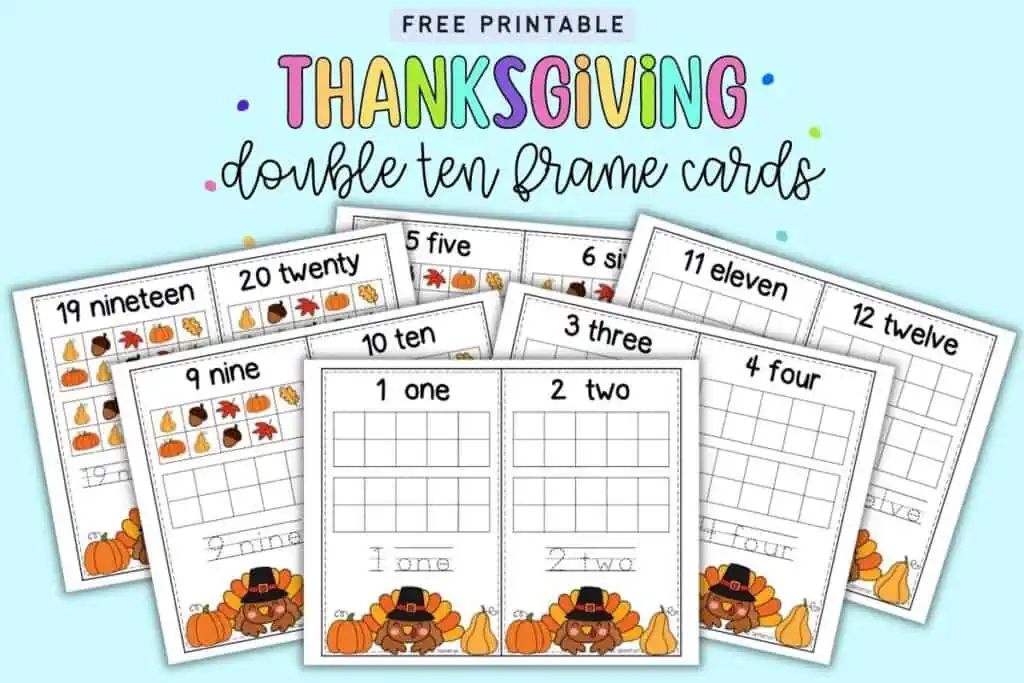 This post may include affiliate links which means I may earn a commission on qualifying purchases at no additional cost to you.
What is a double ten frame?
Ten frames, and double ten frames, are an easy way to teach foundational math skills to preschool, pre-k, and kindergarten students.
Ten frames are a two-by-five rectangular frames containing 10 squares.
A double ten frame is a pair of ten frames. The double ten-frames format allows for representation of two-digit numbers.
Working with ten frames can help your child understand numbers better and truly learn how to count, not just recite numbers in order.
Ten frames can also help your child with subitizing, which is the ability to quickly recognize quantities without counting each one individually. (If you see two apples, you don't think "one, two" to yourself – you just know there are two. This is subitizing.)
Double ten frames are also helpful for teaching addition and subtraction. It's easy to point at the frame and demonstrate that 16 is 4 less than 20, for example.
When I demonstrate counting and using a ten frame with my daughter, I always work from the upper left corner and go left to right. This helps reinforce left to right reading and writing order.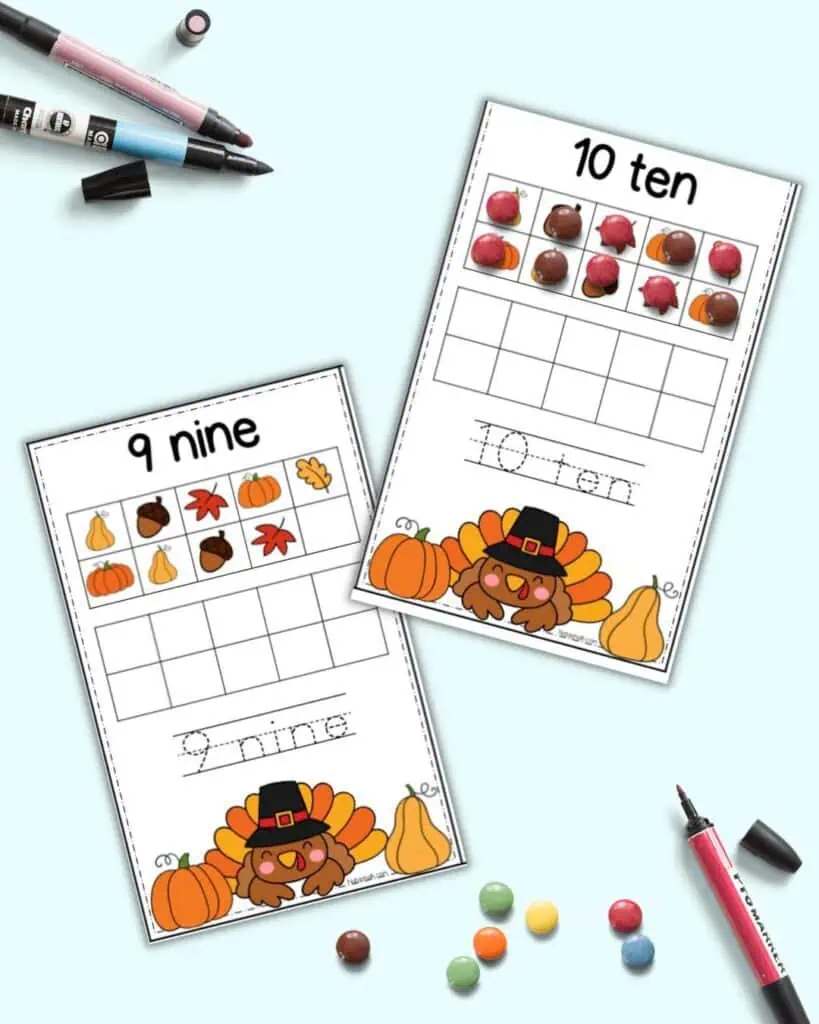 How to use double ten frame worksheets
Tens frame worksheets are a valuable tool for teaching number recognition, subitizing, simple counting, subtraction skills, and basic addition.
This set of double ten frame printables can be used in a variety of different ways.
Using these double ten frame cards to improve number sense with one-to-one correspondence is easy.
Have your child place a manipulative on each image on the card, or use the blank version if your child/student already has some experience counting.
Covering each image as they work can help young children remember which pictures they've counted and which they haven't counted yet. It also reinforces one to one correspondence. This helps your child develop strong number sense and experience numbers in a concrete way.
This set includes numbers 1-20 on card that are presented two to a page. You can print the cards you as is, or you can print 2-up (two to a page) for smaller cards to use with older children.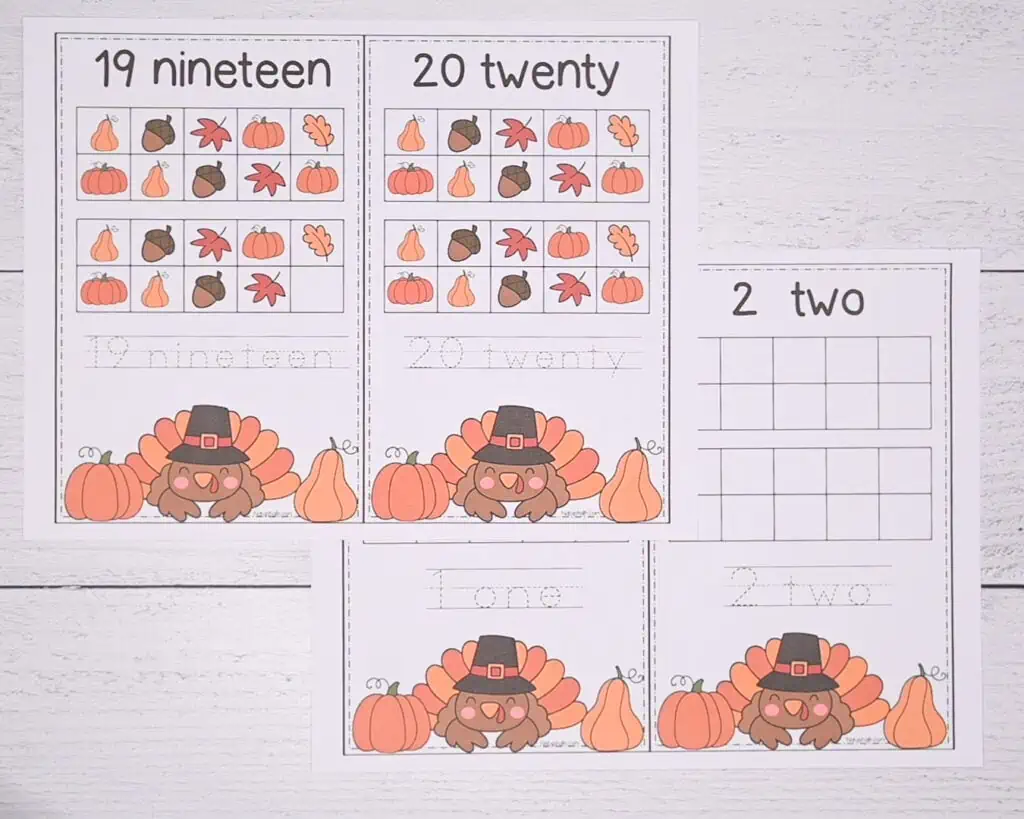 Here are a few ideas for ways to use these double ten frame templates in your home or classroom:
Laminate the cards for use as a double ten frame mat worksheet in classroom math centers

You could use a sheet protector or dry erase pocket instead of laminating
Laminating allows you to make the cards reusable if you want students to trace the numbers and letters with dry-erase markers

Use them with small groups
Print the cards multi up so they're smaller and use them for flash cards
Show your child/students how to use ten frames to help with subtraction problems or with an addition problem
Because each card also includes the appropriate numeral and number word in a dotted tracing font, they are also a great way to develop fine motor skills.
For an added fine motor challenge, direct your students to fill the ten frame box by placing manipulatives with a pair of tongs or plastic tweezers.
In the image below, you can see my daughter using plastic tweezers to place pom poms. We have a set of wool pom poms used exclusively as manipulatives (not gluing crafts).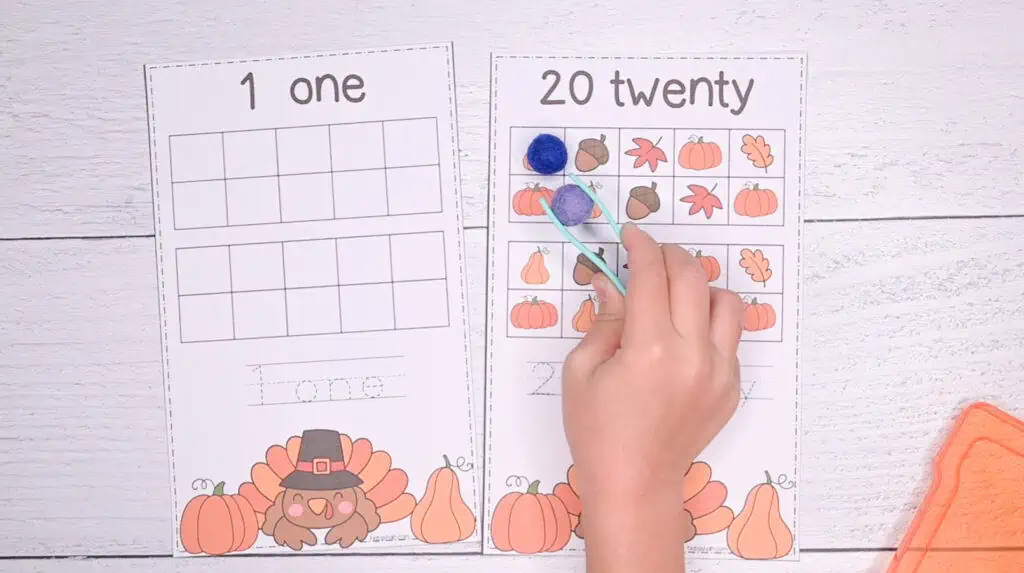 Sale
Materials needed for double ten frame activities
The exact materials you'll need depend on how you decide to use these cards. These are materials I recommend having on hand for this activity:
Your free printable PDF (download link is lower down in the post – look for the row of purple arrows pointing the way).
Printer access and paper. I recommend 32 lb paper for crisp, beautiful prints.
Scissors or paper trimmer.
Laminating pouches or dry erase pockets.
Manipulatives (pom poms are perfect!)
Preschool pencils or dry erase markers.
Preparing your cards for use is easy. First, grab your PDF file and print off the pages you want. Remember that there are two different sets – pages with filled in double ten frames and pages with blank ten frames. Save paper and ink by only printing the pages you need.
Cut the cards apart with scissors or a paper trimmer.
According to my Amazon account, I purchased my paper trimmer in 2015. Wow! It's still doing strong, I've just replaced the blade a few times.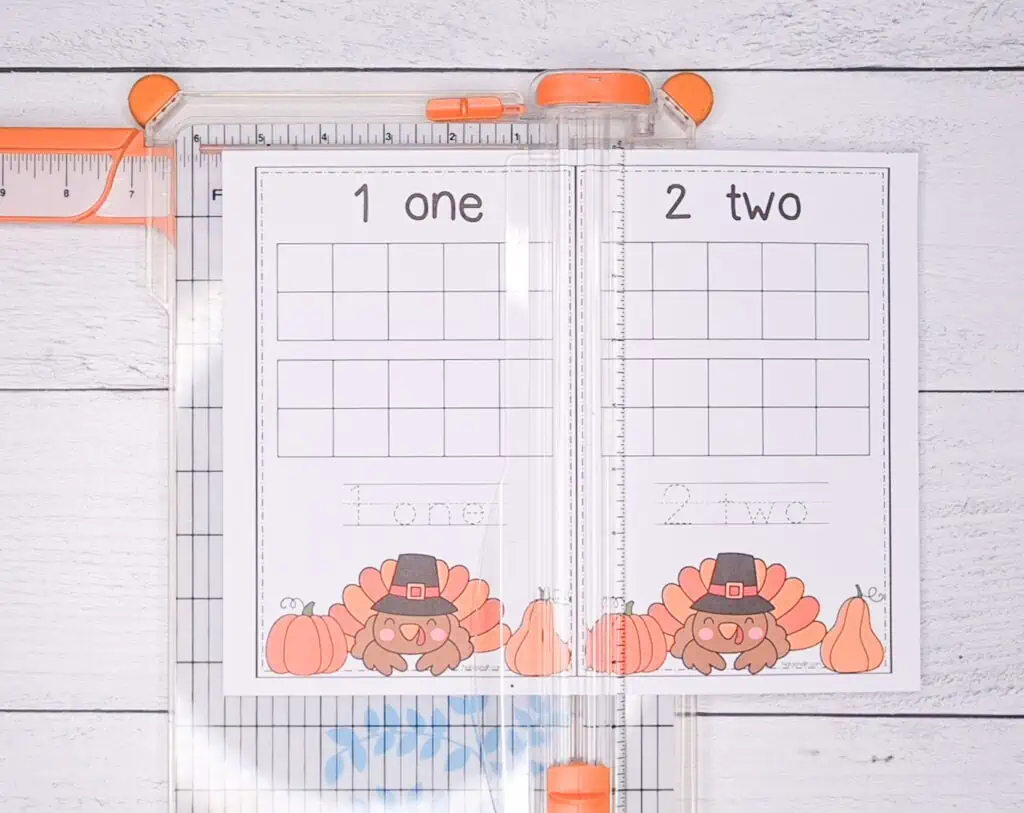 Laminate the cards or slide them into dry erase pockets or page protectors, if you'd like. This isn't mandatory, but does make the cards reusable.
Use the cards however you'd like with your child or students.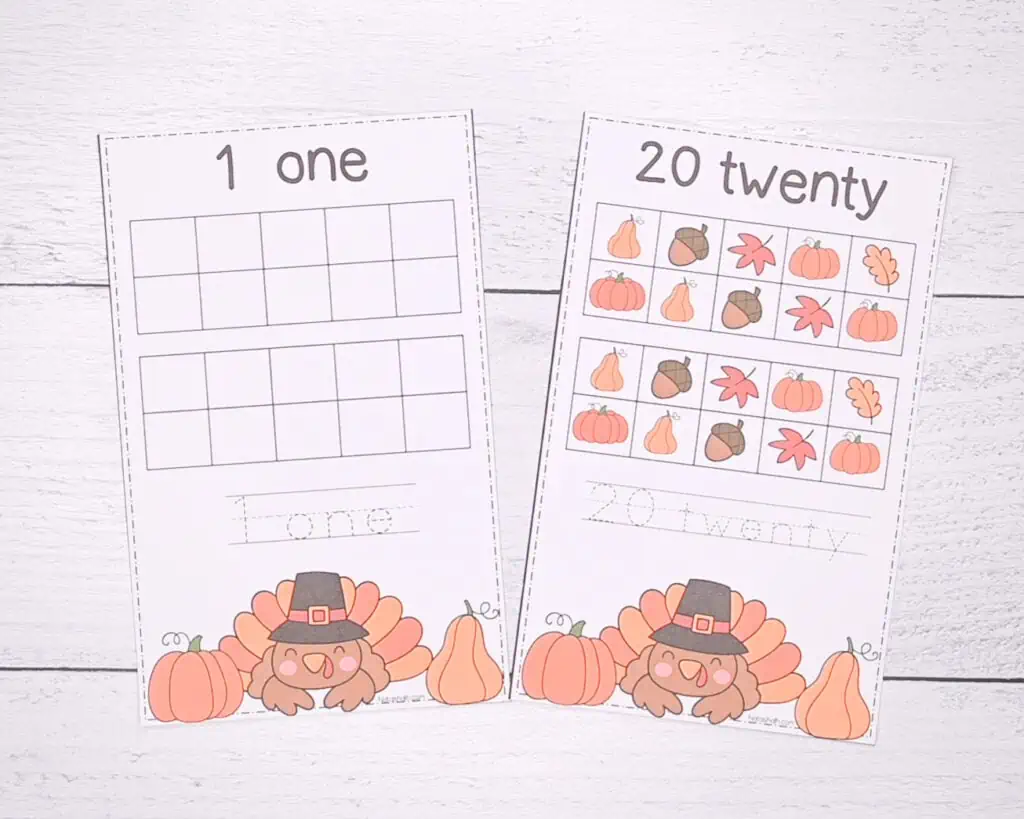 Free printable Thanksgiving double tens frame PDF download area
This set of Thanksgiving double ten frame counting cards is licensed for personal and single classroom use. This includes use with library activities and use with therapy clients.
You are not licensed to redistribute the files or print outs to other adults for use with their children or students. Selling the files or print outs is prohibited.
I hope you enjoy using these Thanksgiving counting cards in a variety of ways! Be sure to check out the posts below for more free printable worksheets for the holiday season:
Thanksgiving Printables
Keep your kids busy and learning without a screen and have fun making your own Thanksgiving crafts with these printables for Thanksgiving.