This free printable word search puzzle is a fun way to keep everyone busy while you cook Thanksgiving dinner. It's also a great activity to challenge kids and senior citizens, alike during the Thanksgiving season. I hope you enjoy!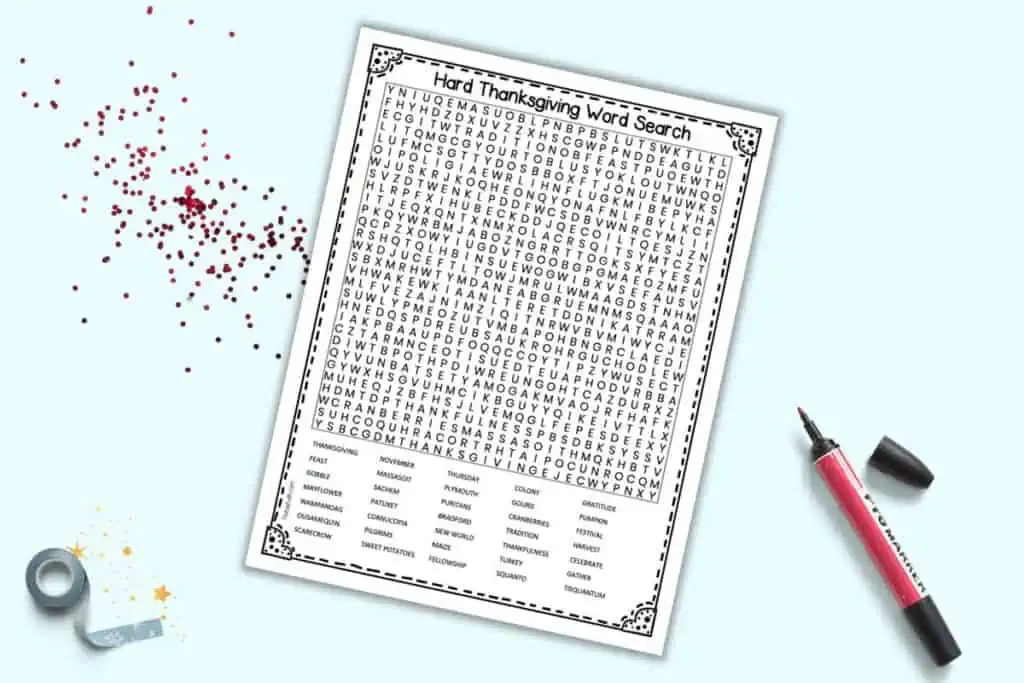 This post may include affiliate links which means I may earn a commission on qualifying purchases at no additional cost to you.
My grandmother loved word puzzles and played daily word search games and crossword puzzles. I think that's why she stayed mentally sharp and "with it" into her 90s.
Solving word puzzle games is a great way to promote persistence, attention to detail, and problem solving skills. It can also promote fine motor skills, which is important for both children and senior citizens.
This puzzle is not an easy words search. It contains 35 words that can be hidden in any direction in a 29×29 letter grid! It's the largest, most challenging word search in my library of printable puzzles. Most printable word searches I create are more of a medium difficulty level, but not this one!
If you need a word search for younger kids, please stop by this post with Thanksgiving word searches for the US and Canada. Those word searchers have fewer hidden words and a smaller letter grid. Young children will also enjoy this Thanksgiving picture crossword puzzle.
If you love thematic word search puzzles, be sure to check out my jumbo puzzle book with 101 themed word searches available in print on Amazon.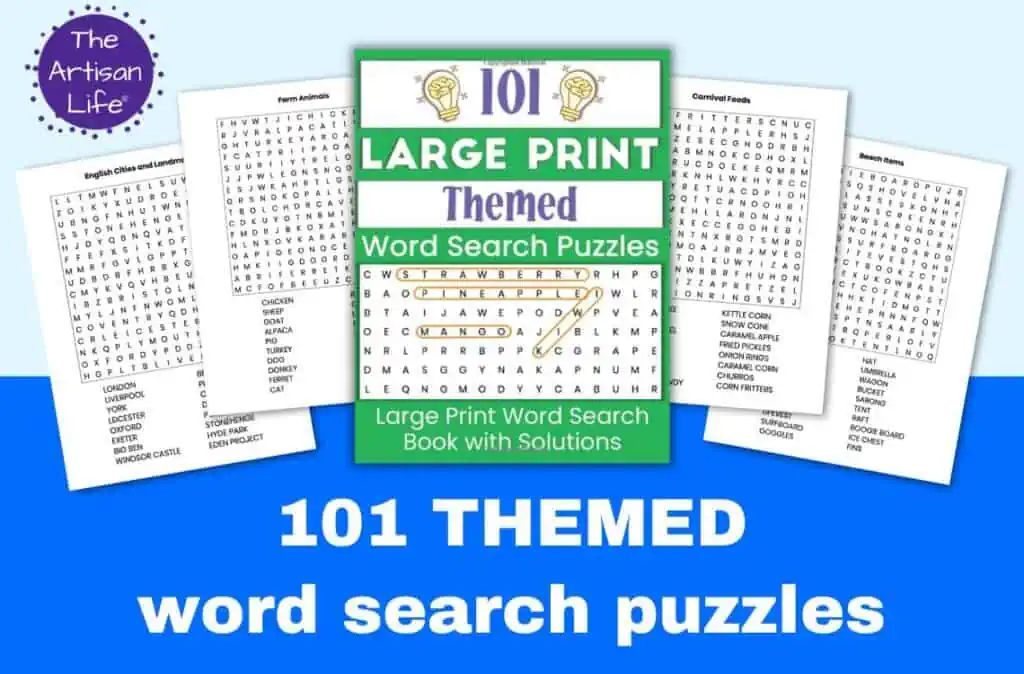 Hard level Thanksgiving puzzle printable
This is a fun word search to complete! Words can be hidden in any direction and there are a total of 35 different words. The vocabulary words relate to the First Thanksgiving, Native Americans involved with the Pilgrims, Thanksgiving food, and other Thanksgiving day themed words.
This puzzle is a fun game to include in a social studies or language arts lesson. Students can complete the Thanksgiving game, then define the Thanksgiving terms, describe the historical figures, or use the words in a sentence.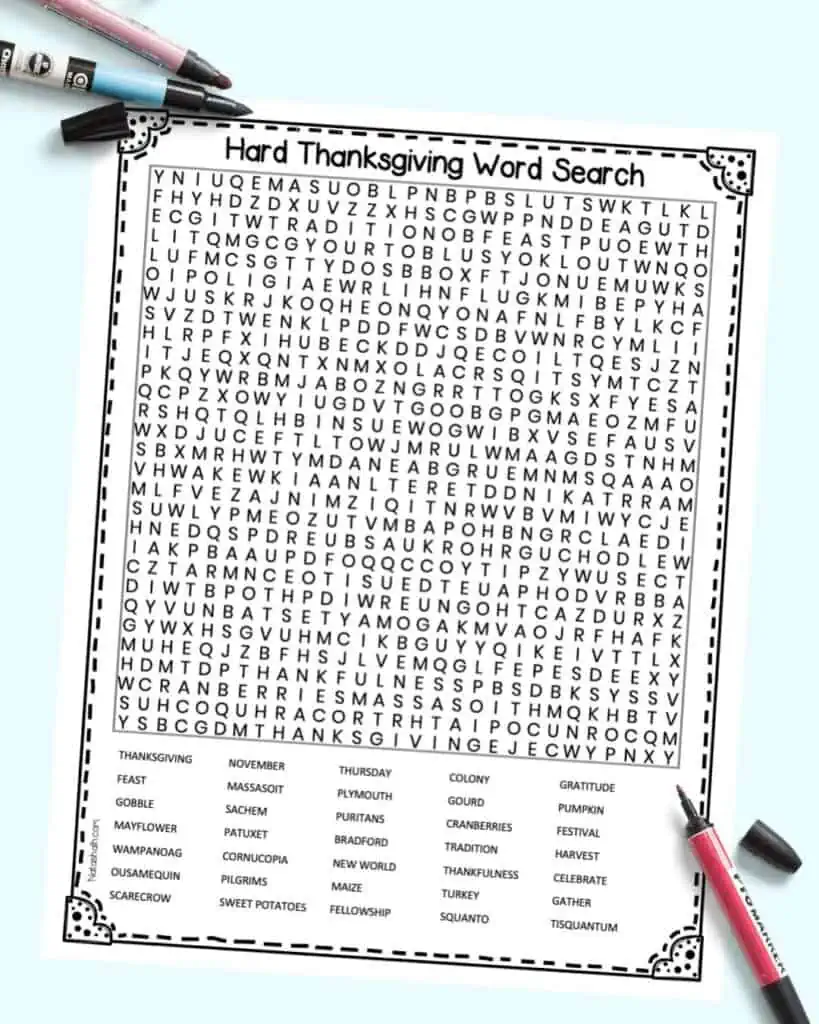 Free Thanksgiving word search PDF download area
The printable word find and answer key are available in PDF format. There are two pages in the PDF file, so make sure to only print duplicates of the first page (with the word list and puzzle) to hand out. Keep the answer sheet to yourself!
The pages are in standard US letter size and should fit easily within the printer margins of most printers. If you have trouble with anything being cut off, make sure your printer settings are set to "print to scale."
This printable is licensed for personal use and single classroom use (non-commercial use with your own children, students, library activity or therapy clients).
Commercial use and redistribution of the print outs or digital files to other adults for use with their own family/students/clients is prohibited. Instead, please refer friends and colleagues to this post so they can download their own copy.
Be sure to stop by the posts below for more printable Thanksgiving activities! You'll find additional word puzzle activities (such as a word scramble) and other Thanksgiving holiday printables to keep younger children and older children, alike, busy learning and having fun.
Thanksgiving Printables
Keep your kids busy and learning without a screen and have fun making your own Thanksgiving crafts with these printables for Thanksgiving.