This free gratitude worksheet printable for Thanksgiving is fun as a classroom activity, for homeschool lesson plans, or as a family Thanksgiving activity. Print a copy out and pass it around the dinner table to see if you can find something for each letter of the alphabet to be grateful for!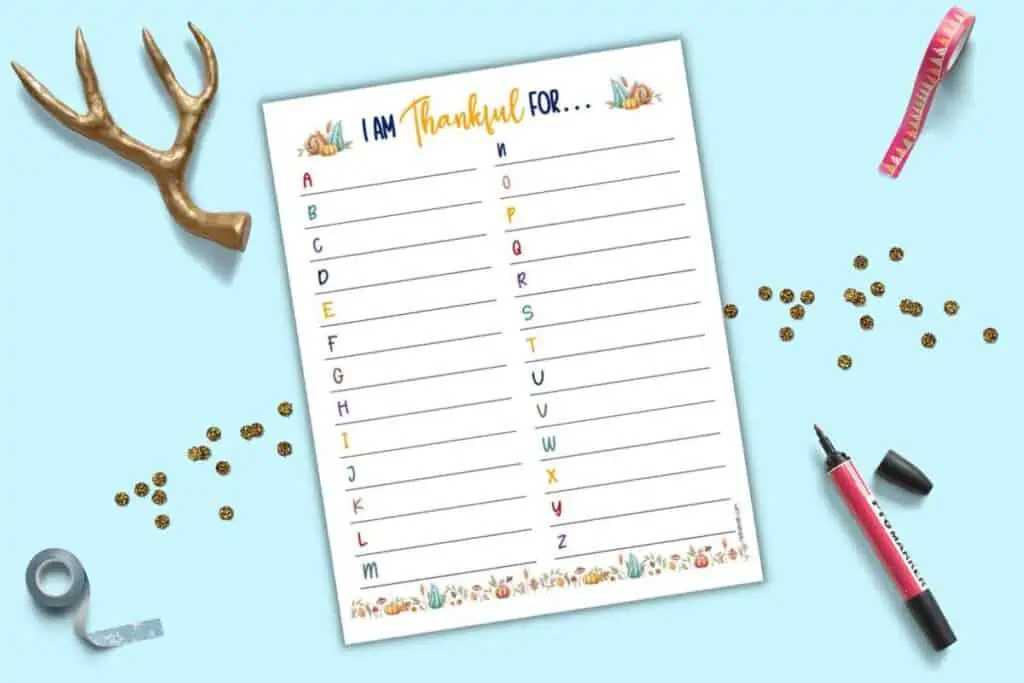 If you enjoying playing games and focusing on gratitude & family at Thanksgiving, you've come to the right place. Make sure to check out these additional printables while you're here on The Artisan Life:
This post may include affiliate links which means I may earn a commission on qualifying purchases at no additional cost to you.
How to use your Thanksgiving gratitude A-Z worksheet
You don't need many materials to use this gratitude activity. You'll need:
Your free printable Thanksgiving gratitude worksheet (look for the row of purple arrows lower down in the post)
Printer and paper. I love using HP premium paper because it's brighter white and thicker than regular paper.
Something to write with.
There are many different ways to use this simple gratitude activity. Here are a few ideas to get you started:
Use it as classroom activity. Students can each fill in their own page or can complete it as a class.
Use it in a Sunday school lesson.
Use it for your homeschool lesson plans.
Use it to keep family busy (and out of the kitchen) while you're finishing Thanksgiving dinner.
Use it during or after Thanksgiving dinner to promote an attitude of gratitude.
Slide it into an 8.5 x 11″ picture frame with a glass front to make an easy DIY dry erase board and fill it in each day of the week.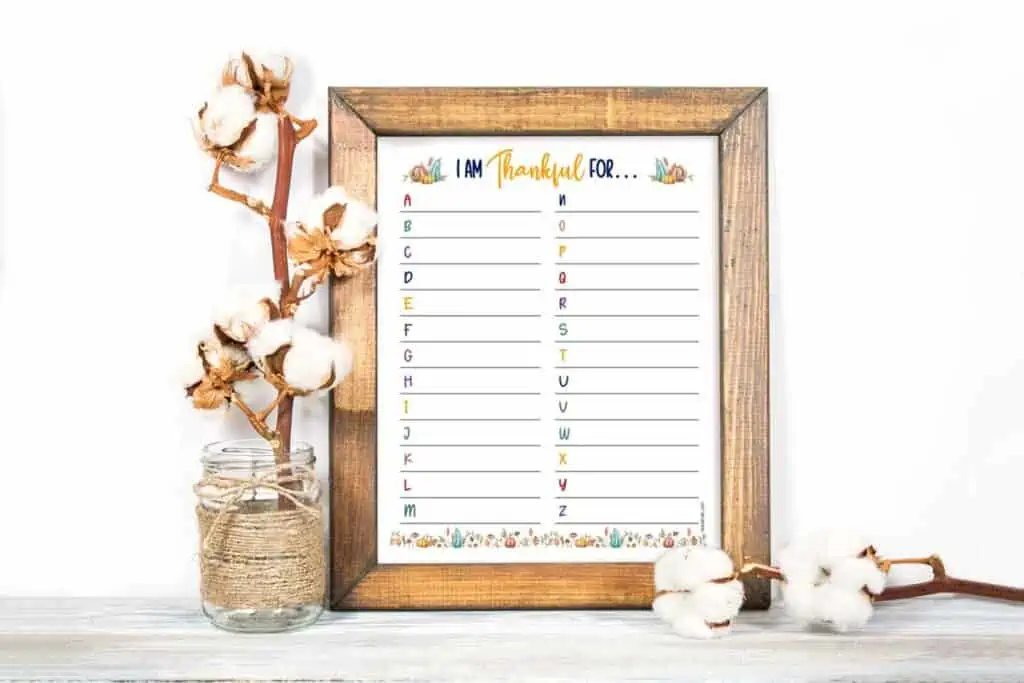 Free printable Thanksgiving gratitude a-z activity
This printable Thanksgiving gratitude activity is available for personal and classroom use. This includes use with library activities you are personally organizing, therapy clients, etc.
I hope you enjoy using this printable Thanksgiving gratitude activity and that it brings you joy! Make sure to stock up on free printables for Thanksgiving while you're here on The Artisan Life:
Thanksgiving Printables
Keep your kids busy and learning without a screen and have fun making your own Thanksgiving crafts with these printables for Thanksgiving.