This Thanksgiving thankful turkey printable is a super cute Thanksgiving craft. It's a great way to improve fine motor skills and help younger children develop an attitude of gratitude. I hope you and your students or family members enjoy!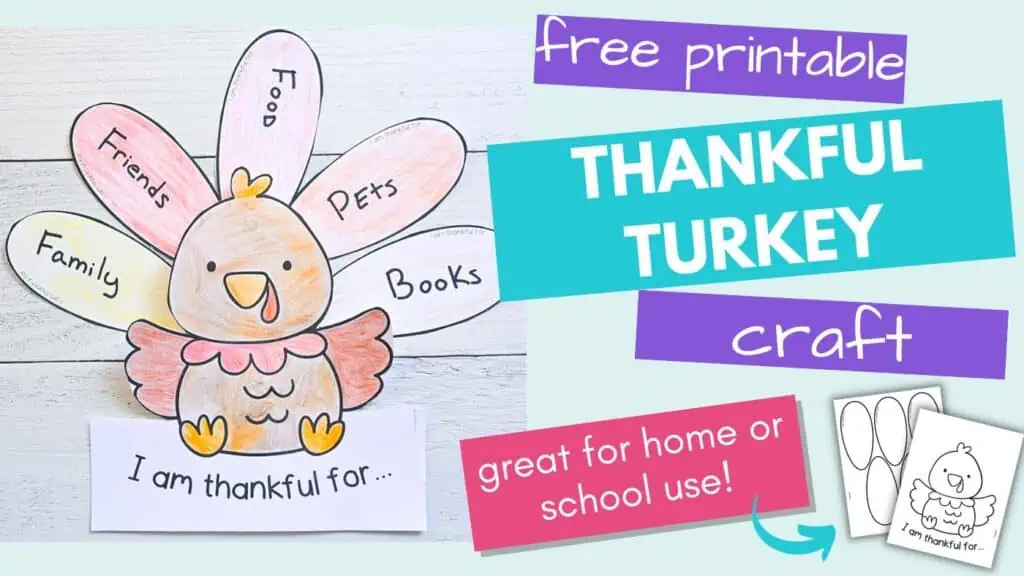 This post may include affiliate links which means I may earn a commission on qualifying purchases at no additional cost to you.
This activity was designed with kindergarten students in mind, but it's a great activity for pre-k students, and slightly older students like 1st grade and 2nd grade kids.
It can be used at school or homeschool as part of a social studies lesson, for library activities, or as a fun craft for the whole family when you get together for Thanksgiving dinner. Why not make a thankful turkey into a fun tradition for your Thanksgiving Day?
Materials needed
You don't need much to make this simple Thanksgiving craft. Here are the materials I recommend: 
Your free turkey template (download link is towards the bottom of the post)
Paper and printer access. You may want to use white card stock or a heavy duty paper, like 32 lb paper, for a more durable craft. Both will be sturdier than regular paper.
Crayons, colored pencils, etc.
Glue (glue stick or white glue)
Other embellishments, optional. (Googly eyes, glitter, etc.)
We had so much fun making this easy Thanksgiving craft as a family. I cut out the example in the photos, but your little turkeys can use blunt tipped scissors to cut out their own turkey and the turkey's feathers. 
​How to make a thankful turkey craft
First, grab your free printable and print out both pages. The turkey body is on the first page and the turkey feathers are on the second page.
You need one of each sheet for each turkey craft. The single sheet has enough feathers to make a turkey – there's no need to make extra copies of the feather page unless you want to.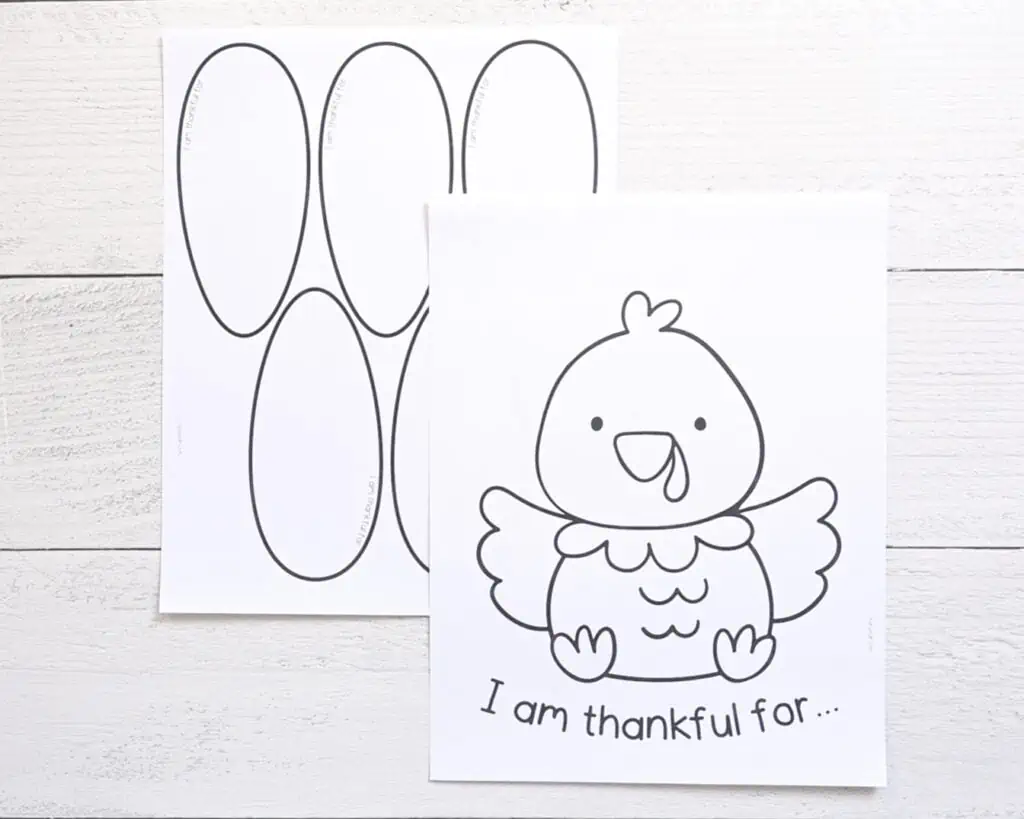 Color your turkey and tail feathers.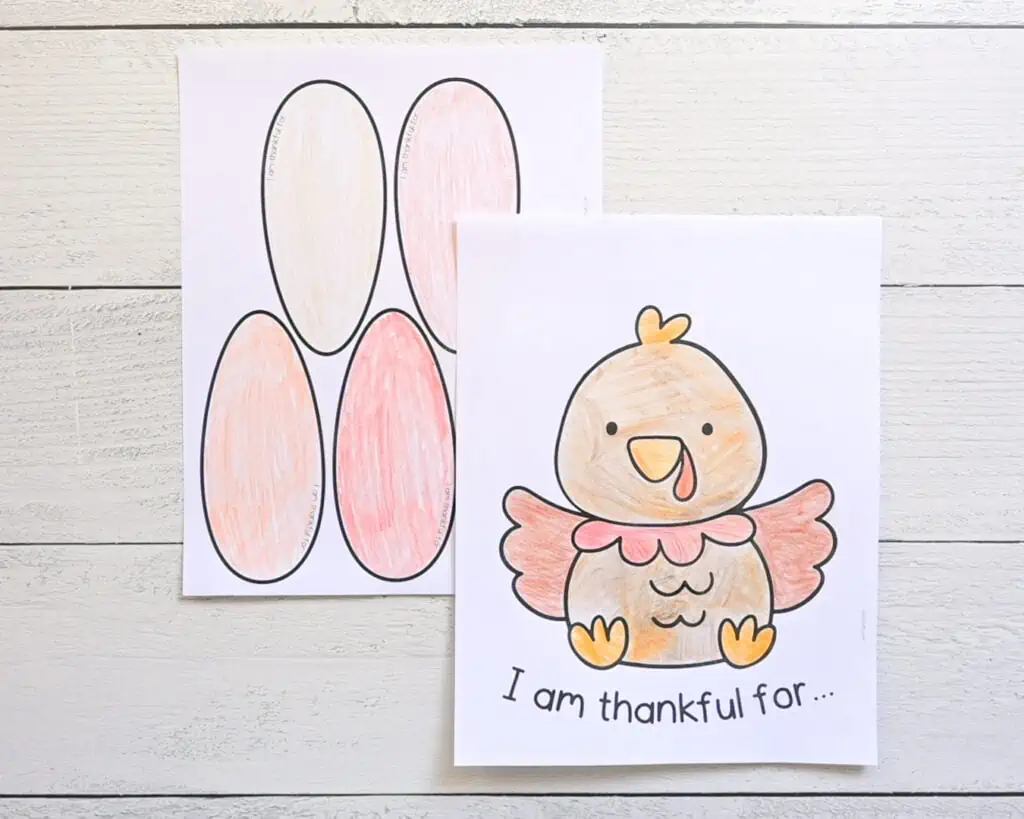 Carefully cut out the feathers and most of the turkey's body. I like cutting the turkey out to just below the wings. You could only cut around the head area if cutting the wings is too difficult for your little learner.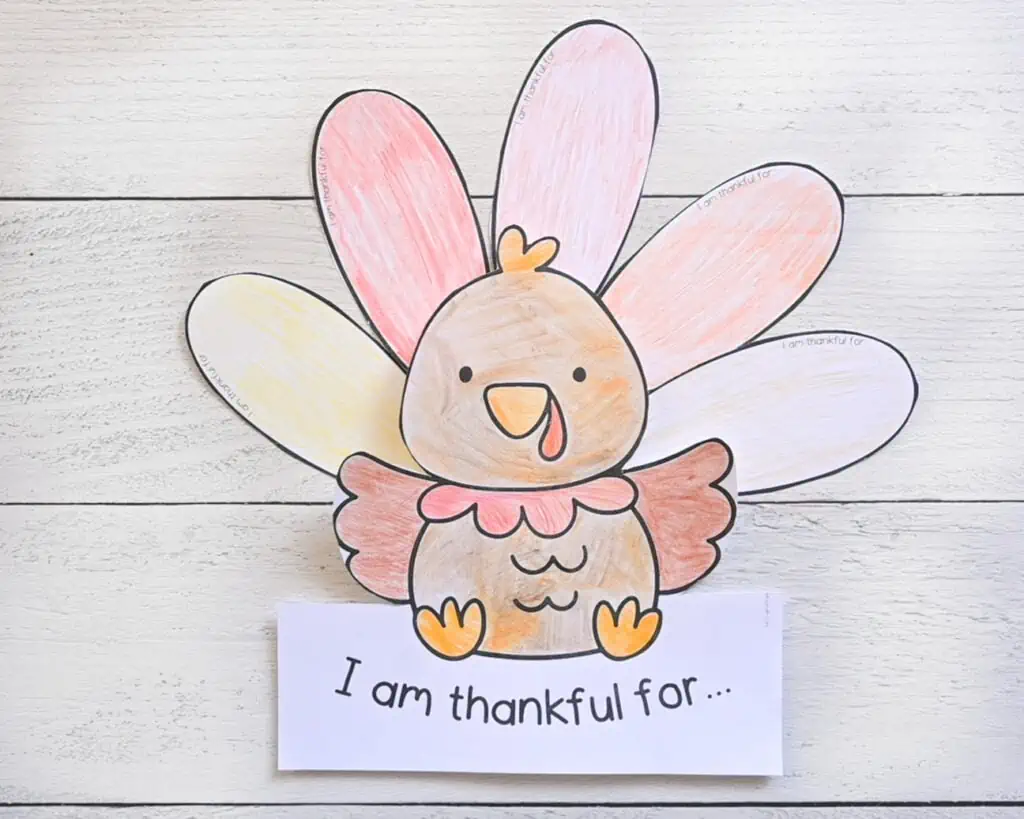 Have your child record something they're thankful for on each of the turkey's tail feathers. Younger kids will need to dictate to an adult who can write their responses down. Older children can write their own answers. You could also cut write and then cut the feathers out.
Glue or tape each feather to the back of the turkey.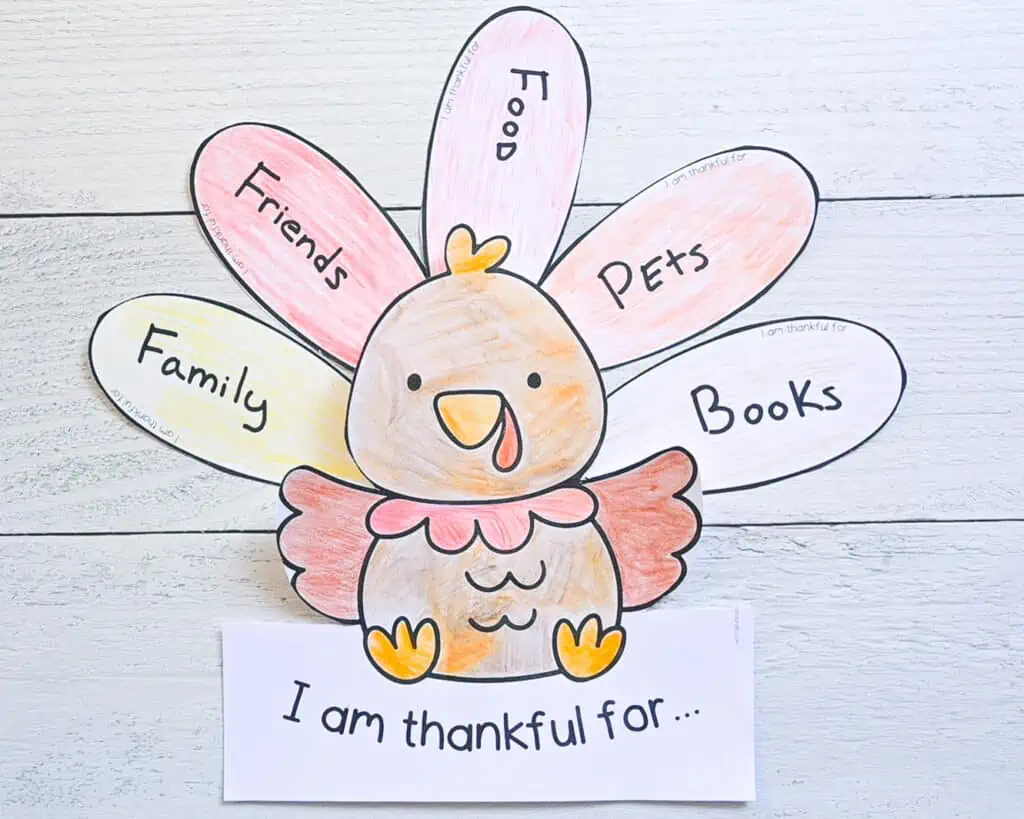 Your fun Thanksgiving craft is complete! The completed turkey can be glued to a toilet paper roll or large craft stick to make a puppet. You could also display your students' crafts on a bulletin board until they take them home before the Thanksgiving season break.
Free printable turkey template download area
This free template is available for personal use. This includes classroom use and library activity use.
You are not licensed to redistribute or sell the turkey templates or completed crafts. Please refer friends and colleagues to this post so they can download their own free printables.
 I hope you enjoy this fun activity! Be sure to check the posts below for more free Thanksgiving printables. 
Thanksgiving Printables
Keep your kids busy and learning without a screen and have fun making your own Thanksgiving crafts with these printables for Thanksgiving.