Valentine's Day is on the way so I'm sharing a package of free bokeh heart overlays for Valentine's Day!
Nothing beats capturing bokeh in camera, but that may not be an option for you. With these overlays, you can add a heart texture to any photo, even if you don't have a DSLR.
They may be a little bit silly, but sometimes a little silly is a whole lot of fun. 🙂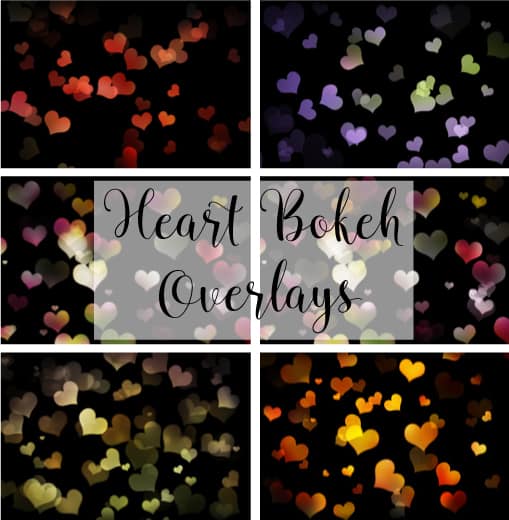 This post may include affiliate links, which means I may make a commission on purchases made through these links at no additional cost to you.
Using these heart overlays is easy. To use them, just pop one into a program like Photoshop or something else that works with layers and blending modes, change blending mode to "screen," and modify the opacity to suit your needs! If you don't have PS, that's no problem – you should be able to use these with inexpensive/free options like Pixlr and Gimp.
If you've never worked with blending modes or overlays before, check out this video tutorial on how to use bokeh overlays.
You can grab your heart bokeh overlays for free from Google Drive right here!
All of these overlays were created in Photoshop, but it's fairly easy to make your own in-camera bokeh.
The process is fairly simple and really fun – if you'd like to see how, please stop by my friend Rose's post DIY Heart Shaped Bokeh for Valentine's Day!
Stop scrolling Pinterest for Valentine's Day printables and crafts - check out these Valentine's posts right here on The Artisan Life!