These free printable African safari animal dot marker coloring pages are no-prep fun for toddlers and preschoolers. They're perfect for a unit about Africa or animals. They can even be a mess-free activity when you provide round dot stickers instead of markers! Keep scrolling to download 14 different African animal dot marker coloring pages.
I create and share lots of free printable dot marker pages here on The Artisan Life because my daughter loves them. Dot marker pages will keep her happily occupied for a very long time. Make sure to check out the additional free printable dab it pages available right now and stop by again soon to check for more!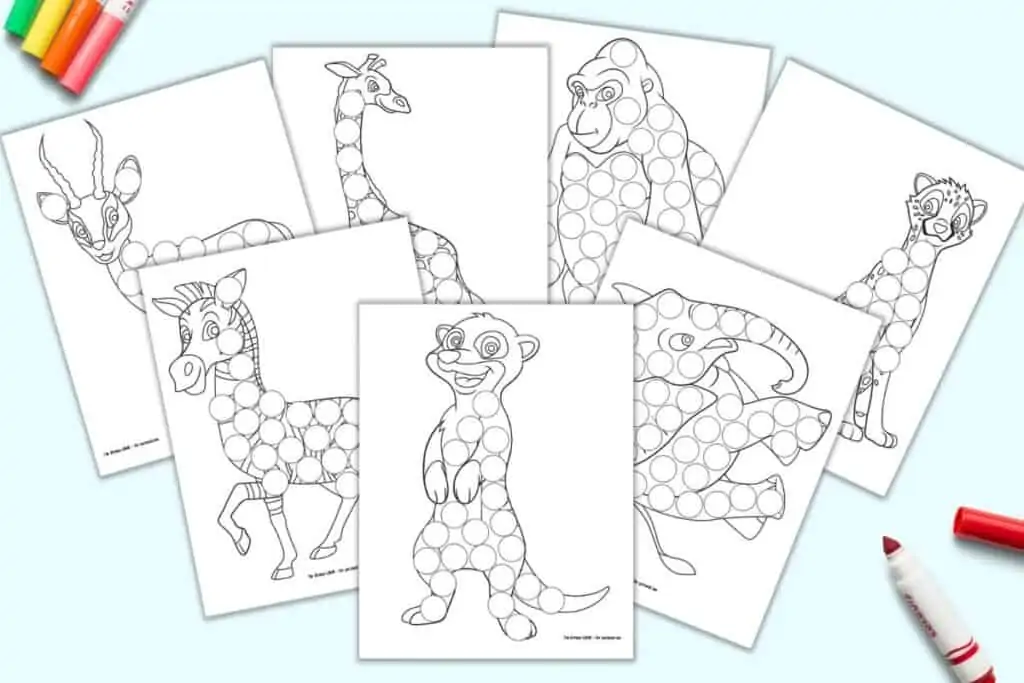 This post may include affiliate links which means I may earn a commission on qualifying purchases at no additional cost to you.
What are dab it marker pages?
Dauber marker coloring pages are popular, easy, no-prep activity. They feature pictures with circles to "dot" in using a dauber, bing-style marker. These pages have a lot of names, including dot it pages, dab it pages, and Do a Dot coloring pages (after the popular Do a Dot marker brand).
Dauber marker coloring pages are fun and easy, but are they developmentally appropriate and beneficial for your child's development?
Yes! Dot marker coloring pages are developmentally appropriate for toddlers and preschoolers. Dot marker pages can also benefit older children who need extra practice with their fine motor skills.
Dot marker coloring pages help your child practice a varsities of skills, including their hand-eye coordination, grip strength, finger strength, and manual dexterity.
Providing you child with plenty of time to practice their fine motor skills helps prepare them for writing. It also improves their ability to do other fine motor tasks like brushing their teeth, zipping/buttoning, and even eating neatly with their fork and spoon.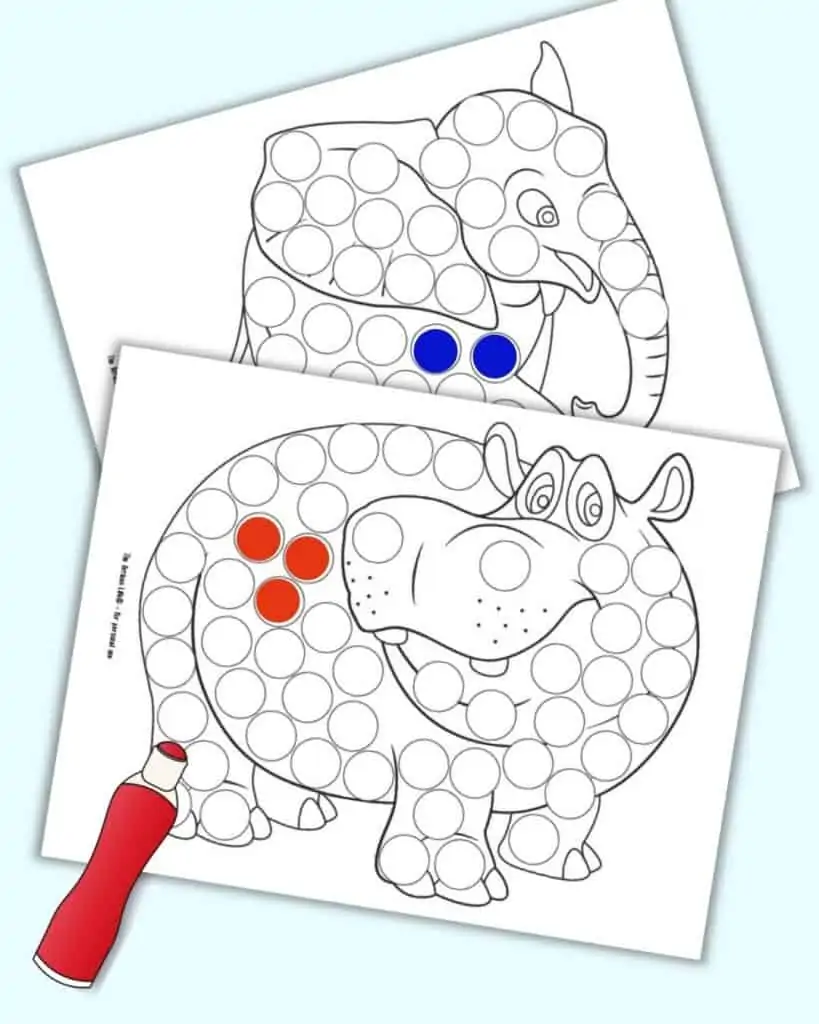 How to use dab it marker coloring pages
The circles on these pages are based on the size of my daughter's Classic Do a Dot Markers. The circles are sized for this popular brand of dauber markers, but they also work with other dauber or bingo style markers.
Make sure you always store dot markers on their sides, not upright. Storing your markers up causes the ink to drain out of the sponge. If your markers are marking poorly and leaving blank spots, get the ink flowing again by pouncing a few times on a piece of cardboard or paper. I usually use an old Amazon box so I can press firmly without worrying about ink leaking through.
You can make the pages reusable by using plastic bingo chips to cover the circles. Make sure your child isn't putting things in their mouth before introducing plastic bingo chips (and make sure to keep them out of reach of any younger siblings). These are the bingo chips we use:
Hebayy 500 Transparent 8 Color Clear Bingo Counting Chip Plastic Markers...
Health Care and Sanitary: Made from original PVC granules, high transparency and durability are preserved during the process of production. Ensure...
Mega Bundle: 500 PCS in total, no need to worry even you lose some, a real bargain that you wouldn't miss.
Multiple Color: 8 colors could afford multiple using scenarios or classification needs. With different colors you have more ways to demonstrate or...
For an easy, no-mess activity without loose parts, use these dot it printables printables with round coding label stickers. This is a great quiet time activity for car trips, doctor's appointments, and any time you need hands and clothes to stay clean (instead of covered in marker again).
Coding label stickers are available in different sizes. Make sure to get 3/4″ or 5/8″ round stickers, not 1″ stickers. One inch round stickers are too big for these pages. We use these stickers. You get literally thousands of them for a few dollars. My daughter is using her stickers in the picture below with an Easter dot it printable:
Sale
Pack of 2400 3/4" Round Color Coding Circle Dot Sticker Labels - 15...
✅ PACKAGE INCLUDED. Pack of 2400 Round Color Coding Circle Dot Sticker Labels and 1 zipper file bag can be used to keep labels. Bright and colorful...
✅ TIME SAVING. Our size stickers are super-easy to peel off, this is due to the 1 more process of removing excess waste paper before ex-factory,...
✅ GOOD QUALITY. The stickiness of size sticker is highly viscous, environmental and BPA Free! Make it good to stick to DVDs, books, notebooks, glass...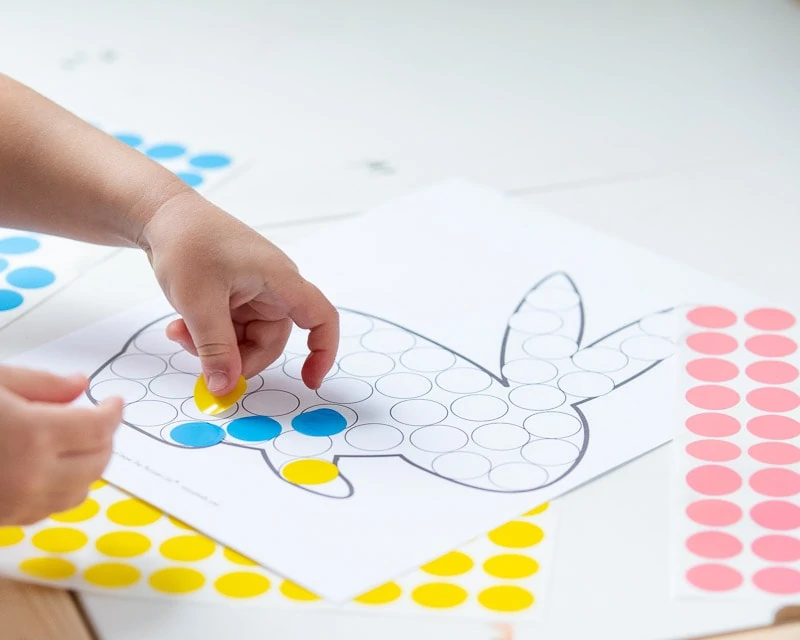 Free safari animal dab it pages download
This set of African animal dot coloring pages includes 14 images with:
Elephant
Gorilla
Rhinoceros
Giraffe
Hippopotamus
Cheetah
Zebra
Gazelle
Meerkat
Cheetah
Flamingo
Gazelle
Lioness
Warthog
All 14 pages are located in one PDF. Download information is below the preview images. Each image has its own page in the PDF printable. The preview images are shown in groups to help this page load more quickly.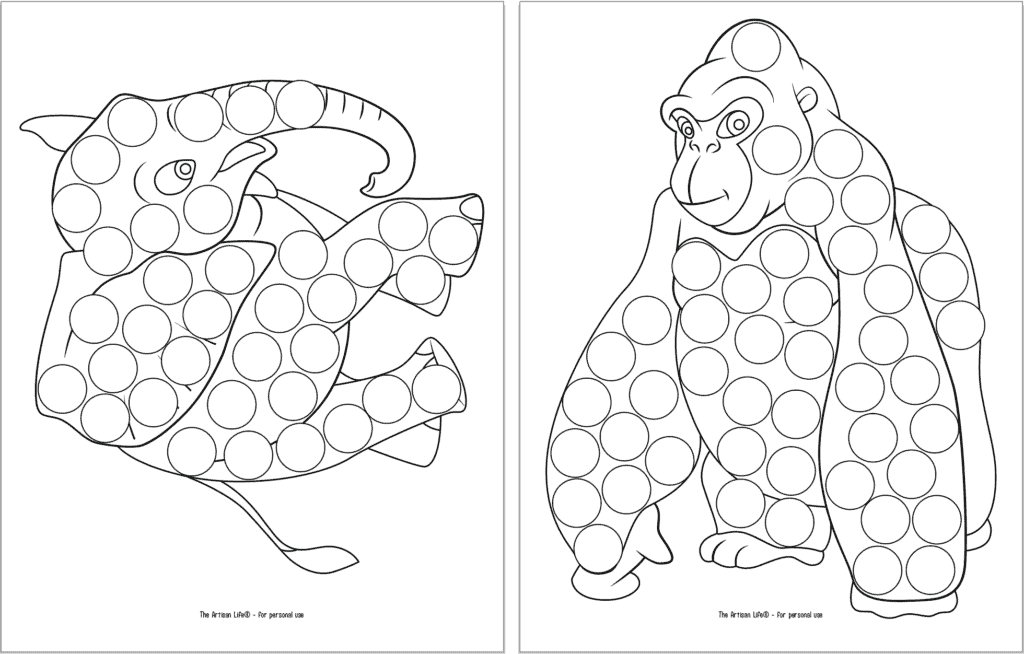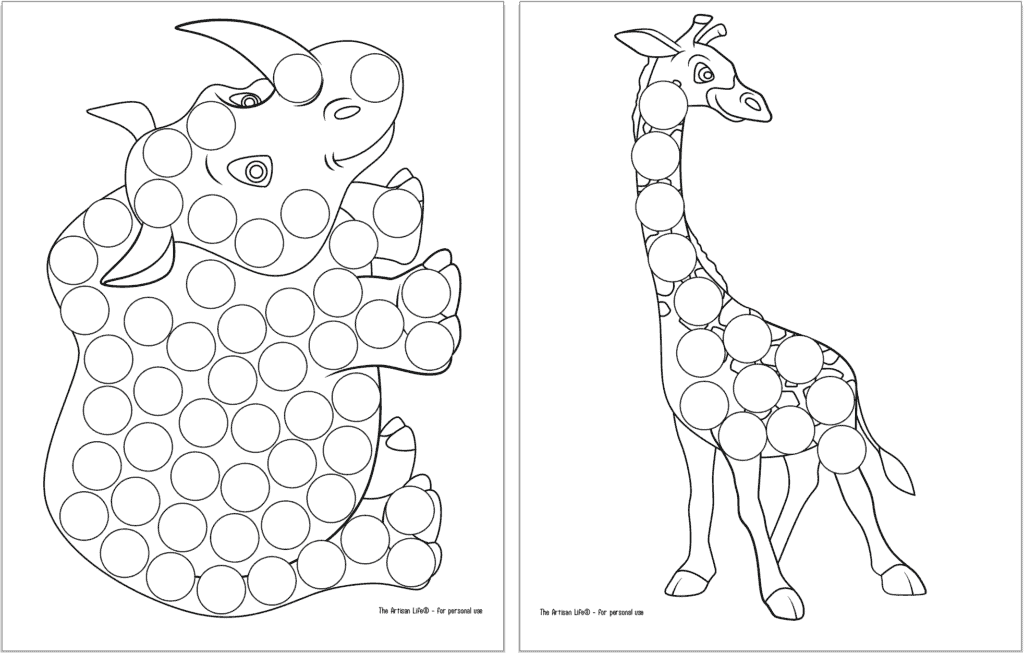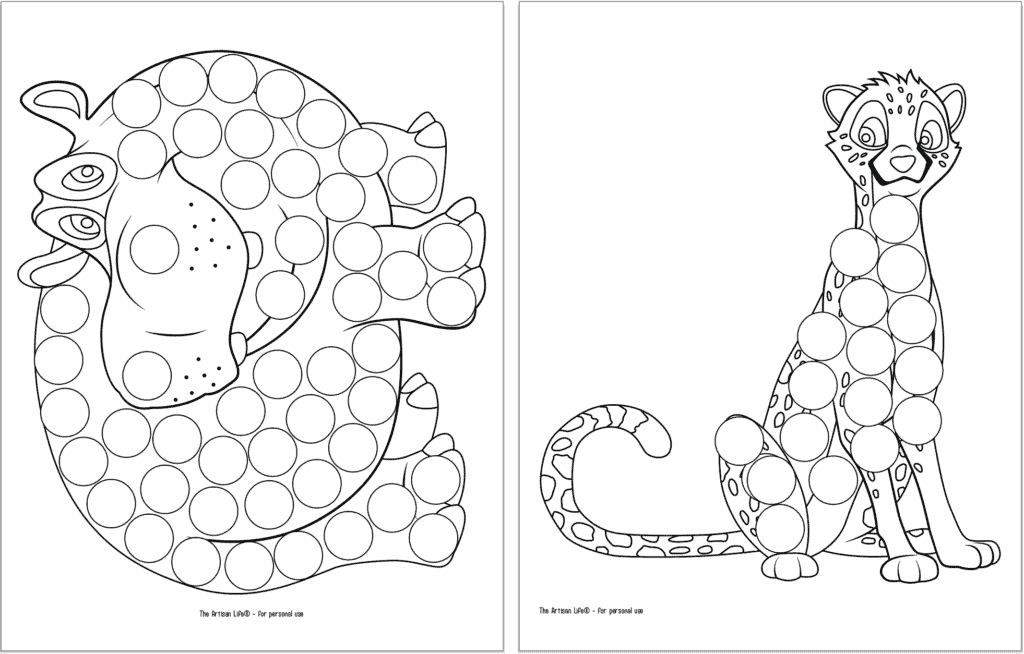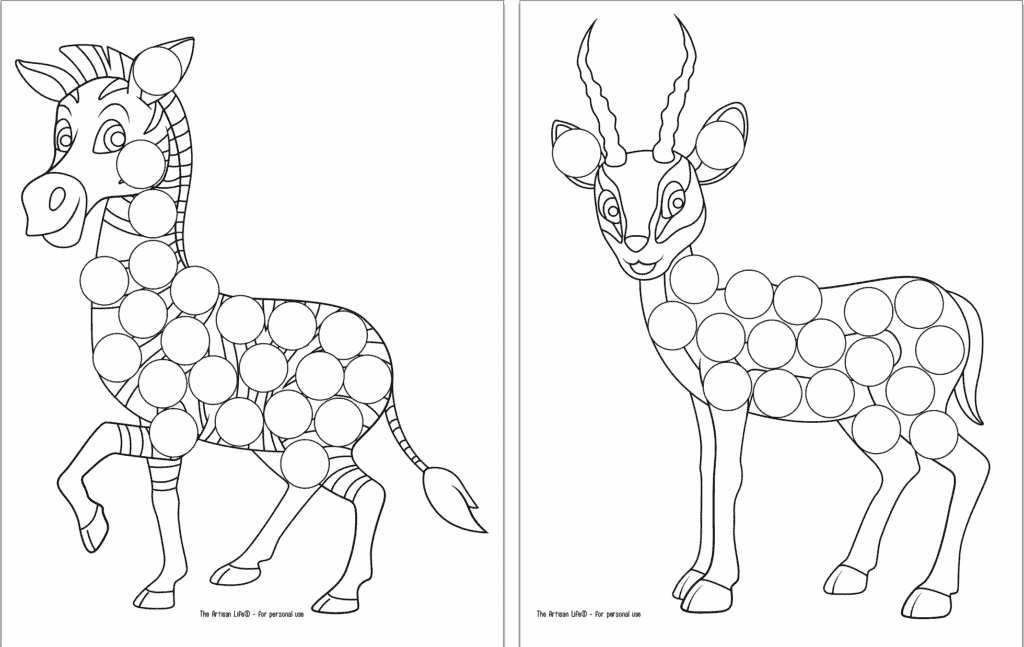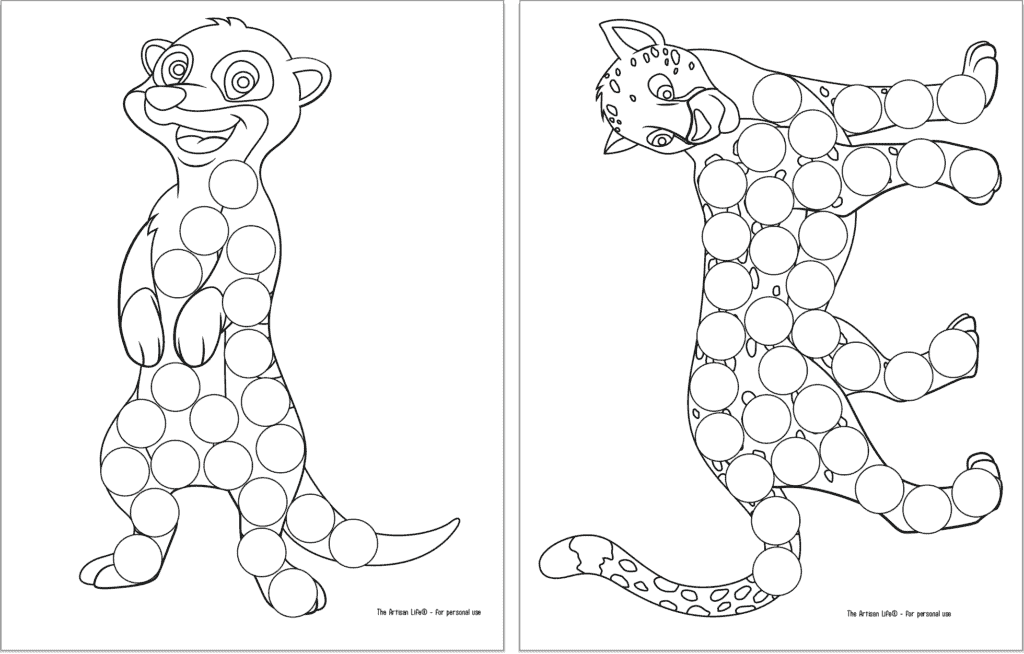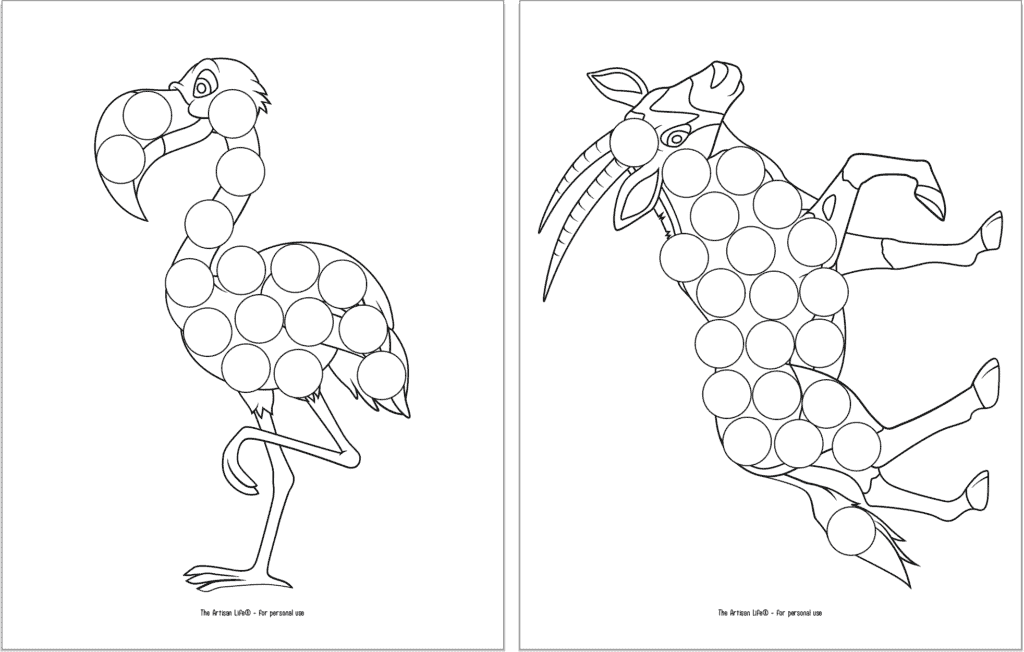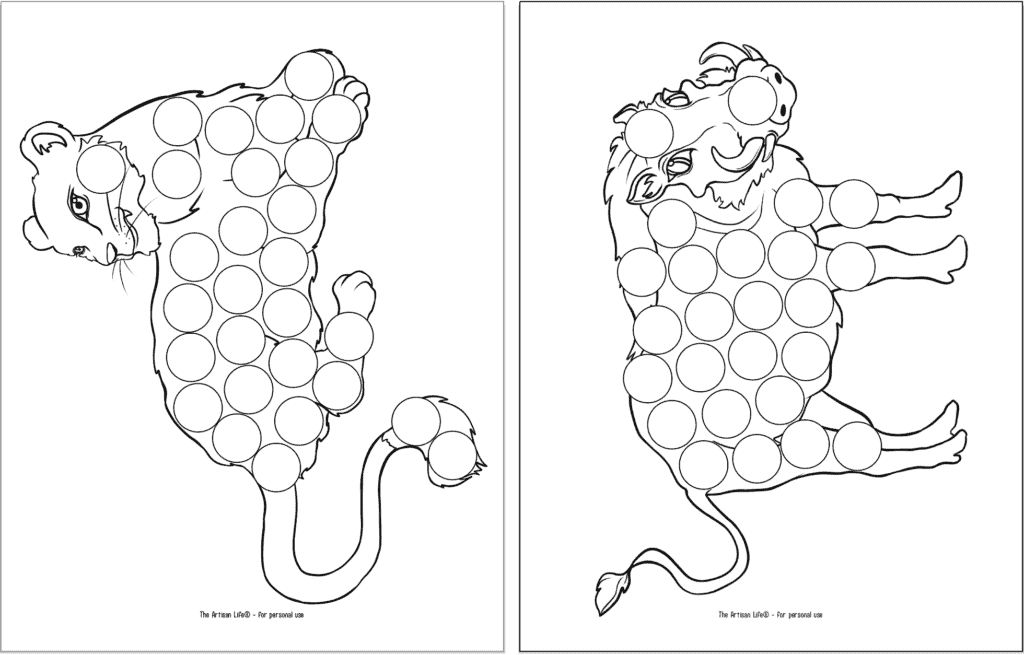 Like all free toddler preschool printables on The Artisan Life, these are licensed for personal and single classroom use.
This license includes use with scouts groups, Sunday school classes, homeschool co-ops, your own therapy clients, etc. as long as you are personally organizing the activity and not charging specifically to participate. Yes, you may also leave them for a substitute in your own classroom. Thank you to the considerate readers who've emailed to ask!
I hope your little learner loves African safari animal themed do a dot pages! Be sure to check out these additional free printable dot marker coloring pages while you're here on The Artisan Life:
Free Dot Marker Coloring Pages
Dot marker coloring pages are always popular with toddlers and preschoolers. Use them with round stickers for a no-mess activity or cover each circle with a pompom to make the pages reusable.