These free printable dragon do a dot pages are a fun, no-prep activity for toddlers and preschoolers. You can even make them completely mess-free when you use inexpensive round coding label stickers instead of dauber markers.
These cute dragons will delight your little learner, and help encourage positive habits with the cute writing dragon and dragon reading a book. I hope you and your child enjoy these dragon dab it pages! If your child enjoys mythical creatures, be sure to grab these free unicorn dab it pages, too.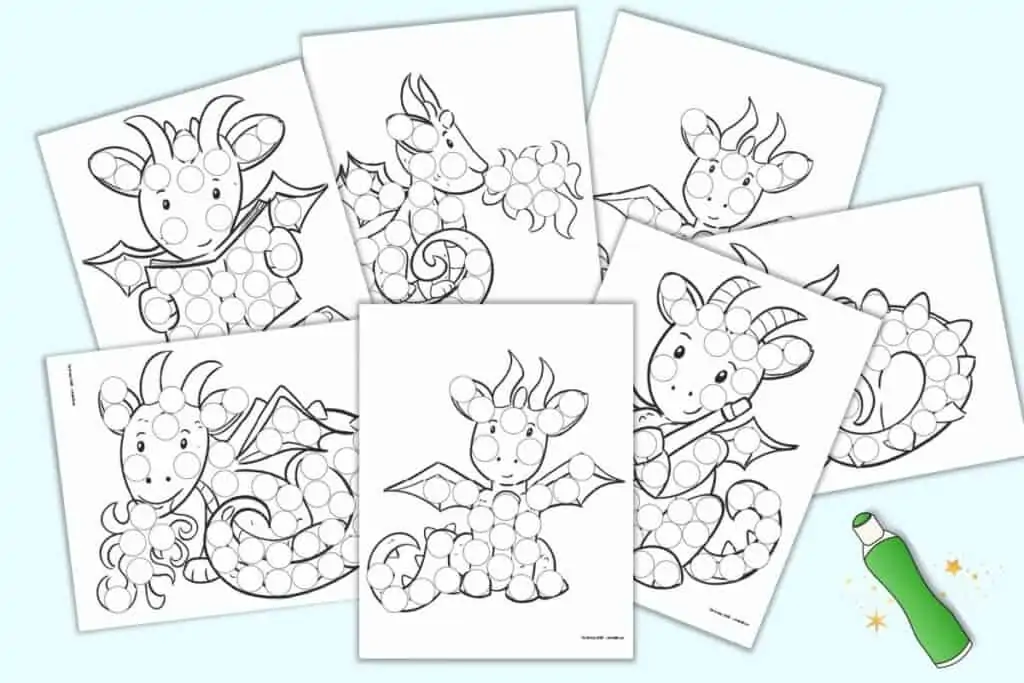 This post may include affiliate links which means I may earn a commission on qualifying purchases at no additional cost to you.
Are dab it dot marker coloring pages beneficial?
Dab it pages are an easy, no-prep activity. But are they developmentally appropriate and beneficial for your child's development?
Yes, they are! Thank goodness – finally something that's easy about parenting. Dab it marker pages are easy, fun, and help your child develop important skills. They can help your child develop:
Hand-eye coordination
Grip strength
Finger strength
Manual dexterity
Providing you child with chances to practice their fine motor skills helps them develop the skills they'll need in order to tie their own shoes, zip zippers, use buttons, write, and finally cut their own food. (I'm looking forward to that day – aren't you?)
How to use dot marker printables
The circles on these pages are based on the size of my daughter's Classic Do a Dot Markers. The circles are perfectly sized for this brand of markers, but they also work fine with other dauber or bingo style markers.
I've had readers ask what markers we use. These are the exact markers we've been using for almost two years at the time of writing. We use them a lot and they're still working fine. The ink in these things seems to last forever. However, they can be a little spotty when they're first used for the day. Make sure to store dab it markers on their sides, not upright, and pounce a few times to get ink flowing (if needed).
To make the pages reusable, have your child cover the circles with pompoms or big buttons. Math manipulatives like unifix cubes and counting bears work, too. For more finger strengthening fine motor fun. We frequently use these wool felt balls:
Glaciart One Wool Felt Balls, Felt Pom Pom Balls (120 Pieces) 1.5 cm - 0.6...
15mm Handmade Felt Wool Balls: These rainbow felt wool balls are handmade in Nepal with a careful touch that creates uniform poms in the 1.3-1.7cm...
40 Color Craft Assortment: With Glaciart One what you see is what you get, so unlike cheap options, you get the 40 colors shown in the pictures for a...
120 Needle Felting Ready Poms: Crafters say the soft texture on these wool pom pom balls lets your needle travel easily making them great for core...
For an easy, no-mess activity, use these dragon dot it printables printables with round coding label stickers. This is a great activity for car trips, doctor's appointments, and any time when you just don't feel like having yet another pair of pants stained with marker.
Coding label stickers are very inexpensive. They're also great fine motor practice – peeling them off the page is tricky for little fingers and placing them requires precision.
Sale
Pack of 2400 3/4" Round Color Coding Circle Dot Sticker Labels - 15...
✅ PACKAGE INCLUDED. Pack of 2400 Round Color Coding Circle Dot Sticker Labels and 1 zipper file bag can be used to keep labels. Bright and colorful...
✅ TIME SAVING. Our size stickers are super-easy to peel off, this is due to the 1 more process of removing excess waste paper before ex-factory,...
✅ GOOD QUALITY. The stickiness of size sticker is highly viscous, environmental and BPA Free! Make it good to stick to DVDs, books, notebooks, glass...
Make sure to pick 5/8″ or 3/4″ round stickers for these dot marker printables. One inch round stickers are too big for these pages. We use these stickers. You get literally thousands of them for just a few dollars. The set we purchased also comes with a reusable zip pouch to keep them contained. It's a great deal. You can see the stickers in action below in this photo of my daughter using an Easter do a dot printable: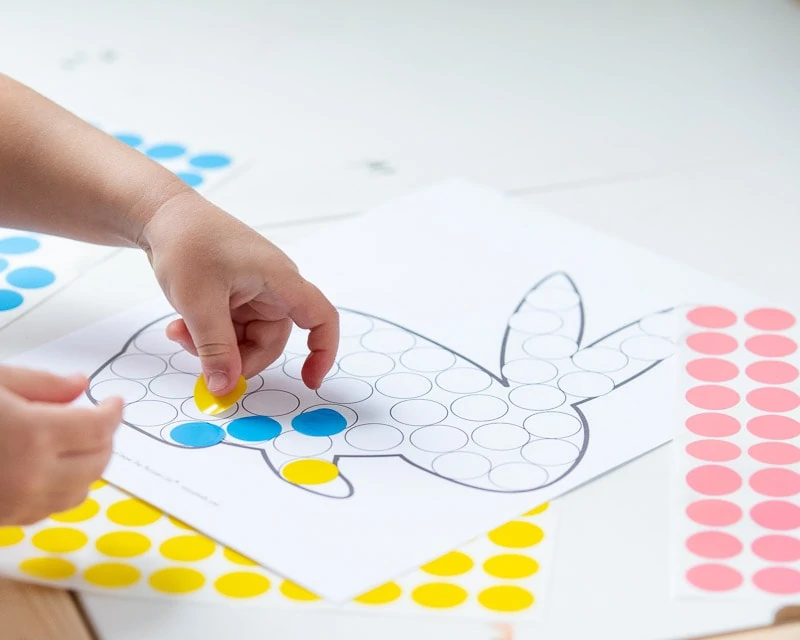 Free dragon dab it pages download
This set of dragon do a dot coloring pages includes 9 images. Pictures include a writing dragon, a dragon reading a book, a dragon face, a dragon head, dragons breathing fire, and various cute dragons.
All 9 pages are located in one convenient PDF. Download information is below the preview images. Don't worry – each image has its own page in the PDF printable. The preview images are shown in groups to help this page load more quickly.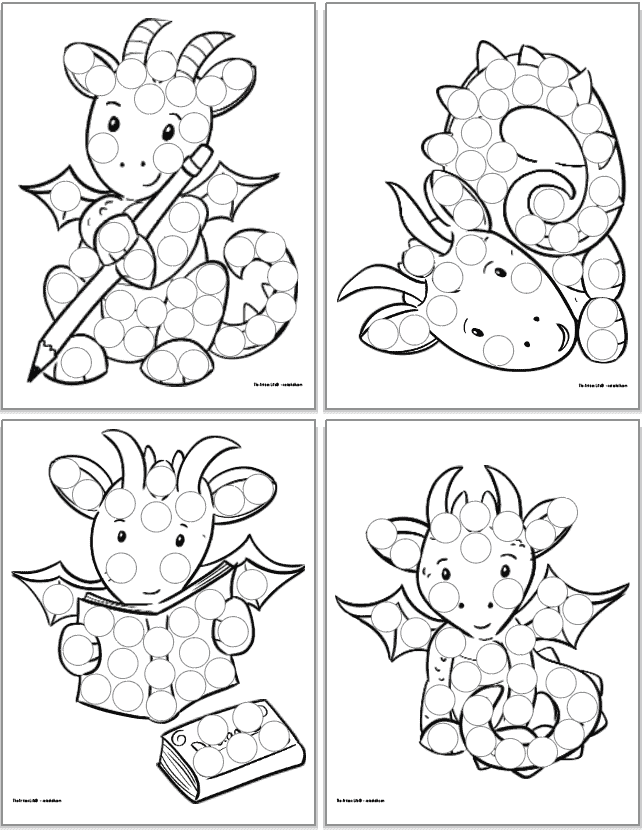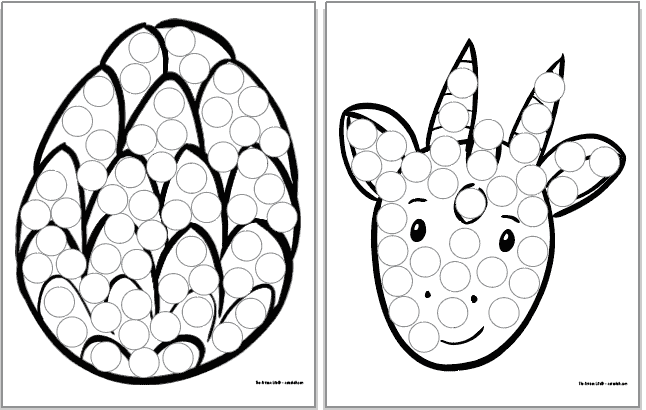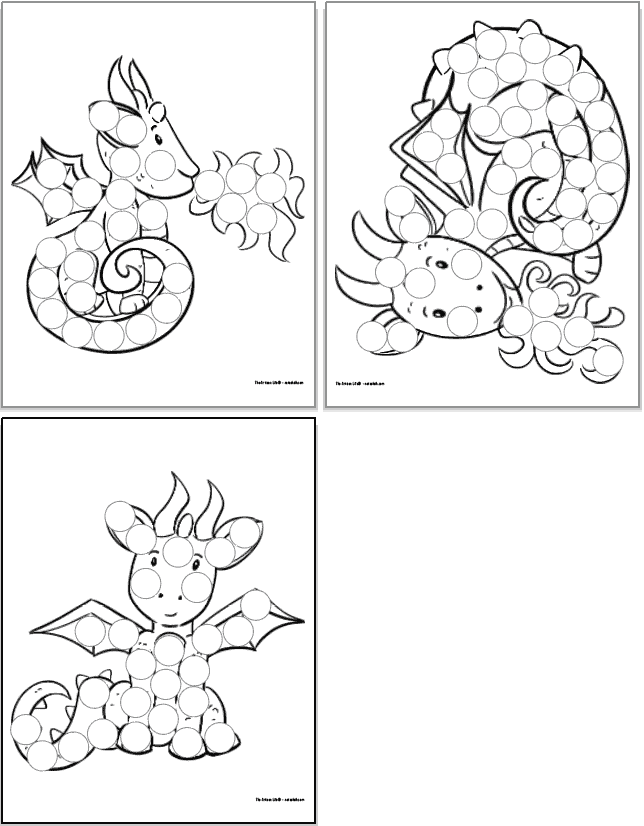 Like all preschool printables on The Artisan Life, these are for personal and single classroom use. This includes use with scout groups, homeschool co-ops, your own therapy clients, etc.
You are welcome to print and use these pages as many times as you you want for your own children, students, therapy clients, scouts, etc. as long as you are personally organizing the activity.
You are not licensed to sell, or redistribute the files to other adults for use with their students/children. Instead, please refer them to this post so they can download their own copies.
If you agree to this license, click below:

I hope your little learner loves these dragon themed do a dot pages! Be sure to check out these additional free printable dot marker coloring pages while you're here on The Artisan Life:
Free Dot Marker Coloring Pages
Dot marker coloring pages are always popular with toddlers and preschoolers. Use them with round stickers for a no-mess activity or cover each circle with a pompom to make the pages reusable.