These free printable Chinese zodiac animal themed dot marker pages are a fun activity for a unit theme about the Chinese New Year. The set includes all 12 animals of the Chinese zodiac in vibrant color. I hope you enjoy!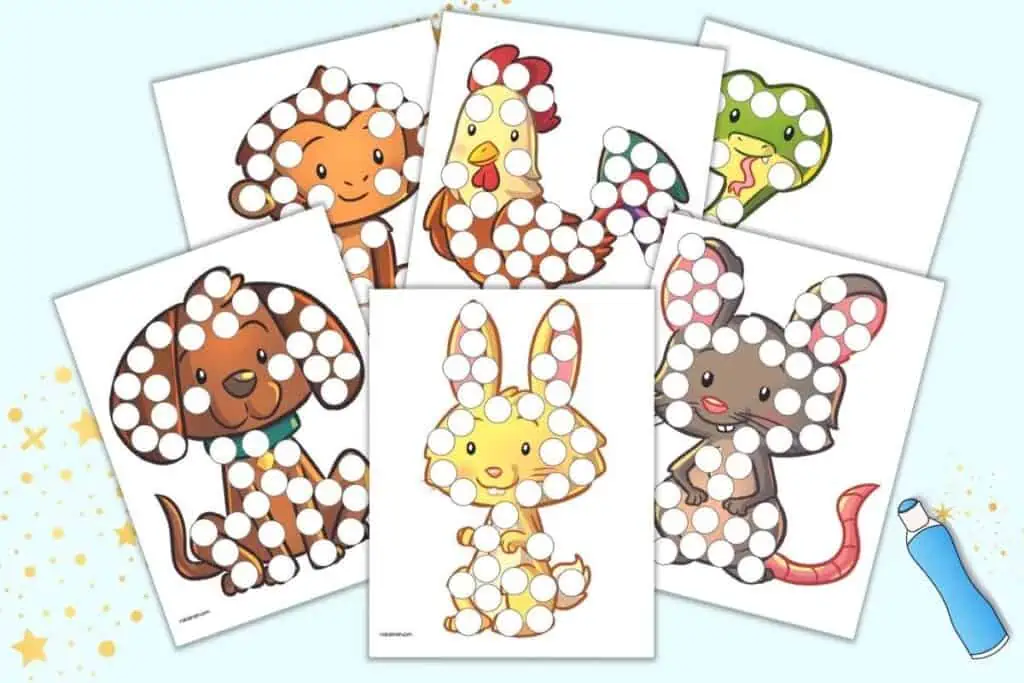 This post may include affiliate links which means I may earn a commission on qualifying purchases at no additional cost to you.
Many of the dot marker pages I share are in black and white, but this set of Chinese zodiac animal dot marker pages is in color. If you'd prefer black and white printables, make sure to check out this set of Chinese zodiac animal coloring pages for kids. Also make sure to grab these Chinese New Year themed count and write pages.
The book The Great Race is a fun introduction to the Chinese zodiac for little learners. The Great Race tells the story of the Chinese zodiac animals in simplified Chinese, Pinyin, and English. Your book purchase includes access to an audio recording in Mandarin to help with pronunciation or to expose your child to the sounds of another language.
The terms Chinese New Year and Lunar New Year are not exactly interchangeable and they've both stirred up controversy in recent years. People in many parts of Asia, and elsewhere in the world, celebrate the Lunar New Year. The dates are not always the same as the Chinese New Year and each region has its own specific foods and traditions.
According to my friends and family living and working in China, it is appropriate to call the holiday the "Chinese New Year" when speaking about Chinese traditions and their spring holiday.
Dot marker pages are no prep for you and they're developmentally appropriate for kids from toddlerhood through kindergarten. Older children who need extra fine motor practice can benefit from them, too. They help develop fine motor skills, finger strength, and hand-eye coordination.
Dot marker pages are easy to turn into a no mess travel-friendly activity when you use stickers to cover the circles. Using stickers also lets you turn these weather dot marker pages into a color matching activity!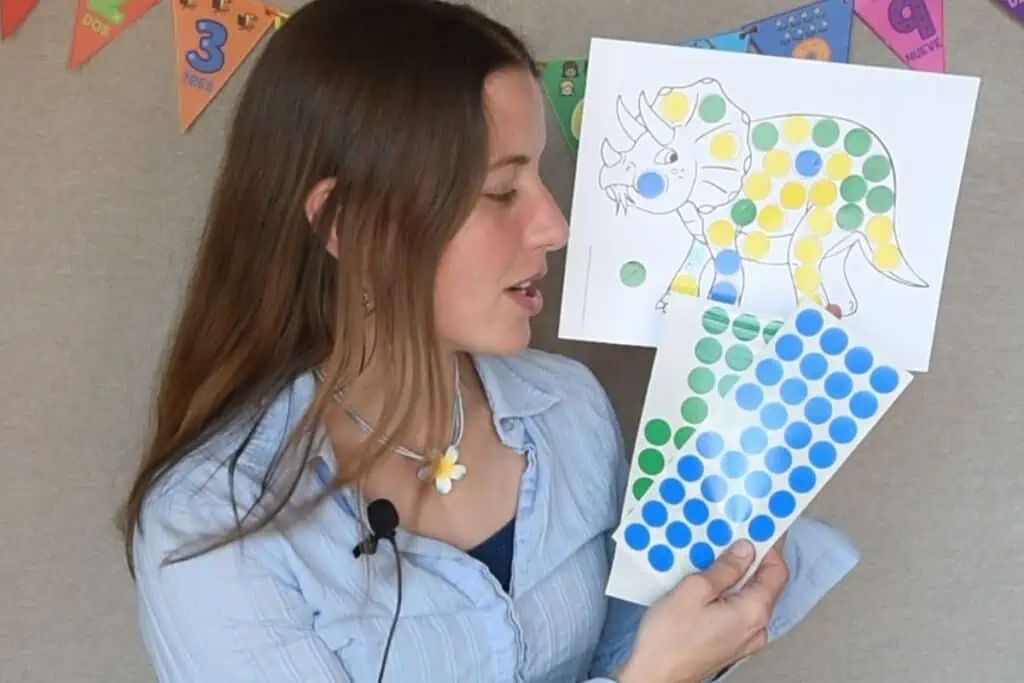 What are Do a Dot marker pages?
Dab it marker coloring pages, also called "Do a Dot pages" after the popular Do a Dot marker brand, are sheets with blank circles on the images. Your child or student uses a bingo-style dauber marker to fill in the circle. They can also use manipulatives, like pompoms, or round stickers to cover the circles.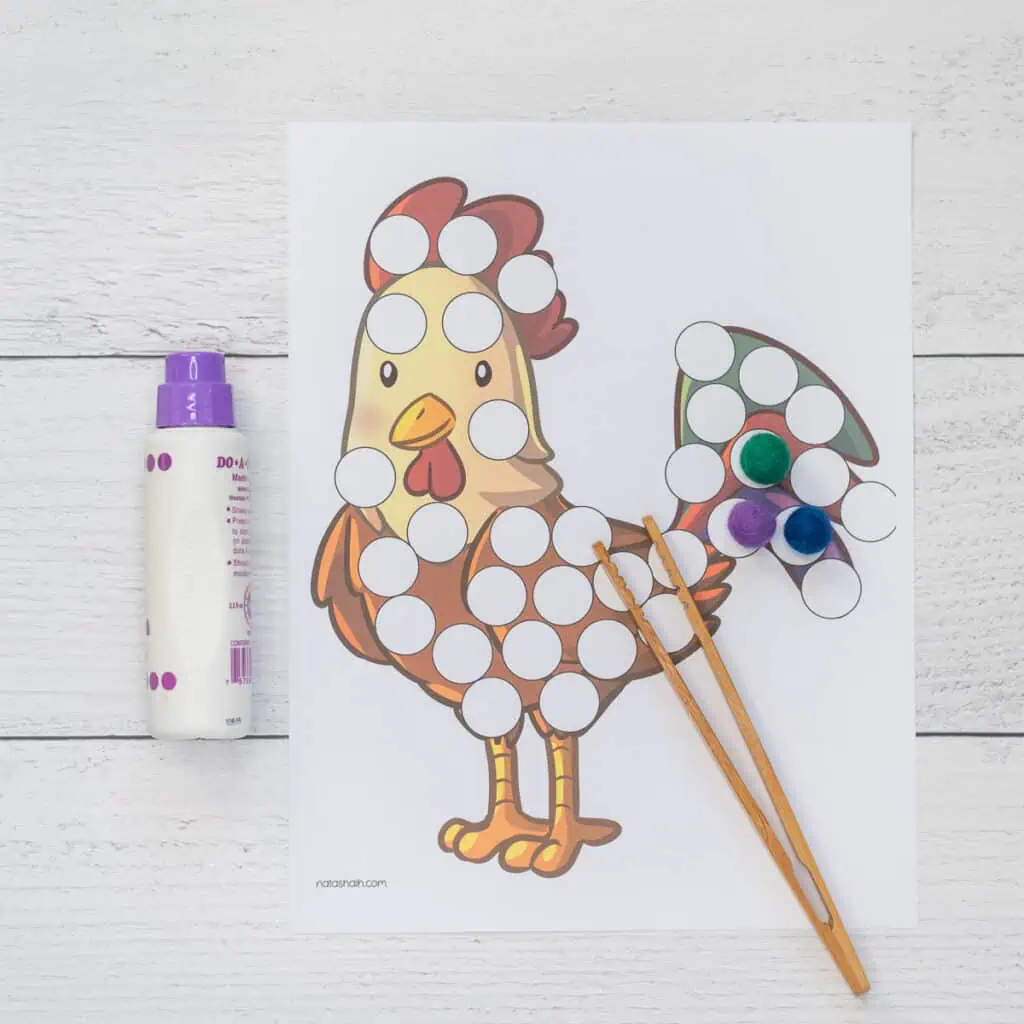 How to use dot marker pages
The circles on these dot marker pages are based on the size of my daughter's Classic Do a Dot Markers. The circles on your printable are sized for this brand of markers, but they also work with other dauber or bingo style markers. Readers have shared many photos of kids using a wide variety of marker brands. It's important to make sure you print at 100% so the circles are the correct size.
My favorite way to use dot it printables is with round coding label stickers. We use these stickers. They are the perfect size to fit the circles on these pages. You get thousands of them for just a few dollars. Using stickers transforms this activity into something completely mess-free and travel friendly.
Make sure to get 5/8″ or 3/4″ round stickers, like the ones linked. One inch round stickers are too big for these pages.
Sale
Pack of 2400 3/4" Round Color Coding Circle Dot Sticker Labels - 15...
✅ PACKAGE INCLUDED. Pack of 2400 Round Color Coding Circle Dot Sticker Labels and 1 zipper file bag can be used to keep labels. Bright and colorful...
✅ TIME SAVING. Our size stickers are super-easy to peel off, this is due to the 1 more process of removing excess waste paper before ex-factory,...
✅ GOOD QUALITY. The stickiness of size sticker is highly viscous, environmental and BPA Free! Make it good to stick to DVDs, books, notebooks, glass...
To learn more about dot marker printables and ways to use them, be sure to watch the short video below:
Free Chinese zodiac animal theme dab it pages download
This set of Chinese zodiac animal themed dot marker pages includes 12 sheets – one of reach animal of the zodiac cycle. Each image has its own page in the PDF. Here's a preview of what's included: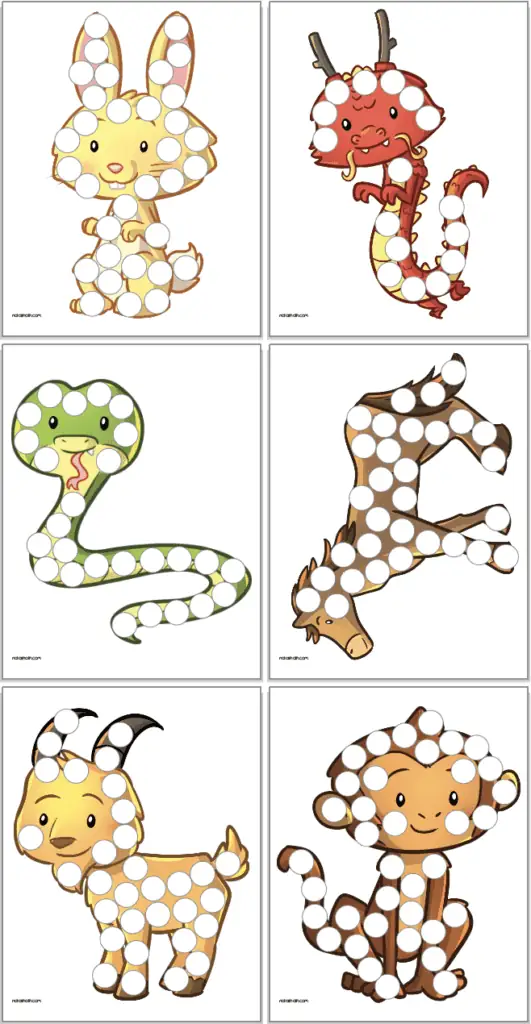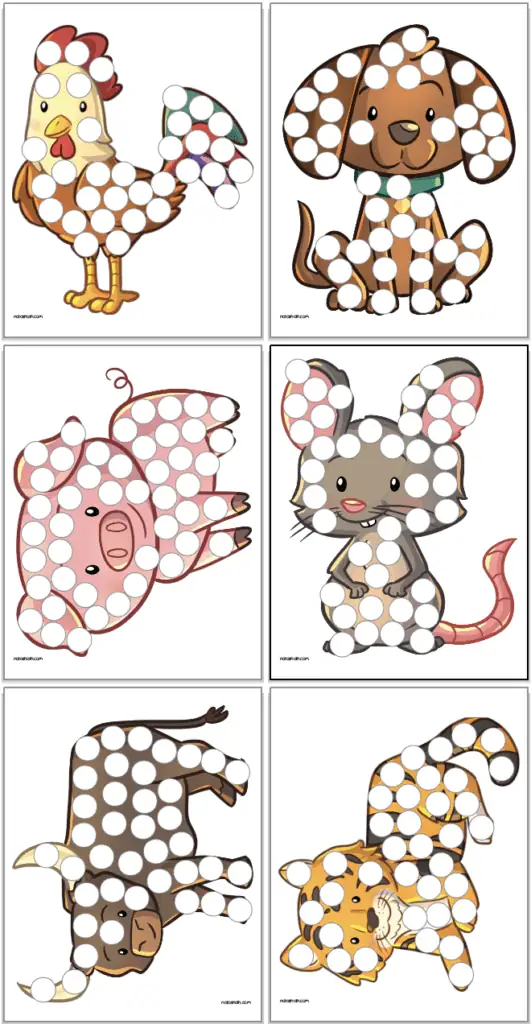 Like other preschool printables on The Artisan Life, these are for personal and single classroom use. This includes use with scout groups, homeschool co-ops, library activities, your own therapy clients, etc.
You are not licensed to sell, or redistribute, the files to other adults for use with their students/children. This includes posting them for sale or download on other websites. Instead, please refer them to this post so they can download their own copies.
I hope you enjoy using these Chinese New Year dot marker pages with your child/students! Be sure to check out these additional dot marker printables for little learners:
Free Dot Marker Coloring Pages
Dot marker coloring pages are always popular with toddlers and preschoolers. Use them with round stickers for a no-mess activity or cover each circle with a pompom to make the pages reusable.