These free printable fruit and vegetable dot it marker pages are a fun part of a preschool lesson on healthy eating or gardening. They're also perfect for no-prep fun anytime at all!
There are many free printable do a dot pages here on The Artisan Life because my daughter loves coloring dot marker pages. She will happily dot away for ages with her favorite Do a Dot brand markers or with colorful round stickers. Using these fruit and veggie coloring pages with stickers transforms them into a no-mess activity that's great for quiet time on the go.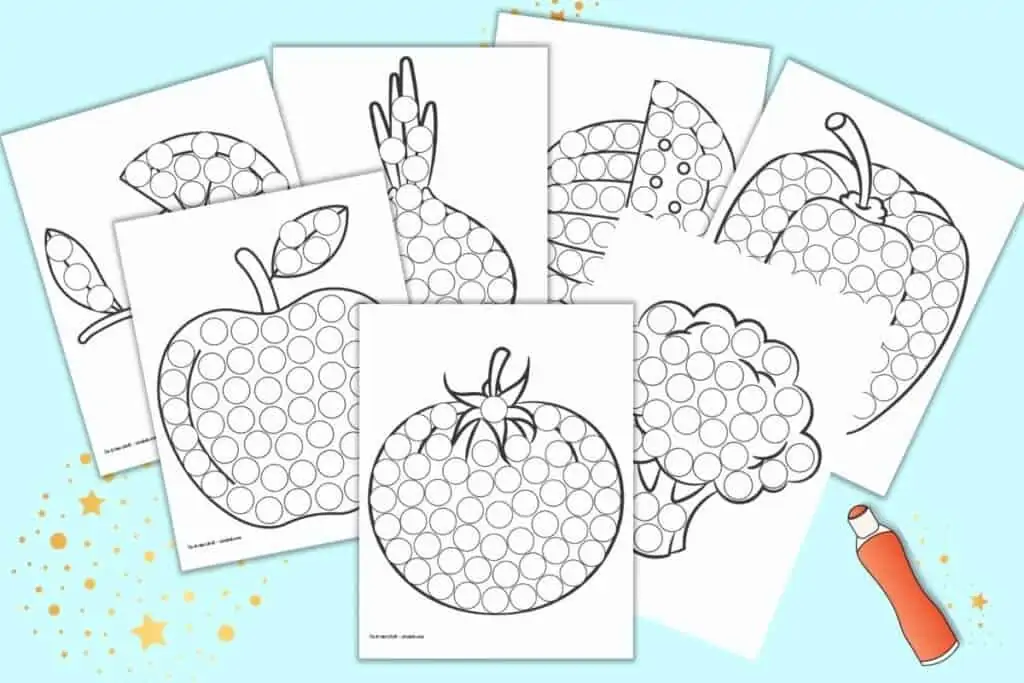 This post may include affiliate links which means I may earn a commission on qualifying purchases at no additional cost to you.
Fun fact: did you know that many of the "vegetables" we eat are botanical fruits? Botanically, the fruit comes from the seed-bearing structure of the plant. A botanical vegetable is the actual edible portion of the plant. This means popular vegetables like cucumbers, bell peppers, and tomatoes are botanical fruits! Carrots, kale, lettuce, and radishes are all examples of botanical vegetables.
If you're studying gardening or healthy eating with your family, make sure to download these additional free printables while you're here:
It might sound unbelievable, but my daughter (3.5 at the time of writing) generally loves fruits and vegetables, including onions, garlic, broccoli, Brussels Sprouts, and tomatoes. I know a big part of the reason why is because she's always helped grow fruits and veggies, first with her grandmother and then in our own garden. Here she is as a toddler watching sweet potatoes on my mom's deck: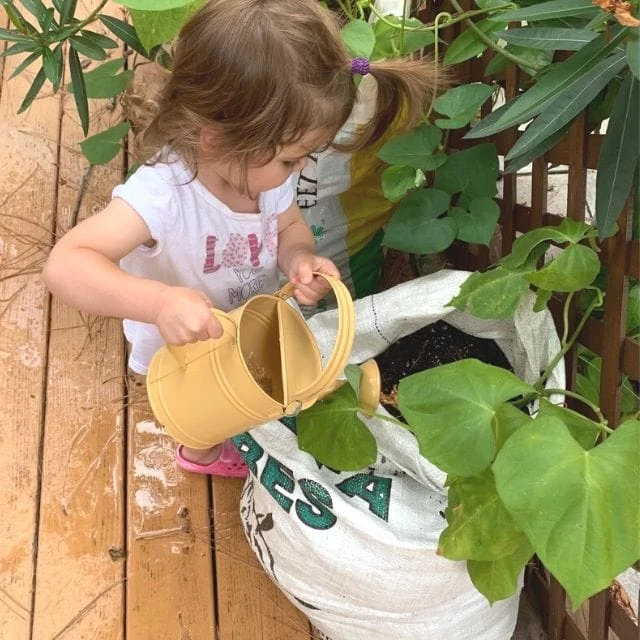 If you're interested in starting a garden with your family, be sure to check out this post on the easiest vegetables for beginners to grow.
Are dot marker coloring pages beneficial for my child?
Dauber marker coloring pages are an easy, no-prep activity. But are they developmentally appropriate and beneficial for your child's development?
Yes, dot marker pages are a developmentally appropriate activity for toddlers and preschoolers! They can also benefit older children who need extra practice with their fine motor skills. Dot marker pages help your child practice:
Hand-eye coordination
Grip strength
Finger strength
Manual dexterity
Creativity and artistic expression
Giving your child lots of opportunities to practice fine motor skills helps them prepare to button, snap, zip, and tie their own clothing. It also prepares them for writing and other fine motor tasks, like eating more neatly and brushing their teeth instead of scrubbing toothpaste all around their face. Won't that be nice?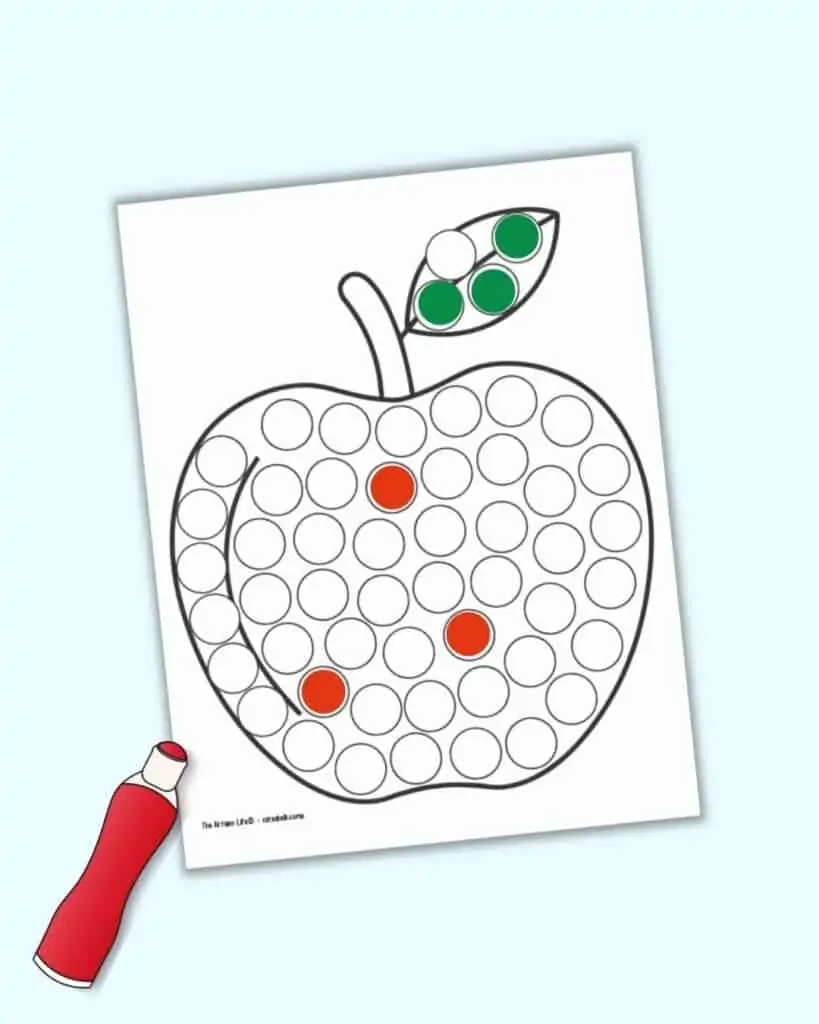 Exposure helps preschoolers eat vegetables
These fruit and vegetable dot marker coloring pages may have another special benefit – helping your child eat their veggies!
Researchers have found that familiarization through picture books helps preschoolers eat vegetables. Similar studies have been conducted several times demonstrating that visual exposure improve toddlers' willingness to try fruits and veggies (source) and that reading about unfamiliar vegetables increased acceptance of them (source).
Grab your free printable coloring pages, a couple positive books about vegetables for preschoolers, and get ready to reduce mealtime struggles!
How to use dauber marker coloring pages
The circles on these pages are based on the size of my daughter's Classic Do a Dot Markers. The circles are sized for this popular brand of markers, but they also work with other dauber or bingo style markers. The only markers I'm not sure about are some very small looking ones I noticed at the Target Dollar Spot. They could color in the circles, but might not fill them in a satisfying way. I don't actually own any of the Dollar Spot markers, so if you do have some I'd love if you could leave a comment and let me know how big the tips are!
To keep your dauber markers dotting well, make sure you always store them on their sides, not upright, and pounce a few times to get ink flowing (as needed).
To make the pages reusable, have your child cover the circles with pompoms or big buttons. If you laminate the pages or use page protectors, they can also cover circles with balls of play dough. You can also use edible items like o-style cereal, fish crackers, etc.
Traditional plastic bingo chips work for reusing dot marker pages, too. Make sure your child is past putting things in their mouth (and doesn't have a younger sibling around who could access them) before you introduce plastic counting chips. These are the bingo chips we use:
Hebayy 500 Transparent 8 Color Clear Bingo Counting Chip Plastic Markers...
Health Care and Sanitary: Made from original PVC granules, high transparency and durability are preserved during the process of production. Ensure...
Mega Bundle: 500 PCS in total, no need to worry even you lose some, a real bargain that you wouldn't miss.
Multiple Color: 8 colors could afford multiple using scenarios or classification needs. With different colors you have more ways to demonstrate or...
For an easy, no-mess activity on the go, use these dot it printables printables with round coding label stickers. This is a great activity for car trips, doctor's appointments, and any time when you just don't feel like having yet another pair of pants stained with marker.
Sale
Pack of 2400 3/4" Round Color Coding Circle Dot Sticker Labels - 15...
✅ PACKAGE INCLUDED. Pack of 2400 Round Color Coding Circle Dot Sticker Labels and 1 zipper file bag can be used to keep labels. Bright and colorful...
✅ TIME SAVING. Our size stickers are super-easy to peel off, this is due to the 1 more process of removing excess waste paper before ex-factory,...
✅ GOOD QUALITY. The stickiness of size sticker is highly viscous, environmental and BPA Free! Make it good to stick to DVDs, books, notebooks, glass...
Coding label stickers come in several sizes. Make sure to get 5/8″ or 3/4″ round stickers, not 1″ stickers. One inch round stickers are too big for these pages. We use these stickers. You get literally thousands of them for just a few dollars. The listing also came with a zipping bag to store the stickers in. Below you can see my daughter using round stickers with an Easter do a dot printable: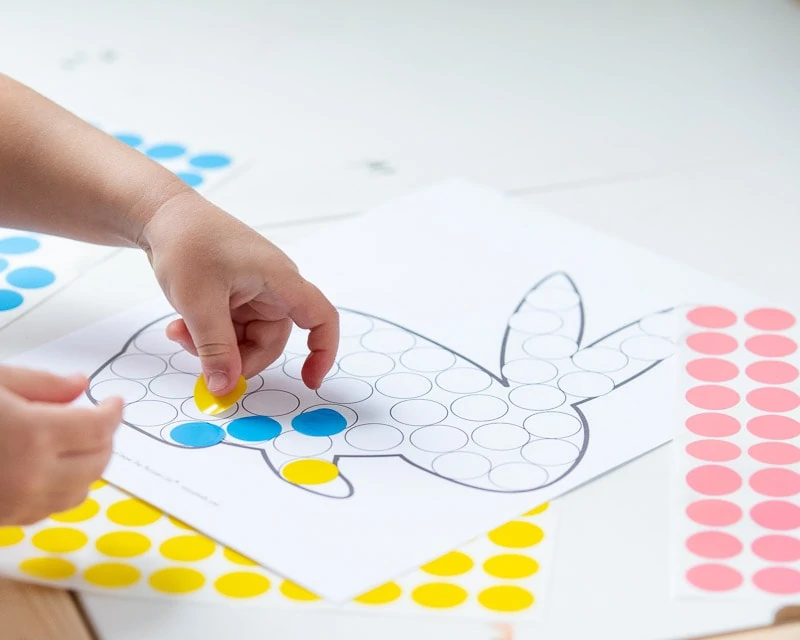 Free fruit and vegetable dab it pages download
This set of fruit and veg dot coloring pages includes 9 images with common fruits and vegetables:
Broccoli
Onion
Tomato
Carrot
Bell pepper
Apple
Watermelon
Orange
Bananas
All 9 pages are located in one convenient PDF. Download information is below the preview images. Don't worry – each image has its own page in the PDF printable. The preview images are shown in groups to help this page load more quickly.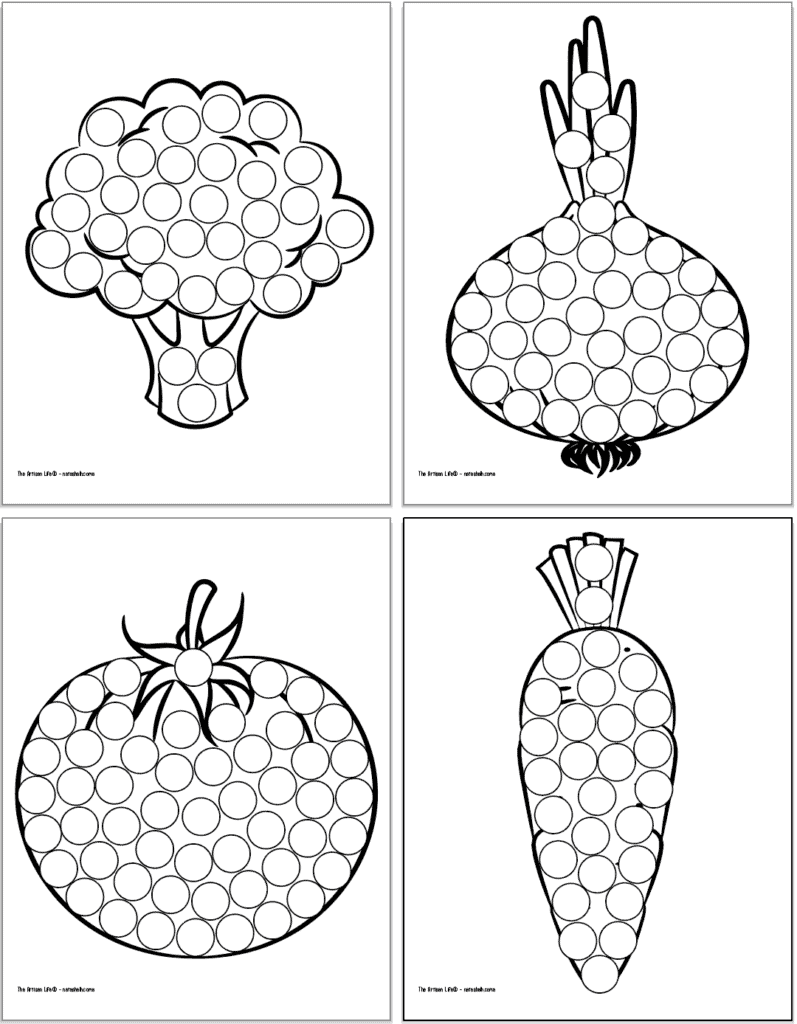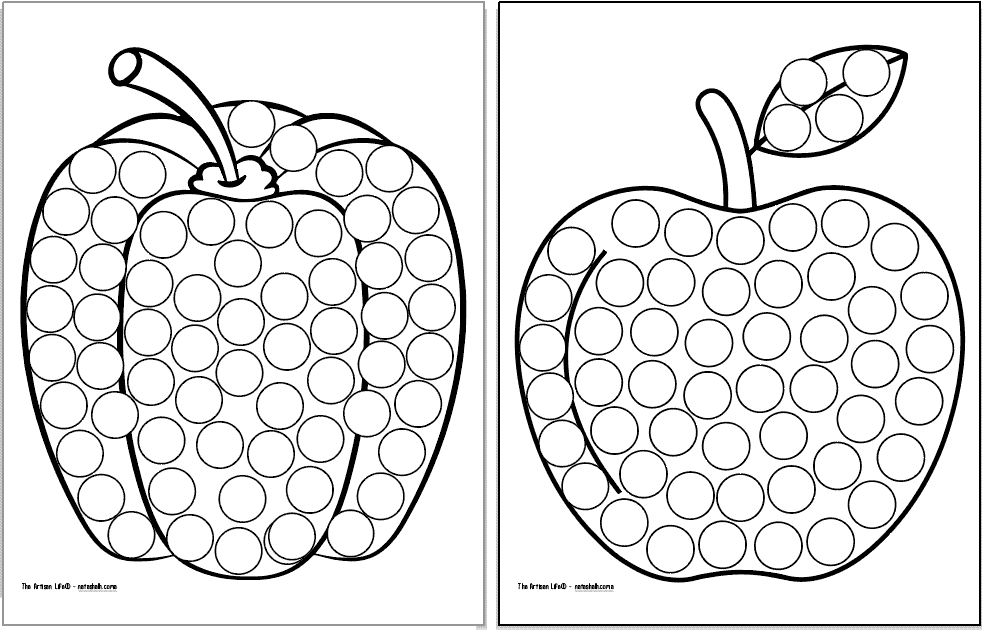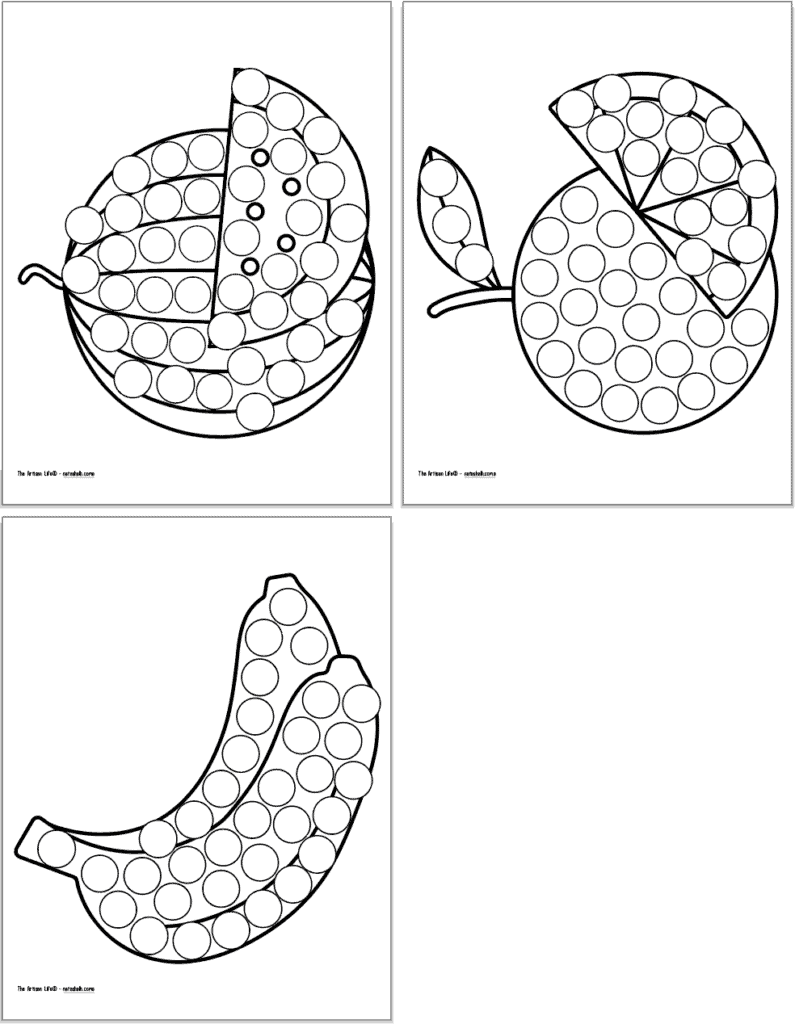 Like all preschool printables on The Artisan Life, these are for personal and single classroom use. This includes use with scouts groups, Sunday school classes, homeschool co-ops, your own therapy clients, etc.
You are not licensed to sell, or redistribute the files to other adults for use with their students/children. Instead, please refer them to this post so they can download their own copies.
I hope your little learner loves these vegetable and fruit themed do a dot pages! Be sure to check out these additional free printable dot marker coloring pages while you're here on The Artisan Life:
Free Dot Marker Coloring Pages
Dot marker coloring pages are always popular with toddlers and preschoolers. Use them with round stickers for a no-mess activity or cover each circle with a pompom to make the pages reusable.