These free printable outer space dot it marker pages are a fun part of a preschool lesson on the solar system. They're also perfect for no-prep fun anytime you need a toddler or preschooler activity.
I frequently create and share new free printable do a dot pages here on The Artisan Life. They're a fun and easy activity for toddlers and preschoolers, plus they can be used as a completely no-mess activity when you use inexpensive round stickers instead of dot markers.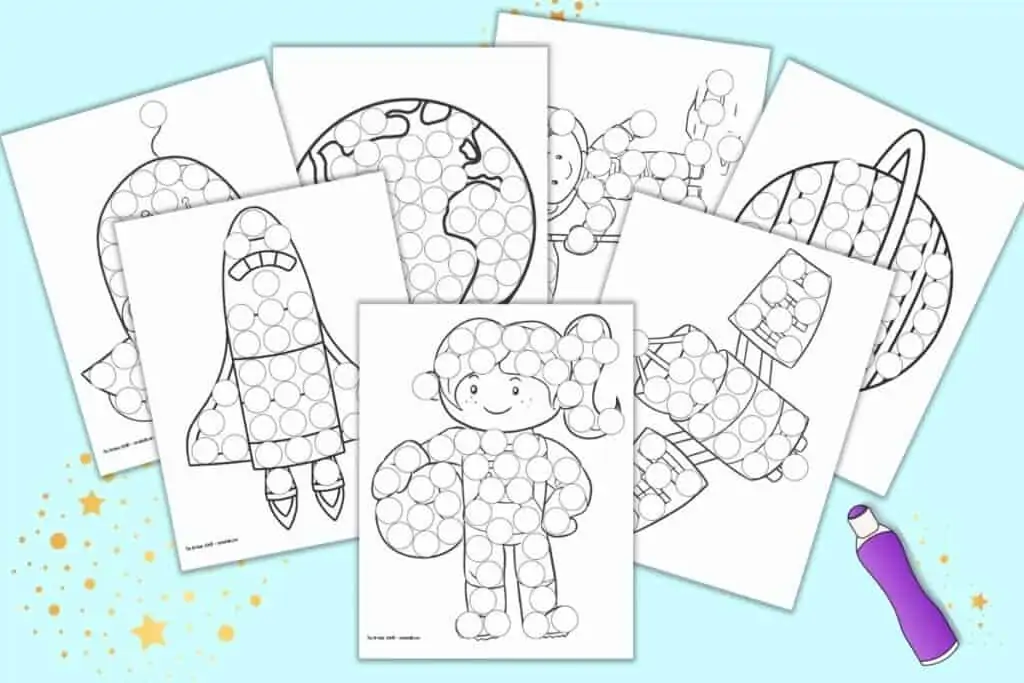 This post may include affiliate links which means I may earn a commission on qualifying purchases at no additional cost to you.
Outer space is one of the many things my daughter likes (in addition to unicorns, dinosaurs, the ocean, and mermaids). These space themed dot marker pages are a fun addition to a homeschool preschool theme about space or just as anytime fun!
Make sure to get these additional outer space free printables while you're here:
We have several books about space for toddlers and preschoolers. The Smithsonian Planets and the Solar System is a great beginner book about outer space. It's a board book with a page dedicated to each planet. The smaller size makes it great for little hands and car trips.
My sister got us 3-2-1 Blast Off! for Christmas. It's a physically larger book and a fun read. It can work as a bedtime book because the story ends with the child going to bed. The illustrations have lots of fun dials and knobs. Each page has a rhyming "story" as the exploring child goes through the solar system on a rocket. Each page also has a lift flap with non-rhyming information related to the topic covered on that page.
Sale
Our third favorite space book is the National Geographic Little Kids First Big Book of Space. It a fairly large book with detailed information. It's aimed at a slightly older audience – the suggested age range is 4-8. It's probably not a great choice for a young toddler because there is so much to read, but it's perfect for an older preschooler who is interested in space.
Sale
Are dot marker coloring pages beneficial for my child?
Dauber marker coloring pages are an easy, no-prep activity. But are they developmentally appropriate and beneficial for your child's development?
Yes, dot marker pages are a developmentally appropriate activity for toddlers and preschoolers! They can also benefit older children who need extra practice with their fine motor skills. Dot marker pages help your child develop their:
Hand-eye coordination
Grip strength
Finger strength
Manual dexterity
Creativity and artistic expression
Giving your child lots of opportunities to practice fine motor skills prepares them for writing and other fine motor tasks, like eating more neatly and brushing their teeth instead of scrubbing toothpaste all around their face. Won't that be a fun day?
How to use dot marker coloring pages
The circles on these pages are based on the size of my daughter's Classic Do a Dot Markers. The circles are sized for this popular brand of markers, but they also work with other dauber or bingo style markers.
To keep your dauber markers working well, make sure you always store them on their sides, not upright. My daughter always wants to set them up on end, but this drains the ink out of the sponge. If the ink does drain out, pounce the marker firmly several times on a scrap piece of paper or cardboard to get the ink flowing again.
You can also use plastic bingo chips with dot marker pages. This is an easy way to make the pages reusable and they provide a significant fine motor challenge. Make sure your child is past putting things in their mouth (and doesn't have a younger sibling around who could access them) before you introduce plastic counting chips. These are the bingo chips we use:
Hebayy 500 Transparent 8 Color Clear Bingo Counting Chip Plastic Markers...
Health Care and Sanitary: Made from original PVC granules, high transparency and durability are preserved during the process of production. Ensure...
Mega Bundle: 500 PCS in total, no need to worry even you lose some, a real bargain that you wouldn't miss.
Multiple Color: 8 colors could afford multiple using scenarios or classification needs. With different colors you have more ways to demonstrate or...
For an easy, no-mess activity, use these dot it printables printables with round coding label stickers. This is a fun activity for car trips, doctor's appointments, and any time when you just don't feel like having to scrub marker off hands yet again.
Sale
Pack of 2400 3/4" Round Color Coding Circle Dot Sticker Labels - 15...
✅ PACKAGE INCLUDED. Pack of 2400 Round Color Coding Circle Dot Sticker Labels and 1 zipper file bag can be used to keep labels. Bright and colorful...
✅ TIME SAVING. Our size stickers are super-easy to peel off, this is due to the 1 more process of removing excess waste paper before ex-factory,...
✅ GOOD QUALITY. The stickiness of size sticker is highly viscous, environmental and BPA Free! Make it good to stick to DVDs, books, notebooks, glass...
Coding label stickers come in various sizes. Make sure to get 5/8″ or 3/4″ round stickers, not 1″ stickers. One inch round stickers are too big for these pages. We use these stickers. You get thousands of them for a few dollars, and they come with a bag for storage. Below you can see my daughter using round stickers with an Easter do a dot printable: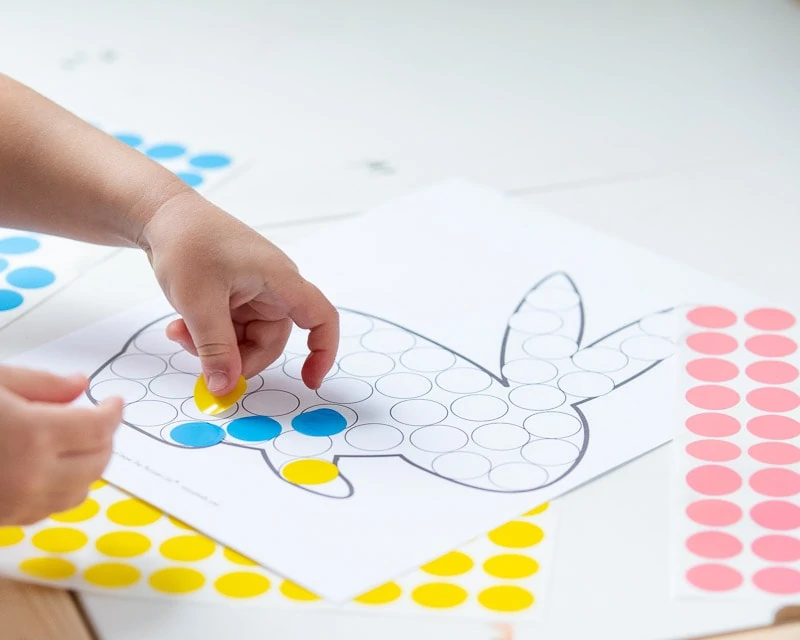 Free solar system dab it pages download
This set of solar system dot coloring pages includes 13 images with fun solar system/outer space images including:
Astronauts
Rockets
A flying saucer
Planets
A satelite
And more!
All 13 pages are located in one convenient PDF. Download information is below the preview images. Each image has its own page in the PDF printable. The preview images are shown in groups to help this page load more quickly.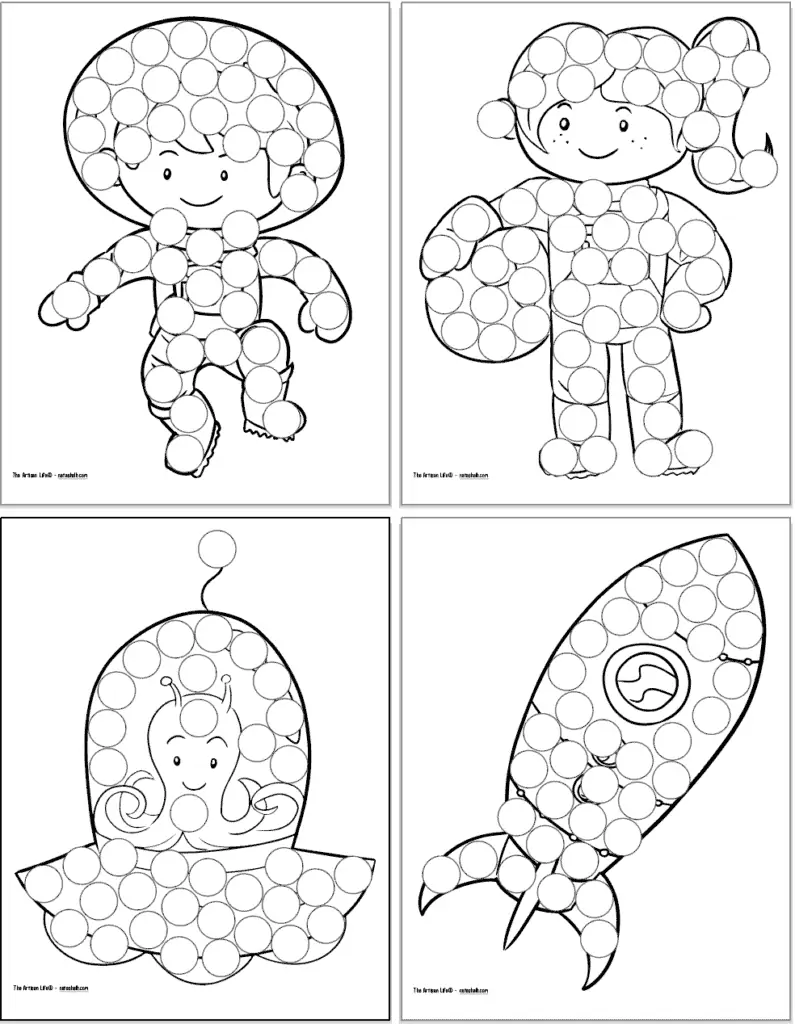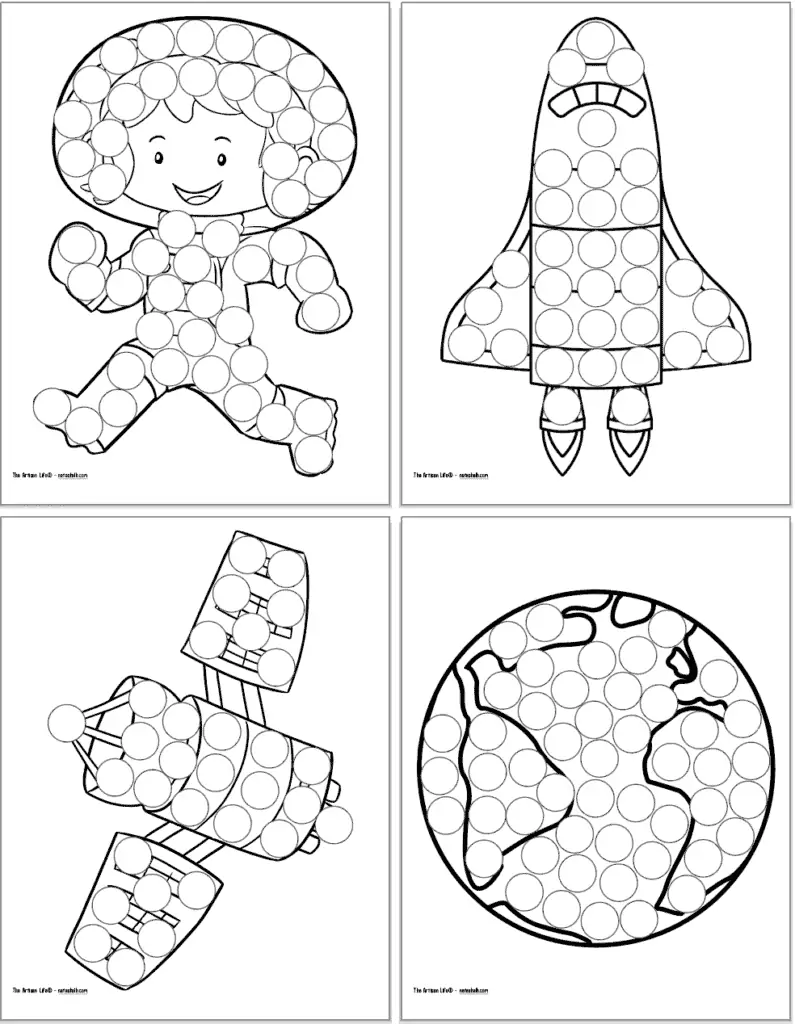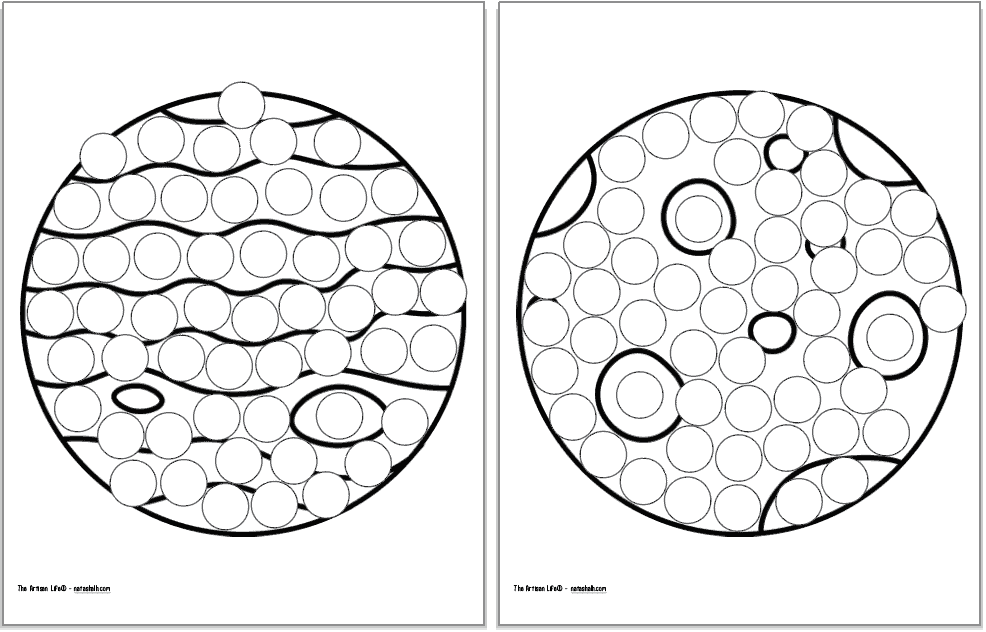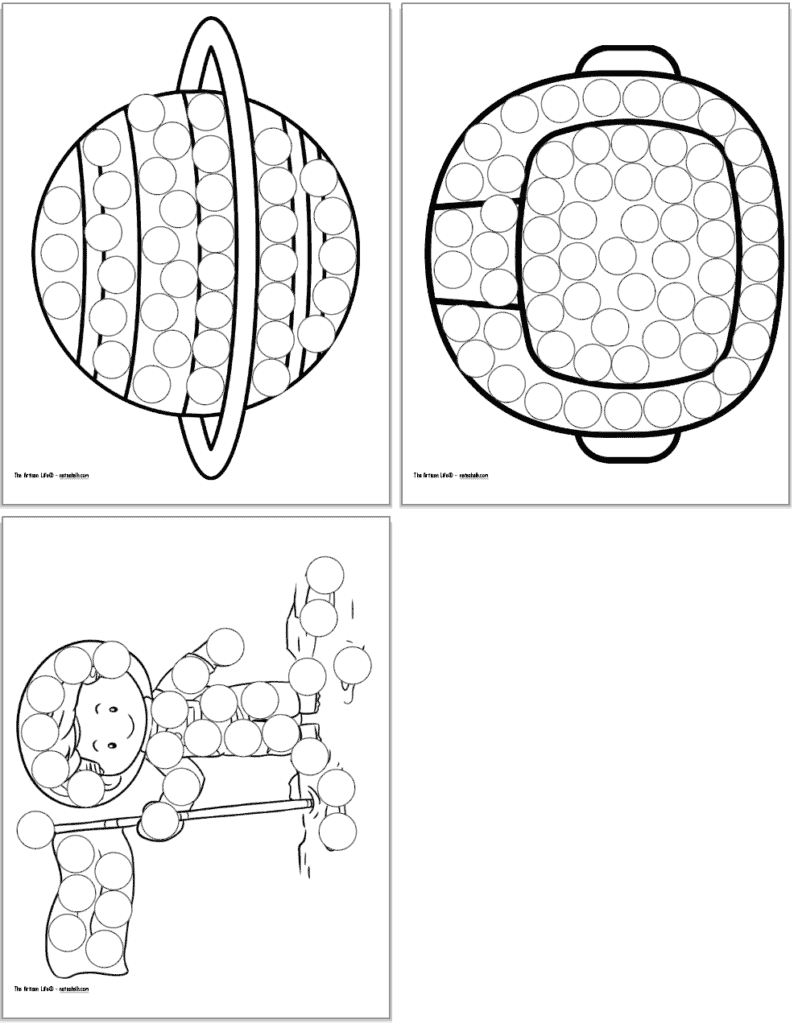 Like all free toddler preschool printables on The Artisan Life, these are licensed for personal and single classroom use. This includes use with scouts groups, Sunday school classes, homeschool co-ops, your own therapy clients, etc. as long as you are personally organizing the activity and not charging specifically to participate.
You are not licensed to sell, or redistribute the files to other adults for use with their students/children. Instead, please refer them to this post so they can download their own copies.
I hope your little learner loves these solar system themed do a dot pages! Be sure to check out these additional free printable dot marker coloring pages while you're here on The Artisan Life:
Free Dot Marker Coloring Pages
Dot marker coloring pages are always popular with toddlers and preschoolers. Use them with round stickers for a no-mess activity or cover each circle with a pompom to make the pages reusable.