Get back into the groove of journaling with these August journal prompts for adults! These journal prompts make journaling fun, easy, and enjoyable (even if you have no idea what to write).
Make sure to keep scrolling past the list of writing prompts to download your PDF with all 31 prompts for handy reference and two printable themed journal pages that match your free printable August planner pages.
This post may include affiliate links which means I may earn a commission on qualifying purchases at no additional cost to you.
Journaling notebooks for summer
A high quality notebook makes a huge difference when you're journaling. Yes, you can journal on any scrap of paper or cheap composition notebook. However, a high quality journal you enjoy makes it much more likely that you'll stick to your journaling practice and receive the benefits of journaling.
Bullet journal notebooks are popular for journaling. Many bujo notebooks are casebound, but you may want to experiment to see if you prefer spiral or coil bound notebooks.
Whatever journal you decide to get, double check to make sure it has the type of page you prefer – blank, lined, or grid dot. Also, try to make sure you like the journal's line spacing. Journal notebook line spacing can vary widely. Some lines are very wide, others are narrow. There is no "right" or "wrong" line spacing for journaling. Select whichever you enjoy most. I personally prefer narrow spacing because my handwriting is small. If you have larger handwriting or like to add doodles, you may prefer a wider ruled notebook.
Consider getting a notebook with acid free paper. Paper with acid turns brittle and yellow with age, like an old paperback book. If you want to keep your journal to look back on, get a notebook with acid free paper to keep the pages supple and clean looking.
And, of course, you can always journal on your free printable journal pages. Download information, and previews, are lower down in the post.
If you use the printable pages, I recommend using HP 32# bright white paper. The paper is bright, sturdy, and a joy to write and draw on. For a comparison of several different pages with images of actual printouts, stop by this post with the best paper for planner printables.
HP Paper Printer | 8.5 x 11 Paper | Premium 32 lb | 1 Ream - 500 Sheets |...
Made in USA: HP Papers is sourced from renewable forest resources and has achieved production with 0% deforestation in North America.
Heavyweight premium printing: HP Premium32 is a heavyweight (32 pounds), brighter (100 bright) and whiter (163 whiteness) paper with a super-smooth...
Certified sustainable: HP Premium32 presentation paper is Forest Stewardship Council (FSC) certified and contributes toward satisfying credit MR1...
Journal writing prompts for August
Thirty-one days of writing prompts for self-reflection and self-discovery August are listed out below. They are also included in your free printable PDF for easy reference. Don't wear your hand out copying them down now – grab your free printable lower down in the post!
August journal writing prompts:
When you woke up and realized it was August, what was the first thought that popped into your head?
It's National Picnic day! Pack up and enjoy a picnic today, even if it's "just' in your living room.
If you could have a do-over for one thing this year, what would it be? What would you change?
It's Back to School Month in many areas. How did you feel about back to school season as a child?
The first week of August is Simplify Your Life Week. Does anything in your life need to be simplified? What can you do about it?
Available fruits are starting to change as the seasons change. What's your favorite fruit for August?
What's your favorite summer vegetable?
August is Wellness Month. Have you been staying on track with your health goals?
Is it time to make some new health goals before fall sets in? List 2 of your top health related goals.
The nights are starting to get shorter. How do you feel about this?
Describe your perfect outdoor experience at night. Where would you be? Who would be there? What would you be doing?
List 3 things that you feel grateful for about this summer.
What goals do you have for your personal life during the last 4 months of the year?
Create a gift list for Christmas so you can take advantage of early sales.
Create a brain dump. Spend a couple of minutes writing down whatever thoughts, words, or phrases come to mind.
Make a list of 5 things around the house that you could organize or clean up.
Today is National Thrift Shop Day. Do you find it easy or difficult to donate items? Are there any items sitting around your house that could be donated?
It's World Photo Day! Do you enjoy taking photos? Why or why not?
Who could you help out today? Write about what you could do for them.
There are less than two weeks left in the month. Reflect on how this month has gone so far and what you want to accomplish by the end of the month.
What is your favorite memory from this year so far?
It's National Tooth Fairy Day! Write about your most memorable lost tooth as a child.
What books have you read this summer? Which one did you enjoy most and why?
What music have you enjoyed listening to most this year? Why?
What fall adventure could you go on? Write about it in detail and see if you can make it a reality.
It's National Dog Day! Are you a "dog person?" Why or why not?
Where's one place you would like to visit next year?
How many words can you make out of the word "August?"
Fall officially starts next month. What are you looking forward to about this fall?
What is your favorite place to visit locally? What do you appreciate about it?
It's Eat Outside Day! Do you enjoy eating outside? Why or why not?
Free printable August journal pages
In addition to pages with each journal writing prompt, you can also download three journal/notes pages. There are usually only two different pages each month, but I love the beach and couldn't help myself. These journal pages also make great note pages for your August planner printables.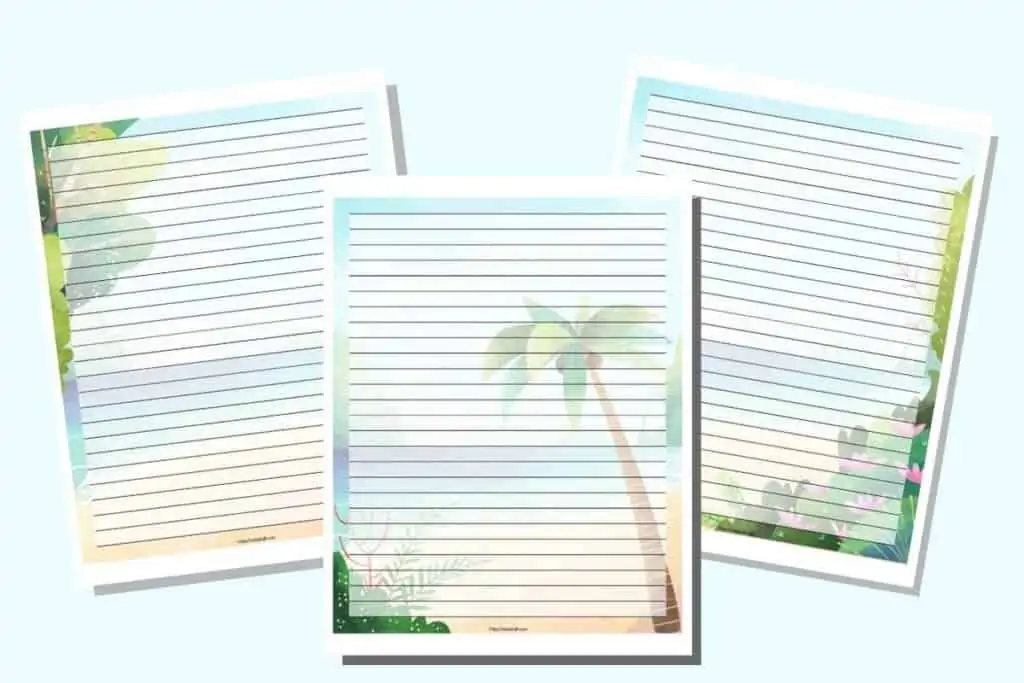 Like all journaling & planning printables on The Artisan Life, these are for personal and single classroom use. You are welcome to use them with Scouts groups, home school co-ops, personal therapy clients, library activities, etc.
You are not licensed to redistribute the files or printouts to others for their personal use outside of activities you are organizing. Instead, please refer your friends and coworkers to this page so they can download their own copies. You are also not licensed to sell these pages in any way.
I hope you enjoy using these August journaling prompts for adults and discover something new about yourself! Make sure to check back in soon for September journaling prompts. New prompts are usually posted mid-month.
Journal Prompts and Planner Printables
Planner and calendar printables allow you to stay organized without a trip to the store or wait for the mail.
Journal prompts remove the fear of the blank page and allow you to start journaling today! Make sure to grab your free printable journal pages in each post.