Do you want to bring coziness, ease, and comfort into your life? Start using these hygge journal prompts and free printable hygge today!
Journal prompts and journaling are perfect for practicing hygge. Hygge is all about comfort and enjoying the simple pleasures in life, so grab your softest blanket, a warm mug of tea, and get ready to journal.
Make sure to keep scrolling past the list of prompts in the post to download your freebie with hygge-themed journal pages, a daily planner, habit tracker, and more.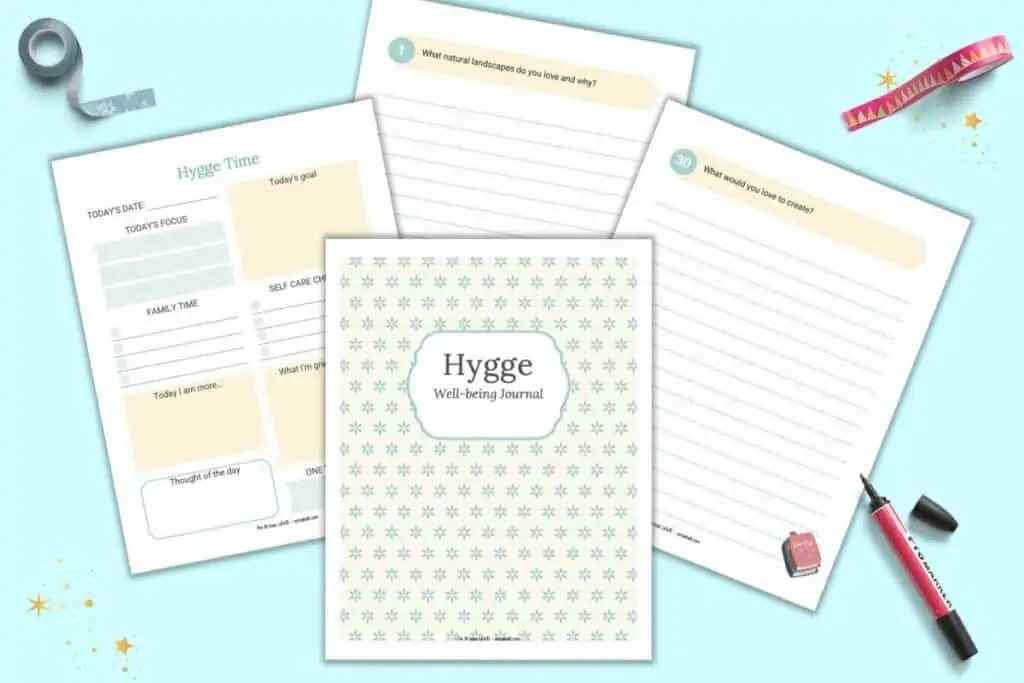 This post may include affiliate links which means I may earn a commission on qualifying purchases at no additional cost to you.
Sometimes people worry that using a journal prompt is somehow "cheating" or "not really journaling." This simply isn't true. Artists use reference objects and figure models when they paint, sculpt, and draw. Musicians use tuning aides for their instruments. Authors use writing prompts to practice writing and get their creativity flowing. It is completely okay to use a writing prompt for your daily journaling practice!
It's also okay to use a writing prompt some days, but write about whatever is on your heart and mind on other days. Or use a writing prompt to get started, then continue writing on a different topic. It's your journal and you're journaling practice!
What is hygge?
According to the Danish tourism website, hygge (pronounced "hoo-gah") means "creating a warm atmosphere and enjoying the good things in life with good people."
A candle's glow, cuddling on the sofa with a pet or loved one, or even having a backyard cookout with friends can all be hygge.
These hygge journal prompts help you bring love, gratitude, and warmth into your journaling routine so you can start to feel more of this "coziness" in your everyday life.
Journaling prompts for hygge
A nice notebook makes so much of a difference when you're journaling. This is especially true when you're journaling for comfort/hygge. You can journal on any scrap of paper, but having a pretty notebook that lies open and contains thick, high-quality paper so your writing doesn't feather, bleed, and show through makes the experience much more hygge.
If you decide to print and use the journal pages, recommend using 32 lb bright white paper. It's smooth to the touch and a joy to write on, plus your pens and markers don't feather and bleed on it like they do on "regular" printer paper. For a comparison of various papers, with a video flip through of print outs, check out this post with the best paper for planner printables.
HP Paper Printer | 8.5 x 11 Paper | Premium 32 lb | 1 Ream - 500 Sheets |...
Made in USA: HP Papers is sourced from renewable forest resources and has achieved production with 0% deforestation in North America.
Heavyweight premium printing: HP Premium32 is a heavyweight (32 pounds), brighter (100 bright) and whiter (163 whiteness) paper with a super-smooth...
Certified sustainable: HP Premium32 presentation paper is Forest Stewardship Council (FSC) certified and contributes toward satisfying credit MR1...
You don't have to use the printable journal pages with these writing prompts. You can also use them in a notebook that increases your feelings of hygge.
Bound bullet journal notebooks are popular for journaling, but I'm personally a big fan of spiral bound journals because they lie flat. This makes the easy to write in without cracking the spine or spending half your time worrying about holding the opposite page out of the way while you write.
Although the notebooks and journals below don't have Danish-inspired images on the covers, they are all high quality notebooks that are pleasurable to write in. They include my Japanese brother-in-law's favorite Japanese brand as well as other popular notebooks for journaling. While novelty cover notebooks can be fun (I'll admit I have a shelf of cute notebooks just because I like their covers!), sometimes the paper quality is low and actually journaling in them isn't as pleasurable.
Hygge journal prompts for well-being
Alright, let's see the journaling prompts! As mentioned above, keep scrolling past the list for the opportunity to download a free printable PDF with 30 days of journal pages with the prompts, a daily planner, habit trackers, and more.
1. What natural landscapes do you love and why?
2. If you only had one week left to live, what would you do? How could you do more of that now?
3. How are you doing your part to help the planet and all the living things in it? What could you do?
4. If tomorrow was to be a new start for you, what would that mean?
5. Who loves you the most? How do they show it?
6. Who do you love? How do you show it?
7. What makes you smile?
8. How do you make the world a better place for others?
9. Cram as many things as you can that you're grateful for onto the page.
10. Write a love letter to yourself with everything good about you.
11. What makes you feel glad to be alive?
12. What would the best version of yourself be like?
13. Imagine and describe your dream home?
14. Which places on Earth would you love to visit and why?
15. What does a loving, peaceful, joyful life mean to you?
16. What does ageing gracefully mean to you?
17. It's raining outside and you don't have to work, how would you love to spend your day?
18. How could you make life simpler for yourself? What have you done already to make it simpler?
19. Which possessions do you treasure? Why?
20. You are your best friend. What would you say to you?
21. What do you love about the world?
22. What's your favorite room in your home and why?
23. What will you think of your life as you look back at the end of it?
24. What would your 10 Rules for a Happy Life be?
25. What inspires you?
26. What little things make you happy? How could you enjoy them more often?
27. What clothes do you own that are a joy to wear?
28. When and where are you at your happiest? What are you doing/thinking/saying that makes you happy?
29. What happy memories do you have?
30. What would you love to create?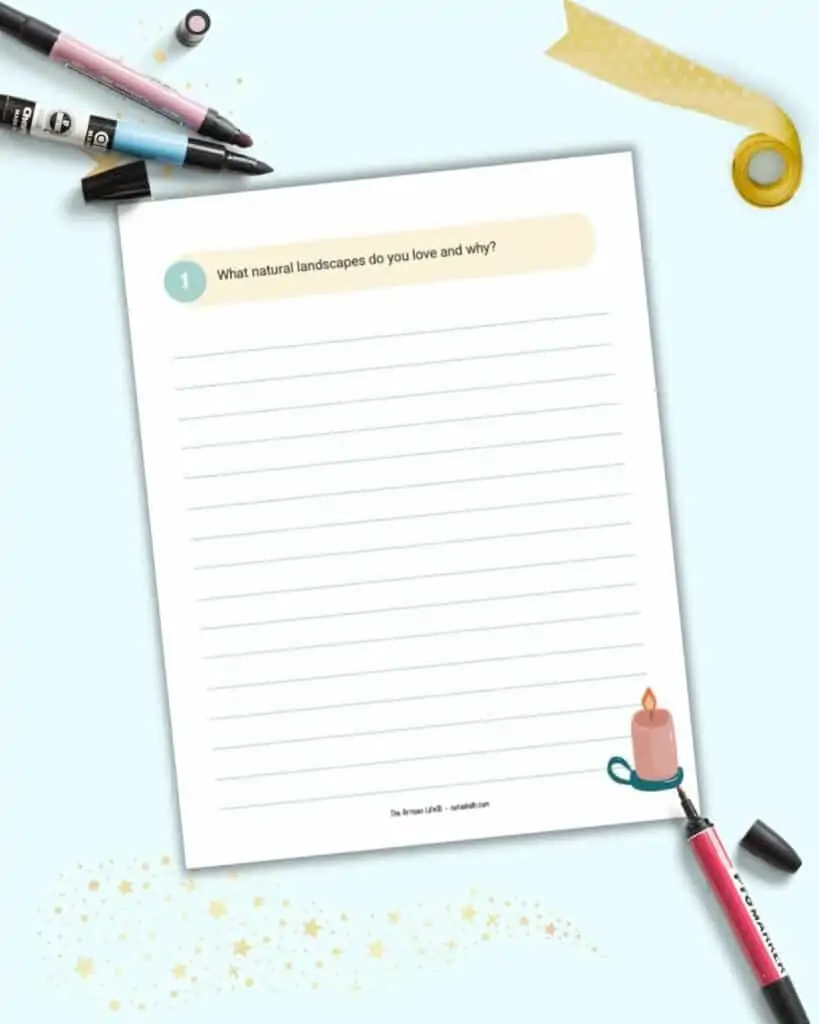 Hygge journal prompts PDF
Your printable PDF includes:
Cover page
"This planner belongs to…"
How to use this journal
Daily planner
Monthly mood tracker
Weekly habit tracker
Hygge checklist
30 journal pages (one for each prompt)
I created a flip through video so you can see each page in the journal/planner before you download it:
You are licensed to print and use these journal prompts for your own personal use and with your children, students, book club, therapy clients, and other activities you are personally organizing.
If you enjoy journaling and planning, make sure to get these additional free printables and journal prompts here on The Artisan Life:
Journal Prompts and Planner Printables
Planner and calendar printables allow you to stay organized without a trip to the store or wait for the mail.
Journal prompts remove the fear of the blank page and allow you to start journaling today! Make sure to grab your free printable journal pages in each post.