Celebrate summer in full swing summer with these July journaling prompts for adults. These journal writing prompts can help you get back on track with your daily journaling practice or start a fresh new practice during the long, hot days of summer.
Make sure to keep scrolling past the list of writing prompts to download your PDF with all 31 prompts for handy reference and two printable themed journal pages that match your free printable July planner pages.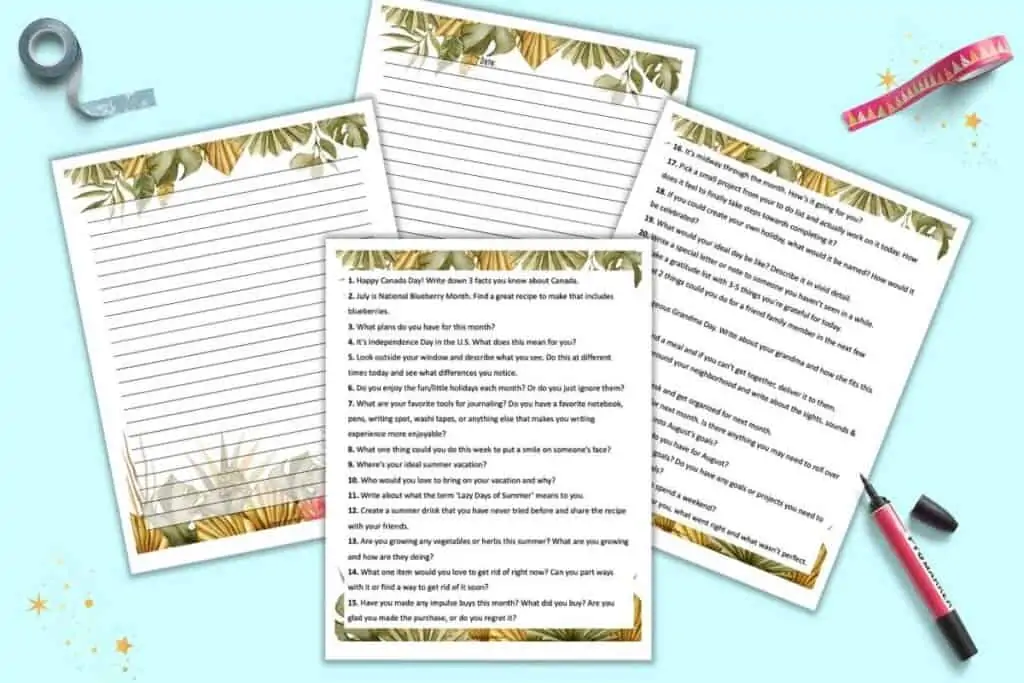 This post may include affiliate links which means I may earn a commission on qualifying purchases at no additional cost to you.
Journaling notebooks for summer
A high quality notebook makes an incredible difference when you're journaling. Yes, you absolutely can journal on any scrap of paper or cheap composition notebook. Having a high quality journal you enjoy writing in makes you more likely to actually sit down, write, and enjoy the experience.
Bullet journal notebooks are popular for journaling. I personally prefer spiral or coil bound notebooks that lie flat. My Japanese brother-in-law prefers bound notebooks and says spiral notebooks are uncommon in Japan. If you're not sure which you like better, try a couple of notebook styles to see which you enjoy writing in more.
Double check notebooks to make sure it has the type of page you like – blank, lined, or grid dot Also, double check the listing or physical journal, if you're shopping in person, to make sure you like the line spacing. Journal notebook line spacing can vary widely. Some lines are very wide, others are narrow.
Consider a notebook with acid free paper. Paper with acid turns brittle and yellow with age, like an old paperback book. If you want to keep your journal to look back on, get a notebook with acid free paper to keep the pages supple and clean looking.
And, of course, you can always journal on your free printable journal pages! Download information is lower down in the post.
I recommend using HP 32# bright white paper for journal printables. The pages are bright, sturdy, and a joy to write and doodle on. For a comparison of several different pages with images of actual printouts, stop by this post with the best paper for planner printables.
HP Paper Printer | 8.5 x 11 Paper | Premium 32 lb | 1 Ream - 500 Sheets |...
Made in USA: HP Papers is sourced from renewable forest resources and has achieved production with 0% deforestation in North America.
Heavyweight premium printing: HP Premium32 is a heavyweight (32 pounds), brighter (100 bright) and whiter (163 whiteness) paper with a super-smooth...
Certified sustainable: HP Premium32 presentation paper is Forest Stewardship Council (FSC) certified and contributes toward satisfying credit MR1...
Journal writing prompts for July for adults
Thirty-one days of writing prompts for July are listed out below. They are also included in your free printable PDF for easy reference. Don't wear your hand out copying them down now – grab your free printable lower down in the post!
July journal writing prompts:
Happy Canada Day! Write down 3 facts you know about Canada. 
July is National Blueberry Month. Find a great recipe to make that includes blueberries. 
What plans do you have for this month?
It's Independence Day in the U.S. What does this mean for you?
Look outside your window and describe what you see. Do this at different times today and see what differences you notice.
Do you enjoy the fun/little holidays each month? Or do you just ignore them?
What are your favorite tools for journaling? Do you have a favorite notebook, pens, writing spot, washi tapes, or anything else that makes you writing experience more enjoyable?
What one thing could you do this week to put a smile on someone's face?
Where's your ideal summer vacation?
Who would you love to bring on your vacation and why?
Write about what the term 'Lazy Days of Summer' means to you.
Create a summer drink that you have never tried before and share the recipe with your friends. 
Are you growing any vegetables or herbs this summer? What are you growing and how are they doing? 
What one item would you love to get rid of right now? Can you part ways with it or find a way to get rid of it soon? 
Have you made any impulse buys this month? What did you buy? Are you glad you made the purchase, or do you regret it? 
It's midway through the month. How's it going for you? 
Pick a small project from your to do list and actually work on it today. How does it feel to finally take steps towards completing it?
If you could create your own holiday, what would it be named? How would it be celebrated?
What would your ideal day be like? Describe it in vivid detail.
Write a special letter or note to someone you haven't seen in a while.
Make a gratitude list with 3-5 things you're grateful for today.
What 2 things could you do for a friend family member in the next few weeks?
It's Gorgeous Grandma Day. Write about your grandma or most loved grandma figure and how she fits this description. 
Cook a friend a meal and if you can't get together, deliver it to them.
Take a walk around your neighborhood and write about the sights, sounds & smells you notice.
Clean off your desk and get organized for next month. 
Brainstorm goals for next month. Is there anything you may need to roll over from this month's goals into August's goals? 
What personal plans do you have for August?
Have you met your July goals? Do you have any goals or projects you need to roll over into your August goals?
What's your favorite way to spend a weekend?
Recap how this month was for you, what went right and what wasn't perfect.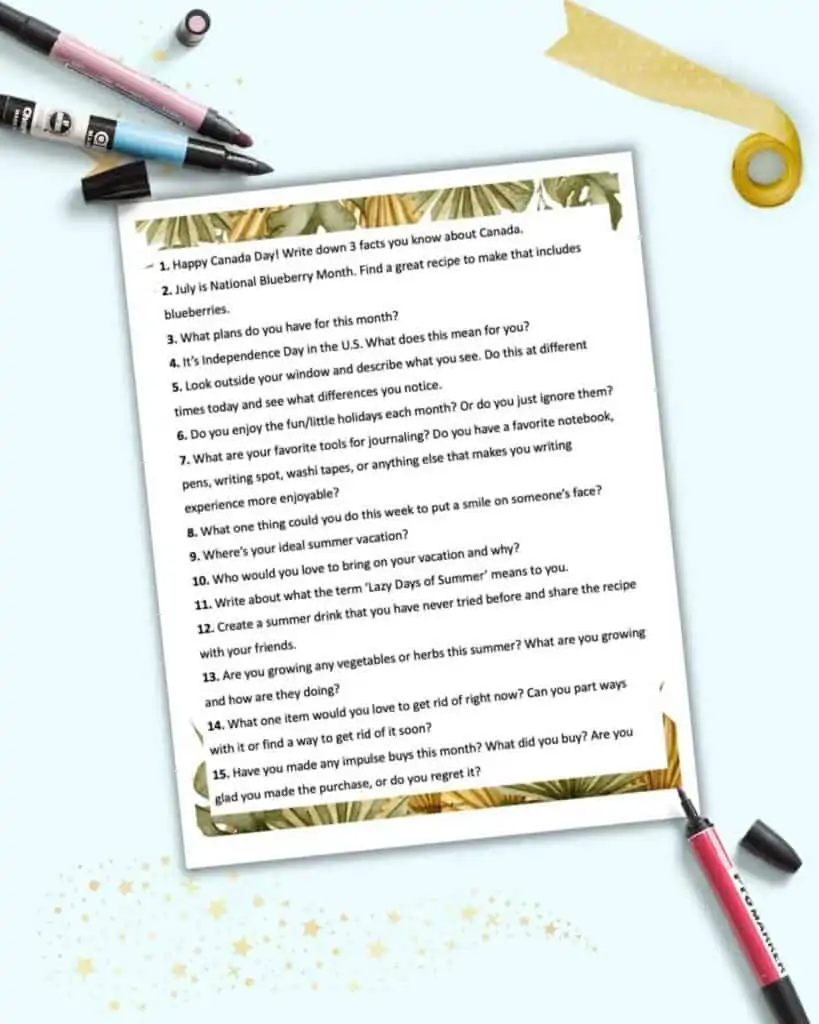 Free printable July journal pages
In addition to pages with each journal writing prompt, you can also download two journal/notes pages. One page has "date" printed at the top, the other is blank so it can be used for undated journaling or note-taking.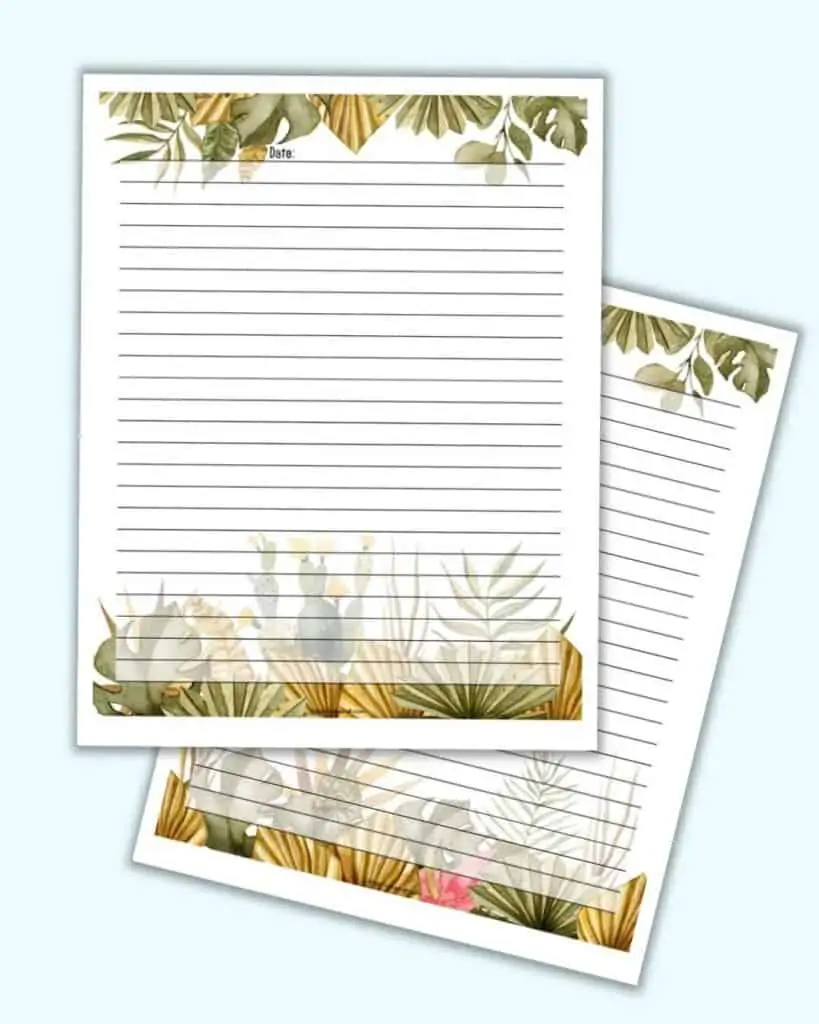 Like all journaling & planning printables on The Artisan Life, these are for personal and single classroom use. You are welcome to use them with Scouts groups, home school co-ops, personal therapy clients, library activities, etc.
You are not licensed to redistribute the files or printouts to others for their personal use outside of activities you are organizing. Instead, please refer your friends and coworkers to this page so they can download their own copies. You are also not licensed to sell these pages in any way.
I hope you enjoy using these July journaling prompts for adults and discover something new about yourself! Make sure to check back in soon for August journaling prompts. New prompts are usually posted mid-month.
Journal Prompts and Planner Printables
Planner and calendar printables allow you to stay organized without a trip to the store or wait for the mail.
Journal prompts remove the fear of the blank page and allow you to start journaling today! Make sure to grab your free printable journal pages in each post.